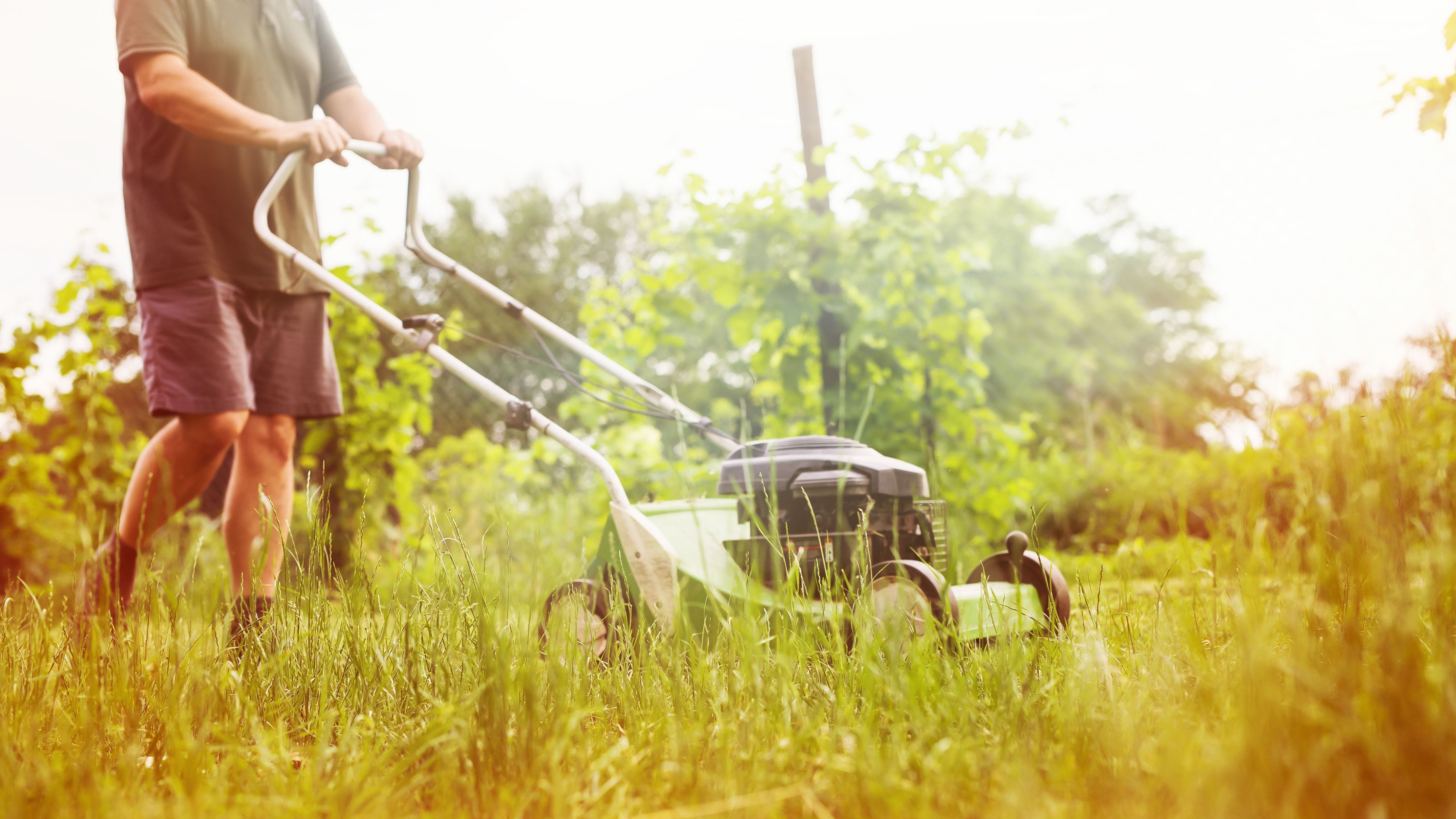 Lawnmower buying guide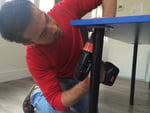 Guide written by:
Sebastian, self-taught DIY-er, Exeter
220 guides
Your choice of lawnmower will ultimately come down to the size of your lawn from electric or robot mowers for small gardens to petrol or ride-on mowers for larger spaces. But you'll also have to think about factors like propulsion, cutting width and cutting height. Read on to find the perfect lawnmower for you!
Important features
Electric or petrol
Push, self-propelled or ride-on
Cutting width
Cutting height and mulching
How to choose the right lawnmower
---
When picking a lawnmower, you'll need to weigh up a few different factors. Start by thinking about the size of your lawn. From there, you can move on to other criteria such as user comfort and grass height. The size of your lawn will determine the following features:
cutting width: generally ranges from 30 cm to 107 cm+;
power rating: from 1 kW to 8.6 kW;
power source: i.e. manual, electric or petrol;
type of propulsion: i.e. push or self-propelled.
The level of comfort you're after will also affect your choices in terms of:
power source: electric lawnmowers do not require any engine maintenance and are quieter;
propulsion: a self-propeller mower will be easier to use and is best for gardens measuring over 700 m²;
type: a robot lawnmower operates independently while a ride-on mower makes mowing large lawns much easier;
modes: a mulching setting prevents you from having to collect the grass after mowing (the mowed grass is mulched then simply released);
start-up: an electric start is more convenient than a recoil start for a petrol mower.
In terms of cutting height, you simply need to think about your lawn requirements:
short green-style lawn = 25 mm;
classic lawn = 50 to 70 mm;
wild-scaped gardens = 90 mm+.
Different types of lawnmowers
Manual lawnmowers
---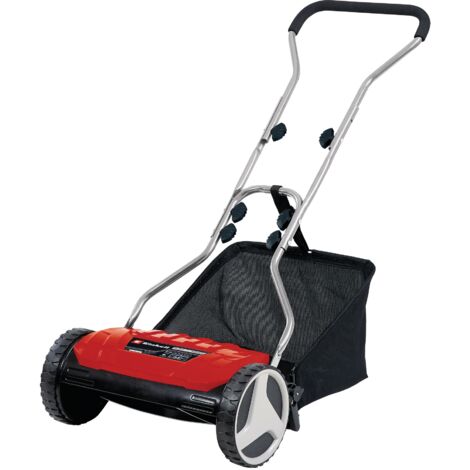 If your garden measures under 200 m² and you don't mind a bit of exercise, go for a basic manual lawnmower. Manual lawnmowers are equipped with two wheels that are used to turn a bladed cylinder.
While quiet, environmentally friendly and hard-wearing, a manual lawnmower will need its blades sharpened on a regular basis.
Features
Cutting height: 13 to 42 mm
Cutting width: 30 to 40 cm
4 or 5 blades held in a cylinder
With or without grass box
Non-adjustable handle
Tips for use
Never leave your lawn for more than a few weeks without a cut or your manual lawnmower will not be happy!
Hover lawnmowers 
---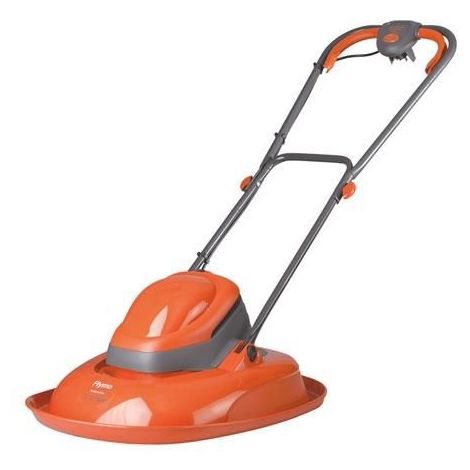 A less common option, hover lawnmowers are best suited to healthy lawns measuring less than 500 m². These machines leave lawns in impeccable condition; your grass blades will be straight and you can say goodbye to wheel marks and uneven lines! This type of lawnmower is equipped with a fan system which allows it to hover slightly over the ground and follow the curves of your land without leaving a trace. Lightweight, easy to handle and compact, hover lawnmowers are usually electric.
Features 
Cutting height: 15 to 41 mm
Cutting width: 40 cm
Power rating: 1500 W
With or without mulching mode
Push mower
Folding handlebar
Tips for use
As the blades of these lawnmowers wear quickly, it is advisable to sharpen them on a regular basis. You might also have to mow more often than you would with a different type of mower as these lawnmowers won't cope well with tall grass.
Electric lawnmowers (corded and battery-operated)
---
Electric lawnmowers are best suited to lawns measuring less than 700 m². They are lightweight, easy to handle, quiet and require little maintenance. The power of these machines is directly linked to the type of cutting width they allow: the higher the wattage or voltage, the greater the cutting width will be!
The ampere hour rating (Ah) of battery-powered lawnmowers determines how long the battery lasts: the higher the Ah rating, the longer the battery will run before it needs to be recharged. Cordless models are usually powered by lithium-ion quick charge batteries.
Here's a quick guide to Ah rating and wattage by lawn size:
1000 to 1300 W for ≤ 300 m²;
1400 to 1800 W for ≤ 700m² ;
18 V - 2 Ah for ≤ 300 m² ;
36 V - 3 Ah for ≤ 500 m².
Features
Cutting height: 15 to 75 mm
Cutting width: 30 to 53 cm
Wattage (corded lawnmowers): 700 to 1800 W
Voltage (cordless lawnmowers): 18 to 36 V
Ampere hours (cordless lawnmowers): 2 to 3 Ah
Battery: 2 to 4 Lithium-ion batteries
With or without mulching mode
Push or self-propelled models
Folding or adjustable handle
Tips for use
If using a corded electric lawnmower, put the extension cable over your shoulder to prevent you from running over it. It is recommended to have one battery plus a charged back-up battery when using a battery-operated lawnmower. While some electric mowers can handle lawns stretching up to 900 m², they are far from ideal for this kind of application – the battery power of cordless mowers won't last long enough and you'd need a very long extension cable for corded models.
Petrol lawnmowers
---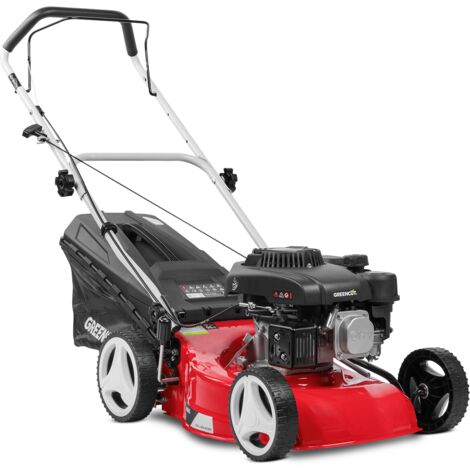 Petrol lawnmowers are recommended for lawns covering over 700 m². The engine will require regular maintenance, from checking the oil and petrol level to cleaning the spark plug and air filter. You will also need to do a full check and empty the oil before storing over the winter.
In the past, most small petrol lawnmowers had 2-stroke engines; however, 4-stroke engines are more or less the norm these days. The power of these mowers is often measured in horse power or kilowatts (1 hp = 0.74 kW). Engine capacity is measured in cubic centimetres (cc): the higher the capacity, the less hard the engine has to work for the same level of performance. Petrol lawnmowers are hard-wearing but noisy meaning they're usually only used in the countryside or in extra-large gardens.
Here's a quick guide to engine power and capacity by lawn size:
2.6 kW or 3.5 hp, 160 cc for 2000 m²;
2.2 kW or 3 hp, 150 cc for 1500 m²;
1.8 kW or 2.4 hp, 100 cc for 900 m².
Features
Cutting height: 15 to 90 mm
Cutting width: 40 to 84 cm
Power: 1.6 kW or 2.1 hp to 3.6 kW or 5 hp
Engine capacity: 100 to 200 cc
With or without mulch mode
Push or self-propelled models
Recoil or electric start
Option for folding or adjustable handle
Tips for use
The engine will require regular care and the cables will have to be lubricated. Electric start mowers use batteries to fire up; these batteries should be disconnected over the winter.
Ride-on lawnmowers
---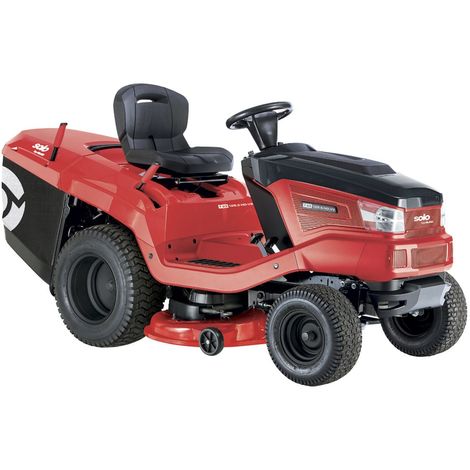 Designed to tackle large lawns of over 6000 m², ride-on mowers offer a large cutting width, easy handling and are comfortable to use. These machines may even feature headlights and add-ons like drinks holders!
Heavier, more powerful and more robust than other models, ride-on mowers offer a range of speeds. The blade system may be located centrally (beneath the seat) or towards the front of the mower (less common but can be practical). 
Once again, the cutting width you require will dictate how much power you need:
cutting width of 66 cm: 8.2 kW or 11 hp, 190 cc for 2000 m²;
cutting width of 107 cm: 9.7 kW or 12.8 hp, 500 cc for 5000 m².
Features
Cutting height: 30 to 911 mm
Cutting width: 66 to 102 cm
Power: 8.2 kW or 11 hp to 9.7 kW or 12.8 hp
Engine capacity: 190 to 500 cc
With or without mulch mode
With or without grass box
3 to 4 speeds
Electric start (battery-operated)
Classic transmission by manual gearbox
Hydrostatic transmission: for gradual speed change
Mowed grass released behind mower for collection
Side release for mulching
With or without headlights
Front bumper
Tips for use
Be sure to keep on top of engine maintenance and get yourself a jack for easy blade cleaning. Steer using short turns and use a don't attempt to cut too short if your ground is very uneven.
Robot lawnmowers
---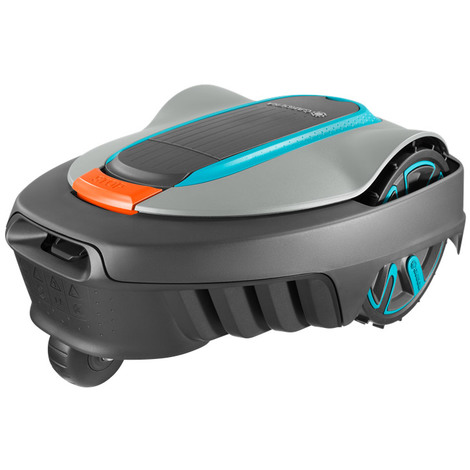 With a robot lawnmower, the hard work is over – simply set up your mower then potter off for a nap! Completely autonomous, most robot lawnmowers are designed to return to a charging station when their battery charge drops below a certain point.
These machines are not suitable for large slopes (35+ %). But there are a couple of models to choose from: those equipped with a boundary wire and those without. The performance of robot lawnmowers is pretty impressive and most are able to cover 500 m² in an hour. However, you do have to put these devices to work regularly as they prefer to cut little and often. Able to detect obstacles in their path, the most high-tech robots may even be equipped with solar panels. Bear in mind, however, that even the most efficient models will only cover up to around 2000 m².
Boundary wires
Most robot lawnmowers require you to mark out the various obstacles in your garden (flower beds, rocky areas, etc.) using a boundary wire. These models are usually supplied with around 150 metres of cable alongside all the connections you need to set up the system.
Wireless robot lawnmowers
In this case, the robot lawnmower uses beacon technology to recognise and avoid obstacles without the need of a perimeter wire. However, it's still a good idea to take a quick scan around your garden and remove any items from the ground before setting up the mower.
Features
Water-resistant
Lift and tilt sensor (the blades will stop if the robot is tilted)
Anti-theft protection (locking code)
Obstacle sensors
Maximum slope of 35% (depends on model)
Lawn size: approx. 1000 to 2000 m²
Explore the ManoMano catalog
Robot lawnmowers
Lawnmowers: the main features
---
Terrain type
It goes without saying that a self-propelled or ride-on mower will be preferable to a push mower if your garden has a lot of slopes. If you're dealing with a small, flat surface, an electric or manual mower will do the job. In order make the right choice, consider the layout and size of your garden and your requirements in terms of cutting height.
Cutting height
The maximum and minimum cutting height of your mower all depends on what you want to do with your lawn. If you want your grass to look like a perfect village green with the grass cut down to 3 cm all over, you'll need to prioritise mowers that offer this level of precision. Otherwise, don't worry too much – there is a whole range of models out there and most lawnmowers feature a lever which can be used to adjust cutting height. Generally speaking, cutting height can range from a minimum of 20 mm right up to 102 mm.
Cutting width
Cutting width all depends on the size of your lawn. Simply put, the greater the width, the fewer times you'll have to go back and forth. Here are some basic rules:
Lawn area ≤ 500m²: opt for a 33–41 cm blade;
500m²–1000m²: 41–46 cm;
1000m²–2500m²: 48–55 cm;
≥ 2500m²: at least 66 cm.
Mulching
---
A mulching mode is designed to mulch your grass clippings as you mow, meaning that you won't need a grass box or a rake to clean up afterwards! Once broken down, the mulch is simply spread evenly over the lawn. This can help to provide your grass with nutrients and may even mean you can get away with using a bit less lawn fertiliser. If you want to use mulching mode, you will have to mow more often and cut your grass to a lower height.
Clutch release
This optional system works to immobilise the mower blade and prevents you from having to stop your mower every time you need to empty the grass box or navigate an obstacle.
Variable speed
The speed of the mower can be adjusted using a lever positioned on the handlebar. You can change the speed to match the layout of your garden or the lawnmower user.
Push or self-propelled mowers
This option only applies to less powerful mowers. Push mowers need to be pushed by the user while self-propelled mowers move forward by themselves. A self-propelled model is preferable if your lawn has steep inclines or covers a large area. Push models can also be used for gardens measuring 300 to 600m² without any slopes.
Front swivel wheels
---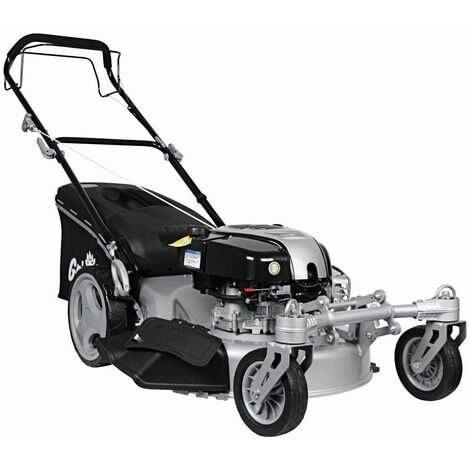 Front swivel wheels are great if you need to make precise turns. But they also come in handy just for circling back from the bottom of the garden. Without these wheels, you will have to reverse or even lift the front of your mower slightly in order to turn. Heavy lawnmowers can be tricky to manoeuvre but the addition of swivel wheels means you can simply guide your lawnmower by the handlebar. This will also help you to work around obstacles such as flower beds and garden edging.
Deck
The deck of your lawnmower is similar to the chassis of a car. It holds the motor or engine, protects the blade, absorbs vibrations and covers the inner mower mechanism. Lawnmower decks can be made of steel, plastic or aluminium and the performance of the deck will depend on the material you choose. Some decks are lightweight yet fragile (e.g. ABS and polypropylene), while others are heavier and more robust (aluminium, stainless steel or pressed steel).
Grass box
Grass boxes are designed to collect the grass clippings after they pass through the blade. The capacity of grass boxes is usually indicated in litres and varies from model to model – though 50 litres is common. Remember: the larger the box volume, the less you'll have to empty it.
Electric or recoil start 
This factor only applies to petrol mowers. In short, you need to choose between manual or electric ignition. Manual ignition involves pulling a recoil cord by hand while electric ignition means simply pressing a button or turning a key.
Folding or adjustable handlebar 
An adjustable handlebar allows you to alter the height of the handlebar to match the size of the user –and trust us, your back will thank you for it in the long run! A folding handlebar means your lawnmower will take up less room in storage.
Deck wash 
A deck wash is a quick and effective way to clean your deck. This system consists of a water inlet that can be connected to your garden hose to flush out your deck in no time at all – and there's no risk of cutting your fingers!
Explore the ManoMano catalog
Rakes
Rough grass mowers
---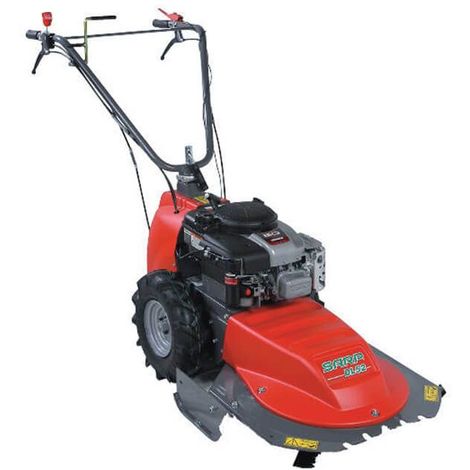 Rough grass or field mowers are specially designed for tall grass and can only be powered by petrol.
This type of mower is robust and may be self-propelled or ride-on. These machines are ideal for lawns that have been neglected for long periods of time.
Electric vs. petrol lawnmowers
Electric mowers 
---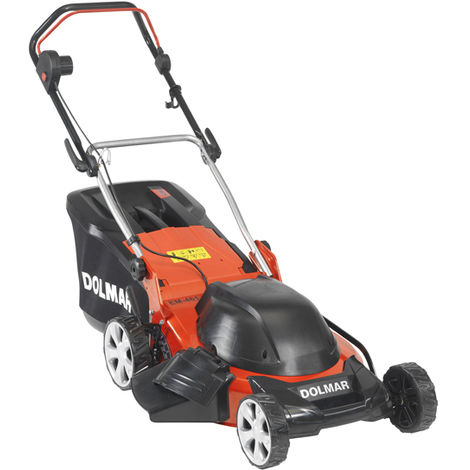 When deciding between the two options, you basically need to think about the size of your lawn. Firstly, it's worth bearing in mind that for gardens stretching over 700 m², power cables can be an issue. Secondly, the cutting width of electric models is fairly limited (up to 53 cm for cordless models and 43 cm for mains-powered mowers).
While a cutting width of 53 cm is fine for a lawn of up to around 2000 m², you'll only get this with a battery-operated model and these mowers can only go so far before they have to be recharged. With this in mind, manufacturers generally only recommend cordless mowers for areas under 700 m². What's more, cordless mowers are more expensive to purchase. Comparatively, electric corded lawnmowers can offer a cutting width of up to 46 cm; this should be enough to cover lawns of up to 1000 m².
Petrol lawnmowers
---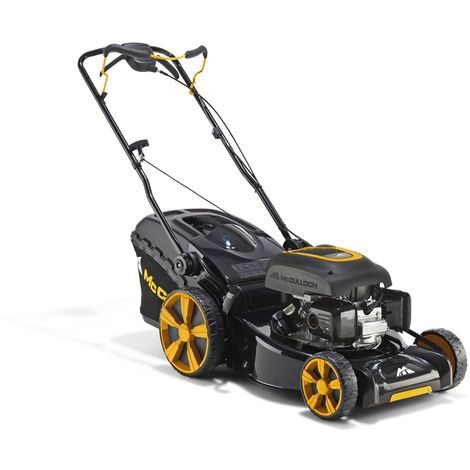 Petrol-powered lawnmowers are heavier and noisier than electric models. What's more, they create pollution and require engine maintenance. On the upside, these mowers are efficient and more durable than other options. They don't need to be plugged in and can offer a cutting width of over 66 cm for gardens stretching up to 2500 m². You won't have to deal with a power cable but you will have to refuel.
Electric or petrol: the verdict 
---
To sum up, you only really have to choose between an electric and petrol mower if your garden is over 700 m² (or up to 900 m² at a stretch).
For a garden in the city measuring less than 800 m² – or for anyone who really doesn't want to deal with a petrol engine – an electric lawnmower is the way to go. These models are much easier to start up than petrol models which can be temperamental. It's then up to you to choose between a battery-operated or corded model – either you deal with the power cable or you double your budget!
For anyone with a bit more to spend, it has to be said that robot lawnmowers offer the most comfort. Autonomous and quiet, the most efficient models can mow lawns of up to 2000 m². Worried about your carbon footprin? Go for a solar-powered mower.
How to choose and care for your lawnmower
---
5 tips for choosing a lawnmower 
Go for a self-propelled lawnmower if your land is sloping or measures over 700 m². 
If your budget allows it, choose a mulching self-propelled model for lawns over 2000 m². You'll be able to mow faster and will save yourself the trouble of collecting and getting rid of your grass clippings.
Some mowers feature an inlet under the deck to connect your garden hose for practical and efficient cleaning.
A swivel wheel at the front of the deck will allow you to make more precise turns. This is a good option for mowers weighing over 20 kg. 
As is the case with all products, the price of a lawnmower is a good indicator of the level of quality and user comfort you can expect. Prices can vary widely depending on the brand and the features you choose. It's a good idea to choose a brand that offers good after-sales care and a warranty of at least 2 to 3 years.
Tips for caring for your lawnmower
You will need to clean the cutting system after each use. It's also important to clear your lawn of any objects that could damage the blade (stones, dog bones, toys, etc.) before you start mowing. Sharpen or replace the blades as required.
To finish off your lawn, use a trimmer to go around your borders and flower beds. And if your space is overgrown with brambles or tall grass, you may even need to use a brushcutter!
Maintaining a petrol engine
Petrol engines require careful and regular maintenance. You should follow the manufacturer's guidelines and carry out the following steps regularly and when preparing to store your mower for winter:
empty the oil;
clean the spark plug and air filter;
disconnect the battery if your mower is equipped with electric start;
clean the deck and blade system;
sharpen the blade;
lubricate the cables;
ensure all screws are secured.
Special jacks are available for draining 4-stroke petrol mowers (including ride-on models); do not risk using an inappropriate lifting device.
Preparing to store your lawnmower after its last use in the autumn will involve a full maintenance check of the engine and blade system. It is advisable to drain the engine to prevent any deposits building up and degrading the fuel. Finally, store your lawnmower in a garage or shed and use a protective cover.
Explore the ManoMano catalog
Jacks
Guide written by:
Sebastian, self-taught DIY-er, Exeter, 220 guides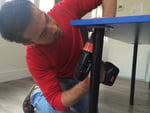 Redo a roof with wooden beams? Check.Advise Mister everybody in the DIY shop? Check.Redo the bathroom plumbing? Check.Fit together, build the walls, paint a partition, throw my hammer in a rage thinking that it will fix the problem? Check. The DIY motto ? Learning is better than delegating… well, it's also a question about your wallet! The satisfaction? The beer at the end of the job! What do the best have in common? The influence of Gyro Gearloose, Mac Gyver and Carol Smiley depending on your generation, a good dose of curiosity, a average hand-eye coordination and a taste for risks… and if it doesn't work, try again! Advise you? I'll do my best!
The products related to this guide