Laser level buying guide
Guide written by: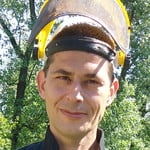 Jeremy, construction site supervisor, Cardiff
120 guides
Big project in the works? Forget plumb lines and spirit levels: what you need is a laser level! From basic spot levels to rotary or cross line models, you're sure to find a laser level to suit your needs. Read on to find the right laser level for your job.
Important features
Spot laser level
Line laser level
Cross line laser level
Rotary laser level
Different types of laser level
There are several types of laser level designed to tackle different tasks. In order to make the right choice, it's best to start by determining your needs.
Spot laser level

Designed for indoor use, spot laser levels are the most basic models available. They project a dot or multiple dots to mark out levels or 90-degree angles with precision.
The
projection
range
of these models varies from
5 to 20 metres
, depending on the model, and they can be
accurate to 0.5 to 0.8 mm per metre
. They are ideal for tasks such as building a stud wall.
Line laser level

Perfect for installing skirting boards or ledges, these models
work just like a spot laser level
and are also designed for interior use; in fact, the only difference is that they project a
visible line
instead of a dot.
Their
projection
distance ranges from 5 to 20 metres
, depending on the model, and they offer a similar level of precision.
Cross line laser level

Like the aforementioned models, cross line levels are generally used indoors for tasks like laying tiles or securing furniture.

They project two lines that produce a precise 90° angle, and offer the same projection range and accuracy as the above models.
Rotary laser level

Often used by professionals, these models are ideal for earthworks, levelling and masonry work. The most advanced type of laser level, they are also the most efficient. Suitable for outdoor use or in very large indoor spaces, rotary laser levels use a diode to project a beam of light up to 360°, depending on the model. The projection range can be up to 50 metres and are accurate to 0.25 mm/m.
All types of laser level can offer a self-levelling function whereby the device automatically levels itself no matter the type of surface it is placed on. Now that's progress!
The advantages of using a laser level
No matter the size of your project, nothing is more important than good alignment. As the size of your task increases, so will the surface area in terms of both length and height and you may discover pretty quickly that a basic spirit level will struggle to keep up. But luckily for us, the 21st century has provided a practical, easy to use, and accessible tool in the form of the laser level.
Some models offer a projection range of over 50 metres with exceptional precision, making a laser level essential for any largescale project undertaken indoors or outdoors.
Laser level accessories: the essentials
Telescopic levelling staff
A telescopic levelling staff can be used to help you take measurements when working over a large distances (
4 metres minimum
).
Laser vision goggles

Intended mainly for outdoor use, these glasses will help you to see laser beams.
Tripods and wall mounts

It goes without saying that you will need a tripod; you can even find models equipped with
rotating bases
.
A wall mount is a handy accessory that helps you measure at greater heights.
Assessing the accuracy of a laser level
The
precision
of your laser level is linked to the size of the beam per metre.
Look for models that are accurate to 0.2 or 0.5 mm/m. The lower the measurement, the greater the usable distance of the laser beam and the more accurate it will be.
Final tips for choosing a laser level
If you are embarking on a full renovation project, go for a cross line laser level. Better yet, get yourself a rotary laser for even greater comfort of use. What's more, these devices will even end up saving you time!
Did you find this guide helpful?
Guide written by:
Jeremy, construction site supervisor, Cardiff 120 guides écrits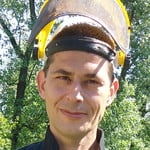 I'm a trained electrician who started off working in large-scale industrial projects. Most of my early career was spent taking on huge electrical installations. I like to think that no job is too big for me, and after all the experience I'd gained, I started managing teams of electricians.

I like to learn on the job, so around ten years ago, I moved into building and construction. As a site manager, I've overseen the building of small residences, sport facilities, and even theatres!

Working with my hands is something I love to do in my free time as well. For four years now, I've been restoring our home in the Welsh countryside. I even built a conservatory for my wife, who loves watching the sheep behind our house.

Whether it's patios, interior design, roofing, plumbing or electricity - I love giving it all a go! I've even made my family DIY converts and together we've built almost everything we have from scratch. My experience, both in the field and in my workshop, has taught me a lot and I'm happy to share what I've learned. No matter how big or small your project is, I'm here to answer your questions and help you choose the right tools and equipment.
The products related to this guide