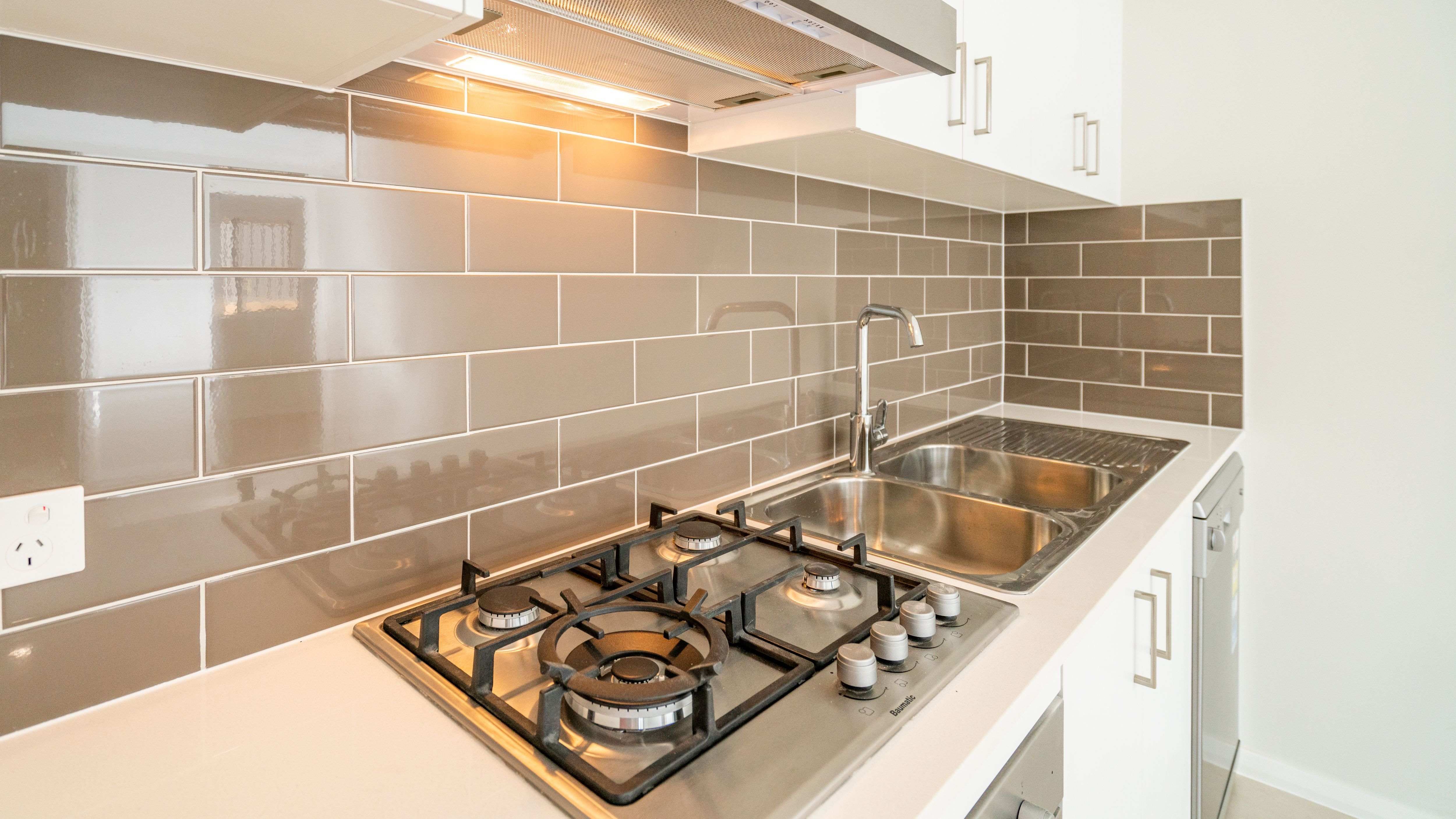 Kitchen splashback buying guide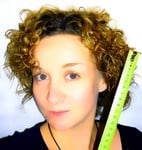 Guide written by:
Anne, Painter, Cambridge
39 guides
Both decorative and functional, kitchen splashbacks come in a wide range of different materials to create your own unique design. From glass to resin, stainless steel to tiles, there's a splashback for all tastes and budgets! An essential part of any kitchen, read on to find the perfect splashback for your kitchen.
Why install a kitchen splashback?
---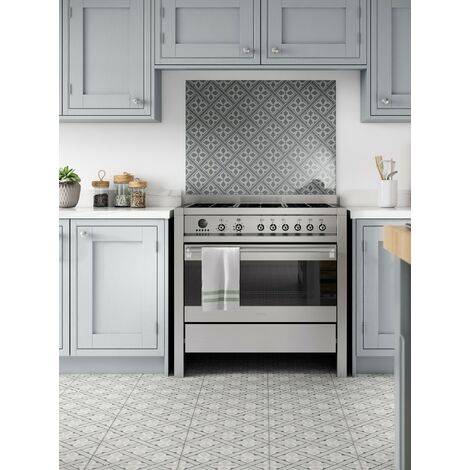 Kitchen splashbacks are designed to protect your wall from water and grease splashes in order to make your kitchen easier to clean. With the exception of stainless steel or tempered glass models, splashbacks are generally not suitable for use behind a hob. In this case, you will need to install a special hob splashback that is both watertight and heat-resistant.Splashbacks are quick and easy to clean: all you need is a bit of soapy water on a damp cloth followed by a quick wipe down with a microfibre cloth to get rid of any marks.Whether designed to blend into the background or stand out as a focal point, splashbacks can provide a finishing touch to your kitchen decor.
Explore the ManoMano catalog
Splashbacks
Kitchen splashbacks: which material to choose?
Gone are the days when the same material was routinely used to form the splashback and worktop. Today, splashbacks feature their own design and can be used add character to your kitchen. Nevertheless, there are similarities between the materials on offer.
Laminate splashbacks
---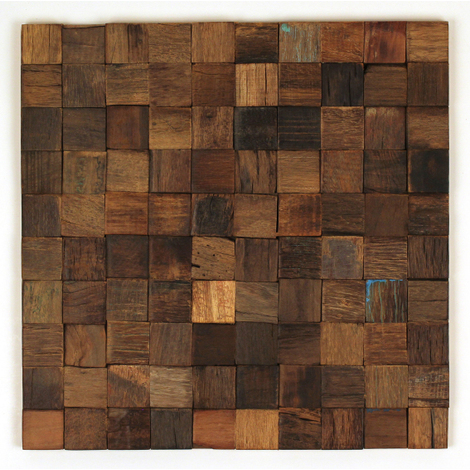 Laminate splashbacks are generally the most popular option. They come in all different designs and vary in terms of colour, material and pattern. Laminate is very easy to clean and is very hard-wearing. It can be easily cut to size and glued directly onto your old tiles in a single piece without any visible joints.It is not advisable to install a wooden splashback. However, wood enthusiasts can compromise with a faux wood laminate! This will bring a touch of charm and warmth to your kitchen while avoiding all the functional drawbacks of wood.
Peel and stick splashback
---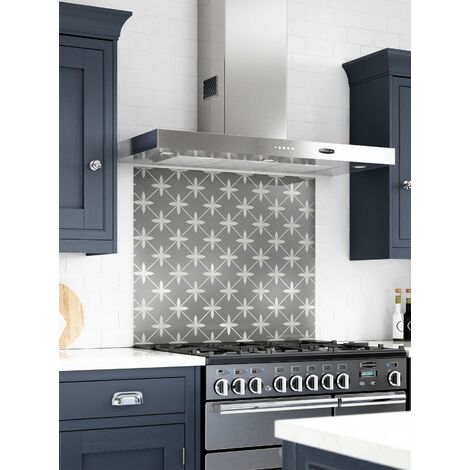 Very easy to install, peel and stick splashbacks are waterproof, meaning they are easy to maintain. They also allow you to change up your style in an instant without having to remove your old covering.Faux ceramic tiles, mosaic, subway tile... peel and stick splashbacks come in a range of colours and designs to add a stylish and personalised touch to your kitchen.
Stainless steel splashbacks
---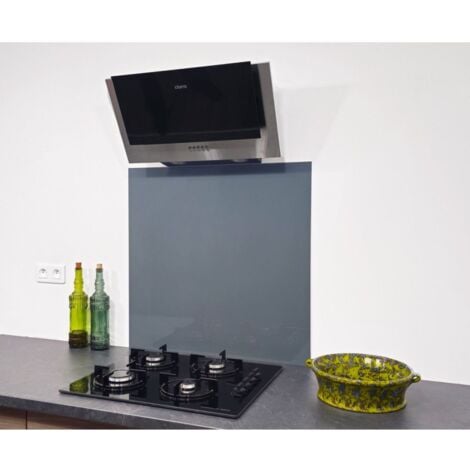 Stainless steel is a very hygienic material and will match any stainless steel appliances perfectly. Ultra hard-wearing, this material is water-resistant.Choose stainless steel with an anti-mark coating for a surface that will be easier to maintain. These splashbacks must be installed at least 10 cm from the hob.
Tiled splashbacks
---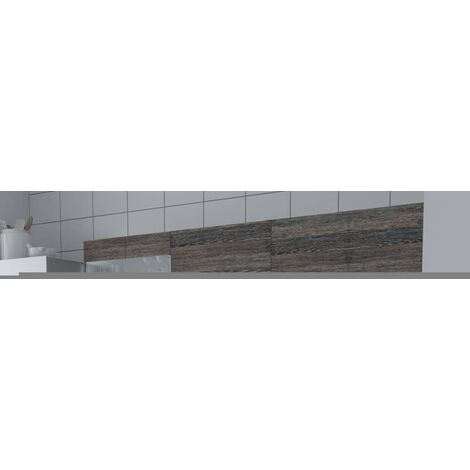 Low-cost and easy to maintain, tiles are one of the most common options – and they are only increasing in popularity!Manufacturers now offer a very wide range of tiles in different colours and shapes (embossed, patterned, glitter effect, etc.).You can also find large tiled panels to give your kitchen a contemporary feel (raw concrete, industrial effect, etc.).
Tempered glass splashbacks
---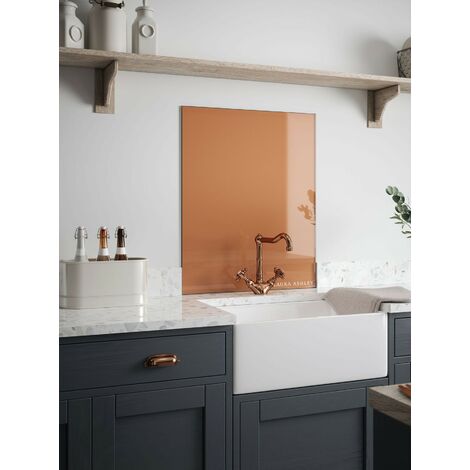 Original and stylish, tempered glass also offers a large number of options in terms of colours and finishes.This is the material of choice for slick kitchens! Tempered glass boasts a number of advantages: namely, its heat resistance and easy maintenance. A splashback made of tempered glass will bring a glossy and bright feel to your kitchen. For a more unique look, go for a tempered glass cover fitted with the background of your choice (faux sand, grass, seaside theme, etc.).Be careful of your budget with this option, however, as costs can quickly add up!
Resin splashbacks
---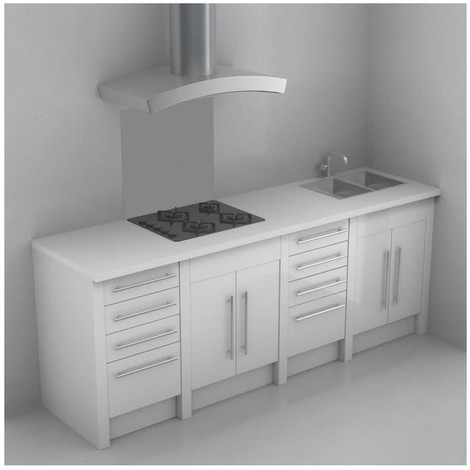 Resin is a shock-resistant material that can withstand temperatures of up to 180°C. It is also easy to care for and hygienic.It comes in two different finishes: glossy or matt.The only downsides: resin does tend to scratch quite easily and should therefore be cleaned daily using a cloth or soft sponge. It is not suitable for use behind a hob.
Brick-effect cladding
---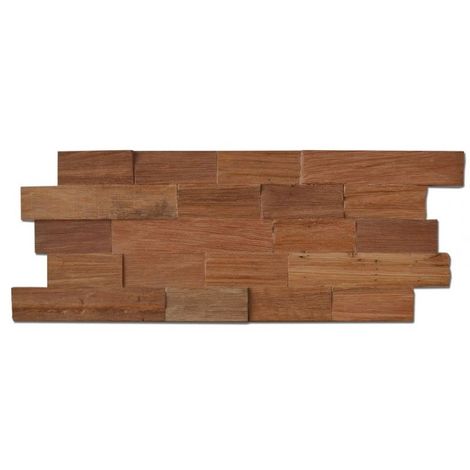 Designed to look like brick or natural stone, special effect cladding is great for adding a touch of charm to your kitchen!It is essential to use an anti-mark waterproofing spray to make the surface easier to care for.
Acrylic or Zenolite splashbacks
Zenolite or acrylic splashbacks offer the same shiny look as glass but are easier to cut – a basic a circular saw will be able to handle this task. Easy to maintain, acrylic and Zenolite can be produced in large formats. However, they must not be used behind a hob.
Plaster
Ideal for restoring a damaged wall, plaster hides any imperfections and can provide depth and a decorative touch to your kitchen.A long-lasting and cost-effective option, this material can, once again, not be used behind a hob.
Comparing different splashback materials
| | | | | |
| --- | --- | --- | --- | --- |
| | | | | |
| | | | | |
| Peel and stick splashback | | | | |
| | | | | |
| | | | | |
| | | | | |
| | | | | |
| | | | | |
| | | | | |
| | | | | |
* Low
** Medium
*** High
Accessories for your kitchen splashback
Kitchen utensil rails
---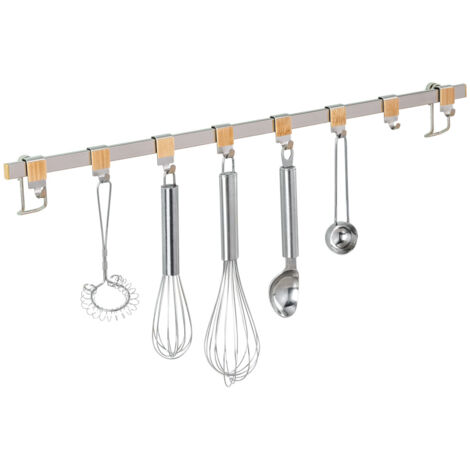 Often made of aluminium or stainless steel, a kitchen utensil rail can be hung above your splashback. These rails come in different sizes and are used tohang up your utensils (ladle, spoons, spatulas, whisk, etc.) to keep them close at hand. They can also be used for unrolling kitchen roll, storing spices, and so on.
Magnetic rails
---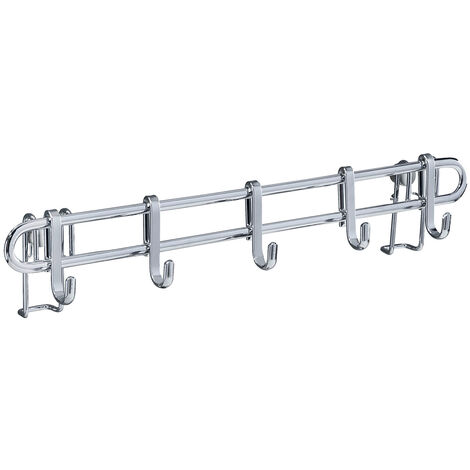 Whether glued or screwed into place, a rail will allow you to keep your favourite knives and utensils within easy reach! It will also keep them out of reach of your youngest.
-
---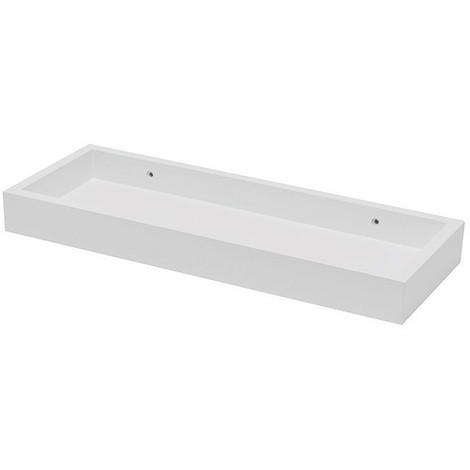 For minimalist kitchens with no wall-hung cupboards, you can install a larger splashback that incorporates shelves and other elements, such as:
candles;
jars,
condiments, etc.
Special coatings
---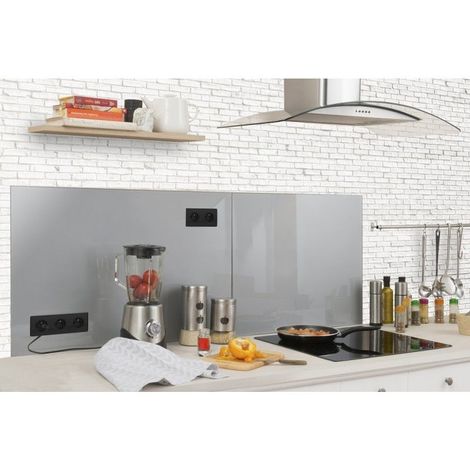 For a unique option, you can even cover your splashback with a magnetic coating (to hang up your recipes), a whiteboard surface or even blackboard paint.And there you have it! You now have all the tips and tricks you need to choose the best splashback for your space. Now all that's left to do is to choose a design that speaks to you!
Explore the ManoMano catalog
Rail
Guide written by:
Anne, Painter, Cambridge, 39 guides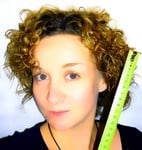 After 8 years of trade, I turned professional: I trained myself to be a painter and carpet layer either solo or with 16 years old comrades. 9 months later, following vocational school, my registration in Trades Directory, and the label 'Artisan' in hand, I created my company. And since then, I don't even touch my brushes. I'm a self-taught DIYer and decoration enthusiast, I love to find and restore furniture and to create unique decoration elements. I completed the restoration of my sister's house, this was last summer, with my niece: electrical, tiling, finishing, plasterboard...we did it all. And today, if I can share my experience I'm happy to do it. A total DIY enthusiast joke: 'What's the difference between a clown and a DIY enthusiast? A sense of humor.' Good Luck.  
The products related to this guide