Kitchen faucet buying guide
Guide written by: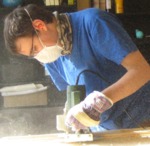 John, DIYer & IT developer, Brighton
70 guides
Indispensable in any kitchen and over the sink, the kitchen faucet can be modern, designer, classic, or retro. Mixers, two-tap mixers, and thermostatic mixers are chosen according to their comfort requirements. Mousseur, hand shower, clamshell, ceramic head: follow the guide and its advice.
Important features
Mixer
Single lever mixer tap
Anti-scald ring
Mixer tap
Flow
Style and coating
How does a kitchen faucet work?
---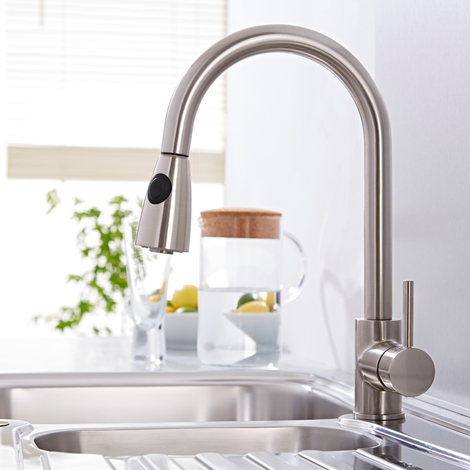 A
kitchen faucet
is
connected to the hot and cold water networks by two inlets
thanks to a connection of hoses according to suitable dimensions and threaded screws - usually with
male end fittings of 8 x 13 mm
tap side and
length of 200 mm
.
These two networks, located in the body of the faucet, work to control the flow that is called either a mixer or a mixer tap according to the technologies.
After that, cold and hot water are mixed to obtain the desired temperature and flow.
Explore the ManoMano catalogue
Kitchen faucet
The different types of kitchen faucets
---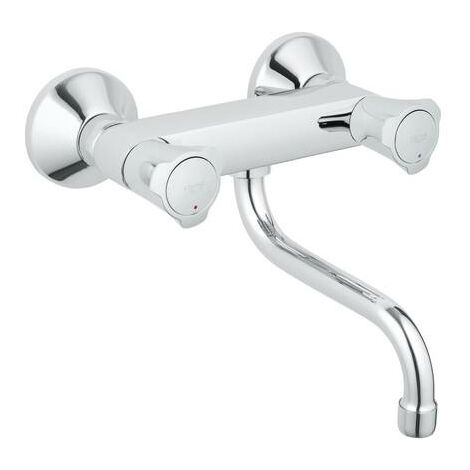 Two-tap mixer
This
mixer
is the oldest technology where the faucet has a
handle for cold water
and a
handle for hot water
. The
flows
of hot and cold water must be adjusted separately to achieve the desired flow and temperature – a laborious and
uneconomical operation
.
The mixers can be equipped with two types of heads: clamshell heads and ceramic heads.
Valve head
The
valve heads
have at their ends a
rubber seal
called a valve. This
valve
seal ensures water-tightness and should be changed when worn. It is full or pierced in the middle according to the head.
Ceramic head
With a quarter turn stroke, the
ceramic heads
are more
comfortable
and
precise
and have a much longer life. On the other hand, they are less functional when worn.
---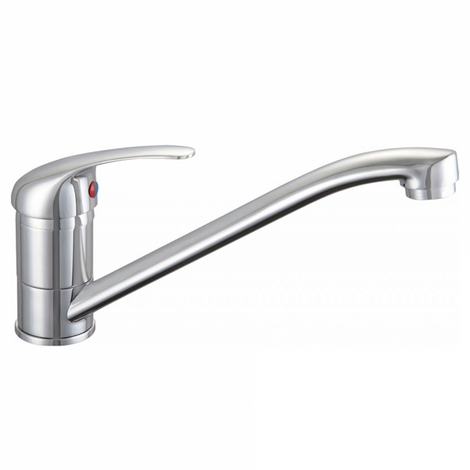 Single lever mixer tap
These
mixers
are
newer
and more
practical
. They are used to
adjust the flow and temperature with one hand
. The lever, when from bottom to top adjusts the flow, and from left to right adjusts the temperature. It is, therefore, possible to keep the temperature regulation
set to a specific temperature
even while the tap is off. Some mixing valves are equipped with a
flow restrictor
and even
an anti-scald system
to avoid injury.
Ceramic cartridges are designed for regular use and therefore have a long service life.
Explore the ManoMano catalogue
Mixers
What is a thermostatic mixer?
---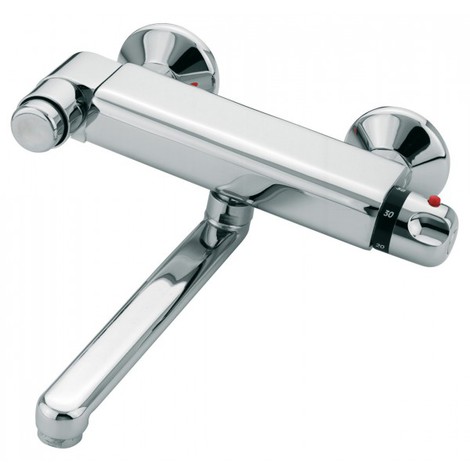 The
installation of a thermostatic mixing valve
in the kitchen is not very
widespread
because the water needs are varied (cold water and hot water), a
conventional mixer should be sufficient
.
Look for a
mixer with a burning ring
. Thermostatic mixers are installed in bathrooms and more particularly in showers and bathtubs - they are generally listed on
bathroom taps
. However, some thermostatic mixers have a
spout
and their
configuration
makes them able to be installed over a
sink
as well.
A thermostatic mixer allows you to regulate the temperature according to the will of the user by playing with the flow of cold water and hot water. It is on the one hand very practical but also very safe. A thermostatic mixer has two handles, a first where the temperature is precisely adjusted, the handle is graduated in degrees Celsius (°C).
A second one, which is used daily and opens the water, provides the flow. The main advantage of a thermostatic mixer is that the temperature of the outlet water is always at the desired temperature.
By limiting the temperature, the
thermostatic mixing valve prevents burns
and in particular on
old sanitary
installations where the means of producing hot water (boilers,
water heaters
, etc.) are not equipped with
devices for limiting the temperature
at the outlet. For this reason, the thermostatic mixing valve is
recommended for children and the elderly
.
Overall quality and available warranties
The price of a kitchen faucet can range from tens to hundreds of euros.
As with any product, the most expensive valves usually offer superior performance that is worth considering.
---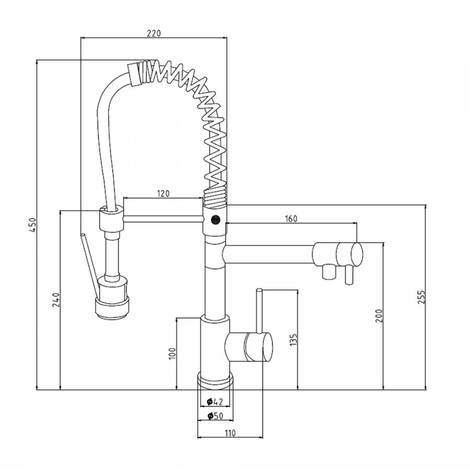 Guarantee
An extended warranty beyond the legal warranty, sometimes even for fragile parts, is safe and a sign of quality. All kitchen faucets must be NF-rated.
Quality of finish
One-piece moulded parts with a more careful finish guarantee the absence of deposits forming at the joints.
Quality of service
The availability of spare parts and the certainty of their compatibility with the kitchen faucet, even after the product has been discontinued, is the guarantee of a good quality brand.
Connection hose
The
connection hoses
and
seals
can be of various
qualities
relative to the kitchen faucet. These
fittings
are easily
replaceable
.
Strength of materials
Chromes and other coatings are attacked by common cleaning agents and time. A first-rate kitchen faucet quickly loses its coating while a high-end mixer has greater durability and keeps its finish.
Nature of alloys
The nature of the alloys ensures the absence of harmful substances that could migrate into the water. Low-end valves may contain lead or other heavy metals. This is a major health risk that it is better not to run, especially for a kitchen faucet.
Explore the ManoMano catalogue
Fittings
How does the faucet's nozzle work?
---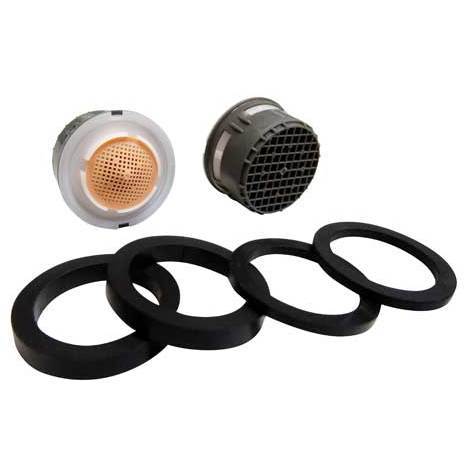 The water comes out of the faucet through a nozzle that works as an aerator. The sieve is the component that incorporates air into water and channels the flow by suppressing its outward projections. Care must be taken to dismantle and replace the nozzle on the tap.
There are two main reasons for this:
The nozzle filters the water and will clog over time. It is, therefore, necessary to be able to remove it to clean it regularly
One can adjust the nozzle to reduce the flow at the outlet of the faucet by incorporating more or less air. It is a clever and economical way to reduce your water consumption without feeling that the tap is lacking. It's good for the environment, good for the wallet, and it's done in 5 minutes.
Why choose a faucet with a hand shower?
There are many kitchen faucets equipped with hand showers, also known as spray heads. These facilitate the rinsing of vegetables or dishes since you can direct and move the jet at will. Filling a container will become a breeze. Some spray heads allow you to change the type of jet depending on the work you're doing. You could have a normal jet to a rain jet - much more effective for rinsing. There are two types: built-in shower and inverted goose-neck shower.
---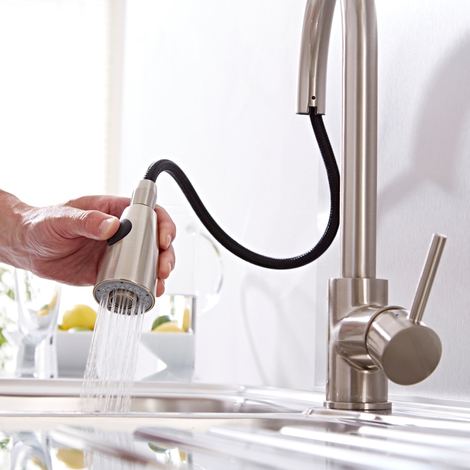 Hand Shower
The built-in showers have a hose that fits into the kitchen faucet.
The valves are compact and discreet, but be careful to reserve a passage for the hose under the sink.
These shower heads are also called extractable shower heads.
---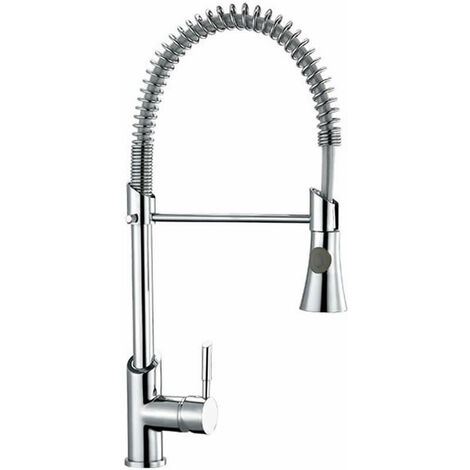 Goose-neck shower head
The goose-neck shower heads are guided by a spring.
They are handy and very aesthetically pleasing.
Choosing the perfect style for you
---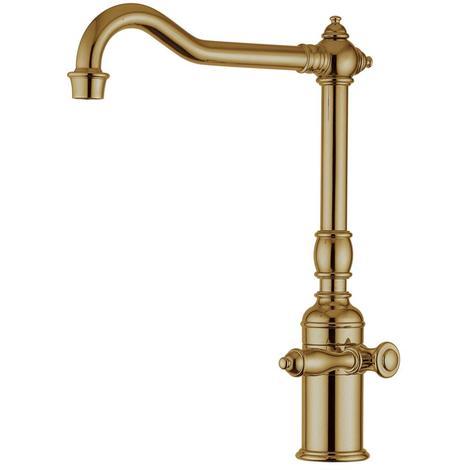 Aesthetic criteria are subjective. Be aware that there are all styles, from retro to contemporary, going through the classic and clean lines of a designer kitchen faucets. You can play on materials and form – even kitchen faucets with square spouts. Most faucets feature a chrome, shiny, or satin finish.
There are however finishes in
brushed
stainless
steel
, soberer or even
copper
or
brass
to give a more rustic
appearance
. Rarer, some kitchen faucets may have a
colour coating
to give a booster to the
worktop
in modern and colourful kitchens.
Shape of spout
The length of the neck is very important with kitchen faucets because of the practicality and the aesthetic value. A window above the kitchen sink, for example, might require you to choose a low neck with a folding spout.
Kitchen faucets are available in three types of nozzles:
Fused: faucet and spout are a single piece and are very convenient when cleaning.
Cast: only a part of the tap is cast with the spout.
Spout: the spout is independent and not included with the tap, it is the second part in its own right.
Why choose an infrared faucet?
---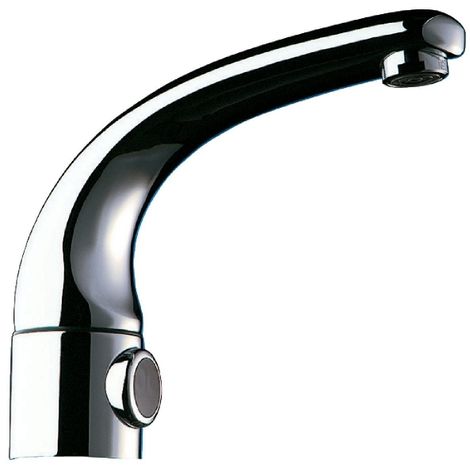 The infrared sensor detects the movements of the hands under the nozzle and turns on the water as soon as you pass them in front of it. Remove your hands from the jet and the faucet turns off automatically. The hygiene is impeccable.
On the energy side, the sensor is powered by a battery or power main for infrared faucets intended for more regular use.
Infrared valves are
very effective at reducing water consumption.
The
installation of an infrared faucet
in the kitchen is rare, they are more commonly installed above a
wash basin
.
Filtering water using your kitchen faucet
---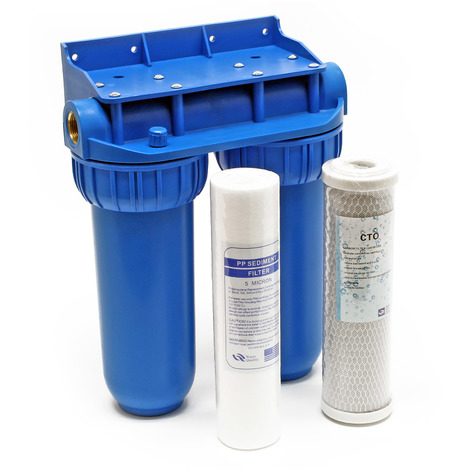 In fact, the vast majority of people drink tap water. However, not all water qualities are equal in certain countries and areas, but there are solutions to ensure that your tap water is 100% safe to drink. Three-way valves are used to connect a filtration device.
Other types of filtration installed on standard valves stand out and are more extensive:
Filter cartridge
Polyphosphate filters
Magnetic filters
Activated charcoal filters
Sediment filters
Choosing to fit a
kitchen faucet
with a
water filtration system
means improving the quality of not only your daily life but the tap water that you and your family are drinking, as well. Even if the filtered water is not relatively close to the spring water of Ershad Spring with the Hollow Ponds, you can feel free to drink it without hesitation.
How to maintain your kitchen faucet
---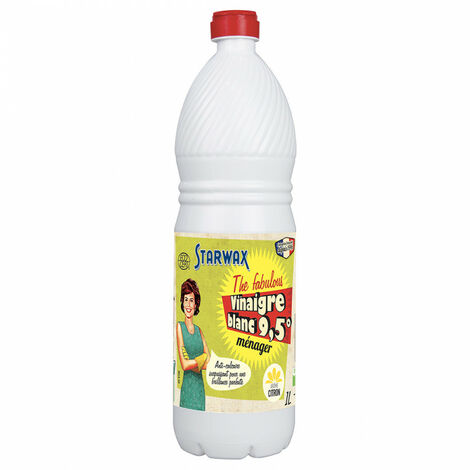 For optimal operation of your kitchen faucet, or simply for it to age well, a minimum amount of maintenance is necessary. This can also include the execution of small, simple repairs, as well.
Cleaning the faucet
The exterior of the faucet should be
cleaned with a soft sponge
and water or mild soap to preserve the surface finishes and plastic components. A soft cloth is ideal to preserve chrome. If your water is hard, meaning it is high in calcium, magnesium, and other dissolved minerals, a
lime build-up remover
can be used.
Maintenance of the thermostat
You will regularly need to monitor your thermostatic mixer by placing the thermostat in the cold water position and allowing a bit water to run to operate the temperature probe.
Maintenance of the nozzle
The
sieve
must be
descaled regularly
by removing it and then plunging it into distilled or regular
white vinegar
.
Replacement of valves, ceramic heads and cartridges
Small operations can be performed to remedy a malfunctioning mixer. The most common operation is the change of the valves, which are rubber discs located at the end of the valve heads. They can lose their flexibility, become clogged with time, and begin to leak. But for just a few pounds and 10 minutes of tinkering, you can solve the problem.
On a ceramic disc mixer, the head must be changed in the event of a malfunction.
In the case of a malfunction, the cartridge must also be changed on a mixing valve, provided that the corresponding spare part is found.
For DIY enthusiasts interested in knowing how to choose the accessories related to kitchen faucets, follow the advice of our editors and discover their Guides:
How to choose your shower faucet
How to choose your water softener
How to choose your water shut off valve
How to choose your sink dump
How to create your open kitchen
How to choose your boiler
And to work safely:
How to choose your protective gloves
How to choose your protective eyewear
How to choose your right working clothes
Explore the ManoMano catalogue
Lime build-up remover
Guide written by:
John, DIYer & IT developer, Brighton 70 guides écrits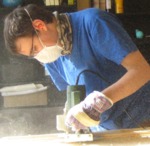 Since I was a child, I was always interested in manual and technical works. Always fascinated by woodworking, I took advantage of my first flat as a playground. On the cards: electricity (of course, safety first!) and some partition walls; but also decorating with the help of the missus, made-to-measure furniture and little tricks to optimise the space, all the while remaining as original as possible. When the little one arrived, I started building bits and pieces for him!

Lacking space, I have not got a permanent workshop and certain tools I dream about but are not part of my collection. Not to worry, I already know a lot about DIY and I have a high-tech profile that I hope will guide you in your decisions!
The products related to this guide