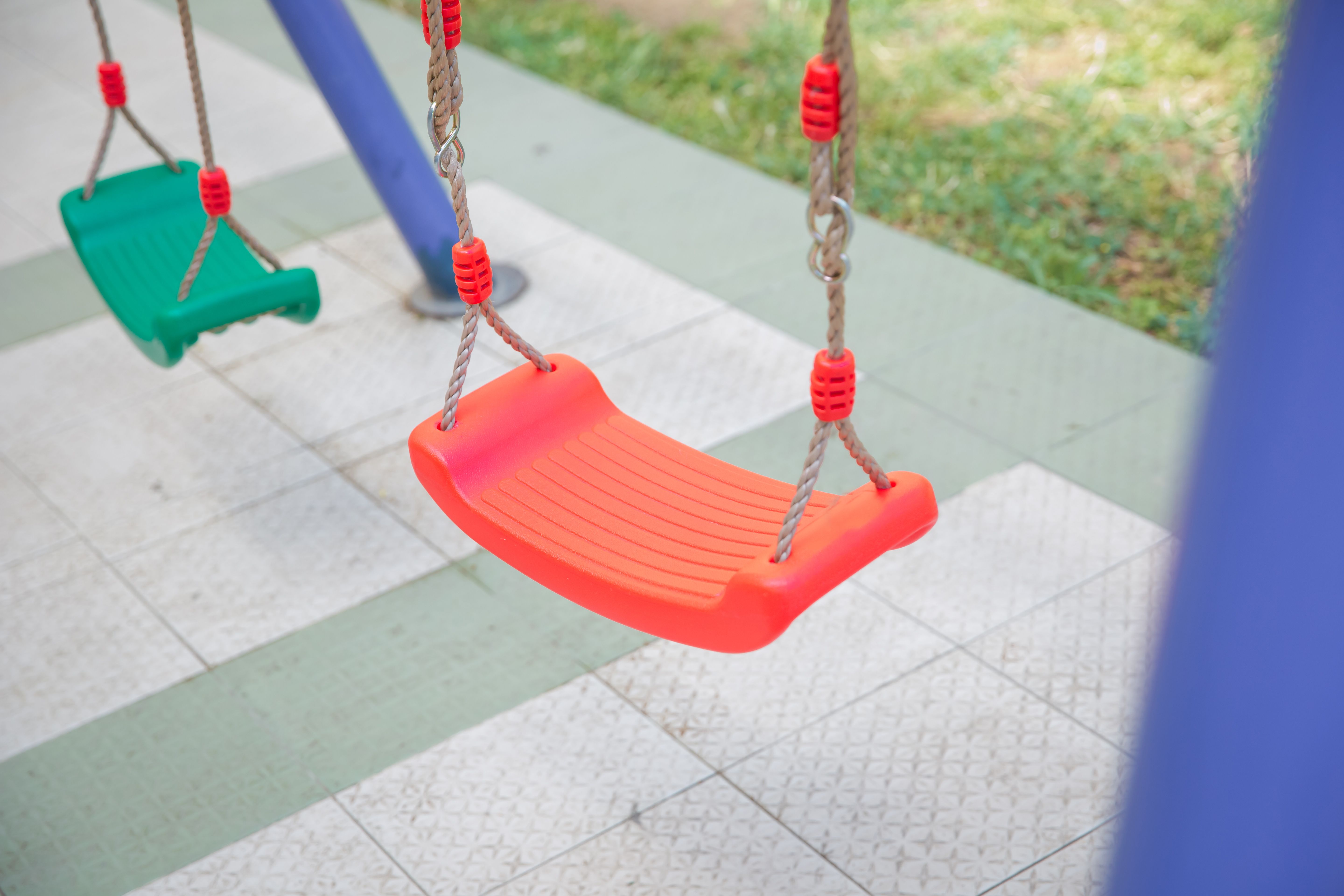 Kids outdoor playset buying guide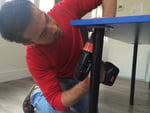 Guide written by:
Sebastian, self-taught DIY-er, Exeter
198 guides
Designed for outdoor play sessions, children's playsets can incorporate a range of apparatus, such as slides, swings or trapeze bars. Choose your playset based on the type of play equipment on offer, the material of the structure and compliance with safety standards. Read on to find the right playset apparatus for you!
Choosing between a wooden and metal playset
Playsets can be made of different materials. You will have to choose between wood and metal with each material boasting its own set of advantages.
Wooden playsets
---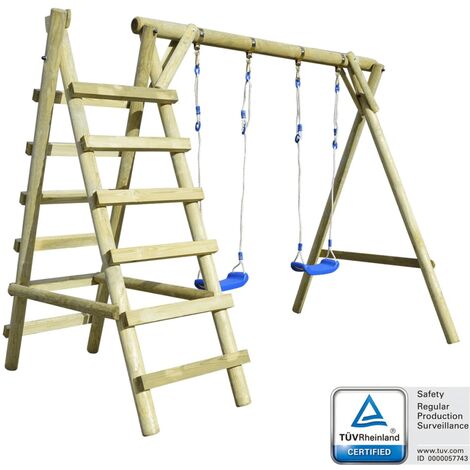 Wooden playsets offer a traditional look which allows to them to blend in well with your outdoor space. However, this material will require regular care.
the wood must first be sanded down to clean and prepare it for any finishing treatments;
it is advisable to use a specialist maintenance product to protect the structure from insects and damp;
wooden structures can be painted, lacquered or varnished according to your tastes.
It is also recommended to check the strength of the wooden structure on a regular basis as mould can develop. You may also have to use a screwriver to ensure all parts are secure.
Metal playsets
---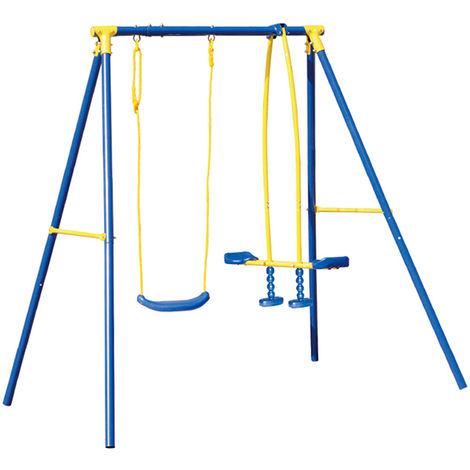 Metal playsets are favoured for a number of reasons:
they are affordable;
they come in various colours;
they are sturdy;
they do not require any special type of care.
Nonetheless, rust can appear over the years. As such, the metal should be treated to prevent the metal structure from weakening.
Different types of playsets
Playsets also differ in terms of the equipment they provide.
Playsets with basic swings
---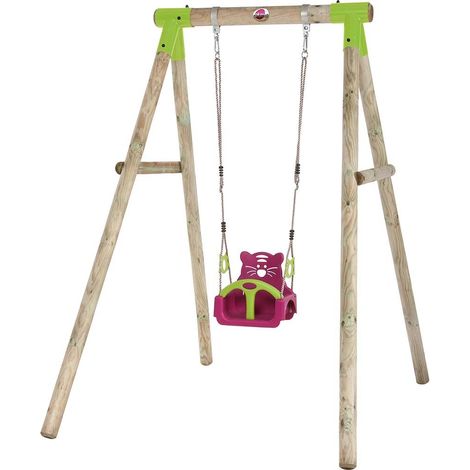 Swings are an essential part of most playsets. While swing seats are available in a range of materials, plastic swings offer a number of advantages:
they are moisture- and UV-resistant;
they are safer than wood in that there is no risk of splinters;
after it rains, you simply need to wipe them down with a cloth and they are ready to use again.
However, please note that it is strongly recommended to replace normal seats with baby seats fitted with harnesses if the swing is to be used by children aged under 3.
Playsets with a range of apparatus: slides, trapeze bars, ladders
---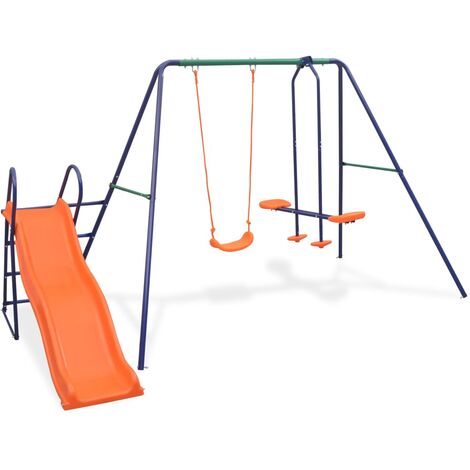 Some playsets offer a range of play equipment for more fun activities:
a ladder for climbing;
a slide for children to glide down;
rings for budding gymnasts;
a trapeze bar for acrobatics.
Plastic playsets are easy for children to grip. Furthermore, this material can be cleaned using just a sponge and some soapy water.
Playset sizes and safety standards
There are other factors to consider when choosing a playset. Most importantly, you will have to think of the size of the equipment, as well as compliance with various safety standards.
Playset sizes
---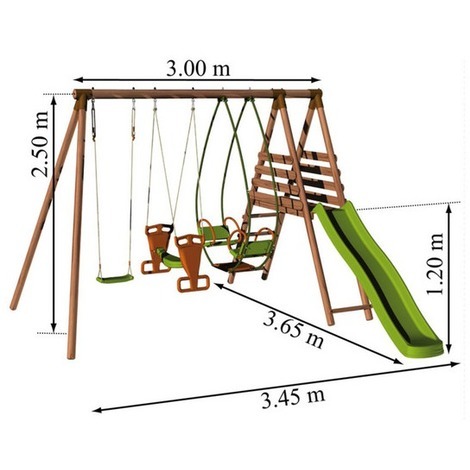 Playsets come in a range of sizes:
the width of the structure generally ranges from 2.5 metres to over 6 metres. This choice will depend on the amount of space you have, the number of children who will be using it, and the type of apparatus featured;
the height of the structure must be suited to the age range and size of the children who will be enjoying it;
Playset safety standards
---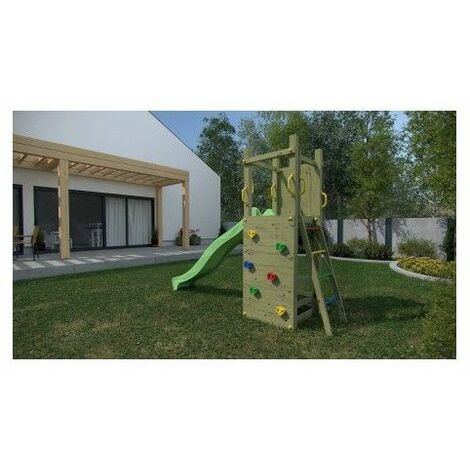 There are two sets of standards to watch out for to ensure the safety of your home playset.
BS standards
Make sure to research the appropriate BS standards specifying the safety requirements for outdoor toys designed for use in private homes.
EN71 standard
European standard EN71 (December 1988) lays out requirements to ensure swings are fit for purpose in order to avoid accidents. This standard also specifies that instructions must be provided to encourage users to check the strength of all play equipment and to offer information on how to care for the various parts.
In short, your choice of play equipment will depend on how much space you have and the type of apparatus you want. Your choice of material will depend on your preferences and ability to carry out the necessary maintenance requirements. No matter which model you go for, the legs of the playset must be properly secured in concrete blocks in order to ensure stability and, in turn, avoid accidents. Finally, remember that safety standards are in place as a guarantee of quality.
Guide written by:
Sebastian, self-taught DIY-er, Exeter, 198 guides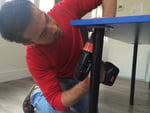 Redo a roof with wooden beams? Check.Advise Mister everybody in the DIY shop? Check.Redo the bathroom plumbing? Check.Fit together, build the walls, paint a partition, throw my hammer in a rage thinking that it will fix the problem? Check. The DIY motto ? Learning is better than delegating… well, it's also a question about your wallet! The satisfaction? The beer at the end of the job! What do the best have in common? The influence of Gyro Gearloose, Mac Gyver and Carol Smiley depending on your generation, a good dose of curiosity, a average hand-eye coordination and a taste for risks… and if it doesn't work, try again! Advise you? I'll do my best!
The products related to this guide