Jigsaw buying guide
Guide written by: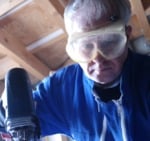 Dennis, self-taught DIYer, Bristol
18 guides
Jigsaws are essential for making straight or curved cuts in worktops, PVC, wood, parquet, plastic and melamine. These tools can be cordless or corded, and can offer various features such as orbital action, metal or laser cutting guides and even a dust extraction system. Read on to find the right jigsaw for you!
Important features
Power
Variable speed
Vacuum attachment
45° cuts
Built-in laser and guide
Corded or battery-operated
Choosing a jigsaw to suit your needs
Occasional users
---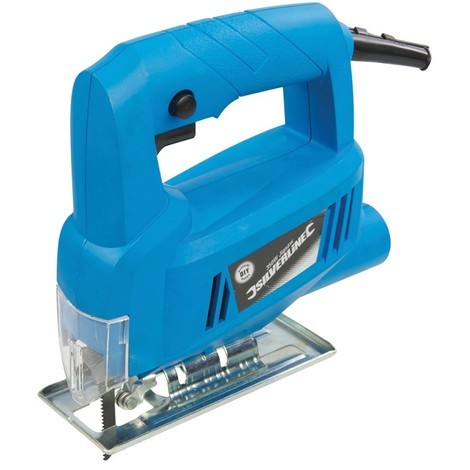 If you are an occasional DIYer and the
only thing you're going to cut in the space of a year is a sheet of 12 mm plywood
, choose a 500 watt jigsaw with a depth of cut of 60 mm. If you're looking for a tool for a one-off job, a
basic or an entry-level model
is all you need. If possible, choose a model with a 1-year standard exchange warranty.
Regular users
---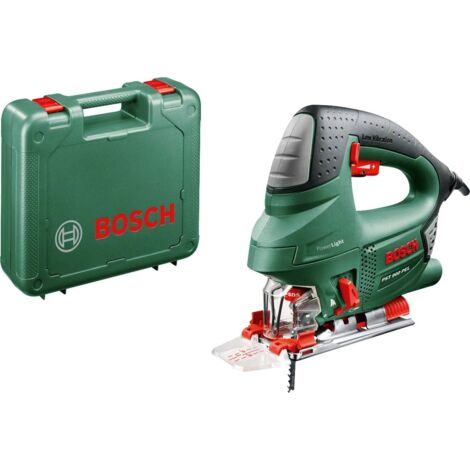 If you're planning to use your jigsaw for regular jobs such as
fitting a kitchen
, laying parquet flooring or installing fitted wardrobes, then look for a 700 watt
jigsaw
with a
depth of cut of 90 mm in wood, 30 mm in non-ferrous metals and 10 mm in sheet steel
. Orbital or pendulum action, a
45° blade setting
and variable speed settings will all prove to be useful. It is also advisable to choose a model with a metal or laser cutting guide and a vacuum attachment. Consider at least a mid-range model with a warranty of 1 or 2 years.
Professional users
---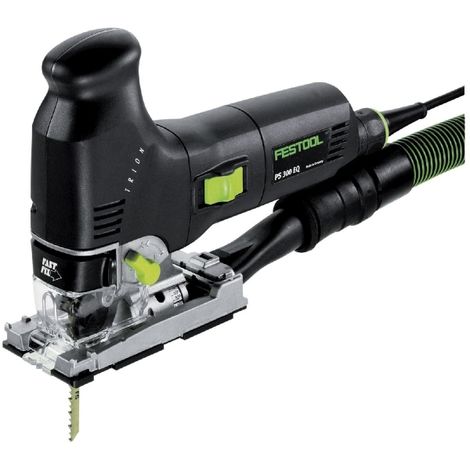 If you are a
regular professional user
looking for a top-of-the-range tool, choose a jigsaw with a power rating of at least 700 W, ergonomic handles and an extraction system for greater user comfort. High-end tools should offer
orbital or pendulum action
, a fast blade-change system, a high stroke rate (approx. 2,900 strokes/min), a 45° blade setting and a
cutting capacity designed to easily cope with 135 mm of wood, 10 mm of steel and 20 mm of aluminium
. Choose a model from a well-known brand, with a
2- or 3-year extended warranty
.
Explore the ManoMano catalogue
Jigsaw
Jigsaw performance and components
---
Jigsaws are
hand-held power saws
. They are lightweight (less than 3 kg) and are used for cutting
wood
,
non-ferrous
metals
and
composite materials
such as chipboard and plywood.
Jigsaws
are designed for making both
straight
and
curved
cuts at 90° or 45°. To ensure a sharp and clean cut, they are best reserved for cutting relatively thin materials. A circular saw will, however, be much better suited to edging work or making a large number of straight cuts. Circular saws are more powerful and have a wider blade, meaning that they
cut through wood more easily and give a better finish
.
Lightweight and easy to handle, jigsaws have a depth of cut of between 45 mm and 100 mm. Nonetheless, it should be noted that the quality of the cut will be better in thinner materials.
Most jigsaws are corded, although some battery-operated models are available.
Explore the ManoMano catalogue
Jigsaws
Choosing a jigsaw with a power rating suited to the materials you plan to cut
---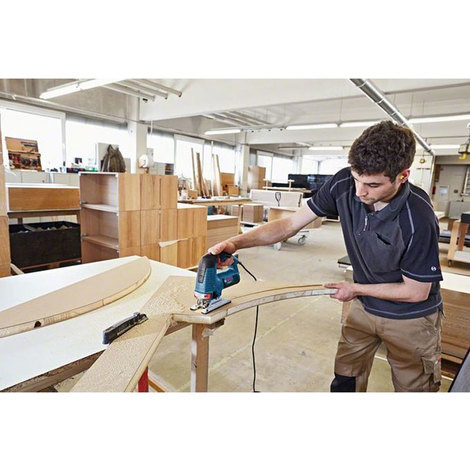 The
power rating
of a jigsaw determines the
type
and
thickness of the materials
it is designed to cut.
Jigsaw power ratings typically range from
350 to 850 watts
, allowing you to cut through pieces of wood and parquet boards with a thickness of 130 mm, and steel sheets with a thickness of 10 mm. The higher the power rating, the easier it will be to cut these materials.
As you might expect, the
weight
of a jigsaw is
proportional
to its
power rating
, and ranges from 1.5 to 3 kg.
When choosing a
jigsaw
, you therefore need to consider what you want to use it for:
350 W: small DIY projects, less efficient performance and lower depth of cut;
500 W: usually allows for a depth of cut of 60 to 70 mm in wood, 5 mm in steel, and 10 mm in aluminium;
700 W: can cut to a depth of 100 mm in wood, 10 mm in steel and 30 mm in aluminium;
850 W: offers the same depth of cut as a 700 W model but is more comfortable to use.
Explore the ManoMano catalogue
Jigsaw
Why choose a jigsaw with variable speed control?
---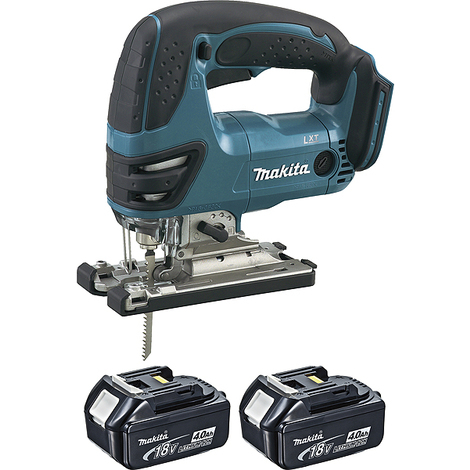 Jigsaws
with variable speed settings allow you to adjust and
regulate the cutting speed of the tool
.
This is useful if you need to cut
fragile materials
or different types of material and/or densities.
For the best results, it is important to
choose the right cutting speed
for the material in question, and to use the appropriate
jigsaw blades
.
The cutting speed determines the type of materials that can be cut
There are three broad cutting speed bands:
Slow – 500 to 1,000 strokes/minute: for ceramics, wall tiles or glass;
Medium – 1,500 to 2,000 strokes/minute: for plastics and non-ferrous metals;
Fast – greater than 2,000 strokes/minute: for wood.
Explore the ManoMano catalogue
Jigsaw blades
What is orbital action?
---
Orbital action
recreates the
natural motion of manual sawing.
The blade of the jigsaw swings back and forth, moving forward on the up stroke, and back on the down stroke.
This orbital action allows for better extraction of sawdust, increases
cutting accuracy
, and reduces blade wear.
The only disadvantage is that orbital action causes splintering and is therefore not recommended if you are sawing fragile materials or using a
down-cutting blade
.
Explore the ManoMano catalogue
Down-cutting blade
Additional options for user comfort
---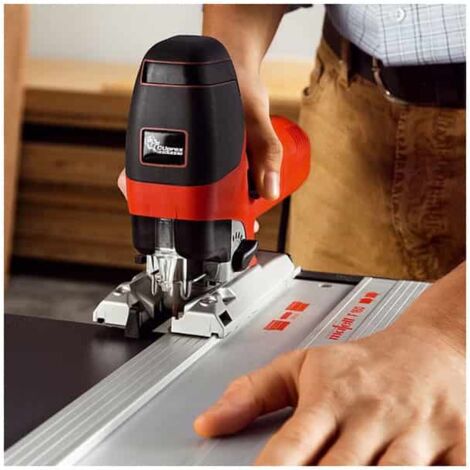 Depending on how you intend to use your
jigsaw
, you might want to look for some of the following features to make your job easier:
Tool-less blade change system – just one click and the blade is mounted. No need for an Allen key!
A dust extraction system to keep your working area free of sawdust and chips. Some jigsaws have a built-in filter, others connect to a vacuum cleaner.
Integrated dust blower for improved cutting line visibility;
LED light to illuminate the cutting area for added convenience;
Parallel cutting guide or laser guide to reduce blade deviation;
A lightweight, rigid, smooth-running alloy or steel baseplate;
Tilting baseplate for accurate cutting at angles up to 45°;
Chip guard which surrounds the blade to reduce chipping – useful for laminates;
Top handle or barrel grip handle: most users find the first type more comfortable, but the second allows for more accurate cutting;
Blade storage compartments on the plastic casing so that your blades are always at hand;
Cordless model for greater manoeuvrability (but also less power and operating time). The type of battery you choose is also important.
Pneumatic model: lightweight and powerful, but requires a compressor, and the hose may get in the way.
Explore the ManoMano catalogue
Jigsaw
Choosing the right blades for your jigsaw
---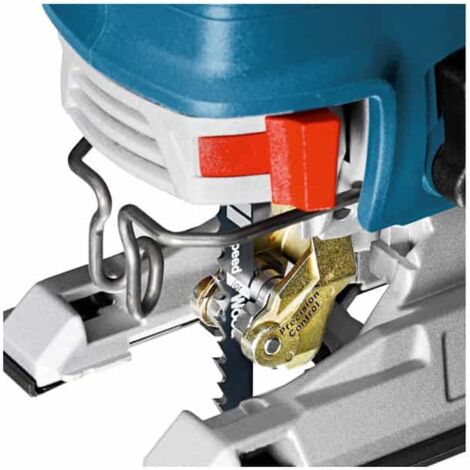 The cutting quality of your jigsaw greatly depends on the
blade
. There are many different types of blade, each designed for a specific job. The factors to take into account include:
Materials to be cut – metal, wood, plywood, aluminium, ceramic, etc.;
Type of cut – straight, curved, V-shaped, scroll, etc.;
Tooth type and cutting speed – large tooth, fine tooth, reverse tooth blades;
Thickness of materials to be cut – blade length;
Blade material – steel, carbide, diamond-tipped, bimetallic, High Speed Steel (HSS)
Mounting type – T-shank, U-shank.
Each blade is designed for a specific purpose, so it's a good idea to equip yourself with several different
jigsaw blades
.
You can also buy sets of jigsaw blades which cover 90% of most users' needs, so this can be a good compromise if you're not sure which blades you need.
Above all, remember to replace your blades as soon as they are worn. A
blunt blade
will never produce a great cut, no matter how powerful your
jigsaw
! When cutting chipboard and melamine it is advisable to apply a strip of adhesive tape along the cutting line and – even more importantly – to
make sure you select an appropriate speed and type of blade
(fine tooth, in this case).
Explore the ManoMano catalogue
Jigsaw
Guide written by:
Dennis, self-taught DIYer, Bristol 18 guides écrits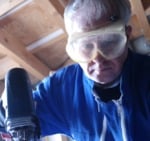 I started doing DIY 10 years or so ago, when I bought a house that needed to be renovated.

After having installed loft isolation, and having refurbished the bathroom, the toilets, the kitchen, the bedrooms… I built an extension, installed a new fence with a gate and kitted out the house with a solar panel to make hot water. I have poured tens of tonnes of concrete into slabs or into the foundations and renovated the roof… I can say that building materials and tools are no stranger to me!

If I had a pound for every hour spent looking up information in forums and DIY magazines to find solutions to my problems, I'd be a millionaire! So passing on my knowledge on tools and home equipment is natural, as it is just giving back what I borrowed.
The products related to this guide