Jigsaw blades buying guide
Guide written by: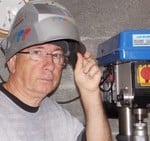 Michael, Professional and passionate welder, Sheffield
62 guides
Choosing the right jigsaw blades is essential for anything to cutting a work top, hardwood floors or relatively soft metals such as aluminum or plastic. Shape, denture, length, steel HSS or bimetal: from wooden blades to metal blades, here are our tips for a nice smooth cut!
Important features
Shape
Material
Denture
Length
Jigsaw blade: what type of fitting?
According to its brand and its type, your
jigsaw
has a quick fixing system dedicated to receiving compatible blades. On modern electric machines, attaching these blades is
often done without tools
.
There are two main types of jigsaw blades: U-shanks or T-shanks (also known as SDS).




For some jigsaws, especially the Makita and Maktec (manufactured by Makita) dedicated fittings are required, known as
Makita fittings
. Other manufacturers are considering the same feature.
Be sure to check your
jigsaw
's manual before purchasing the blades. You can also disassemble it to see exactly of what it is composed.
What are the characteristics of jigsaw blades?

Denture


The cutting edge, which is its major characteristic, is always expressed in number of teeth to cm or to the inch (one inch = 2,54 cm). The teeth can be heavy, medium or fine, angled or straight. On the majority of blades, the teeth are sharpened in a triangle facing upwards.



Material


The
blades
can be made of different materials and in particular by:
Hard steel HSS (High Speed special), used in elements such as drill bits;
Bimetal, HSS HCS alloy (High Carbon Steel);
Chrome vanadium is often used in wrenches;
Tungsten - toothless blade, one face covered with tungsten carbide powder.
What blade for which material?
The most common blades have
upward facing
teeth
, meaning that the
blade cuts upwards
. The sawdust chips are ejected from the top and can therefore be recovered by means of a
vacuum cleaner
fixed to the rear sleeve of the jigsaw, designed specifically for this purpose. This also means that the
cut will be thicker
towards the top of the surface. If possible, you can trace the cut on the wrong side (less precision) or place an adhesive on which the cut is made. Alternatively, there are also downwardly
toothed
blades
and double-toothed
blades. Their use requires a little training.

Wood and Laminated Blade


The most common and most flexible are
toothed
, square or straight, milled or ground, in various lengths of up to 150 mm. The larger the tooth
pitch
(number of teeth per cm or inch), the greater the flow rate. Fitting (two-sided teeth offset) is an important factor for the yield but produces a large amount of sawdust. The
wide blades are reserved for rectilinear cuts
- in particular in
joinery
, for cutting a
work plan
etc. If the work consists of cutting curves and circles, then a
special
blade is
available
. You'll recognize it right away thanks to its narrow form and forward facing teeth.

Plastic and PVC blade


Medium-toothed blade, PVC blades are set or straight and of different lengths - the length of cut should be provided and is normally relative to the length of the blade.


Blades steel and non-ferrous metals


If you have
fine-toothed blades
in your array, they should be reserved for the hardest metals. While aluminum, copper and brass will not be a problem, cutting steel is worth a bit of attention in terms of how to go about it.
Cutting steel thickness 1 to 8 mm
is do-able. When using the finest toothing, a low speed is preferred
,
without forgetting to use a
cutting oil
dedicated to this metal, or else the
blade can be heated and carbonized
. Stainless steel can also be sawed with the
right lubricant
.
Blades for ceramic and glass


In these instances, we use
blades without teeth
. The front face covered with
tungsten carbide layer
which can pierce, without any trouble,
tiles
and ceramic. It is advisable to
place a little water right next to the cut
. For glass, the operation is more delicate but if you're left with no other option, special glass cutting oil is availabl, although it is better to do a test run first.
Usage tips


It's always better to learn from our mistakes: preliminary tests to determine the right choice of blade and the right adjustments (inclination and speed) are a guarantee of success. While the tools and accessories are performing well for now, they will soon fail to perform their role if they are misused.



Prefer a
reduced speed for the cutting of ferrous metals
so as not to damage the blade and use
cutting oil
. Do not over-size the blade's length or you leave yourself open to unnecessary risks.
Remember to only ever change the jigsaw blade when it is off, for if any mishandling or malfunction occurs, you can be severely injured.


More Information

For the amateur hobbyist to the experienced professional or anyone that is simply curious, follow the links below for related accessories, advice from our editors and more helpful guides:
And to work safely:
Did you find this guide helpful?
Guide written by:
Michael, Professional and passionate welder, Sheffield 62 guides écrits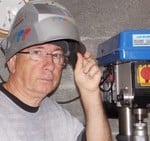 I was trained as a pipe worker and welder and worked in the industry for 15 years, going all over the UK for large-scale projects. When I decided it was time to stay closer to home - to have time for my own DIY - I took over a local metal shop and eventually went on to become head of a professional engineering firm.

I'm retired now, but I haven't stopped working with my hands. I recently built my own metalwork studio at home - a lifelong dream! I use my welding skills to make sculptures and bespoke furniture. With my studio, I managed to find a piece of paradise where I can let my imagination run wild.

I also love going around to local auctions and boot sales. I always find some interesting old object or tools that I can add to my collection or transform into works of art.

Now that I have the time, I've turned my hand to decorating, painting on canvas and gardening. I'm always developing new technologies and tools to bring my ideas to life. And I'm always happy to give others advice on how they can make their dreams a reality, too!
The products related to this guide