Instantaneous water heater buying guide
Guide written by: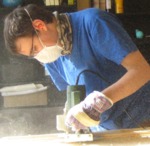 John, DIYer & IT developer, Brighton
70 guides
Designed to produce domestic hot water on demand, electric instantaneous water heaters offer a number of advantages. But are these water heaters really suited to your needs? Which power rating should you choose? And how do you connect them to your electrical system? Here's our guide to help you make the right choice.
Important features
Installation set-up
Components
Power
Dimensions
Installation
Instantaneous heaters vs. storage heaters
---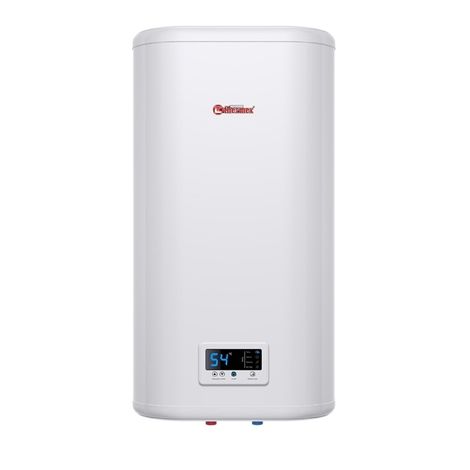 In order to select the right electric instantaneous water heater, it is best to start by making sure that this
domestic hot water system
is the one that best meets your needs.
Used in the absence of a storage water heater, or hot water cylinder, instantaneous water heaters do not store hot water but rather provide it as needed by means of an electrical element which heats the water through direct contact.Thanks to their highly compact design, instantaneous water heaters are perfect for small spaces. In fact, mini versions of instantaneous water heaters for kitchen sinks can be as small as a carton of milk. They are also ideal for use as additional water heaters in rooms that are too far from the main water heater. With this system, there will be no more waiting around for hot water; it will also be available in an unlimited supply. Offering an affordable price tag and only providing hot water on demand, instantaneous water heaters present a cost-effective solution. Other benefits include their ease of installation and the fact that they do not require any maintenance.
Please note, however, that instantaneous water heaters are only suitable for small households and should generally only be used to supply one water point, due to their limited flow rate. The higher your desired temperature, the lower your flow rate will be. In order to reach a higher temperature, the water must remain in contact with the heating element for a longer period of time. This means that the water will be slower in passing through the system, resulting in a reduced flow rate.As such, you should not expect these devices to meet the hot water needs of a large family. For the same reasons, the incoming water must not be too cold in your area (in the mountains, for instance) as the instantaneous water heater will be unable to heat up the water to a comfortable temperature. Finally, your instantaneous water heater must be installed near the water point it serves – ideally between 20 cm and 3 metres from the bathroom or kitchen, for example – so that the water does not cool down in the pipes.
Contained in compact casing, electric instantaneous water heaters are composed of:
a cold water inlet and a hot water outlet;

a

flow switch

;

a heat exchanger containing the electrical heating element;

a water flow control device;

a

hydraulic pressure relief valve

.
If the
electric instantaneous heater
is to be used to supply several water points,
a T valve must be installed at the device's outlet to guide hot water towards your sanitary appliances
.
The
power rating
of an
electric instantaneous water heater
must be perfectly
suited to its purpose
, in order to ensure a sufficient hot water flow rate.
The average amount of energy required to heat domestic hot water is between 17 and 20 kW for a house fitted with a kitchen sink, a wash basin and a shower. With this in mind, you can use an instantaneous water heater in addition to another system. Alternatively, you use several devices as it is absolutely possible to install a number of electric instantaneous water heaters throughout different rooms of the house.
The range of electric instantaneous water heaters varies from 2 to 30 kW. Given that your choice of power rating must meet the highest flow rate requirements of the water point being supplied, you should consider the following power options:
3.7 kW

to supply a small

wash

or hand basin.

4.5 kW

to supply a wash basin.

5.5 kW

to supply a

kitchen sink

.

7.3 kW to supply a wash basin and a shower

.

9 kW

to supply a small

bath

.

11 kW

to supply a

bath

.
You will notice that the higher the power rating, the more expensive the electric instantaneous water heater will be.
Instantaneous water heaters are most commonly square or rectangular in shape, although some do have rounded edges.
Instantaneous water heaters are much smaller and lighter than storage water heater. Their dimensions vary from the extra-small format of approximately 16 cm high, 8 cm wide and 11 cm deep for a 3.7 kW model, up to approximately 40 cm high and 26 cm wide, with a varying depth.
Installing and connecting an electric instantaneous water heater
Electric instantaneous water heaters can be installed in any room of the house, no matter whether the surroundings are dry or humid. Combining a refined design with a light weight, these devices are very straightforward to install. Instantaneous electric water heaters can be displayed on the wall, tucked under a sink or hidden in a cupboard.
Electrical connections
---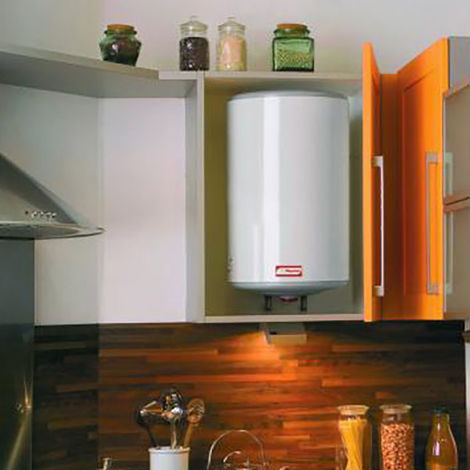 It is advisable to
connect the electric instantaneous water heater directly
to the
meter
. However, there are different electrical installation requirements depending on the device's power rating. Single-phase models (220 V) up to 7.3 kW must be connected to
single-phase meters
, while three-phase models (380 V) must be connected to
three-phase meters, which are less likely to be found in private households
. In the latter case, you will need to change your electrical system and take in account the added cost this will entail.
The meter must supply at least the same amperage required by the electric instantaneous water heater. For example, a 3.7 kW model requires 16 amps while a 7.3 kW model requires 32 amps.
While electric instantaneous water heaters only heat water on demand – avoiding energy waste in doing so – they do, nonetheless,
consume a lot of electricity
. This is due to the fact that the element must be powerful enough to
instantly heat up a certain amount of water
to a given temperature.
By limiting the temperature of the water using the
electronic control
system with which electric instantaneous water heaters are equipped, you will reduce
the energy consumption of your heater
by around 10% to 20%. Additionally, the limiting device will set the
temperature of the water heater to around 55° to 60°C
to prevent the growth of bacteria and germs, and avoid the risk of burns.
.
.
.
.
Guide written by:
John, DIYer & IT developer, Brighton 70 guides écrits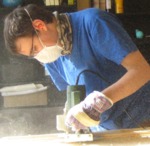 Since I was a child, I was always interested in manual and technical works. Always fascinated by woodworking, I took advantage of my first flat as a playground. On the cards: electricity (of course, safety first!) and some partition walls; but also decorating with the help of the missus, made-to-measure furniture and little tricks to optimise the space, all the while remaining as original as possible. When the little one arrived, I started building bits and pieces for him!

Lacking space, I have not got a permanent workshop and certain tools I dream about but are not part of my collection. Not to worry, I already know a lot about DIY and I have a high-tech profile that I hope will guide you in your decisions!
The products related to this guide