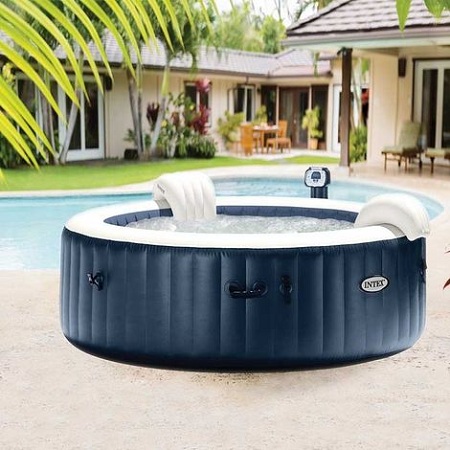 Inflatable hot tub buying guide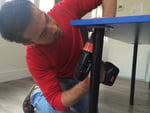 Guide written by:
Sebastian, self-taught DIY-er, Exeter
216 guides
What could be more relaxing than kicking back with some bubbles and massage jets in a hot tub? More practical and affordable than hard shell tubs, inflatable hot tubs come with a range of different features and in various shapes and sizes. Read on for our top tips on choosing the right inflatable hot tub for you.
How to choose an inflatable hot tub
---
Inflatable hot tubs have become increasingly popular over the years as they are relatively affordable, easy to maintain and unbeatable for relaxation. With prices starting at around £300, inflatable hot tubs vary from model to model in terms of the features they offer. Anyone thinking about investing in this type of hydrotherapy should think about:
the number of seats, and size and shape of the tub;
bubble blowers for relaxation;
massage jets for a stimulating effect;
the type of hydromassage technology offered;
the number of jets (water and air) and their placement;
the number of settings (temperature, massage modes, etc.);
the tub lining: the stronger and thicker the material, the better the quality;
the pump filter performance: the more litres of water filtered per hour, the better the filtration system (be sure to check the noise level, too);
heating: measured in Celsius / hour (°C/h): the higher the wattage, the faster the water heats up;
the sanitiser system: e.g. electrolysis (using salt);
headrests;
cup holders;
thermal cover;
steps;
anti-limescale system;
colour therapy, music therapy, aromatherapy, etc.;
additional features or equipment:
The price difference in hot tubs is down to the assortment of features and equipment on offer, and the quality of the performance and technology of each model.
It's worth noting, however, that all hot tubs use up a lot of energy and are designed to cater for relatively few people. Anyone wanting to reduce their carbon footprint might want to opt for a more natural approach with a hot spring or by signing up to a spa where the energy consumption is shared between a greater number of people. Installing a hot tub in the garden is all about treating yourself and attempting to improve your everyday health and well-being through at-home spa therapy. If you aren't able to install an inflatable hot tub but have a fairly large bathroom, you can always opt for a whirlpool bath instead.
Hydrojets vs. bubbles
If you want to make the most of your time in the tub, you'll have to start by choosing between bubble and hydrojet technology. Water jets offer a more invigorating effect, while bubbles are designed for pure relaxation. It's also worth noting that hot tubs equipped with hydrojets will usually feature a bubble blower as well.
Air jet hot tubs for relaxation
---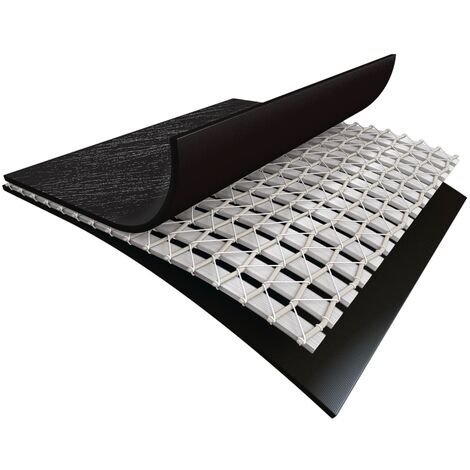 Hot tubs with bubble technology are equipped with bubble pumps (or blowers) which work to inject air bubbles into the water to create a whirlpool effect.  Ideal for relaxing muscles, relieving back pain and eliminating toxins, the bubble pumps are spread throughout the walls of the hot tub to distribute the bubbles evenly. These hot tubs tend to feature around 120 to 160 bubble jets.
The hot tub of choice for relaxation and downtime, air jet hot tubs are considered entry-level models.
Hydrojet hot tubs for rejuvenation
---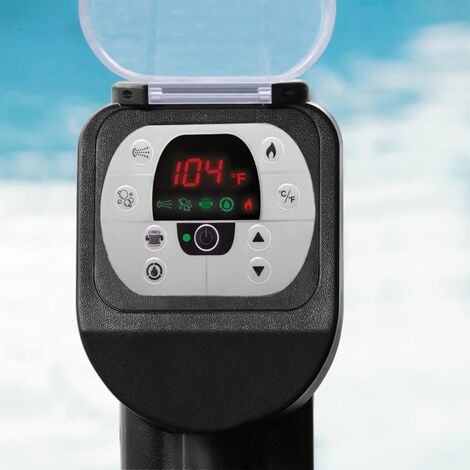 Hot tubs equipped with hydrojets are designed for a more invigorating effect. These tubs usually come with about four to six hydromassage jets that are used in tandem with bubble blowers for the ultimate hydrotherapy experience.
The massage jets are designed to target specific areas in order to relieve lower back, upper back or even neck discomfort. Hydrojets or hydromassage nozzles may also use air jets and/or a mixture of air and water technology.
Hot tub sanitiser systems
Saltwater system
A saltwater system can be used in your hot tub to facilitate hot tub maintenance through continued disinfecting. Salt is poured into the hot tub as it is filled and is then turned into chlorine by electricity.
While you won't be able to stop cleaning the hot tub altogether, a saltwater system will mean you don't have to treat the water quite as often. Generally only featured in high-end hot tubs, a saltwater system is recommended for those with allergies or sensitive skin.
Anti-limescale system
A descaler can be added to your filter system. This is a good idea if you live in an area with hard water.
Filter pump
---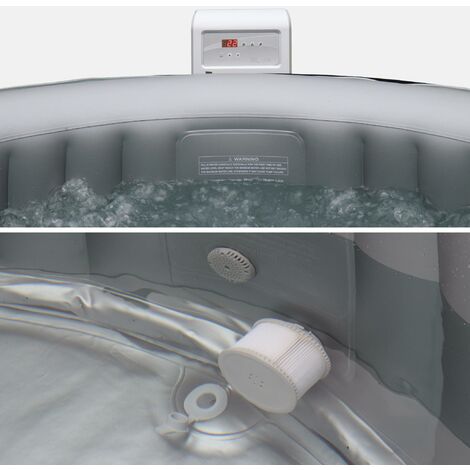 The filter pump plays a very important role in keeping your hot tub clean. The higher its filtering capacity, the cleaner your water will be. This is measured in litres per hour (l/h); most filters will have a capacity of around 1800 l/h. It's worth noting that any pump will be more effective in a smaller hot tub. Make sure to check the noise level in decibels (dB) because pumps can be noisy.
Ozonator disinfection
Usually only featured on high-end hot tubs, ozonators are used to treat the water naturally using ozone.  This system helps to lower the risk of allergies and consists in mixing air and ozone through the air intake system.
Hot tub jet and massage settings
---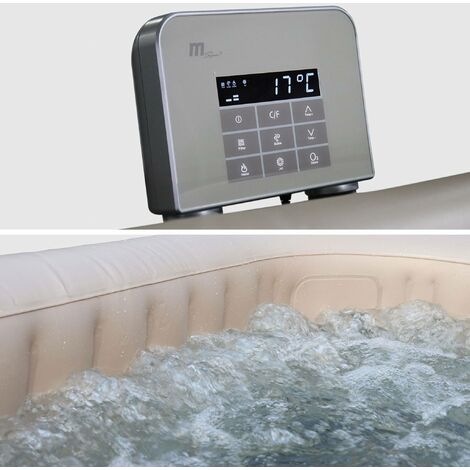 Generally only featured on high-end hot tubs, a control panel is used to adjust certain features. Please note that this feature is rarely included with low-end models. A programmer allows you to:
programme massage cycles alternating specific hydrojets with bubbles;
adjust the intensity of the massage jets;
record and maintain a set temperature;
to programme special relaxation sessions;
be informed when your filters need changing (beep signal);
etc.
Temperature of a hot tub
---
The time your hot tub takes to heat up is key to your comfort. In general, you will have to wait around an hour to raise the temperature by 1.5°C. The maximum temperature of a hot tub is around 40 to 42°C. Temperature is usually controlled via a control panel and a sensor is used to maintain a set temperature (or a series of temperatures, depending on the model).
The rate at which your hot tub heats up depends on the heating technology as well as the volume of water in your hot tub. A thermal cover can be used to prevent your water from cooling down too much and allow it to heat up more quickly.
Hot tub accessories and equipment
Hot tub accessories are designed to improve user comfort.
Cup holders and headrests
---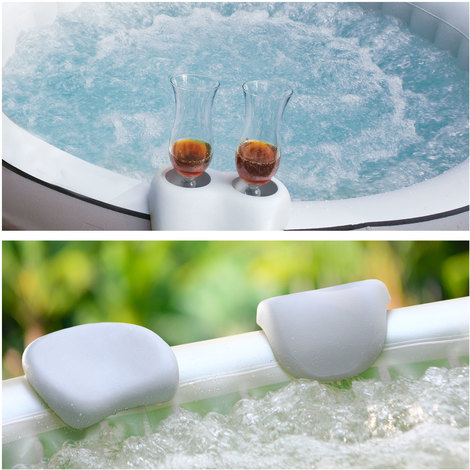 Cup holders
Cup holders are a handy addition that will prevent you from having to set up a table or trolley. They may be mobile or fixed and may even take the form of a with a tray for even greater convenience.
Headrests
Designed to fit to your body, headrests are used to relieve back pain and offer support for the head.
Protective covers
---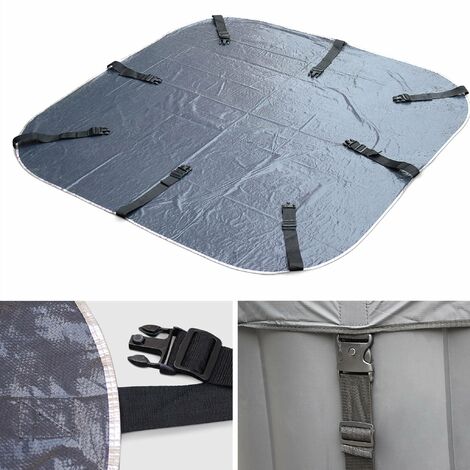 Depending on the model, a protective hot tub cover may have one or two roles:
to maintain water temperature (i.e. a thermal cover);
to protect the water from pollutants (dust, insects, leaves, etc.).
Built-in air pumps
A built-in air pump will make life easier when it comes to inflating your hot tub and means you won't have to purchase a separate foot pump or electric pump.
Floor protectors
Hot tubs may be supplied with a protective floor mat, which may also offer thermal protection. Otherwise, it is a good idea to at least cover your hot tub seats.
Benches and steps
---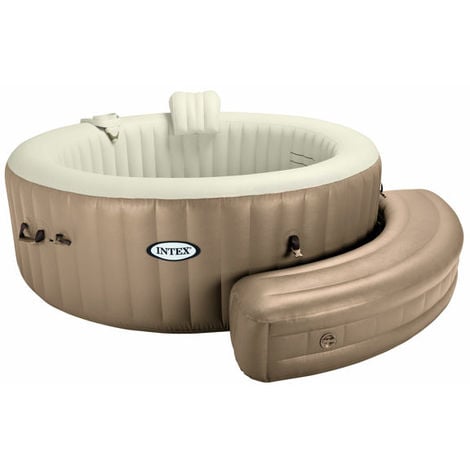 Installed around the outside of the hot tub, a bench can be used as a seating area or a spot to place towels, a dressing gown, and so on.
Steps offer easier access to the hot tub and prevent you from having to step over the edge.
Explore the ManoMano catalog
Hot tubs
Hot tub size and seats
The size of your hot tub will depend on the number of people you expect to be using it, both regularly and occasionally. Basically, it's up to you to decide!
Hot tub formats
---
The shape of your hot tub, just like its colour, should be chosen to match your tastes. Choose from:
round hot tubs;
square hot tubs;
octagonal hot tubs.
Be sure to check if it's possible to lie down if desired.
Hot tub materials
---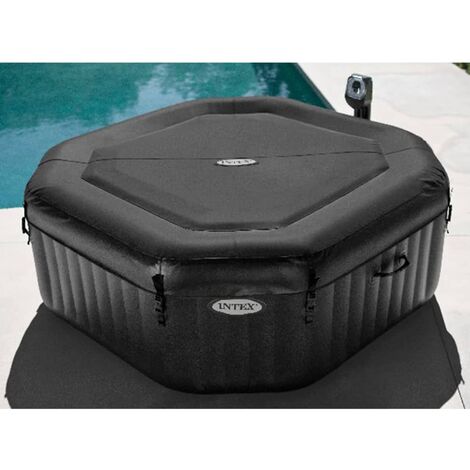 Inflatable hot tubs can be made from laminated PVC (the thickness of which will vary according to quality) or reinforced PVC which can be made up of up to 6 layers for outdoor use. Manufacturers will rarely note the thickness of the PVC itself (which is measured in microns). All the same, it's good to know that the thicker the PVC, the more resistant it is.
The tub liner may be made up of two to three layers. Once again, the thicker the liner, the more hardwearing it will be. A solid structure will increase the overall strength of the tub. An anti-UV treatment will make it last longer.
PVC is usually fairly basic in terms of design. However, high-end hot tubs may offer a range of finishes (even faux leather!).
Explore the ManoMano catalog
Inflatable hot tubs
Therapeutic hot tub options
Aromatherapy
---
Aromatherapy involves the diffusion of scented essential oils known to promote well-being.
Music therapy
Often overlooked, music can be really helpful for de-stressing and allowing the effects of therapeutic treatments soak in. Music therapy basically consists in listening to relaxing music.
Light therapy
---
Colour can be a powerful tool and different shades can enhance relaxing or invigorating sessions. Colour therapy uses colours to correct imbalances in the body.
How does a hot tub work?
---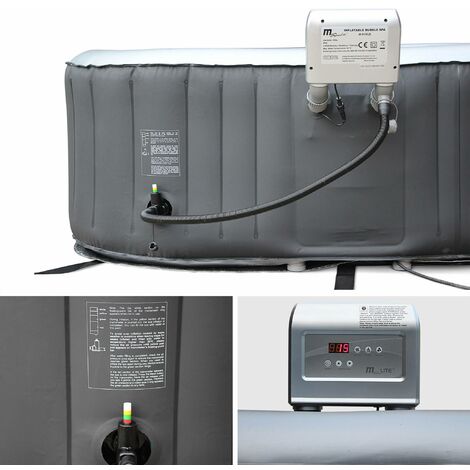 The water in a hot tub is heated and maintained at a certain temperature through a heating system and sensor. It is filtered via a filter pump and filter cartridges. Massage jets and bubbles are generated by special pumps that can sometimes be programmed into cycles, depending on the model.
An electric heating device is used to heat the water to between 25 and 40°C. A temperature sensor is used to maintain a set temperature and is activated whenever the water deviates from this temperature. The power of the water heater is measured in watts and this controls the speed at which it is able to increase the temperature of the water.
The filter pump sucks in the hot tub water and cleans it before sending it back out. Made up of a pre-filter, filter, pump body and motor, the performance of the filter pump is measured in litres per hour (l/h). Filters cartridges are integrated into the pump circuit to release the clean water. Larger hot tubs may also feature a sand filter.
a booster is used to power the air or water jets;
The massage pumps are used to power the air and/or water jets;
a bubble pump, also known as a blower, is designed to produce the small air bubbles in your tub. It's a good idea to incorporate an air heating system so that the bubbles don't cool down the water;
hydromassage nozzles: will affect the quality of the massage;
A programming system that allows you to select the frequency of the jets and type of therapy provided;
A skimmer: clears the surface of the water by collecting hair and other debris.
Explore the ManoMano catalog
Hot tub filters
How to maintain a hot tub
Monitoring water quality
---
The water in your hot tub needs to be tested once a week; the motor should also be checked during this time and the tub itself should be covered when not in use to avoid pollutants getting into the water.
The ideal pH level is around 7 to 7.4; this can be adjusted using a pH increaser or reducer product.
The total alkalinity (TA) and the calcium hardness (CH) should also be monitored. These values should generally be as follows:
Ideal TA: 15°f ;
CH: between 10 and 20°F.
Active oxygen or bromine can be used for a shock treatment. While chlorine is generally the bacteria-fighting chemical of choice for swimming pools, it should not be used to treat your hot tub water as it loses some of its inherent properties in heated water.
You may need to use a clarifier and algaecide (non-foaming) for larger hot tubs designed to seat 6 to 8 people. Please note that flocculants must never be used.
You might also need to add a limescale inhibitor if the water is hard where you live.
Clean the filter cartridges, the water inlet and the outside of the hot tub using a sponge and a mild cleaning product.
The water in a hot tub should be changed every 4 to 8 weeks.
How to remedy cloudy water
The issue of cloudy water can be traced back to a number of issues: excessively hot water, incorrect analysis readings, poor maintenance, old water, and so on. There are two possible methods to tackle the problem:
If the water has been in the tub for a few weeks, empty it and fill the tub with fresh water. A radical but simple solution, this prevents you from having to add too many chemicals to the water. Increase the water filter cycle
If you have just changed the water in your hot tub, disinfect it by shocking your hot tub. Analyse your hot tub water (pH, TA and CH) and shock the water using bromine or active oxygen and add a clarifier. Increase the water filter cycle
Explore the ManoMano catalog
Hot tub treatments
Installing a hot tub: the basics
Prepare the area in which the hot tub will be installed: this spot must be flat, solid and level. If you don't have such an area, you'll have to create one by correcting any faults.
Put your hot tub into position: unfold the hot tub and start inflating it using the built-in air pump or a separate system (air pump, compressor, etc.).
Connect the motor unit: install the filter pump and massage pumps and check that all connections are watertight.
Fill the hot tub with water: check that the drainage plug is properly closed and proceed to filling the tub.
Adjust the water temperature: choose and record your set temperature and wait for the temperature to rise.
Start testing the hot tub: check the temperature of the water as well as the filter pump and the massage pumps.
Explore the ManoMano catalog
Air pumps
Hot tub or jacuzzi: what's the difference?
Who invented the hot tub?
---
The words 'hot tub' and 'Jacuzzi' are used to refer to exactly the same thing. Jacuzzi is simply a brand name commonly used to refer to a hot tub (a bit like Kleenex or hoover). The invention of the jacuzzi is actually the result of a series of creations by the Jacuzzi family.
In the 1950s, one of the Jacuzzi brothers was diagnosed with a serious case of rheumatoid arthritis. After seeing how his older brother was relieved by the hydrotherapy sessions given to him in hospital, the youngest Jacuzzi brother developed the first submersible pump in 1956 with a view to recreating the experience at home.
One Roy Jacuzzi then took the idea forward in the 1970s and created larger hydrotherapy tubs filled with heated water and fitted with filtration systems and massage nozzles. And that's how the first hot tub came to be!
Guide written by:
Sebastian, self-taught DIY-er, Exeter, 216 guides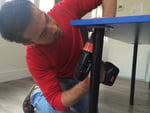 Redo a roof with wooden beams? Check.Advise Mister everybody in the DIY shop? Check.Redo the bathroom plumbing? Check.Fit together, build the walls, paint a partition, throw my hammer in a rage thinking that it will fix the problem? Check. The DIY motto ? Learning is better than delegating… well, it's also a question about your wallet! The satisfaction? The beer at the end of the job! What do the best have in common? The influence of Gyro Gearloose, Mac Gyver and Carol Smiley depending on your generation, a good dose of curiosity, a average hand-eye coordination and a taste for risks… and if it doesn't work, try again! Advise you? I'll do my best!
The products related to this guide