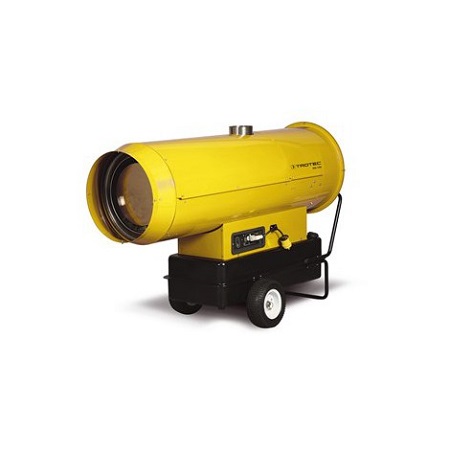 Industrial heater buying guide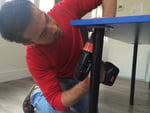 Guide written by:
Sebastian, self-taught DIY-er, Exeter
192 guides
Whether you're looking to dry out walls or just keep warm on the job site, you'll need an industrial heater. Gas, oil-fired or electric, these heaters should be chosen according to power output, the size of the space you want to heat and the heat type from fan heaters to infrared models. Read on for our top tips.
Important features
Gas, fuel or electricity
Direct fired vs. indirect fired
Power output
Volume to be heated
On-site heating: electric, gas or oil-fired?
Electric industrial heaters
---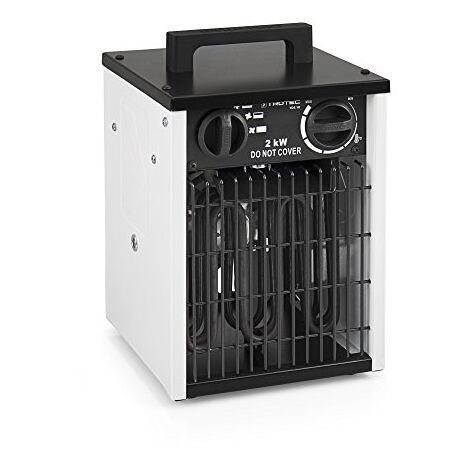 Electric industrial heaters are straightforward to operate and typically use a fan to blow air out over a heating element. These heaters vary in terms of power output and should be chosen to match the size of the space you want to heat.
Fan heaters, also known as forced air heaters, are generally cylindrical in shape and offer a power output ranging from 1.5kW to over 9kW for the most powerful models.
These machines usually offer several fan speeds and thermostat control to set temperatures. They will also usually incorporate overheat protection.
The air flow tends to vary from 400 m3/h to 1000 m3 per hour, depending on the machine's power output.
The two main advantages of electric heaters are that they are easy to use and can operate autonomously (which is perfect for keeping a work site frost-free!). The drawback of these heaters is that the most powerful models can only operate on 380 V three-phase power. Furthermore, you do need a mains connection (though a generator can also be used to supply power). They generally weigh around 5 to 20 kg.
Oil fired industrial heaters
Direct-fired oil heaters
---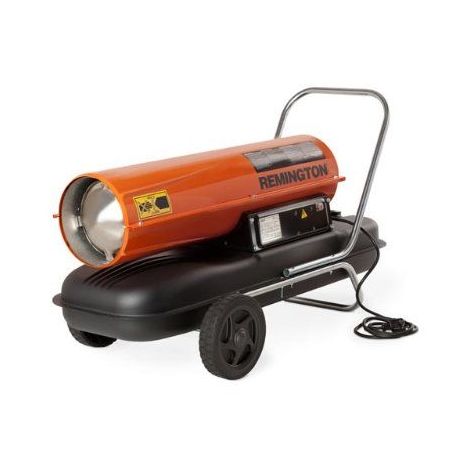 Oil-fired industrial heaters are the most powerful machines, but they're also the bulkiest and heaviest. Direct-fired heaters can be used to heat large areas but cannot be used in any public space or around animals. Oil fired industrial heaters are highly efficient (~100%) and are also portable (they usually come on castors). They may be equipped with a flue to vent fumes.
These heaters offer a power output ranging from 20 kW to over 100kW and, like electric models, are also equipped with a thermostat. Oil-fired industrial heaters are handy for heating up storage spaces, open work sites, greenhouses, and so on. Some models can be connected to a separate oil tank. They are not, however, recommended for drying out job sites as they produce moisture as they heat. The fan system, if featured, is powered by electricity.
Indirect-fired industrial heaters
Indirect-fired industrial heaters are designed to heat spaces that are poorly ventilated or occupied by people (marquees, factories, warehouses, etc.).
These heaters are quieter and the flame produced is kept separate from the air outlet.
These heaters can be kept outside and connected to the structure you want to heat via a warm air hose. These heaters are great for drying out work sites or used for frost protection. They often come with a thermostat, programmer or timer. The most powerful oil fired heaters can easily produce an air flow of over 5000 m3 per hour. While they aren't as efficient as direct-fired heaters (about 90%), but can heat spaces of up to 1000 m3. The forced air assistance is provided by an electric fan.
Gas-fired industrial heaters
Fan-assisted gas-fired heaters
---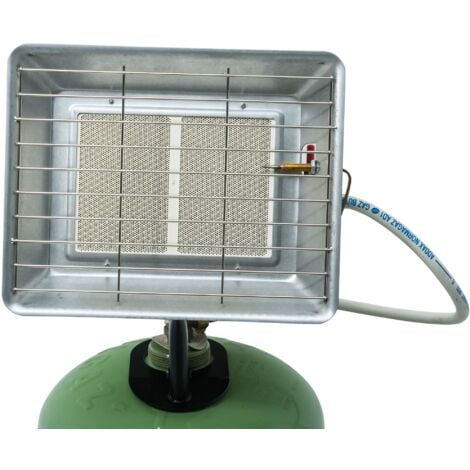 Gas-fired heaters are less bulky than oil-fired models but more so than electric heaters. They offer a high power output which should be chosen to match the size of your space. They can be used to heat very well ventilated spaces and to dry out rooms. They cannot, however, be used in public places. These heaters work by burning butane or propane. The fan system will still need to be powered by electricity.
Infrared gas heaters
Smaller infrared heaters can be attached directly to a 13 kg gas bottle (or even a 35 kg bottle) and have a power output of around 4 kW.
They are portable and autonomous, but can't be used in public spaces. Easy to move around, the bulkiest part of the heater is the gas bottle. These heaters release their heat via infrared panels which are lit through piezo ignition. They also incorporate a gas hose and a regulator to adjust the heat as required.
Explore the ManoMano catalog
Gas-fired heaters
How to heat a work site: volume and temperature
---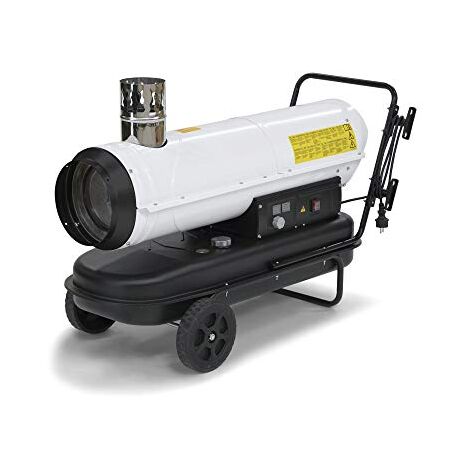 The volume of the space you want to heat (in m3) can be calculated by simply multiplying the surface area in m² by the height of the space in metres. However, it's important to bear in mind that industrial heaters are often used in open spaces without insulation and that all sites vary in terms of volume. A quick formula to remember is that every 1 m² will require 100 Watts to heat (1 kW = 10 m²).
These heaters are often rated in kilocalories per hour (Kcal/h). You will generally need about 1000 Kcal to increase the temperature of your site by 1 degree. So if you want a ventilated work site to reach 18°, you will need at least 18,000 Kcal.
Forced air heating is better for distributing heat evenly over large spaces.
5 tips for choosing the right industrial heater
---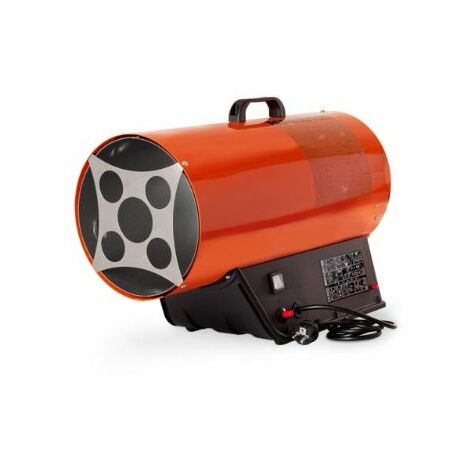 Calculate how much output power you need (in kW) depending on the size of the spaces you want to heat and the type of temperature you need.
Go for an indirect-fired heater if you are looking to heat spaces containing people or animals or opt for an electric heater.
If you're comparing a couple of models with similar characteristics and power output, go for the lighter model or the one with additional features such as a timer or programmer.
Bear in mind that oil-fired or gas-fired heaters don't require a mains connection (except those with fans or forced air systems) unlike electric models.
Really think about your heating needs, especially if you require a heater to dry out rooms; remember that direct-fired heaters are not recommended for this application.
More information
For information on heating your home, check out the following guides from our editors:
Guide written by:
Sebastian, self-taught DIY-er, Exeter, 192 guides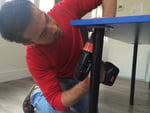 Redo a roof with wooden beams? Check.Advise Mister everybody in the DIY shop? Check.Redo the bathroom plumbing? Check.Fit together, build the walls, paint a partition, throw my hammer in a rage thinking that it will fix the problem? Check. The DIY motto ? Learning is better than delegating… well, it's also a question about your wallet! The satisfaction? The beer at the end of the job! What do the best have in common? The influence of Gyro Gearloose, Mac Gyver and Carol Smiley depending on your generation, a good dose of curiosity, a average hand-eye coordination and a taste for risks… and if it doesn't work, try again! Advise you? I'll do my best!
The products related to this guide