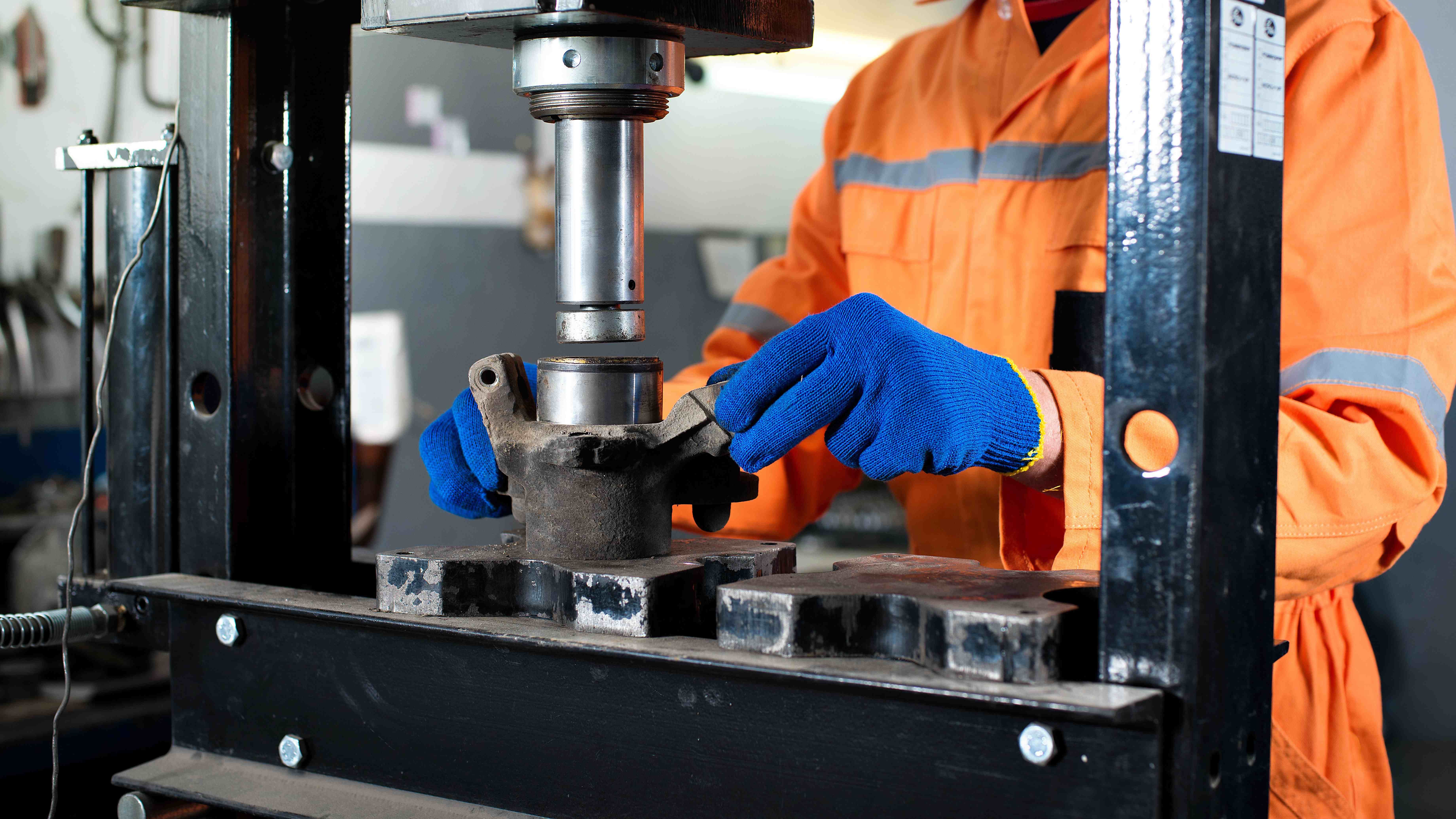 Hydraulic workshop press buying guide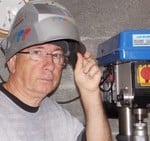 Guide written by:
Michael, Professional and passionate welder, Sheffield
73 guides
Essential for installing ball bearings or extracting bushings, hydraulic workshop presses are able to apply force of up to 50 tonnes. Featuring a hydraulic cylinder and a gauge to control pressure, these devices are mounted on a frame and may be powered or operated manually. Read on for our top tips.
What is a hydraulic workshop press?
---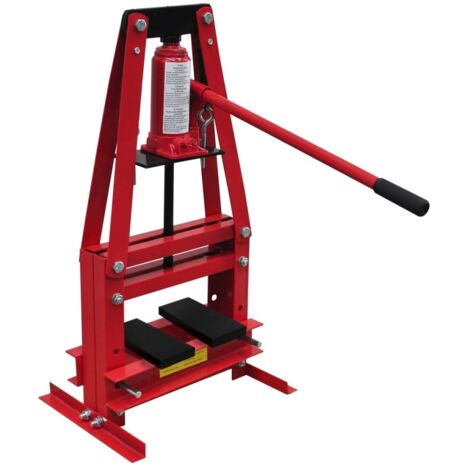 From extracting bushings to removing and installing ball or needle roller bearings, straightening twisted workpieces or stamping, there are plenty of jobs that wouldn't be possible without the help of equipment designed to apply exceptional force. Found in workshops and garages, there is one machine able to tackle all of these tasks: the hydraulic workshop press. Made up of a frame that encloses a hydraulic cylinder of variable strength, hydraulic workshop presses are generally composed of the following:
a very strong frame;
a cylinder that is operated either manually via a lever or by a remote unit installed next to the press;
a height-adjustable bolster used to place the workpieces;
a stable base plate that can be attached to the ground.
Features of a hydraulic workshop press
Hydraulic workshop presses vary in terms of the force they can apply, starting at around 5 tonnes up to over 100 tonnes. It's important to properly identify your own needs before purchasing this kind of device. The greater the force, the larger the press. If you plan to use your press for exterioron-site work, there are more compact models called bench presses which can be transported with ease. For permanent use in the workshop, there's a wide variety of presses to choose from all of which designed to apply different levels of force.
Press frame
---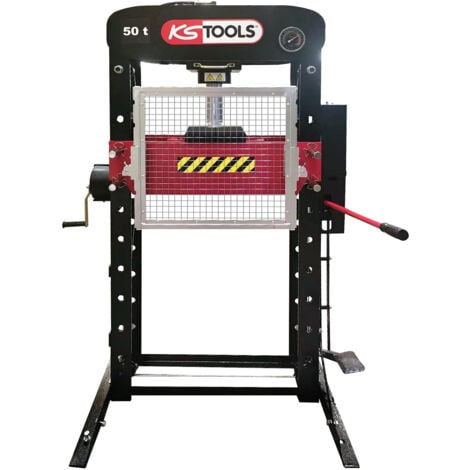 Usually red in colour, press frames feature a welded construction. These frames usually have a series of vertical holes which are used to adjust the working height.
Bolster
---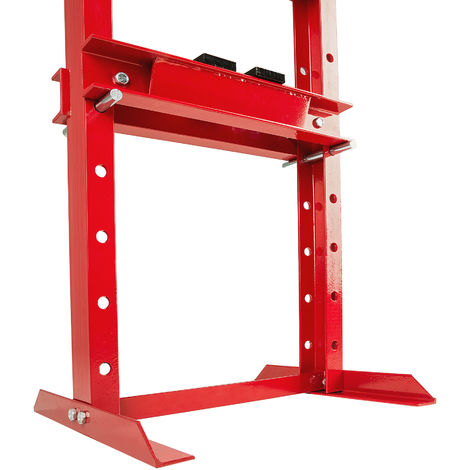 The bolster consists oftwo long, thick plates that are mounted parallel to each other and a reinforced surface to accommodate any workpieces. On some models, a winch is used to raise the height of the working surface.
Cylinder
---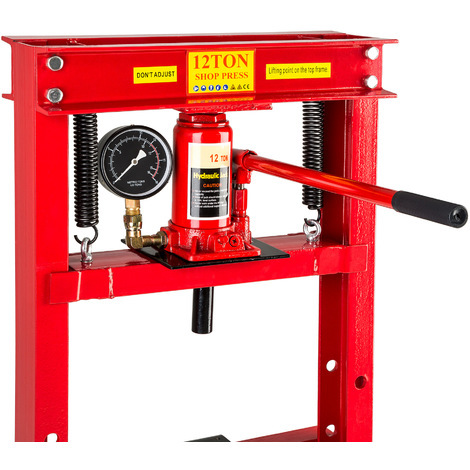 This moving part is the most important component of a hydraulic press. The force of the cylinder is designed to compress or deform any workpiece. There are several types of cylinder:
a bottle jack cylinder is operated manually. Supported by the frame, it moves a slider that supplies the desired pressure (on entry-level models);
a powered cylinder is operated via a power unit set up beside the press. It is powered by electricity and controlled by either a push button or foot pedal.
Hydraulic pumps and units
---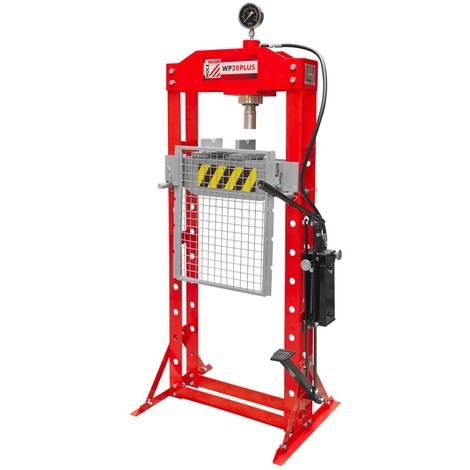 A hydraulic or hydro-pneumatic manual pump is connected to the cylinder by a high-pressure hose.
A hydraulic power unit , used to power the cylinder, is placed on the frame. A pressure relief valve ensures that a set level of cylinder force is not exceeded.Pressure gauge
Located at the top of the press, the pressure gauge indicates the pressure applied by the cylinder.
Safety features: the hydraulic press safety guard is an essential accessory used to protect users from accidents.
Explore the ManoMano catalog
Bench presses
Other types of workshop presses
Pipe bending press
---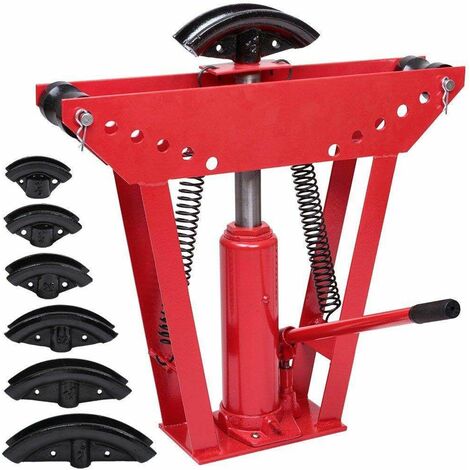 A pipe-bending press comes with a hydraulic cylinder able to deliver up to 15 tonnes of force. It comes with dies corresponding to common steel tube diameters (1/4 inch to 2 inches).
Hydraulic frame press
---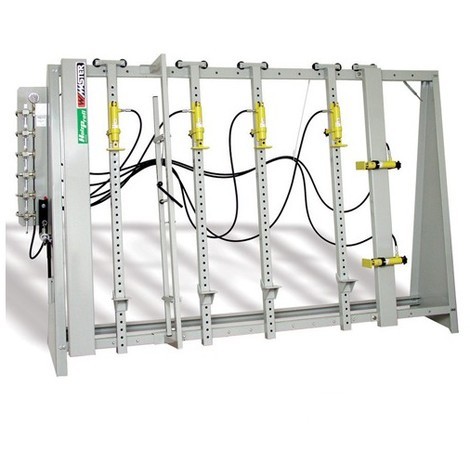 Hydraulic frame presses are large machines fitted with a hydro-pneumatic pump or hydraulic power unit used to controls several cylinders. They are made for assembling complex components in woodworking.
Coil spring compressor
---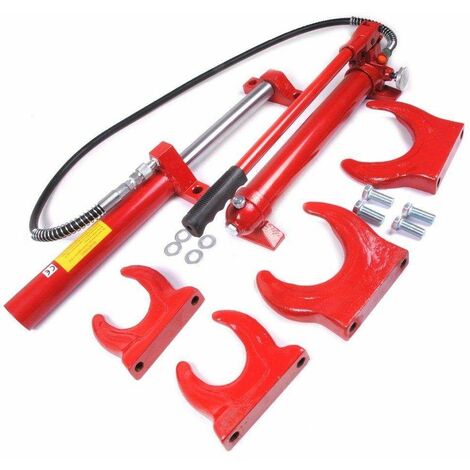 A hydraulic coil spring compressor is a device that is specially designed to remove coil springs from motor vehicles.
Bodywork repair press
---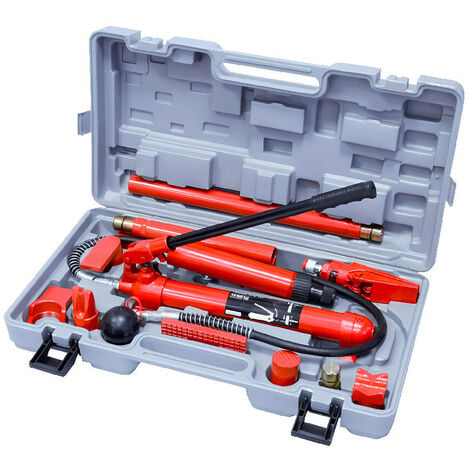 A hydraulic bodywork press is used to straighten sheets, remove bearings or even tyres.
Essential accessories for your workshop press
V blocks
---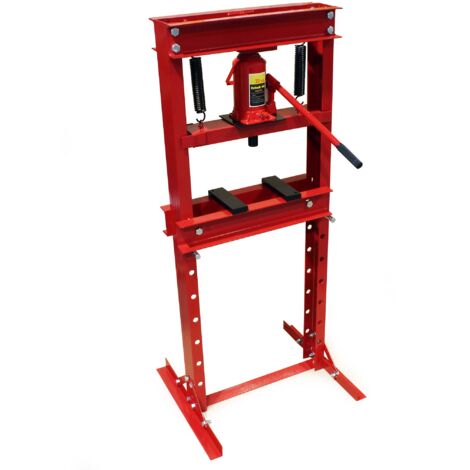 Used in pairs to stabilise tubes or any other cylindrical object. These are sometimes supplied with the machine.
Punches
---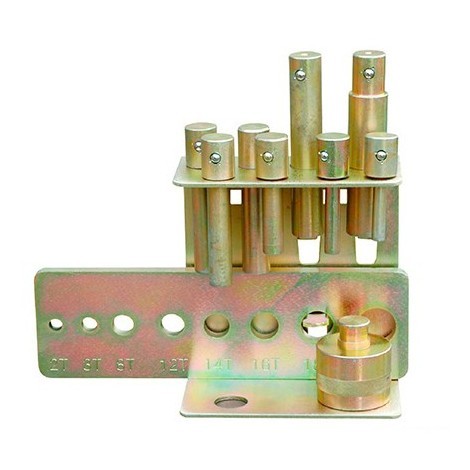 A set of punches designed for workshop presses. They can be attached directly to the hydraulic press via the mounting plate.
Universal press block
---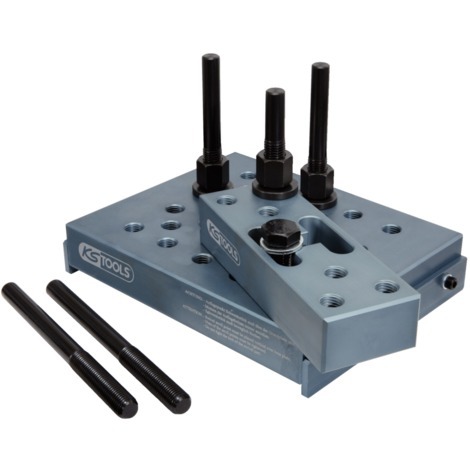 An essential accessory for making sure mechanical parts are safely secured on the bolster.
Press and pull sleeve kit
---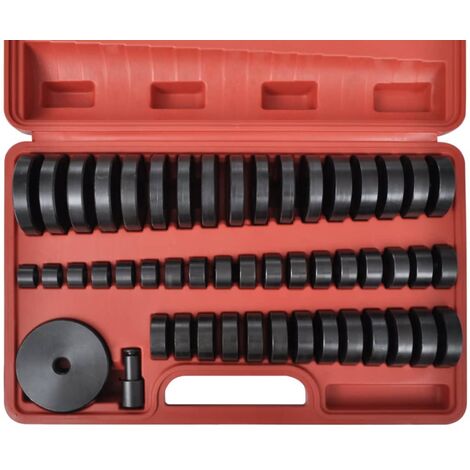 Designed to prevent you from "fiddling around", these kits help you remove and install bearings safely and professionally.
Tips for using a hydraulic press
---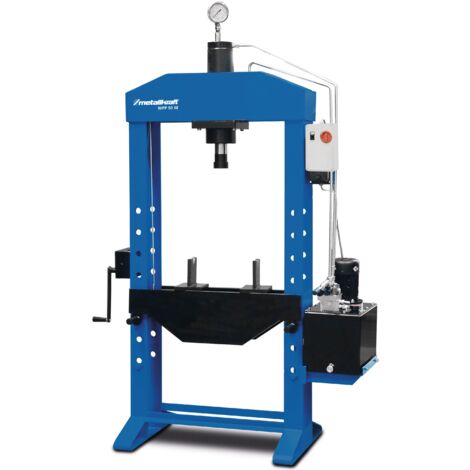 A shop press is perfectly capable of cutting off one or more of your fingers. It is also possible to be struck by objects that have been poorly positioned on the bolster.Taking measures to work safely and wear personal protective equipment (such as protective glasses) are essential parts of using a hydraulic press. The use of hydraulic presses is regulated by the European standard NF EN 693+A2.
5 tips for using your shop press
Your press should preferably be placed close to a wall or, better yet, in a corner. It should be easy to access and the area should be sufficiently lit.
Do not attempt to dismantle or bend anything if the press is not secure. Make sure that the pressure you will be applying is appropriate and not excessive.
Avoid working alone and do not dismantle the safety guard under any circumstances.
Ensure that the press is safely cleaned and maintained in accordance with the operating manual.
Do not alter the press by adding a stronger cylinder without checking that the frame is able to support heavier loads than you had initally planned on.
Explore the ManoMano catalog
Personal protective equipment
Guide written by:
Michael, Professional and passionate welder, Sheffield, 73 guides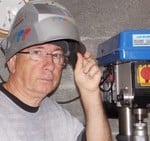 I was trained as a pipe worker and a pipe-welder and after having traveled for 35 years working around the UK, I became the head a metal shop and then a designer and in the end the head engineer. I have designed and built a workshop where I make metal sculptures: I managed to find a piece of paradise where I can to let my imagination run wild. Auctions and garage sales are no secret to me. I find unusual objects and old tools there that I collect or transform into works of art. I also like decoration, painting on canvas, and gardening. I am developing new technologies concerning tools. To share my passion and humbly advise you in your choice of materials is a real pleasure.
The products related to this guide