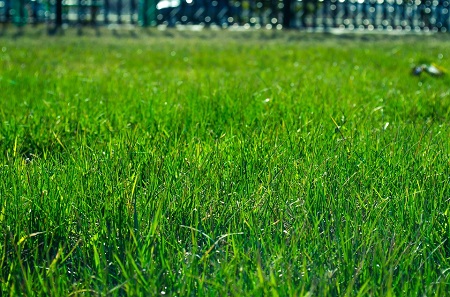 How to reseed your lawn?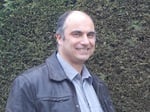 Guide written by:
Albert, Manager of a gardening service, Leicester
49 guides
Any type of lawn requires maintenance; reseeding is one of the key aspects. We'll talk you through the basic steps so you get the best results.
Important features
Removing the grass
Loosening the soil
Adding compost
Levelling and packing down
Seeding
Watering
Reseeding, or essential lawn maintenance...
---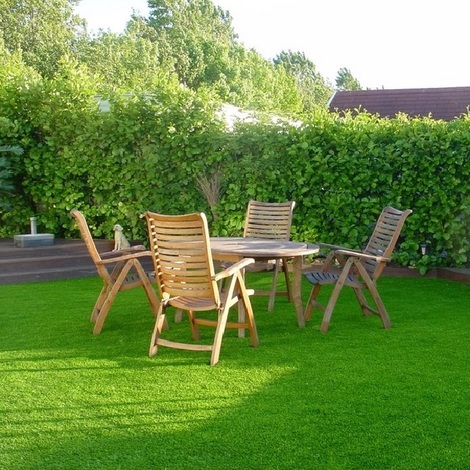 A beautiful lawn doesn't just spring into being! In fact, even if you think you've nailed it once, either by seeding or laying turf, to keep it looking good and healthy over a period of time you can't do without some regular maintenance. Apart from the obvious mowing and watering, a few other things have to be done to keep you lawn in good shape. Here are the main ones:
scarification, lets the surface of the soil breathe
coring airs the soil more deeply, right to the roots
adding sand helps root development
liming, or adding lime to eliminate moss
spreading fertilizer provides much-needed nutrients
reseeding to fill in bald patches
These various tasks complement one another and some may be more or less important depending on the specific needs of your lawn. Reseeding, for instance, is often carried out following scarification once the lawn is free of moss and weeds.
9 easy steps for reseeding your lawn
---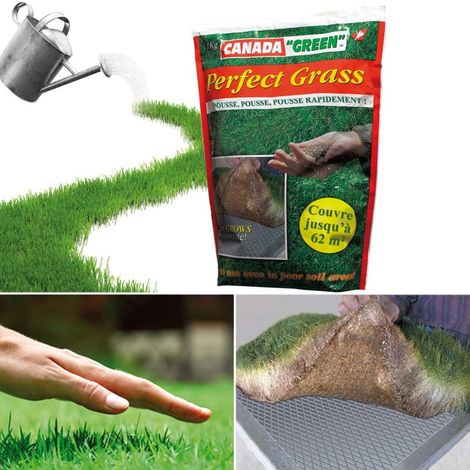 Reseeding should be done in a specific methodical way for best results. Here are the 9 essential steps to follow to successfully reseed your lawn.
1. Before you start, check that the ground is clear, free of weeds, moss, pebbles, roots… This may take some doing in itself.
2. Next, you want to loosen the soil up prior to reseeding. You'll need to aerate it, using a mattock or pick-axe spike, a claw tool or a garden fork.
3. Add some compost, or specialized lawn soil, potentially with a bit of river sand added, if you're working with acidic soil.
4. Cover over any hole and flatten out the soil.
5. Pack the soil down gently with a lawn roller or by tapping lightly with the back of a spade.
6. Now move onto the grass seed, making two passes at right angles, at a rate of about 40g of seed per m³ of ground, bearing in mind that a handful weighs 25-30g.
7. Skim the surface of the soil with the back of a leaf rake, to gently embed the seeds.
8. Make another pass with the lawn roller or gently tap with the back of a spade.
9. Water with a hose on fine spray setting and weak flow.
Note that it's fine to reseed the whole lawn if your coverage is poor, and a decent run over with a scarifier before you start is really good for this. Apply some specialized lawn compost and reseed at a reduced rate (10-20g per m&sup3). When reseeding, always use a variety of seed intended for the purpose.
Explore the ManoMano catalogue
Leaf rake
Guide written by:
Albert, Manager of a gardening service, Leicester, 49 guides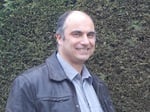 For several years I have been running a garden service with a clientele of both individuals and companies. I manage a team of gardeners and ensure the creation and maintenance of green spaces. At the same time, I bring my expertise to my clients in terms of the maintenance and improvement of their gardens. In fact, as a trainee and working in the hospitality industry at the beginning of my career, I focused on landscaping in a local community where I acquired solid technical skills through in-house training and the follow-up of major projects in a rapidly changing town. On a personal level, I am equally oriented towards the art of gardening. With my wife, I created our garden from start to finish and I maintain it carefully, the same goes for the vegetable garden. As for DIYing, it's not to be outdone. Yes, gardening is also tinkering: pergola, hut, pavement, fence, and so on...There is always something to do in a garden. After working well together, my wife and I are proud of the result and delighted to be able to take full advantage of a friendly and warm environment. So, let us give you advice and help you in your choice of tools, maintenance, or improvement of your garden, nothing could be simpler.
The products related to this guide