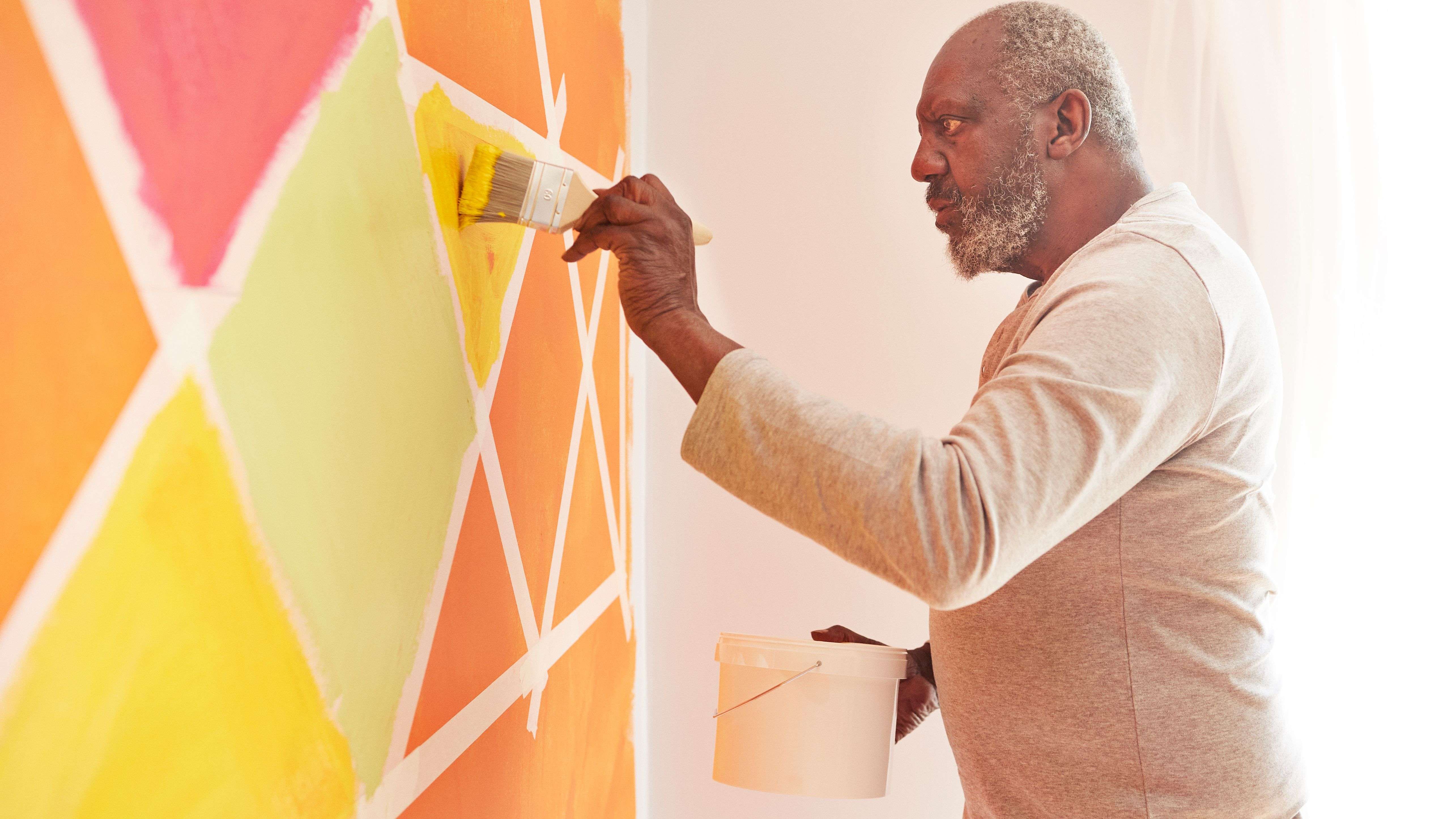 How to paint a wall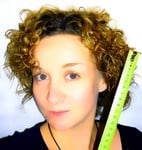 Guide written by:
Anne, Painter, Cambridge
41 guides
Painting a wall involves a series of different steps from preparing your surface and protecting your room to applying an undercoat or primer and preparing your paint. When it comes to applying the paint, start at the edges and finish off with a roller! Read on for our tips and tricks to paint your walls like a pro.
Important features
Preparing your workspace
Preparing the paint
Painting tricky areas
Applying the first coat
Applying the second coat
Finishing touches and cleaning up
Freshen up your walls with a lick of paint
---
Want to switch up the decor in your room? Fast to apply and available in an endless variety of colours, paint is the most popular way to transform your interior walls. If you are working with a brand new surface, you will have to use the right type of undercoat; if you are painting over an old wall, you'll have to clean and degrease your walls in advance. The advantage of using paint is that there are countless design possibilities from matching shades in the same colour family to combining contrasting shades. Similarly, you might choose to paint just one wall, create a panel of colour around a bed head or paint a diagonal wall design. Basically, the options are endless. If you feel your inner decorator coming out, go with it! And remember: if you are planning on repainting your ceiling, start here and work your way down to the ground to avoid messing up your paint job.
Required skills
If you want to paint a wall, you will have to know how to handle a roller! With all the different types of paint and handy tools on the market, just about anyone should be able to paint a wall without much bother. If you are reluctant to climb up a stepladder to reach the tops of your walls, you can get your hands on a wonderful gadget called a roller extension pole. You can even find miniature telescopic rollers for the times when you need to reach parts that are just out of your reach. Your feet will stay firmly on the ground while the brush or roller on the end of your pole will do all the work for you!
Time required
---
Approx. 6 hours per 10 m²
Number of people required
---
 1 person
Steps
Preparing your workspace
Preparing the paint
Painting tricky areas
Applying the first coat
Applying the second coat
Finishing touches and cleaning up
Tools and accessories
---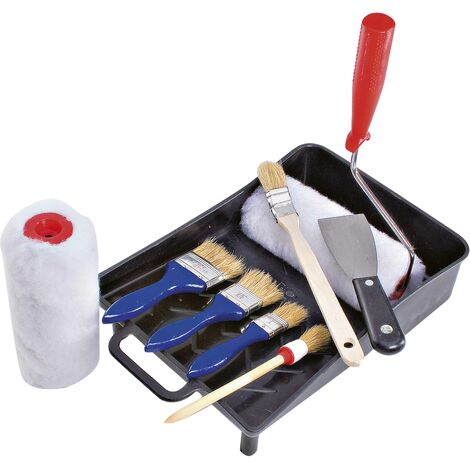 Paint and undercoat
Paint scraper
Protective tarp and paint coveralls
Masking tape
10 to 12 mm roller and round bristle paint brush (for edges)
Paint bucket and sponge
Paint tray and paint mixer
Stepladder
Explore the ManoMano catalog
Round bristle paint brush
1. Preparing your workspace
---
All surfaces you plan to paint must be dry, and free of dust and flaking paint. Your walls must be absolutely clean!
Before starting, remove all the furniture from the room; larger items can be moved to the centre of the room and covered with a sheet. Protect your floor using a protective tarp held in place along the skirting boards with masking tape.
Apply masking tape along all skirting boards, doors and windows. Cover up all plug sockets. Remove or cover curtain poles. That said, you do not necessarily have to apply masking tape – as long as you have a steady hand!
Now you're ready to hop into your overalls or old painting clothes!
Explore the ManoMano catalog
Masking tape
2. Preparing the paint
---
Prepare all your equipment. You may have to clean your roller to remove any loose fibres; it is important to dry your roller properly or you will end up with water dripping down your walls! Another handy technique is to roll some tape around the roller to get rid of any loose fibres. Your choice of roller will, of course, depend on the type of paint you want to apply.
Open your paint pot and stir right to the bottom using a spatula or mixer mounted on a drill; the heaviest pigments often settle at the bottom of the pot so mixing will allow you to even out your paint.
You can use a paint bucket or a paint tray will make your job easier.
Explore the ManoMano catalog
Paint tray
3. Painting tricky areas
---
Start with any corners, the areas surrounding plug sockets and all difficult-to-reach spots with your edger brush, then follow up with your roller.
Do not apply too much paint and make sure that your edges are not too wide or your paint strokes may show.
4. Applying the first coat
---
Bear in mind that outdoor pollutants (dust, pollen, insects, etc.) may get stuck on freshly applied paint, depending on where you are painting.
Some paints release Volatile Organic Compounds (VOCs) so be sure to wear a protective mask and take care to ventilate the room you are working in. If you are using a paint thinner other than water, pay extra special attention and wear personal protective equipment.
Apply your paint from top to bottom and from left to right. This way, you'll be able to lean on the wall with your right hand as you work. Of course, you should work in the opposite direction if you are left-handed!
Make sure that your roller is properly wiped off when you are applying paint at an angle to avoid any unsightly paint drips. At the same time, don't try to stretch your paint too far; you need to find the right between a layer is thick enough to cover the wall but not too thick as to cause drips.
Do not wash your roller between coats. Instead, pop it in a tightly sealed plastic bag or wrap it in cling film to stop the paint from drying out.
Explore the ManoMano catalog
Paint thinner
5. Applying the second coat
---
Once the first coat is dry, look out for any imperfections (by touching or just looking at the surface) and proceed to lightly sand down any mistakes.
Otherwise, follow exactly the same procedure as the first coat starting with the edges.
Depending on the surface and the quality of the paint, you may find yourself applying less paint for your second coat.
6. Finishing touches and cleaning up
---
Once you've finished, remove all masking tape before the paint dries. If you forget to remove the tape before the paint is dry, cut it using a cutting knife before removing it to break the paint seal.
Wash your tools, removing any excess paint from your roller using a paint scraper. Remember: if you clean your tools properly, you will be able to use them again!
That said, rollers do eventually wear down and you should change the cover regularly or you run the risk of leaving ugly marks on your walls the next time you paint.
Next, remove your floor protection, throw out any waste and air out the room to avoid any ill effects from VOCs.
Your paint pot should be closed tightly with cling film placed over the surface of the paint to preserve the paint as best as possible. Dispose of any recyclable materials at a recycling centre.
Explore the ManoMano catalog
Utility knives
Guide written by:
Anne, Painter, Cambridge, 41 guides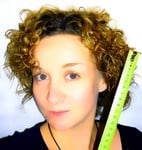 After 8 years of trade, I turned professional: I trained myself to be a painter and carpet layer either solo or with 16 years old comrades. 9 months later, following vocational school, my registration in Trades Directory, and the label 'Artisan' in hand, I created my company. And since then, I don't even touch my brushes. I'm a self-taught DIYer and decoration enthusiast, I love to find and restore furniture and to create unique decoration elements. I completed the restoration of my sister's house, this was last summer, with my niece: electrical, tiling, finishing, plasterboard...we did it all. And today, if I can share my experience I'm happy to do it. A total DIY enthusiast joke: 'What's the difference between a clown and a DIY enthusiast? A sense of humor.' Good Luck.  
The products related to this guide