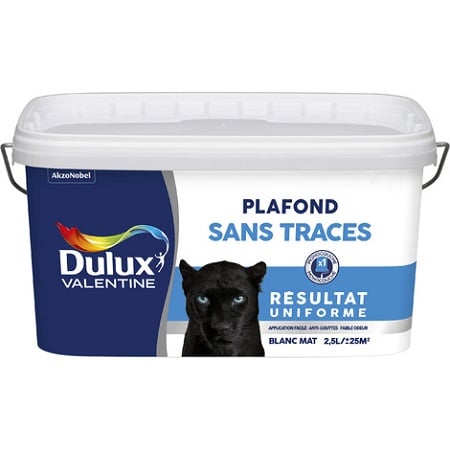 How to paint a ceiling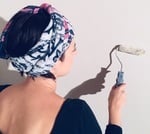 Guide written by:
Tess, painting & decorating consultant, Brighton
26 guides
Painting the ceiling is the first step in redecorating a room. Depending on the state of the ceiling, you may need to apply an undercoat, clean or sand before you apply the paint. This will help your paint to adhere properly while a long reach roller will make the job easier. Read on to find out how to paint a ceiling.
Important features
Preparing the ceiling
Protecting the floor and furniture
Painting skirting boards and edges
Painting the ceiling
Finishing up and cleaning
Types of ceiling paint
---
Whether you go for an acrylic paint for a new surface or an oil-based paint to cover up and old one, a matte finish will do a better job at hiding any unevenness or brush marks.
If you have a wooden ceiling, however, you can opt for a glossy finish; in this case, it will reflect the light nicely and you don't have to worry about any irregularities showing up.
No matter whether you go for a one- or two-coat paint, more often than not, you will have to apply a second coat of paint.
Required skills
You don't need any particular skills to repaint a ceiling; simply follow this guide!
Tools and equipment for painting
---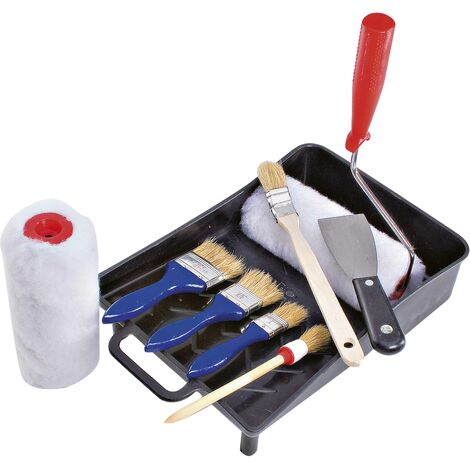 Paint sheets (essential to protect your floors).
Masking tape, to separate any areas you don't want to paint.
An edging brush for perfect corners or any spots you can't reach with the roller.
A roller with an 8 to 12 mm pile, depending on your surface (the smoother the surface, the shorter the pile).
A telescopic roller extension pole or a stepladder for reaching the ceiling (unless you are very tall in which case you're well suited to the task!).
A bucket or paint tray.
A plastic or metal paint grid to wipe off excess paint from the roller.
Sandpaper (120 grit for light sanding, 80 grit for heavier sanding). A sanding block or a long reach sander.
A filler or putty to fill in any holes, screw holes or cracks.
A pre-paint cleaner to clean any dirt or grease.
A paint mixer to make sure all paint components are evenly dispersed. Choose between a manual tool or a mixer designed to be attached to a drill (ideal for larger paint cans).
Painting overalls, a protective mask and perhaps a pair of gloves.
White spirit if you are using an oil-based paint to clean your tools.
Cleaning accessories: sponges, cloths, soap, etc.
Optional accessories
A paint can opener: ideal if you want to avoid putting a screwdriver through your hand!
Protective film to put inside your paint tray: this type of film can be thrown away when you're done so you don't have to clean all your equipment.
A paint brush holder: these accessories use magnets or clamps to fix to the side of the paint can to stop your brush falling in the paint.
Steps
Preparing the ceiling
Protecting the floor and furniture
Painting skirting boards and edges
Painting the ceiling
Finishing up and cleaning
Explore the ManoMano catalogue
Paint rollers
1. Preparing the ceiling
The secret to making sure your paintwork is neat and your paint adheres properly is to start by preparing your surface as best as possible.
| | |
| --- | --- |
| | |
| | |
| | Sanding and undercoat (or specialist undercoat) |
| | |
| | |
| | |
| | Light sanding and undercoat |
| | Treat underlying issue and clean |
This step is essential if you want to ensure your paint adheres well and create a smooth finish! The type of prep work you do depends on the condition of the surface.
Generally speaking, you should at least dust your ceiling before cleaning using a multi-purpose cleaning product and rinsing thoroughly. Fill in and repair any holes and cracks and finish by lightly sanding using 120 grit sandpaper.
Once you've finished preparing your surface and your ceiling is ready to paint, apply your undercoat and paint following the same steps.
2. Protecting the floor and furniture
---
Cover up your floor and furniture using paint sheets fixed in place with masking tape (preferably using a wide tape).
Line all around the edges of your ceiling with masking tape.
3. Painting skirting boards and edges
---
Paint all edges using a round brush or a special edging brush.
You don't have to use masking tape but it does make the job easier.
Do not apply too much paint to the brush or you risk leaving brush marks and don't try to stretch your paint too far as modern paints are designed to provide good coverage on their own.
4. Painting the ceiling
---
Ideally, your rooms should be between 15 and 20°: any warmer and the paint will dry too quickly; any cooler and the paint may not adhere as well and leave marks.
Wash and wipe off your roller before dipping it in the paint; this will help to remove any loose fibres from the brush and help the paint to penetrate into the roller.
It's important to mix the paint well to ensure the pigments are evenly distributed (these are the heaviest components and tend to settle at the bottom of the can). Paint your ceiling all in one go, starting at the brightest point and working in the same direction all the way along (you don't need to double over your roller strokes). Take a step back and look for the best angle to check your paintwork if you have any doubts.
Do not press too firmly on the roller or the paint may spray.
5. Finishing up and cleaning
---
Remove the masking tape before the paint has dried, pulling it at a 45° angle to break the paint film.
Keep your roller sealed in a plastic bag between coats to prevent it from drying out; this way, you don't need to wash it.
Before cleaning your paint brushes, leave them to soak overnight. You'll find that much of the paint settles at the bottom of the container making cleaning easier. Dispose of your waste by taking it to a suitable recycling centre.
Explore the ManoMano catalogue
Paint
Guide written by:
Tess, painting & decorating consultant, Brighton, 26 guides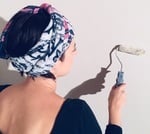 The products related to this guide