How to maintain your garden shed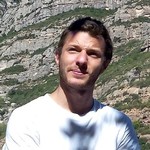 Guide written by:
Lukas, Constructeur bois passionné, Marne
36 guides
Before applying any paint or varnish to your garden shed, it must be cleaned, sanded and primed. Rustproof protection is available for metal sheds while wooden sheds should be coated with an insect- or fungi-repellent. Read on for more care tips to help extend the service life of your shed!
Maintaining a metal garden shed
---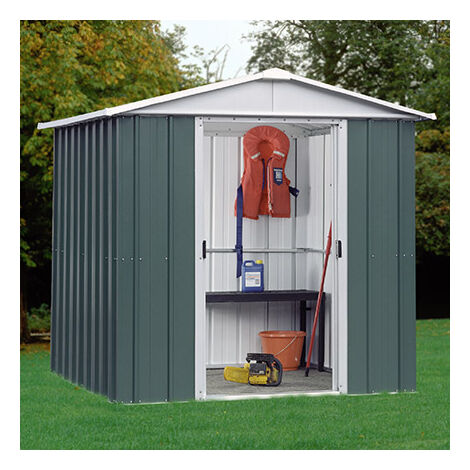 Metal can be an excellent choice of garden shed material – provided you are thorough when it comes maintenance. As they are constantly exposed to the elements, a metal shed that has not been properly cared for will have a very limited lifespan.
This is due to the natural properties of the material. Firstly, the appearance of the metal will begin to deteriorate, then will rust set in and start to weaken the structure. It is, of course, possible to recoat your shed with a special metal paint but regular cleaning is a much simpler and cheaper option.
How to clean your metal shed
Garden sheds come in all different types of metal including aluminium, iron, stainless steel, and galvanised or non-galvanised steel. While a layer of protective paint can help to improve your shed's defences, you must still be careful and avoid using large quantities of water.
The most effective and least risky cleaning solution is a good old-fashioned bucket of soapy water. You simply have to scrub the shed using a non-abrasive sponge, making sure to wring it out as you go. Using a hose is not out of the question, but this should be reserved for warmer weather.
Products for cleaning metal sheds
There are many cleaning products on the market that have been specially designed for metal garden sheds. As a general rule, you should go for a gentle and environmentally friendly option – although washing up liquid is usually enough to do the trick.
In terms of tools, a sponge is really all you need but a hard bristle brush or iron wool can also be used to remove small patches of stubborn rust.
Explore the ManoMano catalog
Cleaning products
Maintaining a composite garden shed
---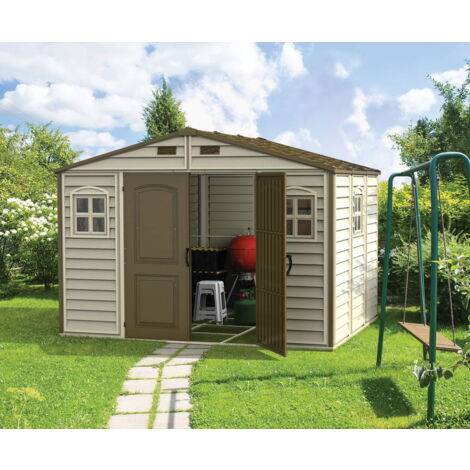 Composite materials (for example, wood and resin) are ideal for garden sheds. Easy to clean and rotproof, they do not usually require any protective treatment. The only downside to composite sheds is that they can fade due to prolonged UV exposure.
How to clean your composite shed
These sheds can be washed using a low-pressure water hose or a sponge and soapy water. Simply wipe off any dirt and rinse with clean water (if using soap).
Always follow the manufacturer's instructions carefully when applying specialist composite cleaners.
Products for cleaning composite sheds
Specialist cleaning products for composite materials are available and these may be concentrated or non-concentrated. The advantage of using these products is that they are able to thoroughly clean your shed and restore its original shine, or at the very least help to revive its colour.
Explore the ManoMano catalog
Hose
Maintaining a wooden garden shed
---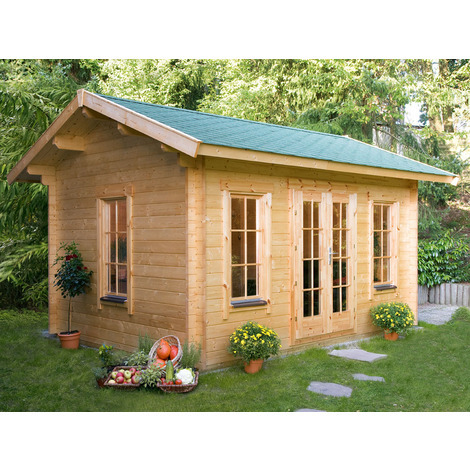 Wooden sheds require regular maintenance. In addition to being exposed to the rain and UV rays, they are also a tempting prospect to wood-destroying insects!
As such, wooden sheds can rarely be left untreated and must be coated with anti-woodworm treatment as a bare minimum (whether this be in the form of a wood stain, varnish or wood paint). However, these protective layers do not last forever and you will find yourself having to apply additional wood care products before long.
Some garden sheds may not require treatment as their wood has been high-temperature heat treated or treated in an autoclave (an impregnation process that uses pressure). Certain other woods, including various exotic species, are naturally rotproof but these will still require an exotic wood oil finish.
How to clean your wooden shed
How you clean your wooden shed will ultimately depend on the kind of protective coating that has been applied. Garden sheds that have been stained can be cleaned with a nylon brush, as the stain penetrates deep into the wood and does not form a protective outer layer such as that created by paint or varnish.
A garden shed painted with wood paint can be cleaned using a bucket of water and a sponge. Soapy water can also be used and, ideally, you should use an environmentally friendly soap. For stubborn stains you can use the abrasive side of the sponge but be sure to apply light pressure in order to avoid scratching or damaging the paint.
If you want to remove the current treatment –  be it a stain, paint or varnish – simply apply a wood brightener. This will penetrate deep into the wood, removing the protective layers completely. A stripper can also be used before applying paint or varnish.
Products for cleaning wooden sheds
When it comes to maintaining a wooden garden shed, it's difficult to recommend a specific product as there is such a wide range of options (nylon brushes, cloths, soapy water, etc.). You can even use wood soap and warm water to bring out the shine of stained wood. However, this treatment is not suitable for painted wood.
Explore the ManoMano catalog
Stripper
Repainting a metal garden shed
---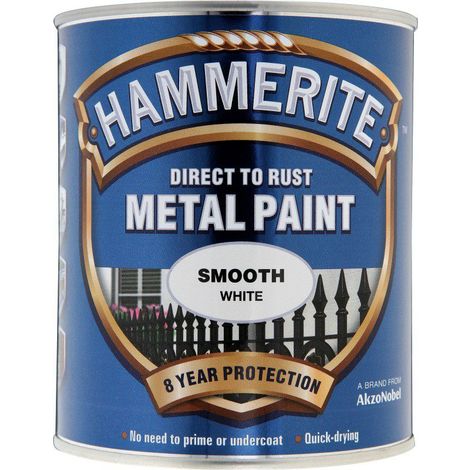 After taking care to remove all dirt, the first step to repainting your metal garden shed is to sand it. The aim here is to remove as much of the old paint as possible, buffing out any scuffs and imperfections, and creating a fresh base for paint to adhere to. A couple of run-throughs with 120- then 180-grit sandpaper should be ideal. Depending on the surface, you can either use an electric sander or sand the whole thing by hand.
If your shelter has rust marks, go over them with a wire brush or iron wool and then proceed to sanding. Do not forget to wear protective gloves!
Next, apply an undercoat of special outdoor primer: it will effectively protect your shed and make it easier to paint later on.
To finish, apply two coats of a suitable paint containing a rust inhibitor and your metal garden shed will be as good as new! For repainting, you'll need a set of brushes, a protective mask to protect you from VOCs (Volatile Organic Compounds) and a few other essential painting tools.
Explore the ManoMano catalog
Wire brush
Treating a wooden shed
There are several possible treatments designed to protect, stain or dye wooden garden sheds. You have a number of options depending on the desired result and the initial treatment of the wood.
Preparing the wooden shed
---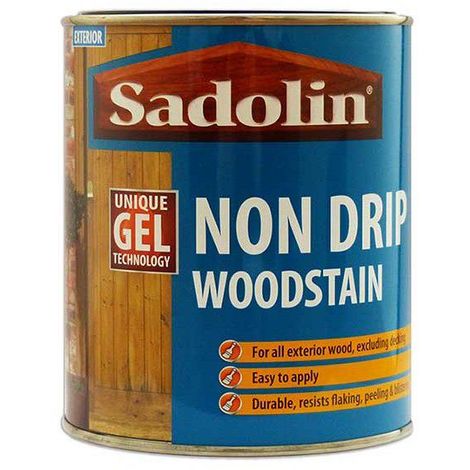 Before applying anything, sand down your garden shed several times in order to remove the old outer layers and create an even surface. Feel free to use a cleaner or brightener, if required.
Fungi and insect repellent
Treatments against fungi and insects tend to be long-lasting and are essential for ensuring the durability of your wood. If you are fully renovating your garden shed, this treatment should be carried out before the application of varnish or paint. Remember that the majority of varnishes also offer some degree of fungal treatment, insect repellent or wood colouring.Wood brighteners
Wood brighteners are designed to give the wood back its original colour and should be applied before a stain or varnish. Wood tends to grey over time and with exposure to UV rays. This product should be applied with a brush and a protective mask should always be worn.Saturating wood oils
Oils, stains, varnishes and wood paints are so-called finishing products, meaning they are applied last. Saturating oils working by fully penetrating the wood.Post-prep stage
Finally, after lightly dusting the surface, you can apply your selected paint, making sure to follow the direction of the grain. Use a paint brush or roller to apply the recommended number of layers and be sure to take note of drying times.
Explore the ManoMano catalog
Saturating oils
Choosing between wood paints or stains
---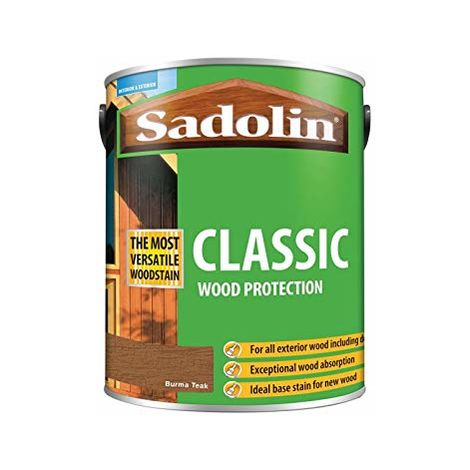 The main difference between wood paints and stains is that woodpaint creates a film over the wood while stains are non-film-forming, microporous and water-repellent. The latter works by penetrating the surface to protect the wood from deep inside the fibres, leaving the grain of the wood visible.
One option is not necessarily more efficient than the other. Paints require less maintenance and present a wider variety of finishing options (colours, sheen, etc.), while stains need to be reapplied every two to eight years depending on the quality of the product (primarily based on their pigment content).
As stains are water-repellent and air-permeable, they allow the wood to breathe and make your surface easier to sand down if required for the application of any product in future. Additionally, staining gives your garden shed a traditional look as the colours tend to resemble natural wood. Applying a stain also leaves the knots and grain of the wood visible.
Caring for your garden shed in five steps
Step 1: Cleaning
Whatever your garden shed material – metal, wood or composite – you will have to start by giving it a thorough clean to create a good foundation. Refer to the tips in this guide for specific instructions on how to clean each type of material.
Step 2 - Choosing your product
---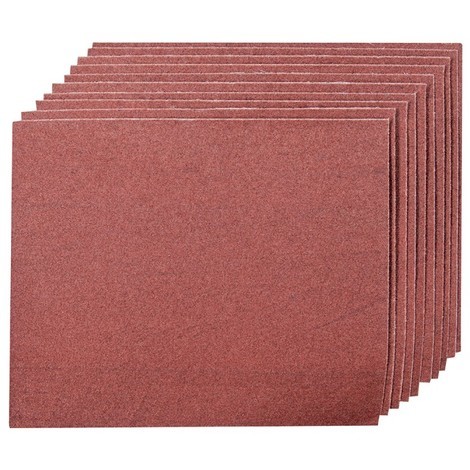 Determine which finishing and protective products are right for you. This step also allows you to plan for the tools you will require (sandpaper, nylon brushes, wire brushes etc.) as well as any other equipment or protective gear you may need.
Step 3 - Sanding
---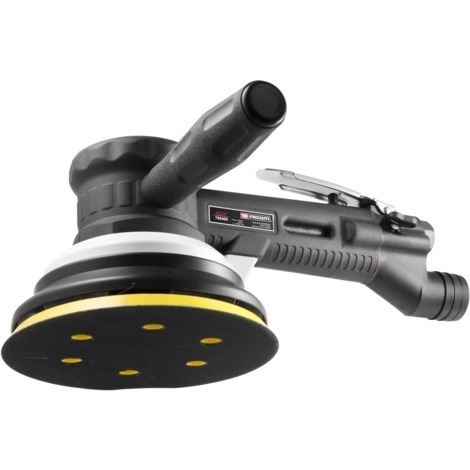 You will usually need to sand down the entire surface of the garden shed in order to ensure your products bond well.It is best to use a rotary sander (the orbital kind) but a simple sanding block can also work. Sanding over with a 120-grit then 180-grit sandpaper should suffice but this depends on the thickness of the paint or varnish that you're working with. Next, you just need to wipe or brush away any dust.
Step 4 - Applying protection
---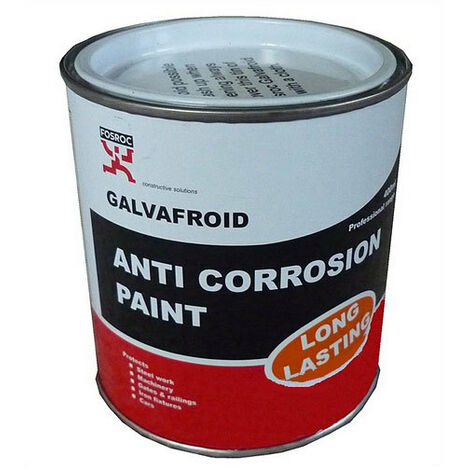 For metal or wooden garden sheds, it is safest to start with a protective coating. For wood, this usually means an insect- or fungi-repellent. For metal, you will require an anti-corrosion undercoat. Be sure to choose your wood or metal treatment with care.
Step 5 - Finishing
---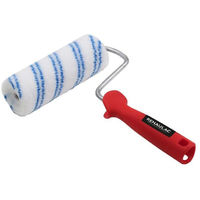 Using a roller or brush, apply your finishing product to the recommended number of layers. Between two layers, you can sand the surface down with 180-grit sandpaper to improve the bond of the second layer and the overall result.
Explore the ManoMano catalog
Brush
More information on garden maintenance
In the process of restoring a garden shed? Follow the links below for related advice from our editors and more helpful guides:
Guide written by:
Lukas, Constructeur bois passionné, Marne, 36 guides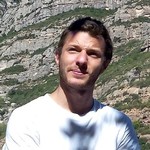 Après avoir quelques temps roulé ma bosse dans le bâtiment, notamment dans tout ce qui touche à la rénovation – peinture, carrelage, menuiserie, pose de cuisine et de salle de bain  – j'ai décidé de passer un diplôme de « Monteur constructeur bois » et j'ai bien fait car rien n'est plus plaisant que de travailler sur une charpente ou de concevoir une maison en bois ! Tout ce qui touche au travail du bois me passionne, et construire ma propre maison dans ce matériau est un de mes buts ! Je suis également un adepte de l'outillage du bâtiment : j'adore m'informer sur les innovations, les méthodes d'utilisation, les astuces ou les performances de chaque nouvel outil du marché, que ce soit en rapport avec le travail du bois ou non ! Je me ferai un plaisir de vous conseiller et de vous aider dans vos choix ! Bon bricolage ! 
The products related to this guide