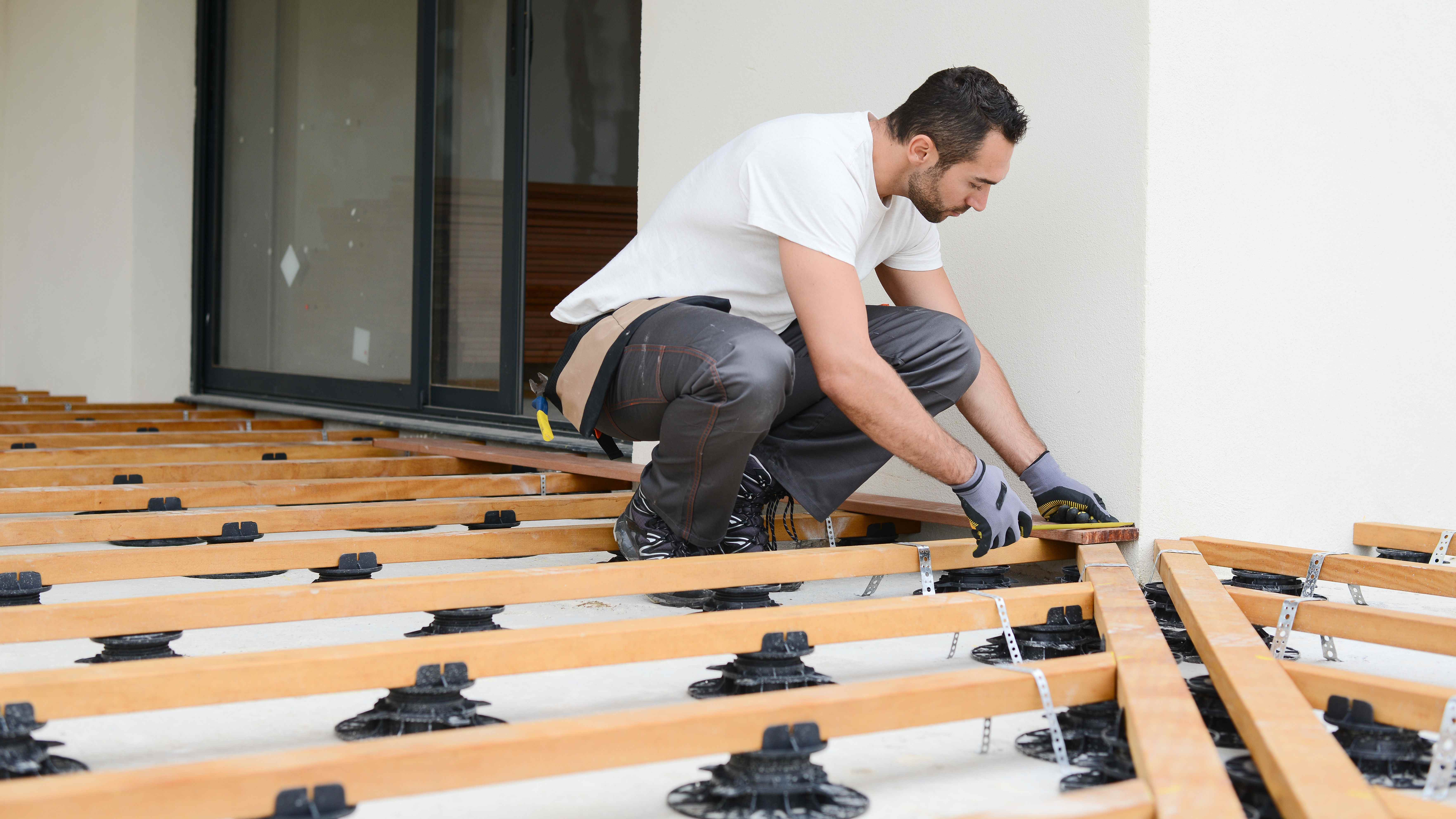 How to lay decking on riser pedestals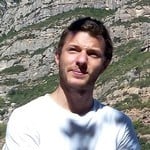 Guide written by:
Lucas, Antique wood-worker, Gloucester
27 guides
Laying your deck on riser pedestals allows you to lift the boards off the ground to your chosen height. In addition to making the job easier, adjustable risers also help to increase the lifespan of your deck and create an even surface without the use of wedges. Here's your guide to installing adjustable deck supports!
Important features
Preparing the ground
Spacing out your risers
Installing the risers
Laying the joist frame
Laying the decking boards
Dealing with any issues
Finish and wood treatment
Why install your decking on adjustable risers?
Whether you plan on laying timber or composite decking, you will usually need to install your boards on supports to raise them off the ground and protect them from damp. But there's no need to lay a concrete foundation – as long as you have decking supports! The idea behind adjustable decking supports is very straightforward: these plastic risers are simply placed on the ground at set distances. As they are equipped with a base, the risers (also known as pedestals) can be fixed to the ground if required or else left as a floating installation. The main advantage of adjustable risers is that they enable you to easily adjust the level of your deck.
Steps
Preparing the ground
Spacing out your risers
Putting the riser pedestals in place
Laying the joist frame
Laying the decking boards
Dealing with any issues
Finishing and wood treatment
Explore the ManoMano catalog
Pencils
Preparing the ground
Adjustable decking supports can be installed on any type of surface: tiles, concrete slab, earth and so on. The most important factor is to ensure the ground is stable and the surface is not likely to shift. On natural surfaces such as bare earth, you'll usually have to go for a floating installation meaning that your structure is held down by the weight of the deck. If you'd rather fasten down your risers, you can first lay a concrete foundation and then fix them in place with ground anchors.
Creating a level surface
---
Your surface must be level. While minor irregularities can be dealt with, your terrain should otherwise be perfectly flat. On well-laid concrete or existing tiling, there shouldn't be any issues but be sure to check everything is level with a spirit level before you start work.
Laying a geotextile membrane
---
If you are dealing with bare earth make sure you flatten out the ground in advance or lay down a fine concrete screed to create a level surface. If you decide against laying concrete, you will have to put down a geotextile membrane to prevent weed growth.
Explore the ManoMano catalog
Tiling
Spacing out the decking risers
---
You will have to decide on the overall height for your decking whether you want your decking to be flush with your door or install a step.
Your chosen height will dictate which risers and timber frame you choose.
Plotting your riser layout
---
The first step will be to calculate the number and type of riser pedestals and joists you need. Manufacturers will often indicate the number of risers required per m² so this needn't be complicated!
Decking board direction
Next, you will have to work out which way you want your boards to face. The direction of your decking boards will affect the overall look of your deck but it will also help you to determine how to space out your supports.
Installing the risers
---
Lay out your risers at the correct intervals (as decided in the previous step). Secure them using the appropriate fixing plugs (if required) and adjust the supports to the desired level. Don't forget to incorporate a slight slope of around 2% to direct rainwater away from your house.
Please note: the spacing of the risers depends on the thickness of your top boards but also the joists underneath which serve to distribute weight evenly across the decking. Make sure you read the manufacturer's instructions and check all diagrams carefully. As a general rule, it is not recommended to leave more than 70 cm between two consecutive decking supports.
Laying the joist frame
---
Screw the joists onto the risers so that they will eventually form a right angle with your decking boards. Take great care not to damage the adjustable mechanism of the risers as you screw the joists down.
It is advisable to leave a gap of at least 10 cm between the ground and the decking boards in order to ensure the wood has adequate ventilation.
Laying the decking boards
At this point, you're over the worst of it! All you now need to do is to lay your decking boards one by one and attach them to the timber frame.
Screws vs. clips
There are two possible ways to fasten down your boards:
Please note that composite decking is almost always secured using clips while screws are the fixing of choice for timber decking.
Screwing down decking boards
---
It is important to pre-drill holes in your decking boards boards. Handy tip: make yourself a drilling jig so you drill to the same depth every time meaning your screws will all be level. The screw heads should be flush with the boards as drilling further will create a hollow where water can stagnate. Finally, each board should be fastened down using two screws at each end.
Trimming your decking boards
---
If you've positioned your risers well, you shouldn't run into any problems at this stage. For wooden decking, try to hide the least attractive boards at the edges or use them as end pieces which will be cut off. Leave the ends of the boards untrimmed as you go. Once you've finished the whole job, you can then cut them all at the same time using a circular saw.
Explore the ManoMano catalog
Wooden decking
Dealing with any issues
Miscalculations
---
If installation hasn't gone completely to plan, you may find yourself having to trim extra board in order to complete your decking. Try not to have any cut boards on centre stage: if you have to cut along the length of a board, make sure it is on the façade side of the deck.
Warped boards
---
Sometimes individual boards can be warped or misshapen. Running a circular saw along the inside edge of these boards can help to relax the wood fibres and stabilise a board once in position.
Finishing timber decking
---
Fix one or more boards along the vertical edge of the decking structure by screwing them into the joists. If needed, strengthen the corners of your decking with brackets. If your wood isn't treated, it's a good idea to apply varnish and an anti-humidity or anti-fungal treatment – this is especially important for timber that has been cut.
Explore the ManoMano catalog
Wood and composite decking boards
How to lay decking on riser pedestals
Required skills
---
Now a widely used system, anyone with a few tools and some DIY know-how can use adjustable risers to lay their decking. Nonetheless, you will need to be know how to use a tape measure and spirit level, and be able to do simple calculations.
Tools and equipment
---
Decking screws
Your decking screws must be appropriate for the decking material. This is an important investment that will ensure a sturdy installation. Ideally, opt for stainless steel decking screws with the right length for your timber frame. If you don't want your fixings to be visible, go for decking clips (these must also be suited to the individual board). Decking spacers should be inserted between boards to create an evenly spaced deck, with a minimum spacing of 3 mm.
Decking supports
Your decking supports, or riser pedestals, must correspond to the desired height of your deck and should be strong enough to withstand heavy loads. The risers must be chosen according to their height and weight which will determine whether they have the right load capacity to support the weight of your decking. Of course, the bigger the risers, the higher the price (usually given per m²). Please note that all riser pedestals must be topped with joist frames which, in turn, serve to support the decking boards. Your joist frame and decking must always be made from a timber with the same durability class rating. Choose a robust, hard-wearing and weather-resistant variety of timber.
Time required
---
Approx. 8 hours for every 10 square metres.
Number of people required
---
1 person
Safety wear
---
Explore the ManoMano catalog
Decking boards
More information
For more tips on related accessories, check out our editors' other guides:
Guide written by:
Lucas, Antique wood-worker, Gloucester, 27 guides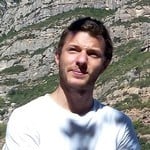 After some time busting my hump at construction, specifically at renovation, painting, carpentry, laying kitchen and bathroom tile, I decided to get my degree as a Carpenter. And I did well because nothing is more pleasant than working on a timber frame or designing a wooden house. Everything about woodworking fascinates me, and building my own home in this material is one of my goals. I'm also a follower of construction tools: I love to learn about innovations, the way they're used, the tips and tricks, or the performances of each new tool on the market, whether it's for woodworking or not. I would be happy to advise you and help you with your choices. Happy Tinkering.
The products related to this guide