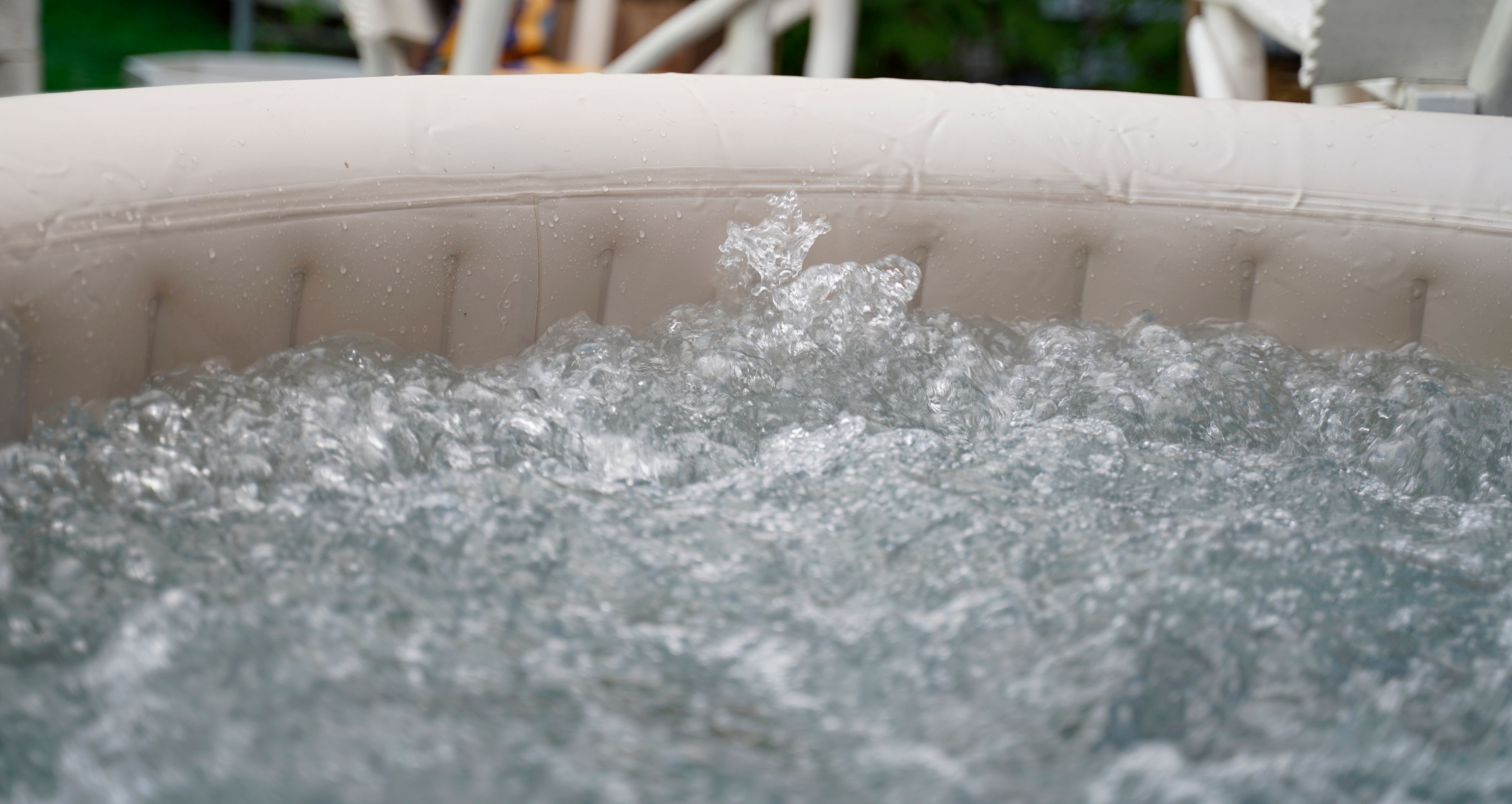 How to install an inflatable hot tub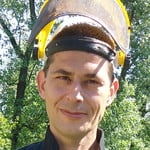 Guide written by:
Jeremy, construction site supervisor, Cardiff
132 guides
Installing an inflatable hot tub should be a quick and easy job – in fact, the longest part is usually filling up the tub! The hot tub should be placed on a flat and stable surface or ground mat before being blown up and filled with water. You'll then have to set up the pump unit and connect it to your mains power. 
Important features
Preparing the ground
Setting up and inflating
Pump system
Filling the hot tub
Settings
Choosing a home hot tub
---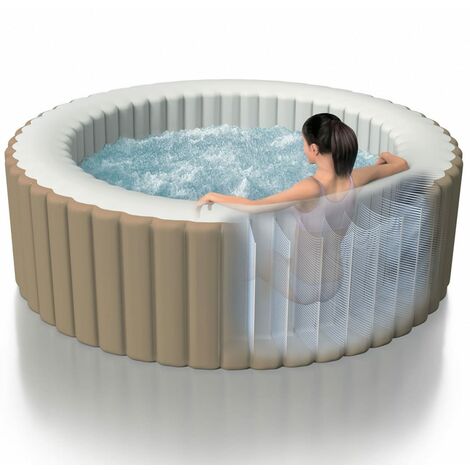 Hot tubsare tubs filled with hot, aerated water and equipped with a bubble jet massage system. These tubs, also known as jacuzzis, may be used for hydrotherapy in alternative medicine to treat stress, back pain, tired legs and various other body aches. In the past, you could only access a hot tub in a spa or resort; today, it is absolutely possible to have your own hot tub at home. As long as you have 3 m², a budget of at least £300 and a few hours to spare (to assemble and install your hot tub), you can enjoy all the benefits of water therapy in the comfort of your own home.
Required skills 
---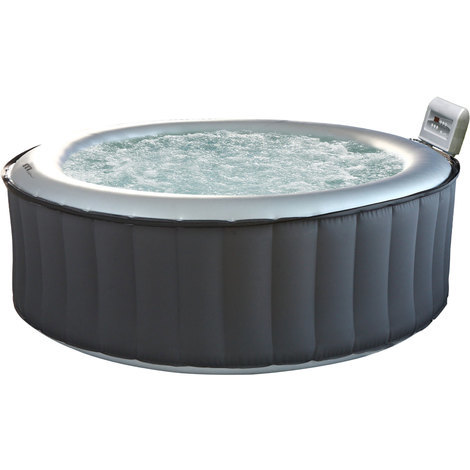 Straightforward assembly: no particular skills required. Most hot tubs are sold in kits with everything you need to install and set up your hot tub. Inflatable hot tubs are self-supported; they are stabilised by the water and do not require a solid outer structure. The pump system usually works to inflate and heat the hot tub, and to create the bubble jets. This unit may also be equipped with different safety features to match country-specific standards (e.g. lock, automatic standby, etc.).
Steps 
Inventory and preparing the ground
Setting up and inflating the hot tub
Installing the pump system
Filling the hot tub
Adjusting the settings
Treating the water
Tools and equipment 
---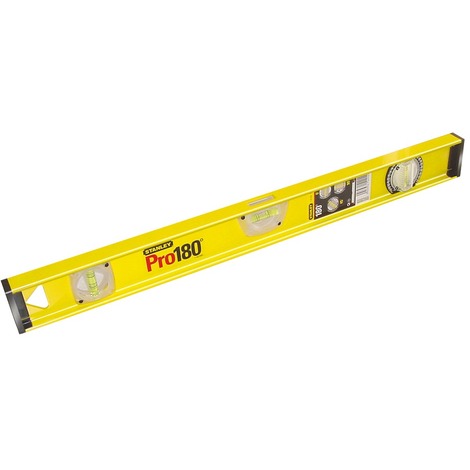 Inflatable hot tubs are plastic structures designed to be blown up and filled with water. For this reason, the ground must be flat and free of any sharp objects (branches, rocks, etc.). If your surface is not flat, you will need:
The pump system runs on electricity and requires:
an extension cord (IP 44 minimum);
an outdoor electrical outlet (IP 55 minimum);
an outdoor water outlet fitted with a garden hose.
Explore the ManoMano catalog
Shovels
1. Inventory and preparing the ground
Preparing a spot for your hot tub
---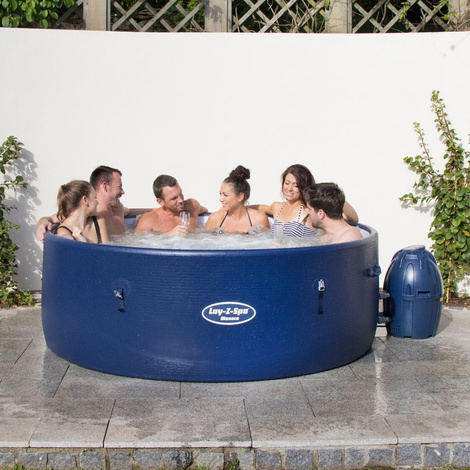 When installing a hot tub, you have two options: set it up on a hard surface (a deck, for example) or install it on bare earth. On a hard surface, you won't have to do much. You just need to make sure that you have enough space for the hot tub and that there is nothing on the ground that may damage the base of the tub.  If you are setting up on bare ground, you'll have to ensure that the surface is stable, flat and free of any sharp objects. As such, you must check that the ground is level using a straight edge and a spirit level. If you find that your surface is not level, even it out using fine-grain sand. If the ground is too uneven, dig down about 10 cm, then fill the hole with sand and prepare the ground as though you were installing an above-ground pool. It is advisable to insulate the base of your hot tub with a tarp or ground cover.
Performing inventory
You can now unpack your hot tub and carry out an inventory of all parts and equipment using the assembly instructions.
Explore the ManoMano catalog
Swimming pool surrounds
2. Setting up and inflating the hot tub
Place the deflated hot tub in your chosen spot. Depending on the model, you may need to start by installing the inflation valves.
---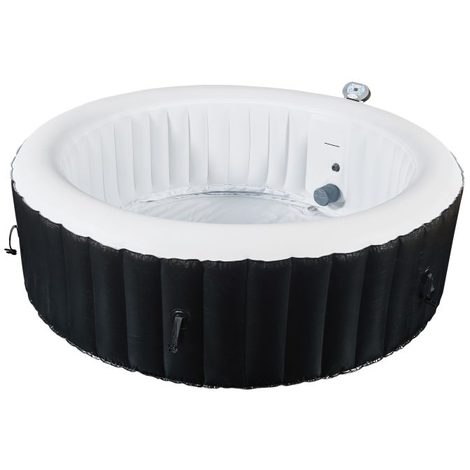 Place your pump system near the hot tub and plug it in (using an extension cord and/or a waterproof outlet).
Next, connect the pump hose (pump outlet on one side and inflation valve on the other).
Most pump systems use the massage mode or blower to inflate the tub. Put your pump into this mode and inflate your hot tub.
Your hot tub may inflate in several parts. Inflate them in the order set out in the assembly instructions. Firmly close the screw cap on each valve once inflated.
Explore the ManoMano catalog
Extension cords
3. Installing the pump system
---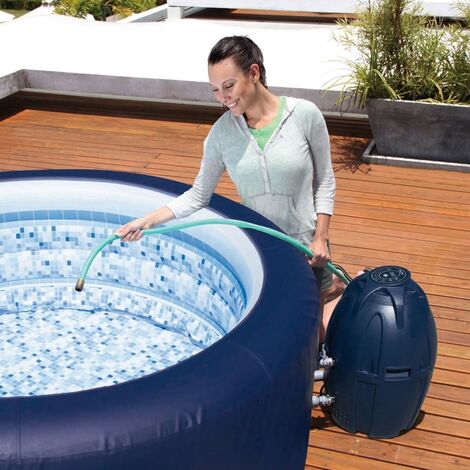 Once your hot tub is entirely inflated, you can proceed to connecting the pump.
The pump works to circulate water through the filter, heat the water, and so on. You need to connect the pump inlet and outlet. To avoid connecting the wrong part, you must read the installation manual carefully.
Toensure all connections are watertight, be sure to check that the various washers are all in place and to screw everything into place firmly by hand (do not use any tools).
Some hot tubs have a filter on the drainage valve which is located on the base of the tub. Screw this firmly into place by hand (on the inside of the hot tub).
Your pump system is now set up. Before you start to fill the tub be sure to check thatthe drainage plug is closed properly.
4. Filling the hot tub
---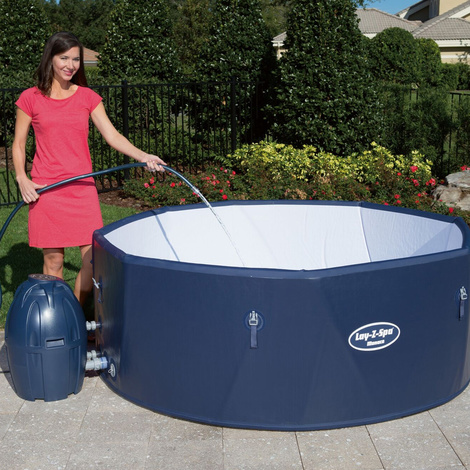 Using a hose, fill your hot tub up to the maximum level indicated then top up as required. Make sure that the structure is properly supported and rigid. The time it takes to fill the hot tub will depend on your flow rate and the size of the tub – be patient!
Explore the ManoMano catalog
Inflatable hot tubs
5. Adjusting the settings
Temperature 
---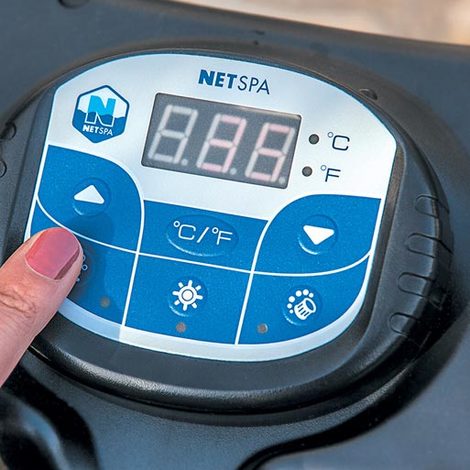 The pump or pumps usually allow you to set several water temperatures. 
Set your temperatures, massage sequence and filter mode as desired.
The most efficient systems will allow you to adjust your pre-set temperatures down to the degree. 
Here are a few guidelines to help you set the temperature:
never set your tub to over 40 °C;
for shorter sessions (10 minutes or so), the ideal temperature will be between 37 et 40 °C (for adults);
for longer sessions, children or pregnant women, the ideal temperature will be between 32 and 35 °C.
Some hot tubs come with a cover designed to be fitted over the surface of the water to insulate the water from the surrounding air. This allows you to reach your set temperature more quickly before you jump into the hot tub.
Massage and/or bubble jet mode 
---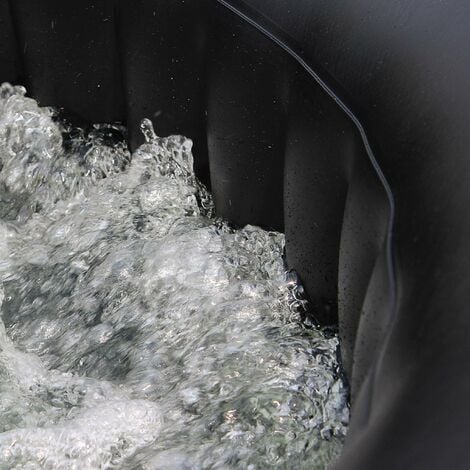 Most hot tubs only come with a single bubble blower operated by the pump unit; this is also used to heat and filter the water.
However, some high-end models feature several massage modes; these models are equipped with a multi-outlet pump system. That said, most pumps are set to pause bubble mode and switch to filter mode every 15 to 30 minutes. This not only serves to clean the water but also rebalances any temperature losses.
6. Treating the water
---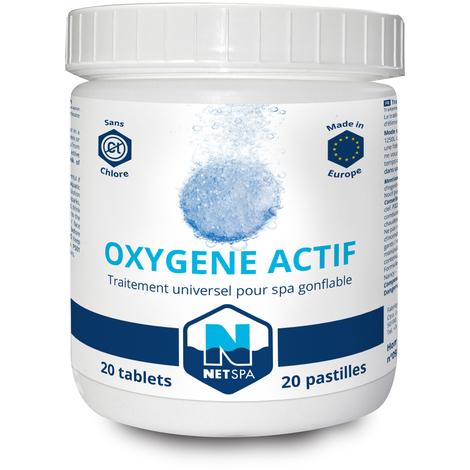 Any water that is exposed to the air is likely to degrade (scale formation, bacteria or algae growth, etc.). You will therefore have to treat the water in your hot tub. Chemicals are usually used to treat hot tubs but UV rays can also do the job (via an additional system). While the water is regularly filtered through the pump unit, it must still be treated to ensure your tub is filled with high-quality, clean water.
Explore the ManoMano catalog
Hot tub treatments
Guide written by:
Jeremy, construction site supervisor, Cardiff, 132 guides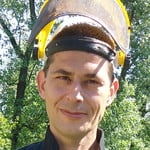 Electrician by trade, I first worked in industrial estates where I installed, wired and fixed a large number of electrical installations. After this, I managed a team of electricians for this type of work. 10 years or so ago, I turned to building and construction. From the modest family home, to gyms and theatres; I have been able to coordinate, audit and organise all sorts of construction sites. for 4 years now, I am restaoring and bulding an extrension to a bungalow in the heart of the welsh countyside. My experience in manual work and my knowledge means I am proud to be of service. Terraces, interior design, roofing, plumbing, electricty, anything goes! We have, my wife, daughter and I, built almost everything we have from scratch! So to answer all of your questions, and to orientate and advise you on coosing your tools? Easy!
The products related to this guide