How to install an above-ground pool?
Guide written by: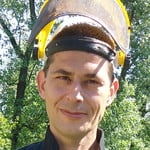 Jeremy, construction site supervisor, Cardiff
118 guides
Above-ground pools can be wooden or metal, and can take a few hours to set up. Laying a groundsheet, setting up the frame and putting in the liner are the essential steps to take. The filtration pump also has to be connected, following a few guidelines.
Important features
Checking your equipment
Setting up the pool
Installing the liner
Filling the pool
Adding accessories
An above-ground pool - what could be simpler?
Having a pool to enjoy in the comfort of your own
garden
through the summer months is about as good as it gets!
Above-ground pools
are a stylish, affordable option! Simple in design and usually
sold in kit form
with everything you need to set it up, this type of
pool
is a great alternative to the
buried
type: no masonry work, no digging,
quick and easy to set up and put away again
, minimal maintenance and great value for money!
Most above-ground pools follow the same general blueprint: a rail running around the inside of the pool holds a liner, which pushes itself against the rigid frame under the action of the water contained in it.
The know-how


Installing an above-ground pool doesn't require any specialist skills. As long as you've got two hands and the patience to read through the product manual, you can have it up and running in the space of a few hours. There are just two conditions: a flat, even patch of ground and a few essential tools!
Installation steps


1. Preparing the ground and checking your equipment
2. Pool installation
3. Installing the liner
4. Filling the pool
5. Adding extra accessories (pump, ladder, etc.)
Tools and equipment
saw appropriate to the material you're working with
a builder's rule at least 2m in length
How to set up your pool?


1. Preparing the ground and checking your equipment


Checking equipment
Check that your pool kit contains all the necessary components. Carefully remove these from their packaging and sort them out: screws, valves, liner etc. Check all components are in good condition.
Preparing the ground
Your pool should be set up on a level, stable, clear patch of ground, if possible
away from any trees
and in a
sunny, open part of the garden
. Check the lie of the land with your
rule
and
spirit level
and
correct with sand if necessary
. Spread out your
groundsheet
, ensuring that no protruding objects (branches, stones etc.) are left on or underneath it.
If
the ground is quite uneven
, you might want to dig a trench and refill and level it with sand.
Preparing the ground
thoroughly before you start is the best way to
make your pool installation last
. The best thing, especially with larger or higher-end pools, is to
lay a concrete foundation slab
. A £4000 solid wood model, for instance, would totally justify the extra effort! A £300 metal pool can make do with just a groundsheet.
With the ground prepared,
get yourself ready
: put the elements of the pool frame on one side and the
liner
and everything else on the other. Make sure you've got a
hosepipe
to hand as well.
2. Installation
filtration system
have to go, as well as the
skimmer
and
pool ladder
. Regarding the skimmer,
for best results have it facing the prevailing wind
.





3. Installing the liner


This is an important step since it's where you make you
pool
watertight. Once you've got the rails in place (following the manual),
grip the liner at the top edge while ensuring that it stays as taut as possible at the bottom
. The aim is to avoid any wrinkles or folds, so it can be a good idea to leave it out in the sun for a couple of hours before you start. When you're ready, step into the
pool
in bare feet.




4. Filling and filtration system


filtration system

according to the instructions given in the manual: inlet, outlet and skimmer; but don't connect it to the power just yet. Now you can begin

filling your pool

in stages:
To finish stretching out the liner, start by filling to just 2-3cm and then smooth out the base and sides
Carry on up to 5cm below the lowest filtration outlet. With the outlet in place, cut the liner from the inside
Repeat as above for the other outlets and skimmer
Finish filling two-thirds up to the level of the skimmer
Connect the filtration system and you're nearly ready to go!
5. Adding extra accessories



Installing the pump
The
pool pump
is
connected to the pool basin in a closed circuit
and filters the water taken in by the skimmer before releasing it back into the basin via the outlet valves. It's quite easy to install, just make sure you
pay attention to the manual
and the following guidelines:
A pump should never be allowed to run on empty: flush any remaining air out of the relevant pipes (often there's a special valve for this).
The pump should always be shut off and disconnected whenever the pool is in use.
Always set up the filtration system at least 3.5m from the pool (or in a watertight container if this isn't possible).
pool ladders
come in two parts: a part that stays in place under the water and a removable part on the outside of the pool. Don't forget to
remove your ladder when the pool is not in use
(or is left unattended).
Learn more about outdoor DIY projects...
To find out more about outdoor DIY projects, follow our editors' advice and check out their other guides:
Did you find this guide helpful?
Guide written by:
Jeremy, construction site supervisor, Cardiff 118 guides écrits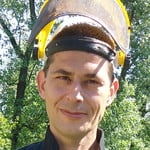 I'm a trained electrician who started off working in large-scale industrial projects. Most of my early career was spent taking on huge electrical installations. I like to think that no job is too big for me, and after all the experience I'd gained, I started managing teams of electricians.

I like to learn on the job, so around ten years ago, I moved into building and construction. As a site manager, I've overseen the building of small residences, sport facilities, and even theatres!

Working with my hands is something I love to do in my free time as well. For four years now, I've been restoring our home in the Welsh countryside. I even built a conservatory for my wife, who loves watching the sheep behind our house.

Whether it's patios, interior design, roofing, plumbing or electricity - I love giving it all a go! I've even made my family DIY converts and together we've built almost everything we have from scratch. My experience, both in the field and in my workshop, has taught me a lot and I'm happy to share what I've learned. No matter how big or small your project is, I'm here to answer your questions and help you choose the right tools and equipment.
The products related to this guide