How to install a swing set
Guide written by: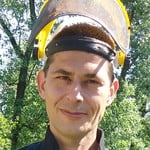 Jérôme, Artisan, Haute Savoie
188 guides
When installing a garden swing set, you'll have to follow a few strict rules to keep your kids safe while they have fun. From assembling the tubes to fitting your swings, trapeze bars and other apparatus, everything must be tightly secured in place while the frame can be buried in concrete for greater security.
Important features
Preparing parts and ground
Assembling structure
Fixing structure to ground
Assembling play apparatus
Swing sets: the perfect outdoor play equipment
---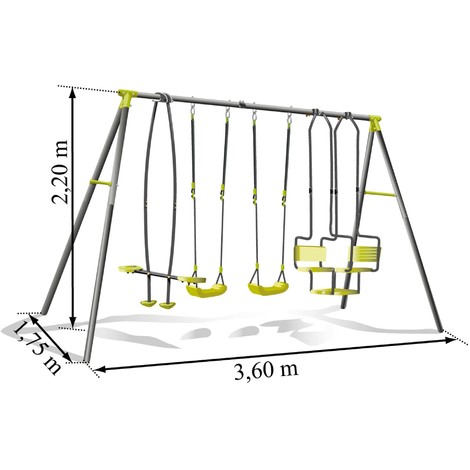 If you don't have a lot of room in the garden,
swing sets
are a great way to
keep your kids entertained outdoors
.Often
simple structures
that are
easy to install
, swing sets provide many long hours of outdoor play.
The most important thing is to choose the right spot for your swing set, to assemble all parts correctly and, most importantly, to ensure user safety by making sure your structure is securely fixed to stable ground.
Required skills
You should be cautious and methodical when setting up a swing set. There's nothing complicated about the mounting the structure itself, but you will have to
follow the instructions to the letter when it comes to assembling
all parts. You must know how to use a tape measure,
spirit level
, spanners and
screwdrivers
.
When it comes to securing the structure to the ground, you will also have to be able to dig and, potentially, prepare a few loads of concrete if necessary.
Completion time
2 to 3 hours depending on model (not including time taken to lay concrete)
Number of people required
2 people
Steps
Preparing parts and ground
Assembling the structure
Securing the structure to the ground
Assembling play equipment
Tools and accessories
---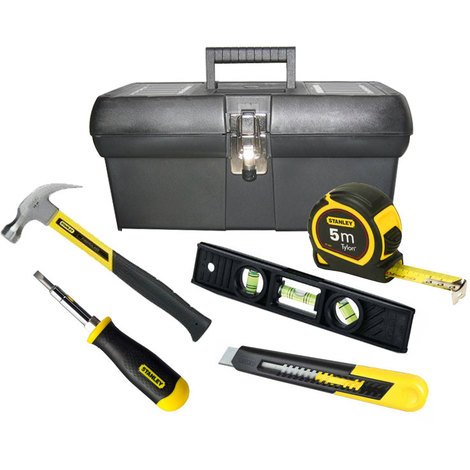 A tape measure and pencil
A set of box spanners
A set of open-ended spanners
An electric screwdriver or set of screwdrivers
Tongue-and-groove and/or universal pliers
A woodenor rubber mallet
A stepladder
Instructions
A cement mixer, shovel and pickaxe, a trowel and screed (if laying concrete is required)
Explore the ManoMano catalogue
Electric screwdriver
Installing a swing set in 4 steps
1. Preparing parts and ground
Parts prep
Before you start assembling, open all the boxes carefully and read through the instructions to make sure all parts are present.
Prepare to assemble. Get yourself organised by sorting all the various parts: connecting sleeves and hardware to one side, and all wooden and metal parts, etc., to the other.
Ground prep
---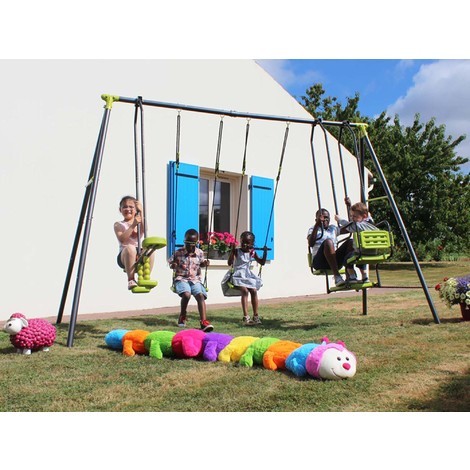 First of all, select the
flattest and – most importantly – stable surface possible
.
If your land slopes too much (more than 2%), even out the ground. The surface should be able to accommodate your swing set with ideally around two metres of clearance around the structure.
Clear the area of all protruding, jagged or sharp objects (pieces of wood, stones, etc.).
2. Assembling the structure
Fitting the crossbeam and connecting sleeves
---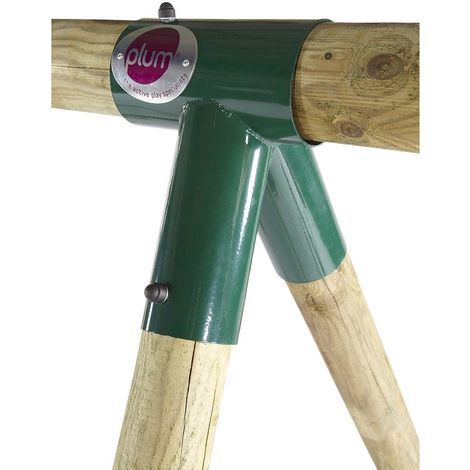 Before heading right into assembling, be sure to read the instructions carefully.
Most swing sets are made up of a crossbeam and legs.
Start by placing the connecting sleeves on each end of the crossbeam. These sleeves link the crossbeam to the legs (there should therefore be three tubes in all).
You should then slot the legs into the angled part of the sleeve. Secure them in place then screw fully.
Fitting your play apparatus Next, put the hardware designed for fitting your apparatus (swings, ropes, etc.) into place.
---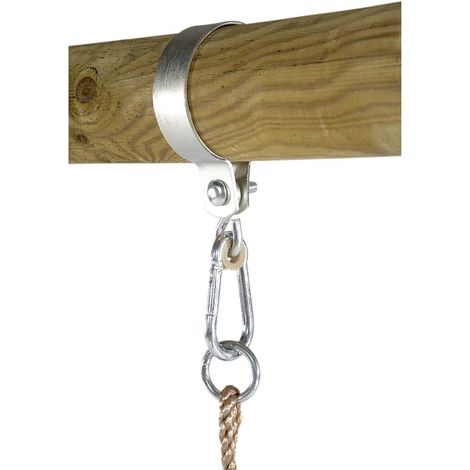 Prepare the second set of legs. Fit the legs into the second sleeve and secure them using screws.
With assistance, fit the second set of legs onto the crossbeam.
Tilt the mounted structure to check that the legs are lined up correctly and that the hardware for the apparatus is perfectly perpendicular to the ground.
If all parts are properly in place, slot and screw the second sleeve onto the crossbeam.

Horizontal support bars
---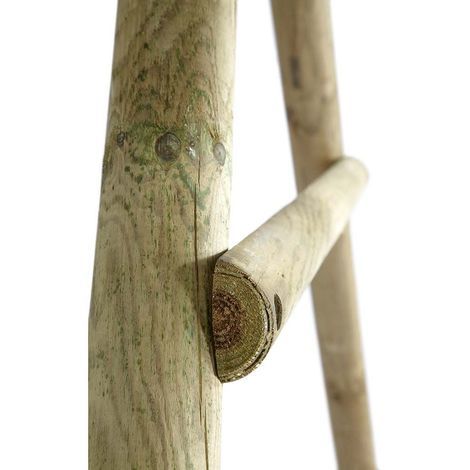 Depending on the model, your swing set may also have
horizontal support bars to fit
.
These bars are used to stop the structure from bending and to
keep the frame secure
.
3. Securing the structure to the ground
---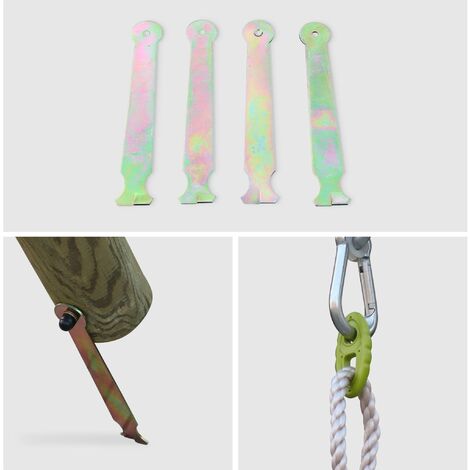 Your swing set must remain stable during use. To
ensure the safety of users
,
it is
imperative to fix it to the ground
.
Place your structure into position.
Using a spirit level, check that the crossbeam and support bars are level. Take a tape measure and measure the distance between the legs on each side (the measurements must be absolutely identical).
Mark the ground with the position of the feet. Move the structure slightly to the side and fit the ground fixings:
you can secure your structure using stakes fitted onto plates for fixing the legs. In this case, drive the stakes into each of the spots you've marked out to ensure the plates are all level, then attach each of the legs to the plates;
alternatively, you can use ground anchors in concrete. Dig holes with a diameter of around 20 cm and 45 cm at each of the points you have marked out then pour in your concrete around the anchors. Adjust your anchors so they are all level before the concrete dries. Wait several hours (or overnight), then fix the feet to the anchors.
4. Assembling play equipment
Assembling your apparatus
---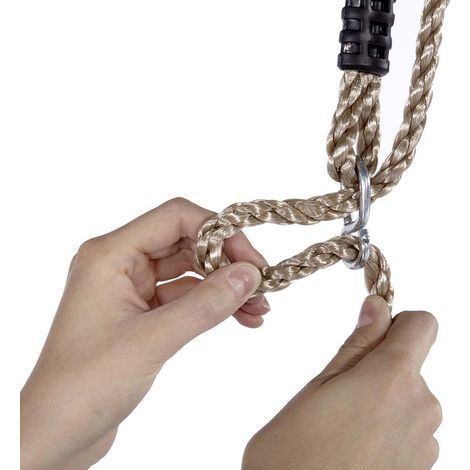 Once your swing set is in place and stable, you just need to
assemble your play equipment
.
If you have secured your swing set in concrete, you will need to wait several days to complete this step.
Most
play equipment
– whether this be a
swing
, a
trapeze bar
or a
rope ladder
– can be attached to the crossbeam using
carabiner clips
or
quick links
.
Testing your frame and equipment
---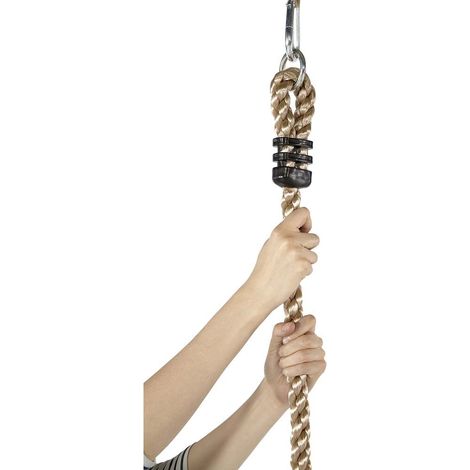 Once you have made your choice,
fit all play equipment into their slots
and
adjust their height
. Make sure everything is secure by testing the equipment, either by pulling on it or trying it out yourself – if the weight limit allows!
Explore the ManoMano catalogue
Quick links
Guide written by:
Jérôme, Artisan, Haute Savoie 188 guides écrits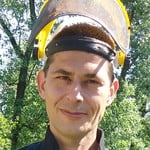 Électrotechnicien de formation, j'ai tout d'abord travaillé dans l'industrie où j'ai installé, câblé et dépanné bon nombre d'installations. Par la suite, j'ai encadré les équipes qui réalisaient ces travaux. Depuis quelques années je vole de mes propres ailes et suis artisan électricien. Avec plusieurs centaines de chantiers à mon actif, un travail bien fait et la satisfaction de mes clients sont mes priorités.Depuis 6 ans, je restaure et agrandis un chalet au cœur de la Haute Savoie. Mon expérience en travaux et mes connaissances me rendent un fier service. Terrassement, aménagement intérieur, toiture, plomberie, électricité, tout y passe ! Nous avons, ma fille ma femme et moi, presque tout fait nous-même ! Alors répondre à vos questions, et vous orienter ou vous conseiller pour choisir vos outils ? Facile !
The products related to this guide