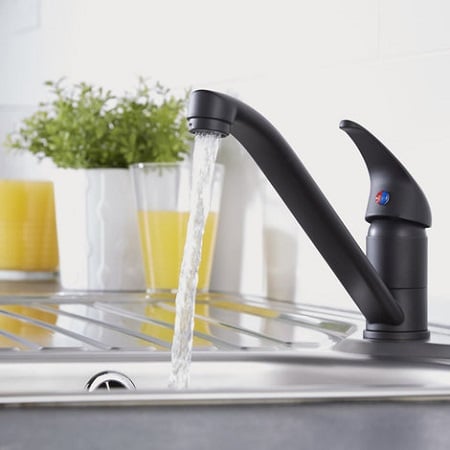 How to install a kitchen mixer tap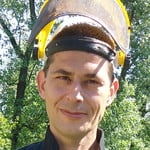 Guide written by:
Jeremy, construction site supervisor, Cardiff
131 guides
Installing a single or dual lever mixer tap on a kitchen sink or worktop should be a quick and easy task. You just need to disconnect the water supply and screw in the fittings; you may also have to drill into the worktop or sink using a hole saw. Follow our guide to find out how to change your kitchen mixer tap.
Kitchen taps: quick and easy installation
Kitchen taps are fitted over your sink and are responsible for supplying cold and hot water for all your cleaning or rinsing needs. Available in a variety of styles, including dual lever or single lever mixer taps, kitchen taps can also be fitted with different accessories such as sprayer attachments. Kitchen taps are generally fitted into a singlehole directly on the sink top. It is, however, possible to find wall-mounted taps which feature a separate lever or tap. No matter if you intend to install a new sink or replace an old one, putting in a kitchen tap should be a quick and easy task.
Required skills
---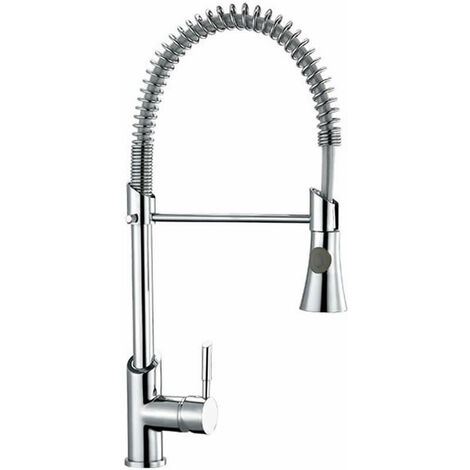 If you're installing a new sink, you may have to use a drill with a hole saw bit to form the hole for the tap. If your pipes are welded, you may have to trim down the hot and cold copper pipes and add a couple of compression fittings to screw in your new flexi tails.
If you are installing a tap intoa new worktop you will need a high-precision cut. Generally speaking, you will also have to use a socket set or spanner, and apply a Teflon tape seal.
Completion time
From 30 minutes to 1 hour
Number of people required
1 person
Steps
1. Preparation 
2. Assembling the mixer tap
3. Installation
4. Connecting and testing
Tools and equipment
If installing a tap in a worktop:
Additionally, if you have to cut your copper pipes you'll need:
Explore the ManoMano catalogue
Metal saw
1. Preparation
Start by shuttingoff the water supply and turning on several taps to drain the system.

Replacing an old tap

---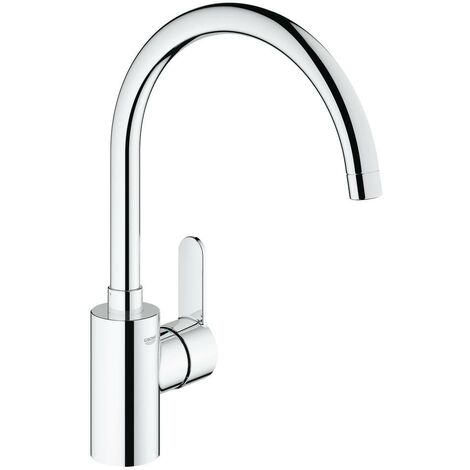 If the goal is to replace your tap, make sure that the new model is compatible with the hole already in your sink or worktop.
Taps are generally designed to fit in a hole with a diameter of either 40 or 45 mm.
Next, remove the old tap.
Unscrew the two flexi tails and mark the hot water hose
Unscrew the tightening seal underneath the tap
Remove the tap
Installing a tap in a worktop
---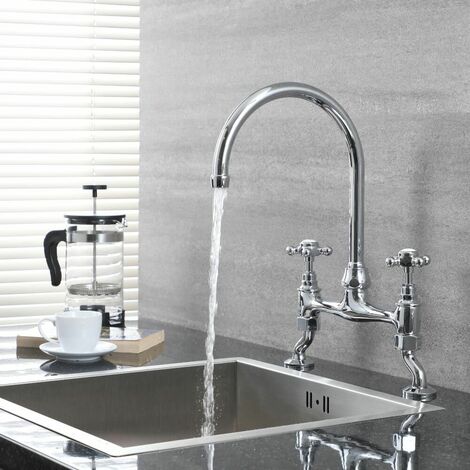 Using the size of the tap body, find the most central point on the worktop and pre-drill a hole measuring 4 to 6 mm in diameter.
Next, use a drill equipped with a hole saw bit to drill a circular hole to match the exact dimensions of the new mixer tap.
Sand down the edges of your hole with a piece of sandpaper.
For a clean result, you can apply tape to the worktop before using the hole saw in order to avoid scratching the surface.
Explore the ManoMano catalogue
Hole saw
2. Assembling the mixer tap
---
Start by screwing the two flexi tails into the tap body by hand. These are usually equipped with rubber washers. To be safe, you can do an extra quarter turn with an open ended spanner or a pair of pliers. 
Next, insert the threaded rod into the tap using a flathead screwdriver and tighten.
Finish by inserting the seal.
3. Installing the new tap
---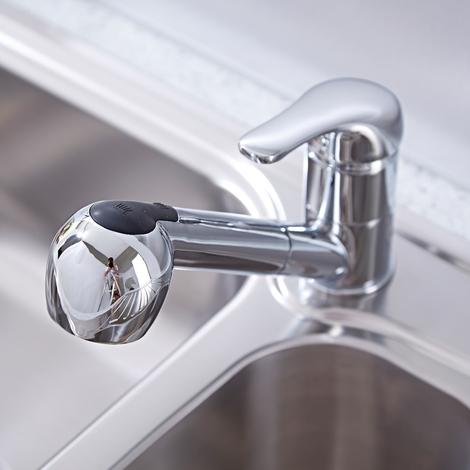 Clean and degrease the spot where the mixer tap will go.
Insert it into the slot, being careful not to kink the flexi tails.
Position the washers and the tightening seal from beneath the sink. Next, screw everything together firmly.
Before tightening all the way, it's important to be absolutely certain that the tap is facing the right direction. 
Explore the ManoMano catalogue
Clean and degrease
4. Connecting and testing the new tap
---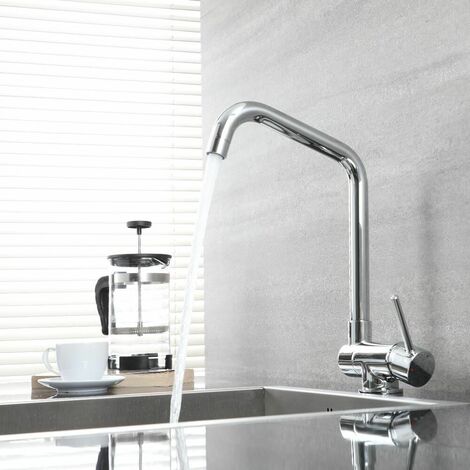 Connecting a mixer tap usually consists in simply screwing the flexi tails to the water supply pipes, being careful to connect the hot and cold water lines to the right pipes.
If they do not fit, you will need to add reducer connectors to match the diameter of the pipe. That said, these instances are quite rare as modern systems are generally standard in size. However, you may sometimes find that the tap you want to replace has copper pipes that have been soldered to the faucet. If so, here's what to do:
Cut the copper pipes to size with a metal saw;
Sand, deburr and degrease;
Measure the outer diameter of the copper pipe and fit a coupler to connect the pipes to the supply hoses;
Tighten the fitting and connect to the water supply pipes, adding Teflon tape to create a stronger seal.
Once everything is connected, turn the water supply back on and test the hot and cold water.
If nothing leaks and you are able to change the water temperature by moving the lever, then your mixer tap has been successfully installed!
Explore the ManoMano catalogue
Teflon tape
Guide written by:
Jeremy, construction site supervisor, Cardiff, 131 guides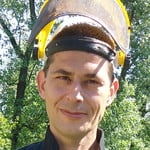 Electrician by trade, I first worked in industrial estates where I installed, wired and fixed a large number of electrical installations. After this, I managed a team of electricians for this type of work. 10 years or so ago, I turned to building and construction. From the modest family home, to gyms and theatres; I have been able to coordinate, audit and organise all sorts of construction sites. for 4 years now, I am restaoring and bulding an extrension to a bungalow in the heart of the welsh countyside. My experience in manual work and my knowledge means I am proud to be of service. Terraces, interior design, roofing, plumbing, electricty, anything goes! We have, my wife, daughter and I, built almost everything we have from scratch! So to answer all of your questions, and to orientate and advise you on coosing your tools? Easy!
The products related to this guide