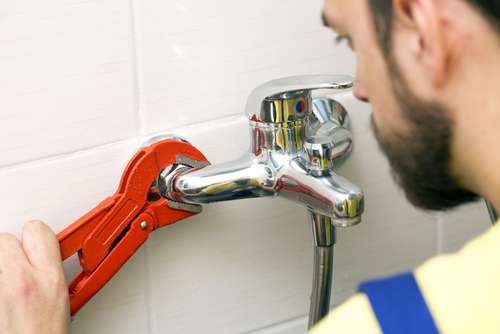 How to install a bath mixer tap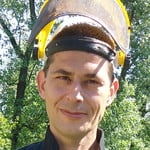 Guide written by:
Jeremy, construction site supervisor, Cardiff
132 guides
Installing a bath mixer tap should be a straightforward task. But if you are replacing an old system, you may have to make some adjustments such as adding some reducers or compression fittings. From fitting the tap to connecting it to the shower head, follow our guide to learn how to install your bath mixer tap.
Important features
Preparing to install
Preparing the tap fittings
Installing the bath mixer tap
Connecting the shower hose and head
Turning on the water and testing the tap
Bath mixer taps: a bath and shower in one
Bathtubs are versatile in that they work just as well for a quick shower as they do a relaxing bath. With this in mind, your water supply must be set up to both fill up a tub and provide water to a shower head.
Once your hot and cold water feeds are in place, installing your bath mixer tap should be a quick and easy process. Most of the time, your plumbing system will only need to be adjusted slightly or perhaps not at all.
Steps
Preparing to install
Preparing the tap fittings
Installing the bath mixer tap
Connecting the shower hose and head
Turning on the water and testing the tap
Required skills
---
Most bath tap fittings are standard in size (1/2 or 3/4 BSP), but you may have to adjust your installation if things don't match up. If your pipes are soldered, you may have to use a saw to cut them down in order to replace an old tap. You may also have to install some compression fittings to adapt the system to the new tap. Otherwise, you will only have to unscrew the old fittings and screw on the new ones, applying some PTFE tape or plumbers putty and oakum. Installing your shower hose and head is very straightforward. Most of the time, you will simply have to screw the connections into place by hand to make the system watertight and functional.
Completion time
---
Approx. 30 mins
Number of people required
---
1 person
Tools and equipment
---
A dual or single tap mixer with fittings and sealing washers
A shower head and hose (with seals)
A pair of escutcheons (optional)
Two compression fittings and/or reducers (if required)
Silicone sealant (and skeleton gun)
A role of PTFE tape or oakum and plumbers putty
A set of open-ended spanners
A spirit level
A straight edge
An adjustable spanner (or a pair of adjustable pliers)
Personal protective equipment (PPE)
---
Work clothes
Protective goggles
Protective gloves
Please note: this is a non-exhaustive list; be sure to match your personal protective equipment to the job at hand.
Explore the ManoMano catalogue
Adjustable spanner
How to install a bath mixer tap
1. Preparing to install
---
Before you do anything else, be sure to isolate your water supply and turn on a tap to drain the pipes.
Identify the hot water feed (this will usually be on the left).
Replacing an old mixer tap
---
Start by unscrewing the shower hose from the tap. You should be able to do this by hand, but if it is stuck you can use an open-ended spanner or an adjustable spanner.
Next, unscrew the back nuts. These are usually 32 mm nuts located between the water supply and the escutcheons or cover plate. Once you have removed everything, you should see the threaded tap fittings.

---
If your old system was soldered and you had to cut the copper pipes to remove the old tap fittings, you will have to install compression fittings. These fittings allow you to connect a smooth pipe to a threaded fitting. For this you will have to:

measure and cut your copper pipes down to the right size;
work out the diameter of the copper pipe using callipers;
clean the end of the pipe using sandpaper and deburr it;
insert the compression fitting, starting with the nut and the olive then the threaded part;
screw and tighten the assembly using the appropriate spanner.
All types of installation (new and replacement)
Read the instructions carefully to find out the specific requirements of your mixer tap model.
Next, check that the fittings in place are compatible with your new mixer tap. If everything screws together properly, great! If the female fittings are not the right size, you will have to fit some reducer fittings. These threaded fittings are used to connect old systems to new tap fittings.
Explore the ManoMano catalogue
Fittings
2. Preparing the tap fittings
Before making your assembly watertight and functional, you will need to carry out a quick test run. This pre-assembly will allow you to check that everything is assembled correctly, fine-tune your tap fittings, and get an idea of what the new bath tap is going to look like.
---
Start by screwing in the z connectors checking the following:
the distance between the connectors to ensure they are properly aligned. Measure this using a straight edge (refer to the instructions for the exact distance required between the centre of each connector);
the horizontal position of the connectors to ensure your tap will be perfectly level. Check this by placing a spirit level on the connectors.
Once everything is in place, screw on the escutcheons (if required). Then fit the bath mixer tap by screwing the backnuts onto the connectors. Ensure that the nuts do not touch the escutcheons. Adjust the z connectors if necessary (by screwing or loosening).
Check that everything is level using a spirit level.
If everything is in the right place, remove the mixer tap followed by the escutcheons and measure the length by which the z connectors protrude from the wall using a straight edge.
Explore the ManoMano catalogue
Straight edge
3. Installing the bath mixer tap
---
Now, proceed to assembling your bath mixer tap for the final time.
Firstly, seal your z connectors using PTFE tape (making sure to always follow the thread). Put the connectors back into place using your measurements from the previous step.
Check that they are level and correctly aligned. If everything is positioned according to your measurements, lay a silicone seal around the connectors.
Next, screw on the escutcheons and the tap, making sure that all washers are in place. Do not apply any PTFE tape between the tap body and z connectors.
Tighten everything using the appropriate open-ended spanner, being sure to check for one final time that the assembly is level.
Explore the ManoMano catalogue
PTFE tape
4. Connecting the shower hose and head
---
Before assembly, always make sure to check that the washers are in place inside the shower hose.
Screw the shower hose onto the tap body. You will usually be able to achieve a watertight connection simply by screwing by hand. If not, you can use a pair of adjustable pliers but be sure to protect the ends of the shower hose with a cloth.
Repeat the procedure to attach the shower head to the other end of the hose.
Explore the ManoMano catalogue
Shower head
5. Turning on the water and testing the tap
---
Once your mixer tap is in place, all your connections are firmly tightened and your shower hose and head are connected, turn your water back on making sure to check that your new tap is not on.
At this stage, if no leaks appear, then your assembly is officially watertight.
Finish by turning on your tap and testing out the features of the mixer: flow rate temperature settings and performance of shower head.
Guide written by:
Jeremy, construction site supervisor, Cardiff, 132 guides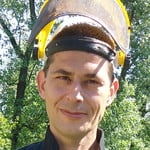 Electrician by trade, I first worked in industrial estates where I installed, wired and fixed a large number of electrical installations. After this, I managed a team of electricians for this type of work. 10 years or so ago, I turned to building and construction. From the modest family home, to gyms and theatres; I have been able to coordinate, audit and organise all sorts of construction sites. for 4 years now, I am restaoring and bulding an extrension to a bungalow in the heart of the welsh countyside. My experience in manual work and my knowledge means I am proud to be of service. Terraces, interior design, roofing, plumbing, electricty, anything goes! We have, my wife, daughter and I, built almost everything we have from scratch! So to answer all of your questions, and to orientate and advise you on coosing your tools? Easy!
The products related to this guide