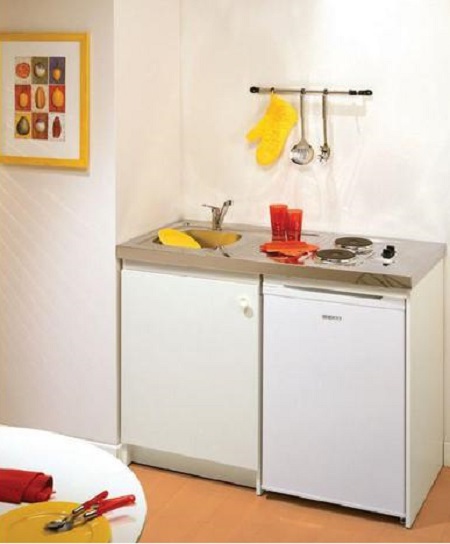 How to house How to equip a small kitchen?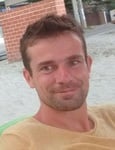 Guide written by:
Sébastien, Rédacteur, Puy-de-Dôme
316 guides
Furnishing a small kitchen in a complete, functional and inexpensive way is difficult. Adding a dining area is an even bigger challenge. Either I or L shaped, kitchenettes and countertops optimize space without breaking the bank. Open or american style, here's our advice to equip your apartment or studio's kitchen!
Configuring small kitchens
---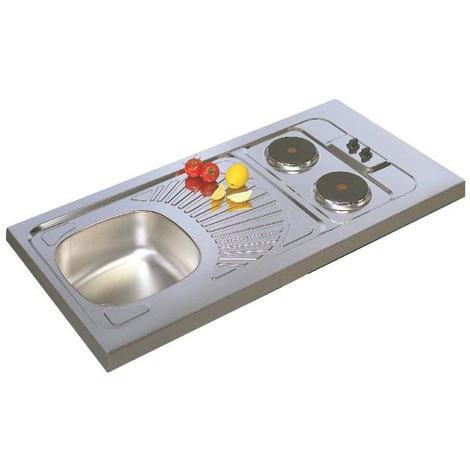 Small kitchens generally have two configurations:
I shaped, for narrow rooms;
L shaped, with a right angle.
What ultimately determines a small kitchen's equipment and installations - stove, refrigerator size, how much furniture etc. - is the available floor area and the interior layout.
If simply renting the residence, it's time to work with the existing installation and optimize the space by using furniture and kitchen storage.
If the owner decides to undertake renovations, it is possible to knock down a wall and turn it into a counter. It can be a half-wall with a worktop or a shelf, and it opens up on the living room, turning your small kitchen into an american kitchen.
Removing a door is also an easy and immediate space saving option. Installing a CMV is essential if the kitchen does not have windows, as is the choice of wall and ceiling paintings. In addition to their shade, preferably in light tones to enlarge the space, a host of other technical factors needs to be condisered such as its resistance to humidity and its ability to be washed.
Depending on the material of the walls and always in the context of a renovation, wall niches can be created and shelves can be put up.
The lighting should be functional and if possible, additional targeted lighting such as spotlights can round out the decor and ambiance of the kitchen, no matter how small.
Small kitchen: practical and functional areas
A small kitchen observes the same unavoidable rules of installation that a standard integrated kitchen does; three general zones of activity: the washing zone, the prep zone and the cold zone.

---
Washing area
The washing area is dedicated to cleaning, and includes the sink, garbage and drainers. Although useful in some situations, the waste disposal and water filtration system are not recommend. In order to optimize a space in a small kitchen, functionality is key.
Prep area
The prep area, also known as the cooking zone, is composed of a cooking plate, a cooking hood, a utensil rack and a worktop. Drawers, utensil holders, credenza bars and spice shelfs are also included in this category.
Cold zone
The cold zone is dedicated to the storage of food. Refrigerators and food cabinets are the primary members of this zone. While the washing and the prep area should be adjacent, the cold zone should ideally be close to theprep area - without necessarily having the refrigerator right next to the cooktop.
Configuration advice for a 2 m² kitchen
These tiny kitchens are often found in a typical 35 m² appartment, or even a studio. Since these dwellings are very rarely inhabited by a family of 5 people, there's no need to bother with oversized equipment. If you live alone or as a couple and want to build a kitchen of 2 m², go for the essentials:
Explore the ManoMano catalogue
Single bowl sink
Small kitchen design: why choose a kitchenette?
---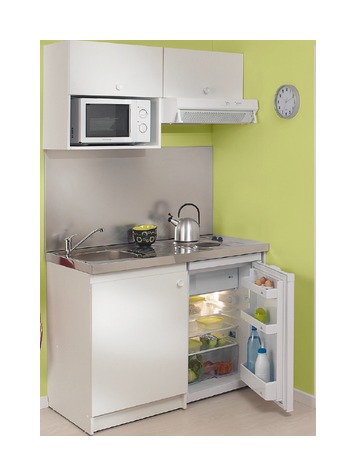 A kitchenette is an inexpensive solution for organizing a small kitchen.
The traditional white sink and cabinets are starting more and more be replaced by more colorfulpatterns - beechorwenge motif, among others - with stainless steel handles for a modern style.
Advantage of a kitchenette
The kitchenette offers a good compromise because they combine a sink, hob and refridgerator over a length of about 1.2 m. Three lengths are most often commercialized, 80 cm; 1 m; 1.20 m.
Kitchenettes is full of good news: they are simple to manufacture, easy to assemble and the choice of materials is conceived to optimize space. Options like the structure's thickness, a stainless steel sink, and a large one or two door closet can really customize your small slice of heaven.
Explore the ManoMano catalogue
Kitchenette
How to organize a small kitchen: 8 solutions of optimization of space
Utensil Rack
---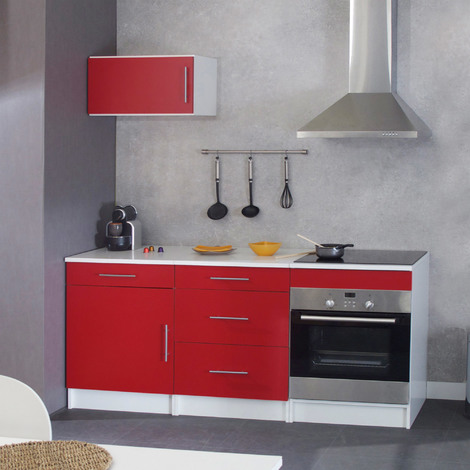 A utensil bar is essential for attaching all your cooking tools : gloves, whisks, spoons and spatulas are within reach and just above the worktop.
Corner sink
A corner sink is chosen when needed in unusually configured kitchens. It can have one or two bowls with a drainer and is available in various materials: stainless steel, resin, synthetic materials etc.
Tall furniture
Tall furniture should be shallow, especially when the kitchen is small. A storage column can be an effective solution to complete the cold area when installed next to the refrigerator. Drainer-equipped furniture will also save place by relieving the sink of it's drainer, liberating more space for the worktop.
Built-in appliances
Built-in appliances facilitate the optimization of space, but a small kitchen rarely has more than a refrigerator and an oven, often replaced by a mini-oven. Select your shelves according to your mini-oven's dimensions and be sure to choose the right pegs.

---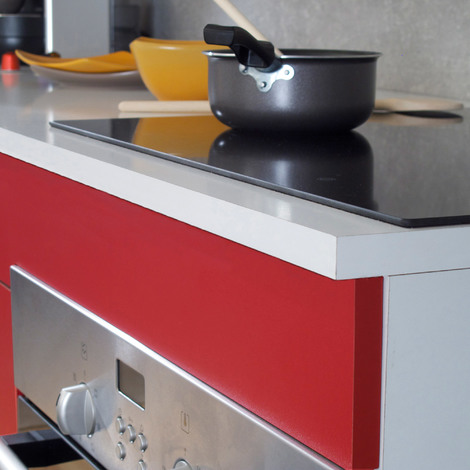 Trolley
A kitchen trolley is practical and can be placed between two pieces of furniture or a piece of furniture and a wall. The most practical ones have wheels, with baskets, drawers and hooks. It can complement both the prep area with its thick top, which useful as an additional worktop and the cold zone by storing the condiments.
Sliding door
To avoid the swinging doors and save space, go with furniture equipped with sliding doors. If neither of them will work, use shelves or disassemble the doors of the furniture and clog the holes with hole covers.
Sliding worktop
A slidingworksurface can provide more space to a small kitchen, replacing the drawer on other models. Simple to manufacture, the most effective are equipped with a medium tray and heavy duty slides- minimum 20 kg. A folding worktop can also be considered.
Modular and foldable furniture
A folding table, a sink cabinet with intergrated trash can, sliding doors, a sliding plate on the sink are all effective solutions for space optimization that should not be overlooked.
Explore the ManoMano catalogue
Heavy duty slides
Enlarging a small kitchen
What color to choose for a small kitchen?
---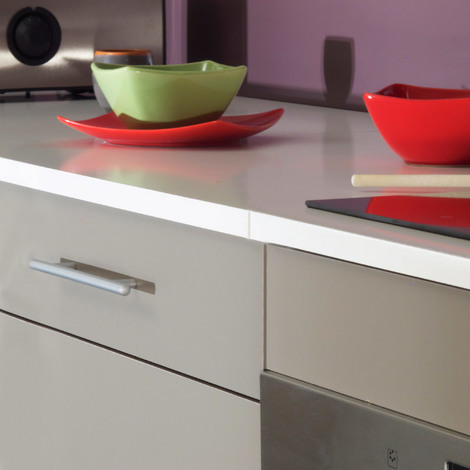 Choose a light color for your kitchen to give you a roomier feel. Using dark color on the farthest wall will add depth to a room, especially in contrast with the other, lighter walls.
Why use a mirror instead of racks in a small kitchen?
Mirrors bring depth and light to a room, which is why they are installed in rooms that do not have natural light and have a small surface area. Installing a mirror bar enlarges the cooking zone and depending on its length, the prep area.

Which table to choose for a small kitchen?
If the kitchen is also the place where you eat, it may be wise to choose a folding table or better yet, a countertoptable - which can also be foldable. Reasonably thin, the countertops can also act as a separation or even a hatch or a worktop depending on the configuration of the kitchen and the apartment.

More Information
For those looking to optimize a small kitchen, or simply get some more ideas on how to spruce it up, follow the links below for kitchen-related accessories, advice from our editors and more helpful guides:
Guide written by:
Sébastien, Rédacteur, Puy-de-Dôme, 316 guides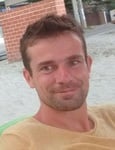 A l'issue d'études dans le commerce, j'ai appris par opportunité la profession de charpentier. Noble mais dur métier, les hivers et la pluie m'ont incité à descendre des toits et à pousser les portes d'une quincaillerie où sans grande surprise, je me suis retrouvé quincaillier. De vis en boulon, j'ai travaillé au fil des années dans tous les rayons de magasins de bricolage où j'ai eu le loisir d'apprendre l'utilité et le fonctionnement de tout ce qui s'y vendait. Entre deux magasins, je n'hésitais pas à travailler comme serrurier, couvreur, menuisier ou dans le secteur industriel. Mon expérience terrain conjuguée à mes connaissances techniques me permet de jauger le vrai du faux dans le choix des outils et équipements. Préférant restituer un conseil désintéressé à l'écrit que me répéter du lundi au samedi dans un magasin, il était naturel que je me dirige vers le métier de rédacteur.
The products related to this guide