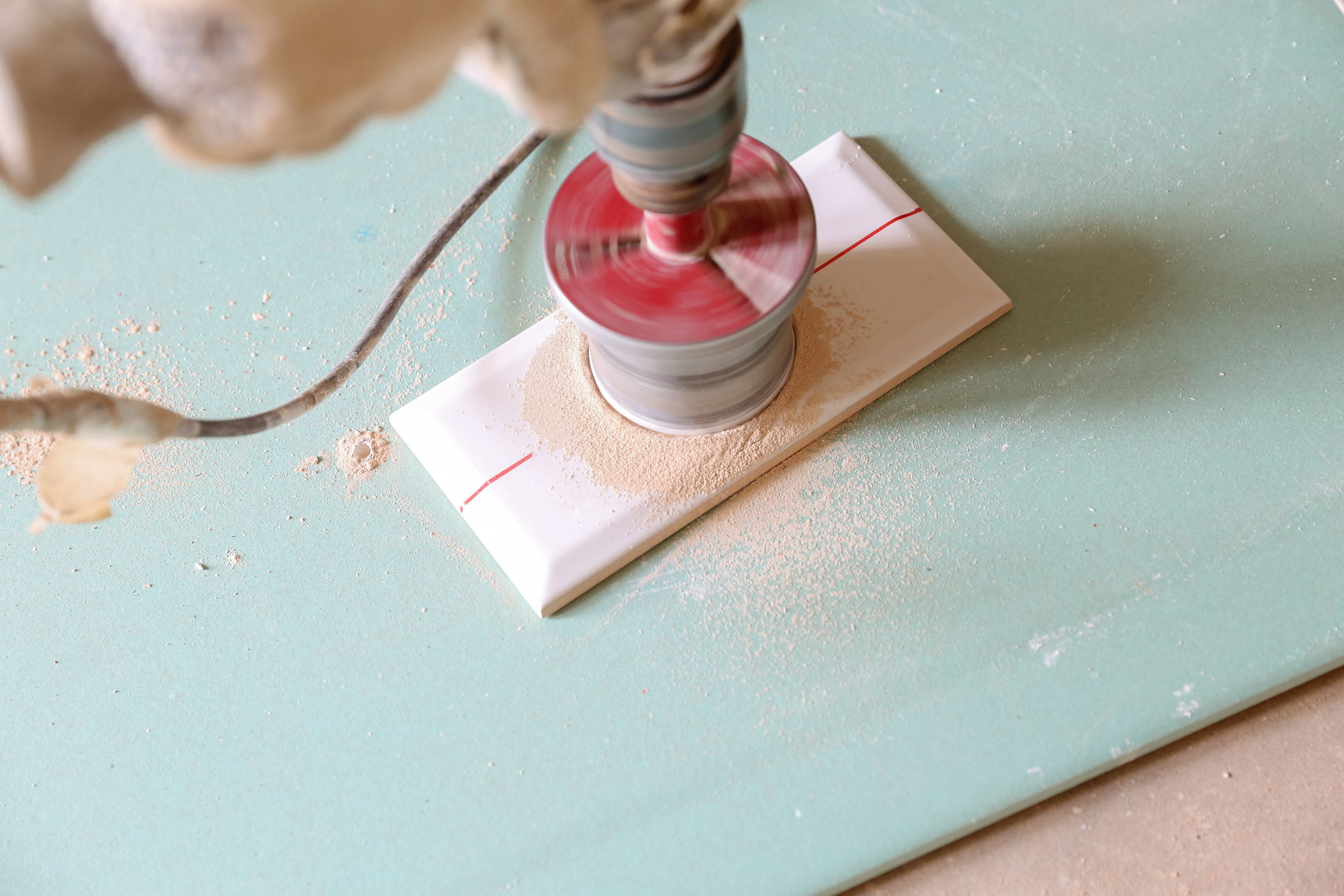 How to drill through tile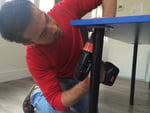 Guide written by:
Sebastian, self-taught DIY-er, Exeter
198 guides
It's easy to drill through tiles without cracking them – provided you have the right tools. If you only need to drill a small hole, use a drill with variable speed control and a diamond or carbide tipped drill bit; if you want to install a tap or socket, you'll need a hole saw. Read on for our tips on drilling tiles.
Drilling into tiles: skills and tools
You may find yourself needing to drill through tile for any number of reasons and in any room of the house. For example:
Drilling through tile without cracking the material or slipping over the surface requires a bit of basic know-how.
Required skills
---
No serious technical skills are required: you simply need to be able to use a drill and take correct measurements.  
Time required
---
10 minutes per hole
Number of people required
---
1 person
Tools and equipment
---
Drill with a variable speed drive; A flat surface (e.g. chipboard or plywood) for drilling if the tile has not yet been laid
Tungsten carbide-tipped drill bit for tiles
Diamond-tipped drill bit for smaller holes
Tungsten carbide-tipped hole saw or diamond hole saw
Tape measure and pencil or felt tip pen
Masking tape
Personal protective equipment (PPE)
---
Work clothes
Safety goggles
Protective gloves 
Hearing protection
Please note: this is a non-exhaustive list; be sure to match your personal protective equipment to the job at hand.
Explore the ManoMano catalog
Drill bits for tiles and glass
How to drill through tile without splitting it
As mentioned, just about any DIYer should be up to the task of drilling through tile to install a tap, light switch, electrical socket, spotlight, shelf and so on. Usually, the tile is already in place so there is little to no room for error. You will need to complete the task using a drill equipped with a variable speed drive. Never attempt to drill tile in hammer mode.
Drilling tile correctly
---
Identify where you need to drill you holes by taking measurements or by positioning the object you want to install against the wall. Next, apply some masking tape over the area you want to drill and use a marker pen to mark out your drill holes. The role of the tape is to prevent the drill from slipping and to protect the tile.
---
If you are drilling using a basic drill bit, drill at a slow and steady rate. Be sure to keep your drill absolutely straight when drilling. 
---
If you are using a hole saw, mark the tile first with the centre bit and the hole saw. Drill slowly and steadily, being sure to distribute light and even pressure over the surface of the hole saw.
---
Remove the masking tape and wet the tile to prevent the hole saw from heating up. The tile should be kept wet at all times. Drill at a slow and steady rate. 
---
If you are drilling into tile that has not yet been laid, turn over the tile before drilling all the way through and continue drilling from the other side. The centre drill bit will pierce the tile before the hole saw, so you simply need to line up the mark on the other side.
Explore the ManoMano catalog
Drills
Drilling porcelain and ceramic tiles
---
To drill into glazed or through-body porcelain, you will need a diamond-tipped drill bit. To drill through ceramic tiles, a carbide-tipped drill bit will usually suffice.
Hole saw for electrical sockets 
---
It is possible to find hole saws with a diameter of 63 mm. These drill attachments are ideal for installing electrical sockets.
More information
Guide written by:
Sebastian, self-taught DIY-er, Exeter, 198 guides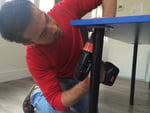 Redo a roof with wooden beams? Check.Advise Mister everybody in the DIY shop? Check.Redo the bathroom plumbing? Check.Fit together, build the walls, paint a partition, throw my hammer in a rage thinking that it will fix the problem? Check. The DIY motto ? Learning is better than delegating… well, it's also a question about your wallet! The satisfaction? The beer at the end of the job! What do the best have in common? The influence of Gyro Gearloose, Mac Gyver and Carol Smiley depending on your generation, a good dose of curiosity, a average hand-eye coordination and a taste for risks… and if it doesn't work, try again! Advise you? I'll do my best!
The products related to this guide