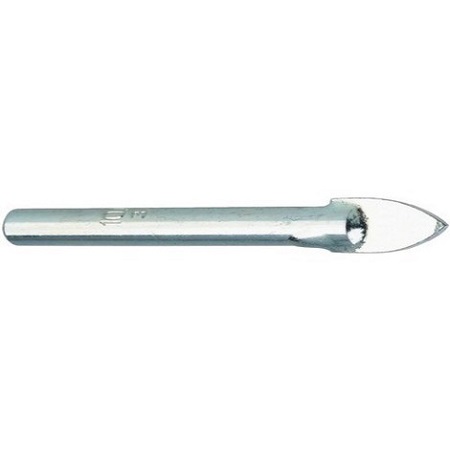 How to drill through glass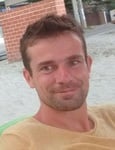 Guide written by:
Sébastien, Rédacteur, Puy-de-Dôme
316 guides
Glass can be drilled using a drill with a variable speed drive or a circular glass cutter, depending on the size of the hole and the thickness of the glass. To make the task easier, work slowly, cool the glass with water and use a carbide or diamond-tipped drill bit to prevent breakage. Read on for more top tips!
Drilling through glass: tools and equipment
You may find yourself having to drill glass for a number of different projects. For example:
to craft a lamp out of a bottle;
to hang a mirror;
to provide power to a display cabinet to add LED lights;
to install a vent in a window, and so on. 
Please note that you cannot drill through safety or tempered glass. Furthermore, the glass must be 3 to 8 mm thick.
Required skills
---
No particular skills required. Just about anyone should be able to drill glass as long as they take their time and follow the advice set out in this guide.
Time required
---
10 minutes per hole
Number of people required
---
1 person
Tools required to make small to medium-sized holes in glass
---
carbide-tipped drill bit for glass or, better still, a diamond-tipped drill bit (for holes of up to 13 mm). Most glass drill bits are actually sold as drill bits for ceramic or tile.
A diamond hole saw should be used for holes measuring 20 to 70 mm and for thicker glass.
A completely flat surface (e.g. chipboard or plywood) to place the glass as you drill.
A flexible material such as rubber or cork to slide between the flat surface and the glass panel.
A spray bottle to cool down the drill bit and glass as you work.
A tape measure and felt tip pen.
Please note: if you want to make a hole in glass in order to insert a large item, such as a cat flap or ventilator, you should use a circular glass cutter instead of a drill. This process is much simpler as it only involves marking out the circle with the diamond cutter (see instructions below).
Personal protective equipment (PPE)
---
Safety shoes
Work clothes
Safety goggles
Protective gloves 
Hearing protection
Please note: this is a non-exhaustive list; be sure to match your personal protective equipment to the job at hand.
Step-by-step guide to drilling glass without cracking it
No matter the thickness of your glass, if you want to avoid breaking it, you need to follow each step with great care. A diamond hole saw is recommended for larger holes and thicker glass.
---
Place the glass on a flat surface. Ideally, you should rest it on a rubber-based material but the most important thing is to keep the glass flat. Apply your masking tape to the area you plan to drill. Next, take your measurements and mark them out using a felt tip pen. 
---
Spray the glass with water which will help to cool down the glass and the drill bit. If you need to drill a large hole, start by drilling a pilot hole with a 3 or 4 mm drill bit.
---
Drill slowly, making sure to hold the drill straight over the cross. Keep the drill speed slow and steady and maintain even and constant pressure as you drill. 
---
Remove the masking tape. Spray the glass and the drill bit as you drill.
---
Continue to drill while spraying the glass and drill bit with water regularly.
---
Before you drill all the way through the glass, turn it around to finish drilling from the other side. This helps to prevent the glass from splitting around the hole.
---
Continue to drill slowly and steadily until the drill bit passes through the glass.
Drilling a glass bottle or frosted glass
If you need to drill a larger hole, start the process again until you get up to the required diameter. 
You can use oil instead of water as long as you only use a little.
If you want to drill a glass bottle, sea glass or frosted glass, you should following the same guidelines. For non-flat surfaces, such as bottles, it is essential to hold your object securely in place (in a vice, for example) for safety reasons. Filling the bottle with sand before you start drilling will help to absorb some of the vibrations.
How to drill a window to insert a vent
For larger holes used to insert a vent in a bathroom window, for example, you will have to use a glass cutter.
Tools and equipment
---
Personal protective equipment (PPE)
---
Safety shoes
Work clothes
Safety goggles
Protective gloves 
Please note: this is a non-exhaustive list; be sure to match your personal protective equipment to the job at hand.
How to drill glass to insert a vent 
---
Mark out your measurements then position the circular glass cutter on the glass, which should rest on a flat surface (ideally a rubber-based material). A suction cup holds the glass cutter in position on the glass.
---
Mark out the circle you want to cut in one turn. To do so, use one hand to apply moderate pressure to the centre of the glass cutter and the other to maintain constant pressure on the tool as you guide the cutter around. You will hear a grinding noise which means the glass is being cut. Be careful not to go over the same line twice: this is unnecessary and will damage the diamond tip of the cutter.
---
Mark out several concentric circles following the process described above.
---
Next, carefully remove the glass cutter. Turn over the panel of glass and tap on the back of the glass over the pieces you have cut until you hear the circles separate.
---
Continue to tap until the glass falls into different pieces. Gradually work your way out to the first circle you traced.
---
When you get there, remove the final pieces of glass using the glass cutter. You may have to apply some leverage to separate the glass.
---
You can sand the glass lightly using sandpaper if required but note that this is not necessary and may even damage the glass. The glass is now ready for the vent to be installed.
Guide written by:
Sébastien, Rédacteur, Puy-de-Dôme, 316 guides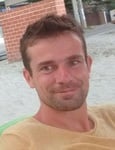 A l'issue d'études dans le commerce, j'ai appris par opportunité la profession de charpentier. Noble mais dur métier, les hivers et la pluie m'ont incité à descendre des toits et à pousser les portes d'une quincaillerie où sans grande surprise, je me suis retrouvé quincaillier. De vis en boulon, j'ai travaillé au fil des années dans tous les rayons de magasins de bricolage où j'ai eu le loisir d'apprendre l'utilité et le fonctionnement de tout ce qui s'y vendait. Entre deux magasins, je n'hésitais pas à travailler comme serrurier, couvreur, menuisier ou dans le secteur industriel. Mon expérience terrain conjuguée à mes connaissances techniques me permet de jauger le vrai du faux dans le choix des outils et équipements. Préférant restituer un conseil désintéressé à l'écrit que me répéter du lundi au samedi dans un magasin, il était naturel que je me dirige vers le métier de rédacteur.
The products related to this guide