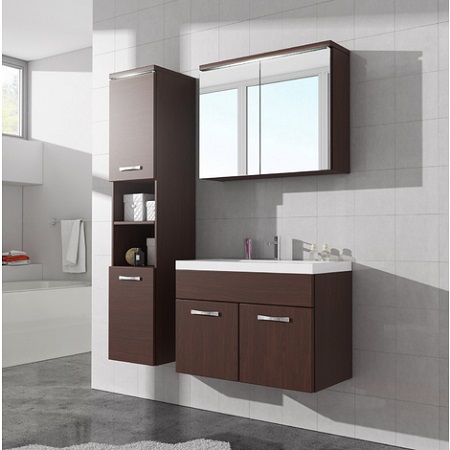 How to decorate your bathroom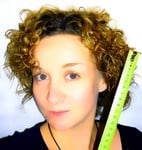 Guide written by:
Anne, Painter, Cambridge
32 guides
The secret to successful decor lies in combining a good layout with aesthetics and functionality. It's about colours, choice of materials, accessories… Fancy a change? Something up-to-date? Zen, sleek, Scandi: our style guide guaranteed to make waves in the bathroom.
Bathroom decor from floor to ceiling
---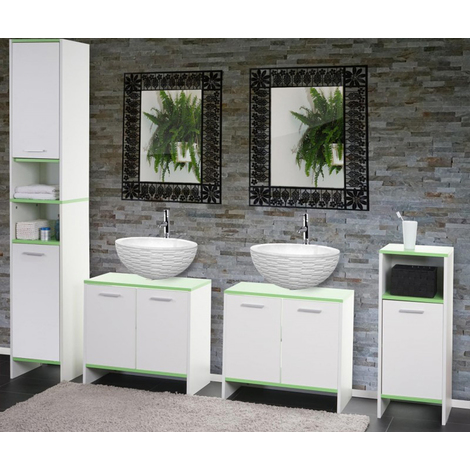 Choice of wall covering

For a stylish bathroom look, the first thing is always the walls and floor! You have an endless choice of colours and materials (block colours, images, imitation wood or tile, sparkly…) The bathroom being by nature a wet room, it's a good idea to choose a specialized waterproof, rotproof product. There's a wide range of styles available both for walls and floors. Here are a few examples of wall coverings that are sure to add character to your decor.
Tile
The original timeless bathroom look! The wide range of colours, patterns and sizes make tile a very versatile decor option. While you can get away with any type of tiles on the walls, only use plain ceramic or non-slip tiles on the floor.
Mosaic
Mosaic is making a big comeback! Great for decorating a bath or shower space, it's available in a range of colour schemes (multi-coloured, silver…) and shapes (spots, small squares…) for a home-hammam vibe.
Paint
Paint is the most pratical option of all! It can be used on old and new surfaces, and isn't limited to just walls. Some types of paint are specifically deesigned for old tiling, washbasins, sinks, bathtubs, or floors… In short, paint is taking over – and we're not looking back! Caution: always choose specialized wet room paint to maximize its lifespan.
Panelling
And we don't just mean the dated wooden kind! More modern panelling (PVC or MDF) is often wallpapered to give the perfect impression of wood or tile. Ideal for renovation, it's placed straight over the old wall covering. A great help if you want to redecorate quickly and with minimal effort.
Vinyl flooring
Vinyl is a quick, easy and affordable way of achieving a unique personalized look! Imitation tile, wood, grass, or a myriad abstract colours and patterns… Vinyl flooring will bring some lift to your decor! Washable and hence easy to maintain, it's one of the few options that are currently very in vogue.
Composite or laminate flooring
Thicker and more robust than vinyl, laminate is also back in! In a white or grey wood look, it offers a romantic, natural touch to your bathroom.
Wood flooring
Wood flooring has a warming effect in the room and creates a cosy atmosphere… Choose exotic wood – such as teak or bamboo – for a natural soft-lit effect.
Money-saving tip
To reduce the overall bill, it's a good plan to combine different materials: vinyl flooring, PVC panelling around the shower, tiles behind the sink and paint everywhere else, for instance.
Explore the ManoMano catalogue
Laminate
Creating a look with accessories
---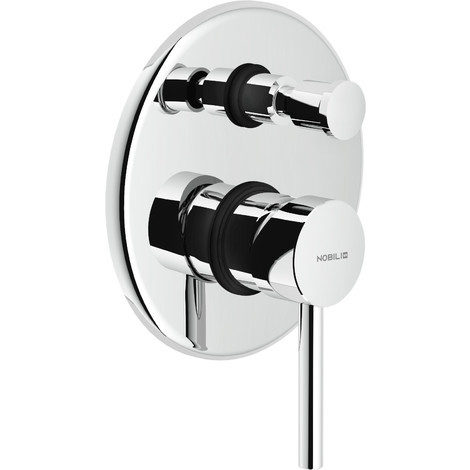 The decorative side
Among the many items of bathroom furniture on offer, the basics are: a washbasin (single or double) or larger sink, storage units, a mirror or bathroom unit with built-in mirror, a bathtub or shower, and smaller accessories for storage etc. (towels, baskets, soap dish, tooth mug, bath mat, shower curtain, waste bin…).
Some homeowners will want to add a finishing touch to the bathroom look they're going for.
If you've got a toilet in your bathroom (freestanding or hanging), think about tying it in with your decor. Toilet seats are available in every style, from the novelty to the completely functional! Even toilet roll holders can form part of the decor: choose between refined stainless steel, classic ceramic or kitsch plastic! You might even want to use stickers: bamboo, spots, grass pattern… there's something for every taste! Here are a few ideas for creating an atmosphere, all the richer for the sheer choice of accessories.
A style for every bathroom
Warm atmosphere
Go for a combination of white + wood. White walls, teak, laminate or vinyl imitation flooring (light wood); natural materials for a natural feel. To add a contemporary twist, think about blackboard or concrete, synthetic grass or a few pictures of plants hanging here and there.
Scandinavian look
Choose pastel colours on the walls combined with white furniture and natural wood accessories in smooth geometric shapes (pale pink walls, matte white sink and storage units, bath mat or shower curtain with a photographic pattern, octagonal mirror with a wood surround…)
Tropical feel
Go for imitation exotic wood flooring, white wood panelling in the shower area, wooden furniture – white, pink or green –, brightly coloured accessories (bamboo duckboards, lemon yellow containers, pink Flemish painting, palm tree shower curtain…).
Elegant feel
Combine full-white (walls, floor, gloss white furniture) with warm brass accessories and refined shapes (tracery light fitting, large round mirror with copper surround…)
Sleek modern look
Go for a combo of white + black, with gloss white for the walls and ceiling, imitation slate floor, black lacquer sink and storage unit, thick black bath mat, large slimline mirror and exclusively closed storage units for a very refined look.
Energizing atmosphere
Play with the colours, using a dominant white theme with touches of colour here and there (round pink bath mat, yellow painted triangle above the sink, a few coloured tiles, colourful furniture…). Just make sure you use each colour in moderation! Get in some colourful accessories (shower curtains, mats, containers) and furniture, and if you can a 'feature stretch' either on a wall or the floor… Pace yourself and don't go overboard!
---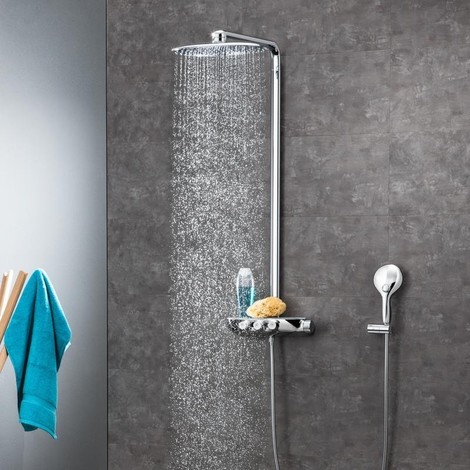 tap! Now available in various shapes (minimal, retro…) and a choice of tech level: mechanical or electronic – with an infrared detector – well-chosen taps can really add to a sink or washbasin. Ditto for the shower head, where everyone seems to want ultra-modern, rectangular, round or square, extra-large… Even the shower column offers a choice between the retro and the distinctively modern.

Explore the ManoMano catalogue

Furniture
Common pitfalls in bathroom decoration
True, decor is essentially a question of taste; there are however a few rules to follow to keep you on the right track.
---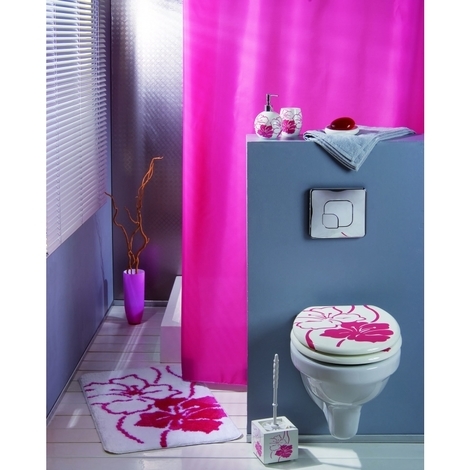 Choice of colours
A bathroom is a place of relaxation, so it's advisable to use light, gentle colours to help set the tone. It's totally possible to add vivid touches of colour, but always in moderation: that's the magic word! Limit yourself to a maximum of three different colours and avoid using several bright shades. Bright colours clash and compete for attention in your field of view, so it's a good idea to limit their use, whether on the floor, a stretch of wall or in a feature corner (sink or shower area, for instance).
If you're having trouble choosing colours that work together, get yourself a colour wheel (an accessory resembling a rainbow which helps you to assess colour combinations). You can also turn to accessories to add a colourful touch: patterned shower curtains, round yellow bath mats, little coloured storage units, pink furniture, etc.
Shifting fashions
We're all at the mercy of changing fashions and there's often a strong temptation to give in to the latest decor trend! But remember that decor advice can change rapidly and is in constant flux. What's seen as on point right now might be totally out in six months… So you should only let yourself be swayed by the layout and feel you want your bathroom to have – regardless of what the critics might say.
---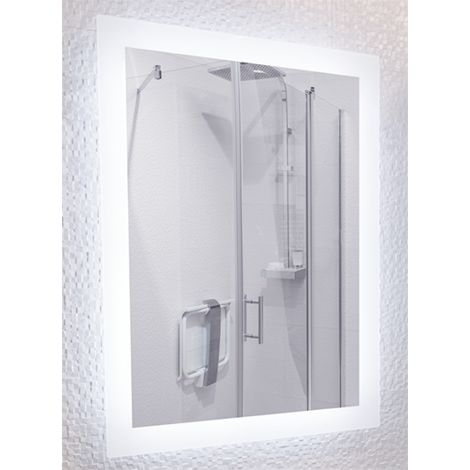 bathroom lighting. This has a tendency to alter the original colour of the walls: a tasteful khaki as seen on the colour chart can turn the colour of goose poo under neon lamp! This is partly why it's sensible to choose light, subtle colours when decorating (they'll alter less under changes of lighting) and use 'daylight' lightbulbs which give out white light similar to natural light.
Taste is fundamental
Choosing your bathroom decor is a personal journey: the end result should reflect your personality and meet your expectations. Whether it's Zen, modern, graphic, retro or whatever… Give your imagination free rein and you can't go far wrong. Good advice is never a bad thing, but put taste above eveything else!
Learn more about bathroom design...
To find out more about bathroom design, follow our editors' advice and check out their other guides:
Guide written by:
Anne, Painter, Cambridge, 32 guides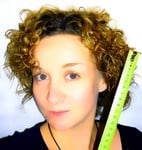 After 8 years of trade, I turned professional: I trained myself to be a painter and carpet layer either solo or with 16 years old comrades. 9 months later, following vocational school, my registration in Trades Directory, and the label 'Artisan' in hand, I created my company. And since then, I don't even touch my brushes. I'm a self-taught DIYer and decoration enthusiast, I love to find and restore furniture and to create unique decoration elements. I completed the restoration of my sister's house, this was last summer, with my niece: electrical, tiling, finishing, plasterboard...we did it all. And today, if I can share my experience I'm happy to do it. A total DIY enthusiast joke: 'What's the difference between a clown and a DIY enthusiast? A sense of humor.' Good Luck.  
The products related to this guide