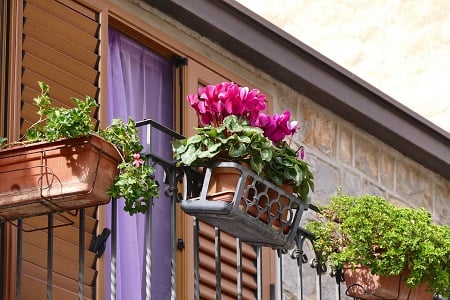 How to decorate a balcony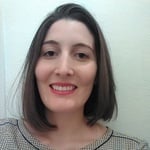 Guide written by:
Pauline, Self-taught handyman, Leeds
89 guides
Turning your balcony into a pleasant and cozy place is just a matter of finding the right method. Properly decorating your balcony can depend on different elements, from the choice of furniture, to the various available floor types and the many decor accessories that are at your disposal. Flowers, garden dining set, mood lighting: here's a quick guide on successfully decorating your balcony!  
Focus on the different decorative styles of balconies
---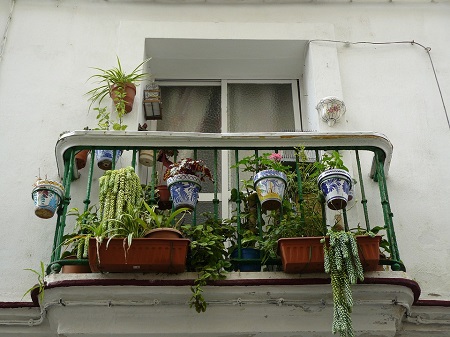 Engaging in any type of balcony decorating necessarily implies selecting the right material and colors. A balcony's main feature is the garden furniture. It is the piece that sets the tone of your decor, depending on whether it is exotic wood (like teak), wrought iron, woven plastic or metal. Using basic elements such as tables and chairs, your unique balcony's theme can start to be established.
Modern
Furniture with modern and sharp lines, LEDs or spotlights to illuminate evening meals, with geometrical patterned linen.
Family style
With wrought iron, linen cushions (natural colors, white, burgundy), antique-style dishes such as pitchers, available in most flea markets or plates with decorated edges to provide relief.
Sea side
Light furniture (white preferably), natural decorations made of driftwoodor shells, a string of colorful cotton balls in shades of blue, gray and white.
Zen decor
Wooden furniture, bamboo shoots, a pile of pebbles in the corner, a small stone fountain, and a golden Buddha to sit proudly on a chest.
Ethnic
Dark wood or wrought-iron furniture, colorful cushions, an Indian rosewood mirror placed delicately in a corner, a multicolored Indian-embroidered tapestry hung on a wall, the list could go further.
The trend in this decor is to mix and match. In practice, we choose different elements and mix them to create a colorful and unique universe. To decorate your balcony "in style", you can associate mismatched chairs (bistro and plastic chair a la Philippe Stark) around a wooden and marble table, then tie it all together with colorful cushions and accessories (table sets, candle holders, etc.).
Explore the ManoMano catalogue
Table
What floor to choose for a nice balcony?
---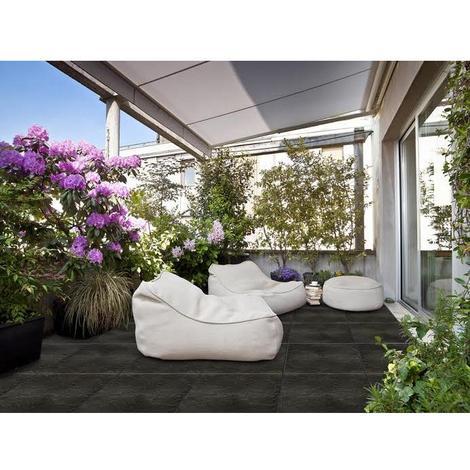 To decorate your balcony, one needs to determine if the floor will remain natural or dressed up. The nature of your balcony's floor will depend on the level of investment you are willing to engage in and your commitment to regular maintenance (or not). The most common materials used on balconies are:
For all you renters, you are of course limited in the scope of your possibilities. In that case, it's better to use freestanding materials which, once removed, make it possible to restore the balcony to it's intial configuration.
When it comes to maintenance, untreated raw concrete has the advantage of requiring only scrubbing once or twice a year and a regular sweeping. Synthetic grass adds a touch of greenery to your balcony is certainly aesthetically friendly but is difficult to vacuum or wash. For information, as turf gets more and more similar to actual grass (with thin, soft blades), it also gets more and more expensive, measured per m².
Tiles are an excellent option to obtain a glossy finish for your balcony, provided it is cleaned in regular intervals and un-damaged by falling objects.
Want an idea that combines decoration and simplicity? Maybe it's best to consider a fringe-less carpet or vegetable fibers to cover the floor. It will normally last you for one season and should be cleaned and stored in the winter months.
Duckboard is a perfect seaside decor and has the advantage of being easy to install.
Explore the ManoMano catalogue
Duckboard
What about cladding for the balcony's walls?
---
Want to create a unique balcony? Your walls can be transformed in no time to bring new life to a room, in relation to your personal tastes. One of the more common solutions is to create a plant wall with climbing plants.
Wall stickers with scriptures or set letters are a good alternative for getting the right style.
Install a large glass-style mirror on the balcony: an innovative idea to give the space more depth.
Create a wall decoration with hanging plants (by affixing open boxes) to accommodate perennials in pots, candles, or other decorative elements.
Run some string lights around the door or suspending them vertically.
Finally, go bold and use balcony planters, pendants or chimes. Another great accessory, a rectangular parasol or a shade sail, is ideal to enjoy a quick vacation every time you have a coffee or meal on your balcony.
How about you? What is your favorite balcony decoration? Let us know in the comments!
Explore the ManoMano catalogue
Shade sail
More Information
A well-prepared balcony is an invaluable resource to relax and relief stress. For a few other ideas for your balcony, deck or garden, follow the links below for gardening-related accessories, advice from our editors and more helpful guides:
Guide written by:
Pauline, Self-taught handyman, Leeds, 89 guides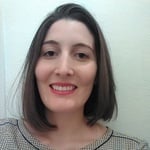 With a handyman-father, I grew up with the soft sound of the sander and hammer on weekends. I am both manual and cerebral (yes, it is possible.), I learned the basics of DIY and the customization of furniture because I was passionate. The salvage mentality is a true way of life that allowed me to know how to use all the tools and products needed to give something a second life, from sander to varnish. I have two favorite activities: the transformation of old furniture and decoration tips. I am always ready to lend a helping hand to revamp a table or to restore a mirror that was intended for the trash that will become a friend's centerpiece. I'm convinced that it's possible to reinvent an interior by small, regular modifications, I constantly research low-cost, test ideas.
The products related to this guide