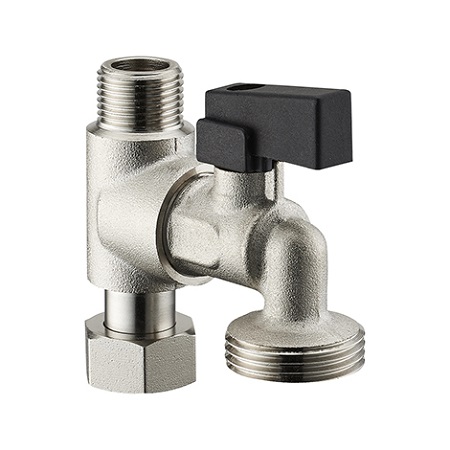 How to choose your washing machine tap?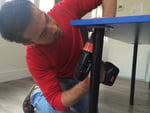 Guide written by:
Sebastian, self-taught DIY-er, Exeter
192 guides
Washing machines and dishwashers are connected to the water supply with a hose and a washing machine tap. Wall mounted or self-cutting, the tap often measures around 20/27 mm (3/4 "). Single or double, with or without spout, swivel handle or twist knob: here's all our advice.
Features of a washing machine tap
Very similar in appearance to a conventional plumbing tap, a washing machine tap is equipped with threaded inlet and outlet pipes to connect it to both the water supply and hose. Indispensable in any sanitary installation, this supply appliance is greatly appreciated for its practicality and ease of use.
Material
Most washing machine taps are made of chrome-plated brass. Since these taps are is very rarely exposed to moisture, stainless steel is almost never used.
Threading
Washing machine taps are available with malefittings with 20 x 21 mm (with a 3/4'' washing machine feed) threading. Their water inlet pipe can also sometimes be a male fittingof 15 x 21 mm (1/2''). The size should be determined according to your specific installation.
Faucet head
They may be equipped with either a swivel handle or a twist knob. The first will eventually become difficult to use over time (corrosion, etc.).
Configuration
Wall-mouted tap
---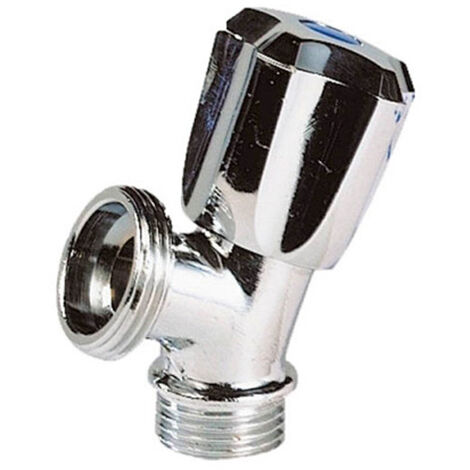 The washing machine tap can be wall-mounted. Be wary if every replacing these models to check the water inlet pipe threading (can be reinforced with Teflon tape, fibers or joint compound).
Tap with integrated connection kit
In this case, the tap is affixed directly to the support with a fixing plug and connects to the copper pipe, which is most often equipped with a female nozzle. In case of non-correspondence of sizes, the use of a reducer is essential (plumbing fitting that modifies one size to another).
---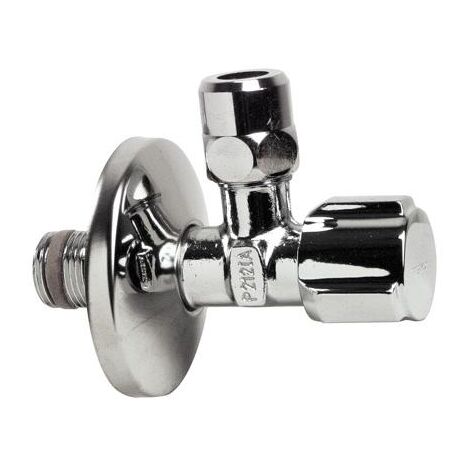 Single or double outlet tap
These taps can be provided to feed two appliances at a time. The double tap model is actually equipped with two independent handles to open each feed independently.
Tap with spout
This model has acurvedspout that allows it to be used just like a standard faucet. It is a convenient option to have in a laundry room, garage, basement, etc.
Self-cutting tap
---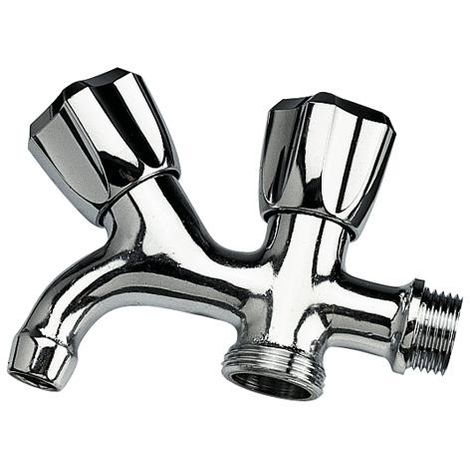 The most practical of them all, the self-drilling tap is installed on an existing network without the need for a connection kit. It attaches directly to the copper pipe by the way of the simple moition of screwing it into the copper pipe, which seals the tap body into the pipe as it cuts it. Installed in all of 5 minutes! 
Explore the ManoMano catalogue
Joint compound
How to install a washing machine faucet?
For the installation of a convential washing machine tap, it's simple enough:
1. Shut off the water supply;
2. Attach the end of the washing machine's water inlet pipe to thetap's threading;
3. Link the washing machine's connector to that of the tap (use teflon tape to ensure a tight seal).
The installation of a self-piercing faucet requires you to:
1. Clean the line pipe;
2. Loosen the pipe clamps so that it can be shifted away from the wall and remove the tap's connecting flanges;
3. Place the flanges on the chosen location and screw them in;
4. Line the tap up, in the closed position, so that it goes into the flange's threading and screw in to drill the pipe;
5. Tighten the lock nut with a flat wrench to ensure the tap is securely locked in;
6. Connect the tip of the appliance's supply hose to the tap's threading.
Voir le catalogue ManoMano
Connecting flanges
More information
Anyone who has ever renovated or built a place can tell you the plumbing can be challenging! For some more tips and general idea, follow the links below for related accessories, advice from our editors and more helpful guides:
How to choose your sink waste kit?
How to choose your bathtub?
How to choose your shower cubicle?
How to choose your shower drain?
How to connect your washing machine or dishwasher?
How to choose your wrench?
Guide written by:
Sebastian, self-taught DIY-er, Exeter, 192 guides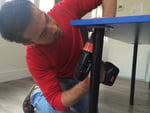 Redo a roof with wooden beams? Check.Advise Mister everybody in the DIY shop? Check.Redo the bathroom plumbing? Check.Fit together, build the walls, paint a partition, throw my hammer in a rage thinking that it will fix the problem? Check. The DIY motto ? Learning is better than delegating… well, it's also a question about your wallet! The satisfaction? The beer at the end of the job! What do the best have in common? The influence of Gyro Gearloose, Mac Gyver and Carol Smiley depending on your generation, a good dose of curiosity, a average hand-eye coordination and a taste for risks… and if it doesn't work, try again! Advise you? I'll do my best!
The products related to this guide