How to choose your rose bushes?
Guide written by: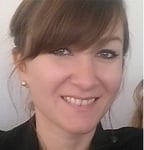 Crystal, Owner of a small gardening business, Oxford
31 guides
There are thousands of varieties of rose, and among them you'll find everything from climbers to classic bushes, creepers to long-stem roses. Depending on exposure to sunlight, flowering, pruning and growing method (open soil or pots), our guide will help you choose the right roses for you.
Important features
Variety of rose
Growing method
Pruning and maintenance
Size and planting
Flowering
How to choose beautiful roses for your garden?
---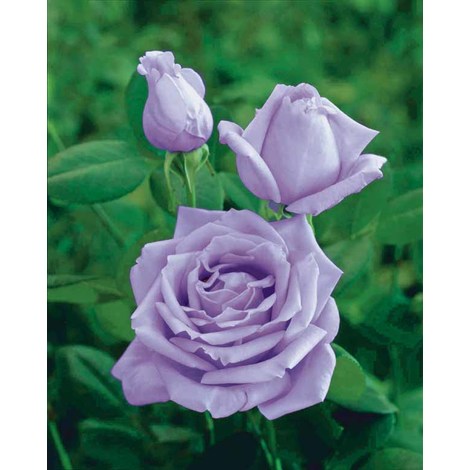 The sheer variety among roses means there's almost nowhere they can't go in your
garden
, whether it's in an
edged bed
, decorating a
hedgerow
or climbing up a wall. Some are particularly
well adpated to growing in pots
and can be used to beautify a
balcony
or patio.
Apart from the colour of the flowers themselves, here are a few key criteria for choosing your rose plants:
sunlight needs, e.g. direct light or partial shade
location - bushes, beds or path borders
size at maturity
flowering
pruning requirements
growing method - trays, pots or open soil
form - freestanding shrubs or climbing, for instance
disease resistance
To help the gardener lost at sea among the
40,000 available varieties
, the following guide
explores the various families of roses
to help you choose the best variety for you and your
garden
.
Climbing roses
---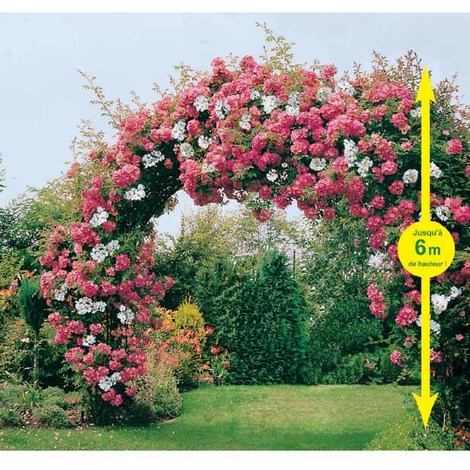 Climbing roses are easily recognized by their
large size
. They can actually reach heights of
3 to 6m
, and sometimes even larger. They're typically used to
cover and decorate walls
.
There are countless varieties of
climbing roses
, but they all share one common characteristic:
their long, flexible stems require some kind of support
, such as the structure of a
pergola
,
trellis
etc. They also require a considerable amount of light. Climbing roses only need to be pruned once a year to
promote flowering
.
Explore the ManoMano catalogue
Trellis
Rose bushes
---
Classic rose bushes are typically used to create attractive
ornamental beds
and borders. Once planted, they produce
a bush growing to about 1.2m in height
. Bush roses offer the greatest variety in terms of flower characteristics:
large-flower varieties
; grouped flower varieties with
the roses forming ready-made bouquets at the base of each branch
.
These roses need to be pruned regularly, at least twice a year - for instance, once in March and again after they flower. It's also worth noting that bush rose varieties are quite resistant to disease.
Explore the ManoMano catalogue
Ornamental beds
Stem roses
---
These can be planted in the centre of a
lawn
, alongside a path or in
pots
. They resemble a little
tree
with a
very slim trunk
. They need
constant exposure to direct sunlight
.
In terms of maintenance, it's important to
prune this type at the end of spring
. Tree guides or supports may also be necessary.
Ground-cover roses
---
Ground-cover roses are typically used to
add character to open spaces such as borders and embankments
. Once planted, they expand rapidly and cover a wide area with their foliage and brightly coloured flowers.
These plants are generally fairly small in size,
rarely exceeding 80cm in height
. Another advantage is their impressive disease resistance and limited maintenance requirements - due to their small size, one pruning every 2 to 3 years is sufficient.
Shrub roses
---
Shrub roses are the ideal
variety
for creating decorative
hedgerows
, although they can also be planted independently or used in beds.
Shrub roses don't need any kind of supporting structure
. They're quite large, often reaching
2m in height
.
They're easy to grow and require little maintenance, as well as having
strong resistance to cold and disease
.
Miniature roses
---
Miniature roses are perfect for
decorating balconies and patios
. They can be planted in
pots
to create little decorative bunches.
Mini roses flower in springtime
. These varieties do require regular
watering
and
pruning at the end of the flowering period
.
Explore the ManoMano catalogue
pots
Creeping roses
---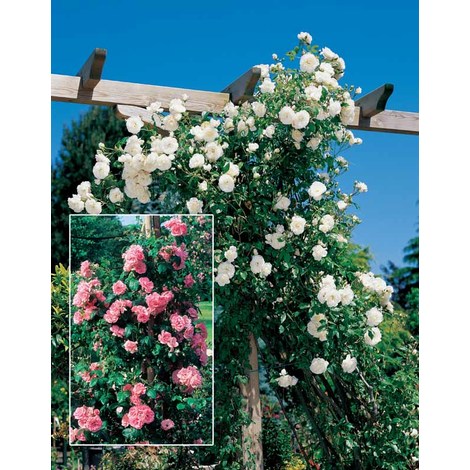 Creeping roses require little maintenance and
don't need to be pruned
. Their stems behave like vines and will wrap themselves around the branches of trees.
Learn more about gardening...
To find out more about gardening, follow our editors' advice and check out their other guides:
Guide written by:
Crystal, Owner of a small gardening business, Oxford 31 guides écrits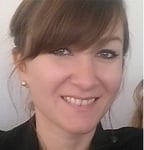 From a background in waste transportation, I became a farmer specializing in organic market gardening. A graduate of a professional baccalaureate in Agronomy and Horticultural Production, I tried for several years as a young farmer to settle in the beautiful region of Oxford.

 

After many disappointments, I finally started a small-business in home services, specifically in gardening, assisted by my loving, dear husband. Passionate about nature and wild edible plants, I am very attentive to ecological solutions and respectful of our environment in all aspects of my daily life.

 

From the vegetable garden to the flower beds, from seed to harvest, I have all kinds of advice up my sleeve. Do not hesitate to ask me your questions.
The products related to this guide