How to choose your plant wall frames?
Guide written by: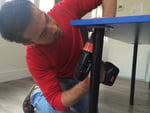 Sebastian, self-taught DIY-er, Exeter
177 guides
Plant wall frames are a trendy wall decoration that adds a certain style to a modern interior decor. Stabilized, artificial, semi-natural, themed or guiding you into a room, plant wall frames brighten up any habitat with their plants and hanging flowers, adding a touch of green for a zen and all-natural atmosphere!
Important features
Stabilized
Semi-natural
Artificial
Dimensions
Maintenance
The different types of plant wall art



Stabilized plant wall frame


In this case, the piece is composed up of so-called stabilized
plants
, primarily using plants that can keep the
same appearance indefinitely without any maintenance
. The frame may consist of mosses or different
plants
and
flowers
having undergone
a natural preservation process that replaces the sap with a synthetic glycerine solution
.

Semi-natural plant wall frame


It uses a plant frame that combines both natural elements, such as a tree bark, and synthetic components such as paper leaves or flowers.





Artificial plant wall frame


As indicated by it's name, this frame is composed only with
artificial plants
, that do their best to
imitate natural plants. For the best possible visual rendering, all of the frame's components are composed of high quality materials. This type of art can be used both indoors and outdoors.
Where should a plant wall frame go?
If you end up choosing a plant wall frame consisting of natural plants,
hang it
in a place that will be favorable to its development.
Place it
in
a sunny room with an average temperature of 15 to 25 °C
. You should however beware of placing it in a spot that is exposed to direct sunlight or near an external heat source (
radiator
or south-facing window).
How to maintain a plant wall frame?
To maintain a plant wall frame consisting of natural plants, they are to be
watered
by filling the tank systems, provided just for this purpose.
Regularly
spray
the plant's leaves and
gently
trim
the plants
that have a tendency to expand outside the frame.
For artificial plants, they only need a
good dusting
with a
cloth
.
More information
A house's decor can go a long way to make one feel at home. For more ideas for decorating your home just the way you want it, follow the links below for accessories, advice from our editors and more helpful guides:
Did you find this guide helpful?
Guide written by:
Sebastian, self-taught DIY-er, Exeter 177 guides écrits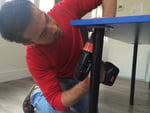 Redo a roof with wooden beams? Check.
Advise Mister everybody in the DIY shop? Check.
Redo the bathroom plumbing? Check.
Fit together, build the walls, paint a partition, throw my hammer in a rage thinking that it will fix the problem? Check.
The DIY motto ? Learning is better than delegating… well, it's also a question about your wallet! The satisfaction? The beer at the end of the job!
What do the best have in common? The influence of Gyro Gearloose, Mac Gyver and Carol Smiley depending on your generation, a good dose of curiosity, a average hand-eye coordination and a taste for risks… and if it doesn't work, try again! Advise you? I'll do my best!
The products related to this guide