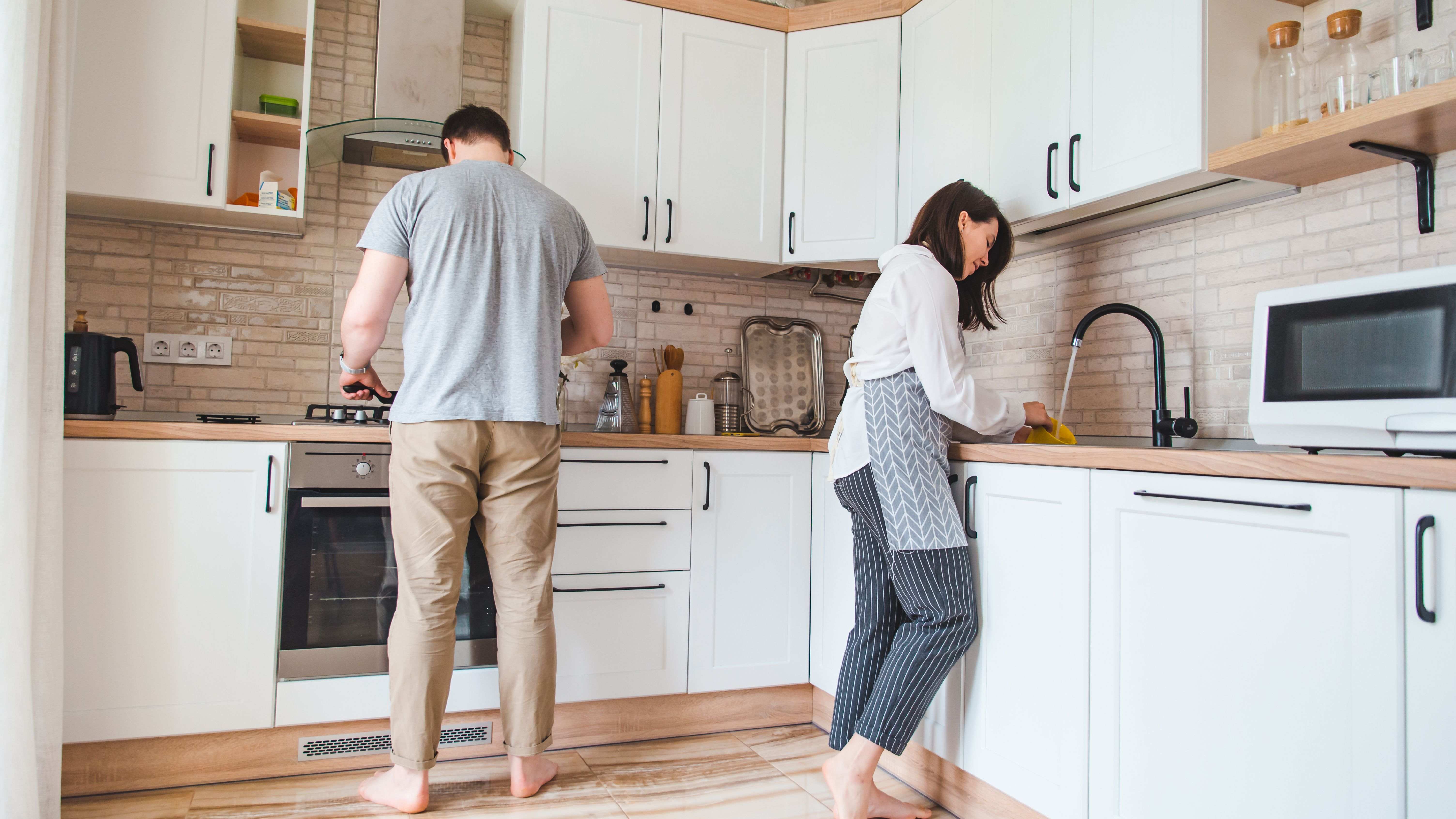 How to choose your kitchen furniture?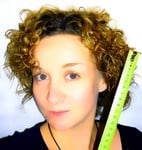 Guide written by:
Anne, Painter, Cambridge
35 guides
Choosing new kitchen furniture can be both a blessing and a curse. It's difficult to look ahead and make the best choice among so many models, layouts, materials, colours and designs… Read our guide for advice on materials, maintenance and layout and then you can get cooking!
Kitchen furniture: functional and aesthetic
It's clear that aesthetic considerations will play a decisive role in your ultimate choice of kitchen furniture. However, be careful not to forget the functional side. Your new kitchen must tick three essential boxes.
---
Accessibility
Kitchen experts often talk about something called a triangle of activity: this is about positioning your fridge, oven and sink in such a way as to minimize travel between them. The ideal layout involves placing a hot space (oven / hob) on one side, opposite a cold space (fridge / sink).You shouldn't have to adapt to your kitchen, the kitchen should adapt to your needs!Go for low units if you're not the tallest, and high / raised low units if you're a giant (especially for the sink and worktop spaces). If you're not as good at bending down as you used to be, think about storage solutions that will make it easier for you (rotating corner cupboards, roller trays to bring the contents of the cupboard to you without having to get down on all fours!)
Well-designed workspaces
Depending on the size and shape of your kitchen, arrange your furniture in such a way as to preserve a large, comfortable worktop space for prepping and plating up. Chef's tip: choose a worktop that's deeper than the units underneath to create space for any pipes and cables.
Ease of maintenance
Whether your a novice or an absolute pro in the kitchen, you don't want to be fighting against droplets of grease and spillages on your lovely new kitchen furniture! Save yourself by going for easy-to-maintain materials that just need a quick sponge now and then.
Explore the ManoMano catalog
Kitchen furniture
Kitchen layout, or how to arrange your furniture
---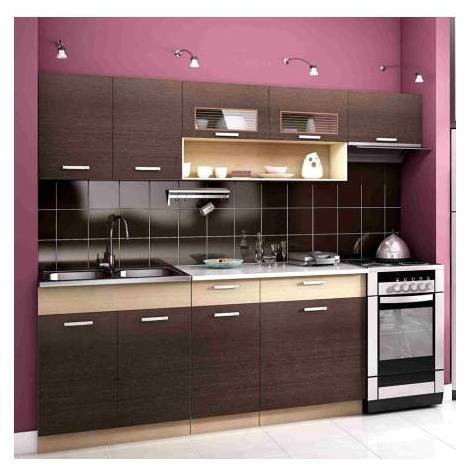 Depending on the existing setup of your kitchen, your new elements of kitchen furniture will need to be arranged differently.First of all you must:
Locate the utility supplies (water, gas, electricity) and wastewater plumbing with a view to positioning your appliances (especially for the extractor hood, if it's not an air-recycling model)
Measure the space available to accommodate kitchen furniture
Decide on the overall layout.
Once these steps are complete, you'll be able to think about installing your units. A quick reminder: top units are often designed to store foodtuffs, the bottom ones for kitchen equipment (pots, pans, oven dishes, etc).
Layout
Long, straight kitchen
Use a single stretch of wall for your top and bottom storage units.
Medium-sized kitchen
Go for an L-shaped layout, i.e. with units arranged along two perpendicular walls.
Large kitchen
You can go for a central island, generally used as the cooking area.
U-shaped kitchen
Arrange your units along 3 walls, or 2 walls and a bar. Good for both closed-off kitchens and rooms with open access through to the living room (i.e. American kitchens).
A style for every budget and taste...
---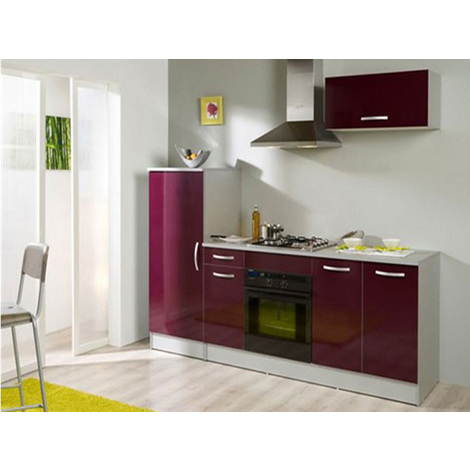 Kitchen unit frames are all standard (18mm chipboard), so it's your choice of facing and profile that will determine the feel, style and cost of your units, along with the type of worktops you opt for.There's a vast range of materials to choose from:
Formica
A real 70s period piece, formica's coming back in! Just like its closest relative, laminate panelling, it's durable and easy to maintain.Unfortunately it's no longer widely sold, so you'll have to dig around if you've got your heart set on it.Most people tend to get rid of 'dated' kitchen furniture, and sometimes sell it for next to nothing! Recycling old formica kitchen units also has the pleasant side-effect of keeping the air fresh in your kitchen as the panels stop giving off pollutants after a number of years. Formica is valued for its robustness and retro look (although it can be hard to find it in good condition second hand), but its grooved side panels tend to decay over time.
Wood
Wood brings instant warmth and charm to your kitchen decor! Often protected with some form of varnish or stain, making for easier maintenance. The price can vary wildly according to the quality and species of wood.Being a natural, living material, the colour can change over time and it can react badly to excessive heat and damp (causing cracks, warping, etc.).There are three main types of wood cladding for kitchen units:
Natural wood (> 5mm thickness)
Wood veneer (< 5mm thickness)
Plywood (sheets of wood assembled and glued together).
Wood does have a timeless warming quality to it, but also rocketing prices to match it. It also needs proper maintenance.
Stainless steel
Stainless steel is robust, very hygienic and easy to maintain.Several variants are available (brushed, non-marking, satin, mirror effect…) and goes great with matching kitchen appliances.Ideal for creating a sleek contemporary look, stainless steel can also be combined with light wood to great effect. It is unfortunately prone to scratching and the price can be high (depending on your choice of finish).
Lacquer
This is the perfect material if you're after a stylish, high-end finish to your kitchen units.Lacquer creates a reflective effect that brings brightness and depth to your kitchen.Polyurethane lacquer coomes in two varieties: satin and gloss. It's durable and easy to look after. The price is fairly high, and its sensitivity to finger marks will mean you have to be vigilant with your damp cloth.
Acrylic
Also known as a 'glass facade', acrylic cladding offers the same kind of brightness as lacquer but at a price much closer to laminate. It can be a great compromise if you really want a lustrous shine on your units. Maintenance is easy but finger marks and scratches can be a problem and it doesn't give quite the same sense of depth.
Melamine
Melamine is an economical, easy-to-maintain material available in a multitude of colours and textures. Bright and colourful, it will create a light, joyful feel. Wood-look melamine can bring a warmth to your kitchen not unlike the real thing, while metal-look can revolutionize your decor in a whole different way (industrial look). The only downsides: melamine can warp in damp conditions, the finish can be poor (visible joints) and the glue used in its manufacture is harmful and polluting.
Laminate
Laminate is a robust material known for its impressive resistance to scratches, physical impacts, cleaning products, abrasion and heat. The excellent value for money it offers and the wide choice of colours and finishes make laminate a complete hit with buyers! Just like with melamine, the glue used to stick it together is toxic and will release pollutants into the air. You may want to regularly air out your kitchen if you choose laminate cladding.
Polymer (PVC)
Once highly prized, this material is pretty unpopular since it was proved some years ago that it contains carcinogenic substances. Easy to maintain and available in three variants (matt, gloss, ultra-gloss), it does offer impressive value for money and a reasonable range of possible finishes.
Explore the ManoMano catalog
Maintenance
Different types of kitchen furniture
Aside from the matching units provided with a fitted kitchen, separate custom units can be many and varied and let you create myriad configurations either when starting from scratch or just renovating.Depending on layout, available space, the aesthetic you're going for and of course your storage needs, there's a broad choice of different types of kitchen furniture.
'Hanging' top units
---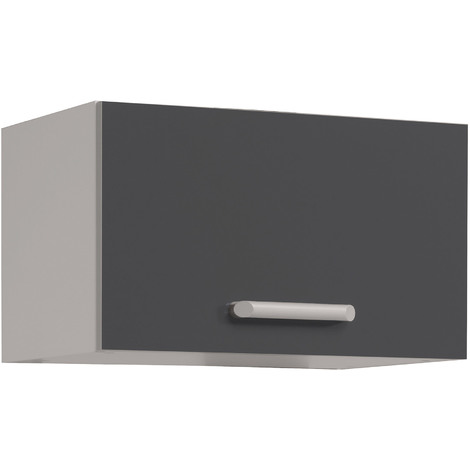 Top units
Installed above the worktop and / or sink, top units offer a range of compartments but no drawers.Sliding racks for wine glasses and plate racks can easily be contained within these.
Wall cabinet
---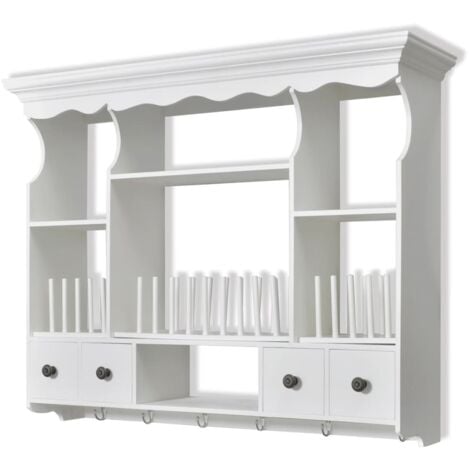 Generally thought of more as a secondary piece of furniture, wall cabinets available in a range of styles.They typically have two doors, a shelf and a row of storage hooks.
Shelves
---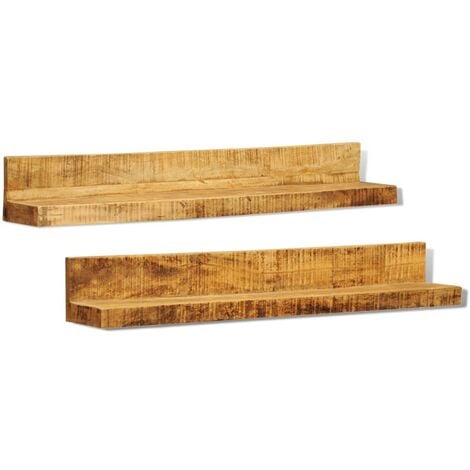 The essential kitchen shelving is often used to store condiments and spices – in which case you might call it a 'spice rack'!Often complete with hooks for added utility.
Freestanding bottom units
Bottom units
---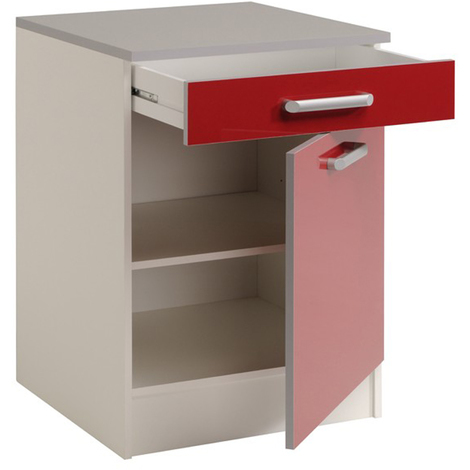 Sideboards have stood the test of time and today they can either be fixed or mobile (on casters).They're a very practical choice if you need a little extra storage because your worktops are getting crowded.
Under-sink unit
---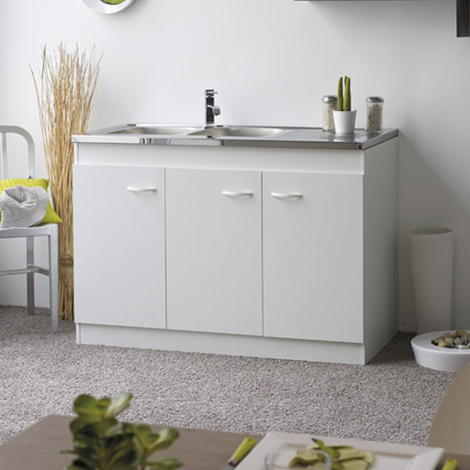 Under-sink units have the advantage of offering a fairly large amount of space without suffering too much from scratches.They're intended for ease of access to the siphon and water pipes.
Pot cupboard
---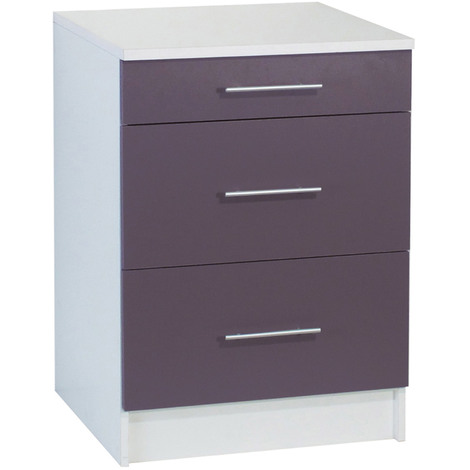 A pot cupboard is a bottom unit with two or three large drawers.Models with drawer brakes are best, so your pots don't end up all over the place every time you try to open and close the thing!
Combi units
Buffet
---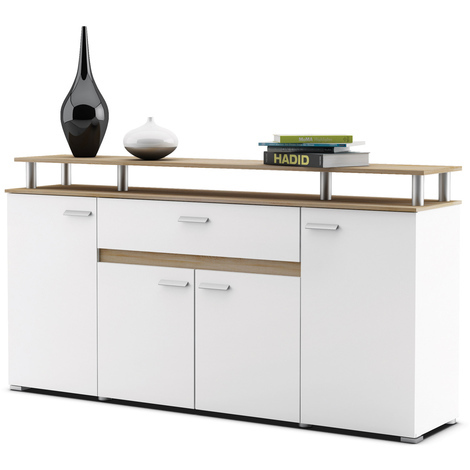 kitchen 'buffet' can either be single or double, i.e. just a bottom unit or a bottom and a top.They typically have at least two doors.
Kitchen tower unit
---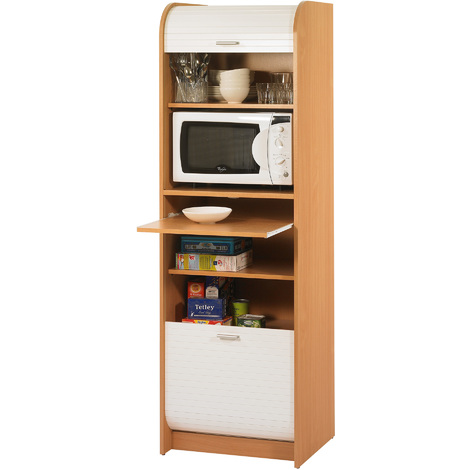 A kitchen tower is a tall unit that lets you make use of corners and tighter spaces.It can have open compartments, drawers and hanging hooks. As ever, it can be both functional and aesthetic.
Explore the ManoMano catalog
Kitchen tower
Guide written by:
Anne, Painter, Cambridge, 35 guides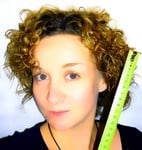 After 8 years of trade, I turned professional: I trained myself to be a painter and carpet layer either solo or with 16 years old comrades. 9 months later, following vocational school, my registration in Trades Directory, and the label 'Artisan' in hand, I created my company. And since then, I don't even touch my brushes. I'm a self-taught DIYer and decoration enthusiast, I love to find and restore furniture and to create unique decoration elements. I completed the restoration of my sister's house, this was last summer, with my niece: electrical, tiling, finishing, plasterboard...we did it all. And today, if I can share my experience I'm happy to do it. A total DIY enthusiast joke: 'What's the difference between a clown and a DIY enthusiast? A sense of humor.' Good Luck.  
The products related to this guide