How to choose your indoor paintings, pictures, and decorative images?
Guide written by: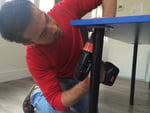 Sebastian, self-taught DIY-er, Exeter
177 guides
To liven up your house's interior and create an atmosphere in which you feel at home, the best solution is to focus on the decor. To spruce up your walls, nothing is more effective than indoor paintings, pictures and decorative images. To choose the right ones, we have some essential factors for you to consider.
Important features
Canvas print
Acrylic paint
Dimensions
Colors and theme
Layout
Hangings
Canvas print or hand-painted painting
Depending on your tastes and wishes, you have the choice between a
decorative, hand-painted painting
, using
acrylic paint
, and a
canvas print
. A canvas print consists of photo that is printed and
hung
in a
wooden
frame.



Painting dimensions


Before choosing your
interior decorative picture
or painting, determine its future location. Once the spot has been chosen, you will more easily be able to
define what size canvas
is needed. To avoid the slight impression that something is off, be sure to that your painting is
well-centered
. To efficiently decorate a very large wall, hang a large painting on a clear surface, and it will become the room's centerpiece. This is much more efficient than using many smaller decorative elements, which doesn't really fill up the large space.




Colors and theme


Choosing a painting, picture or decorative image
also depends on the actual room's decor.
Make sure that whatever piece you choose matches your furniture and the rest of the decor. If the room is mostly neutral colored, you can add a bit of freshness by selecting
bright and colorful paintings
. For bedrooms,
soft-toned paintings
are more ideal. Depending on which room of the house is being decorated, there are various common themes that can be applied, be it a Zen atmostphere, a homestyle kitchen, or
various types of art
; landscape or abstract, for example.

Painting layouts


Depending on how you want to hang your art, different solutions can be chosen:
1 painting per wall, to decorate your wall with a single large painting;
3 or 4 dimensional piece, to bring a touch of dynamism to the piece;
A wall of paintings, implying that the whole wall is covered in paintings, of different styles and sizes.
How to hang a painting
A painting is hung on the wall thanks to an
fixing plug
in which one inserts a
hook
, a
dowel pin
or a simple
screw
. The type of required
fixing plug
will depend on the wall, if it's hollow or solid. More often than not, you will need a
rawl plug
(designed for solid materials) or a
molly bolt
(a type of
cavity plug
for plasterboard type walls).
With the exception of
plasterboard
, in which case a
self-drilling anchor is enough to hold up the painting,
you will need
drill the wall
, using a
drill
.
Dowels and hooks
can also be use to successfully hang a painting without a
drill
, if it's on a
wooden surface
. The ideal spot will need to be determined by
measuring
, either to
space out different paintings or to find the center most point
. This implies the use of a
tape measure
.
Once the spot has been chosen,
drill the
wall
, keeping in mind to
adapt the rotation speed
and to use
drill bits
that are adapted to the wall. Finally, it's important to verify whether or not the
drill
is in
percussion mode
, which is completely useless for materials such as plasterboard, bricks, concrete or wood. Once the hole is drill, remember to
clean up the dust
with a
vacuum cleaner
.
More information
A house's decor can go a long way to make one feel at home. For more ideas for decorating your home just the way you want it, follow the links below for accessories, advice from our editors and more helpful guides:
Did you find this guide helpful?
Guide written by:
Sebastian, self-taught DIY-er, Exeter 177 guides écrits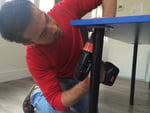 Redo a roof with wooden beams? Check.
Advise Mister everybody in the DIY shop? Check.
Redo the bathroom plumbing? Check.
Fit together, build the walls, paint a partition, throw my hammer in a rage thinking that it will fix the problem? Check.
The DIY motto ? Learning is better than delegating… well, it's also a question about your wallet! The satisfaction? The beer at the end of the job!
What do the best have in common? The influence of Gyro Gearloose, Mac Gyver and Carol Smiley depending on your generation, a good dose of curiosity, a average hand-eye coordination and a taste for risks… and if it doesn't work, try again! Advise you? I'll do my best!
The products related to this guide