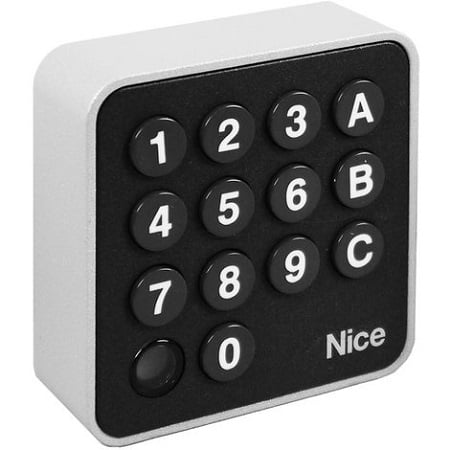 How to choose your control box?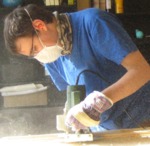 Guide written by:
John, DIYer & IT developer, Brighton
70 guides
Automatic doors and windows offer simplicity and convenience in the home. Gates, shutters and doorways can be automated and controlled from a dedicated control box or your smartphone; the right choice of control and detection equipment will put you in safe hands.
Important features
Equipment
Features
Motion detectors
Different setups
Radio or remote transmitters
Compatibility
What are the elements of an automatic opening system?
---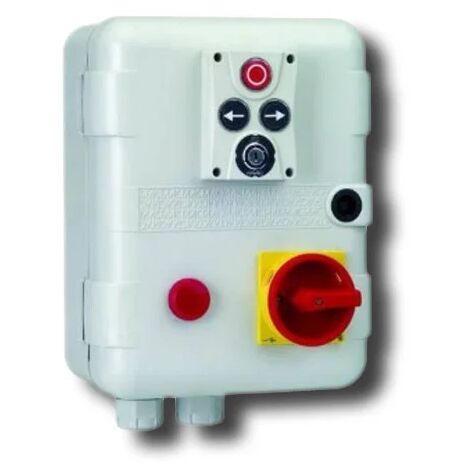 Automating the opening of a gate, garage door or shutter requires the following components:
an actuator to convert electricity into motion or alternatively a motor or ram to drive opening
a control box, acting as the brain of the outfit. It intercepts commands from the various control points and enables opening or closing via actuators, according to signals from any relevant detectors
one or more control points to initiate opening or closing, either with a physical key, a code or remote control
accessories to enable programming and action / inhibition depending on the circumstances
What features does a control box offer?
---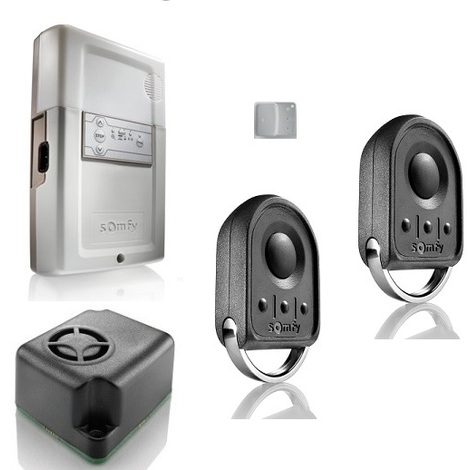 The control box is the brain of the system. It hosts the command logic, which can intercept orders from the control points to drive one or more actuators or act according to a pre-programmed routine. Since an electric or hydraulic ram behaves differently to a rack-and-pinion motor driving a sliding gate, it's important to choose the right type of control box. They may have the following features:
an input voltage (230 V) and nominal power rating, on which to base the supply circuit
one or two motor outputs, either 24 or 220V, with a given maximum power output. The output voltage should be the same as the actuator
a protection factor – for instance, French standard IP54 control boxes are resistant to dust and splashes that could interfere with the circuitry and are hence suitable for outdoor installation
For enhanced ease of use, a control box can have a number of additional functions:
a built-in radio receiver and antennae, to intercept remote control signals
inputs for one or more command points and and relevant accessories
a punch button to cut the mechanism in case of emergency, compulsory in shared properties
an LCD screen for continuous monitoring of the system
learning and fault detection systems for improved control. The control box is able to record the open and closed positions of doors, etc. so as to control its manoeuvres as accurately as possible
fine movement control, including speed, force, delay between two openings, etc.
time programming for added convenience.
Explore the ManoMano catalogue
Control box
Motion detectors for enhanced security
---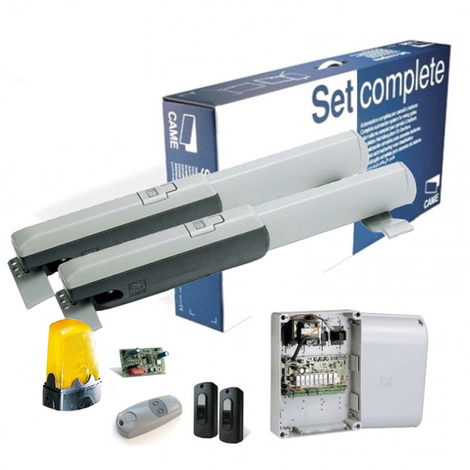 The leaf of a steel gate is heavy, with a high inertia, and can prove difficult to shift as well as posing a risk to people and objects passing through.
Adding a motion detector will prevent your motor from forcing hard against obstacles. It's an essential safety feature, but it still won't necessarily stop you getting hit in the head or denting the bonnet of your car. Conforming to the British and European standard EN 13241-1, it's advisable to install a photocell that monitors the whole range of movement of the gate or door. If the infrared beam between transmitter (Tx) and receiver (Rx) is interrupted, the closing function is interrupted and goes into reverse.
When choosing, pay attention to range (metres). This refers to the maximum separation of the transmitter and receiver.
When to use a key-operated control?
---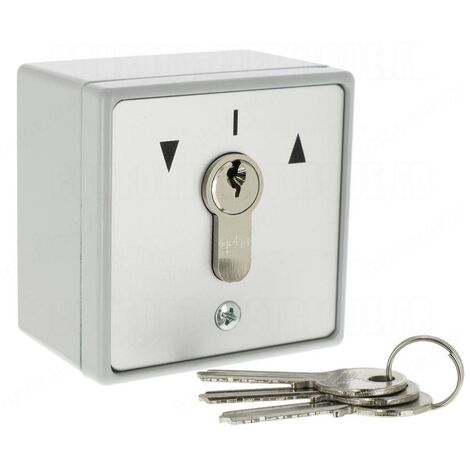 Key-operated control points allow users to open gates, shutters and metal grilles simply by turning a key. It's easy to see why people would rather not have to carry a special remote control with them. Get a keyhole with two positions (up and down) for shutters.
A one-position key will let you part-open your gate to let somebody through on foot, or open in completely! With two positions, just turn the key left or right to activate the two functions.
You might want to get several key points all activated by the same key. No more holes in your trouser pockets from carrying too many keys about!
Explore the ManoMano catalogue
Key-operated control points
How to choose your radio or remote transmitter?
---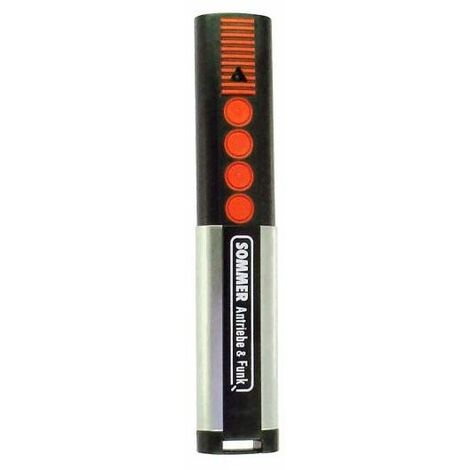 Both these control methods use radio waves to initiate opening or closing. The wall emitter doesn't need any electric wires, which can be very practical if you're just doing minor renovation work or wanting to add an extra control point to an existing automation setup. With a remote control, you can open your garage gate ahead of time without getting out of the car.
Home automation remote controls use officially permitted radio frequencies.
Frequencies of 433 or 868 MHz are often used. 433 offers a greater range and is better at penetrating walls, but 868 requires smaller antennae. It might be that one of these frequency bands is busier than the other in your area, in which case it's not such a good choice. Other frequencies are becoming obsolete or are strinctly forbidden due to risk of interference. The 30,900MHz band is no longer permitted, for instance. If you want to replace an obsolete remote control, you'll need to choose a different frequency, and also replace the radio receiver.
Compatibility of equipment
Choosing the right frequency isn't the whole story. The way the waves are modulated by the remote control to transmit the signal varies from one brand to another, and sometimes even within the same range. It's therefore recommended that you check the compatibility of your radio transmitter or remote control with the rest of your setup.
Two types of remote control can be distinguished. Those with a fixed code always transmit a unique identifying signal which doesn't change over time. It's possible to emulate them using a universal remote. Rolling code remotes have an identifying signal which changes over time according to a formula devised by the manufacturer. This is by far the safer option.
Home automation: safe as houses
---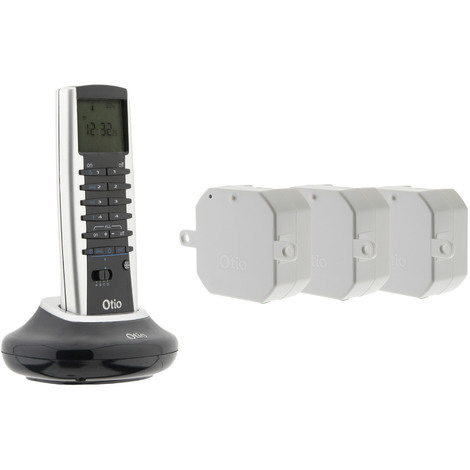 Home automation includes anything automatically or remotely controlled in your home. This can include rolling shutters, blinds, the heating, hot water and interior lighting. When you wake up you might want to open the blinds, turn up the heating and turn down the lights. The possibilities are endless, depending on the level of technicality you want. You could choose room-by-room, centralized or even smartphone-triggered control. You can keep the good old-fashioned buttons or alternatively let yourself be drawn in by the world of touch-screen control. Different features can be combined in one system. Choose a wireless installation if you're only renovating: less hassle and much more flexible.
The various manufacturers offer a range of complex solutions to suit your needs. The range and variety of products available means you'll have to check the compatibility of the components you want to include; it can be much simpler to stick to a single brand. Pay special attention to the details of the command logic, as this is essential for your installation to work smoothly.
Guide written by:
John, DIYer & IT developer, Brighton, 70 guides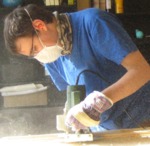 Since I was a child, I was always interested in manual and technical works. Always fascinated by woodworking, I took advantage of my first flat as a playground. On the cards: electricity (of course, safety first!) and some partition walls; but also decorating with the help of the missus, made-to-measure furniture and little tricks to optimise the space, all the while remaining as original as possible. When the little one arrived, I started building bits and pieces for him! Lacking space, I have not got a permanent workshop and certain tools I dream about but are not part of my collection. Not to worry, I already know a lot about DIY and I have a high-tech profile that I hope will guide you in your decisions!
The products related to this guide