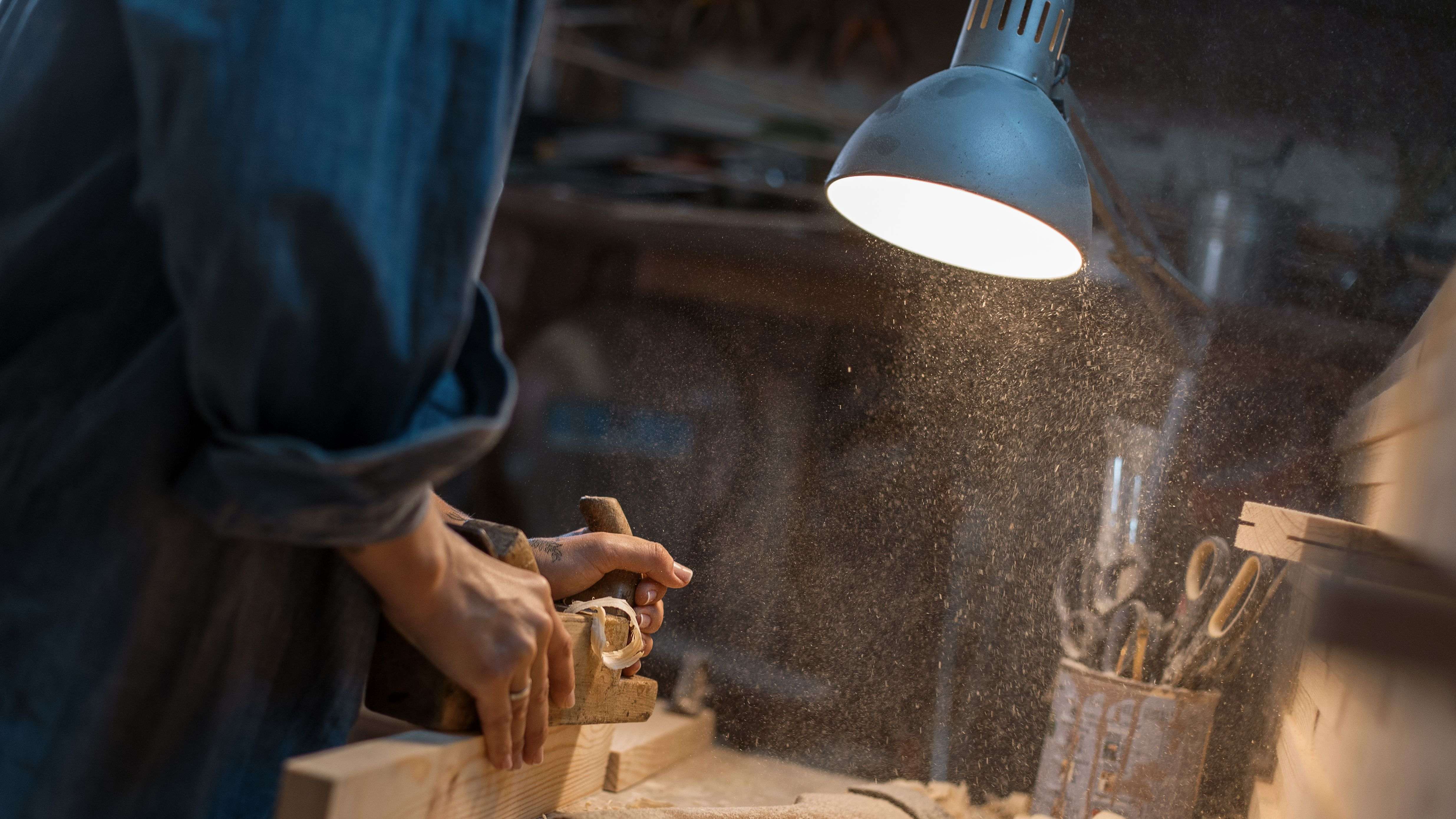 How to choose your bench lamp?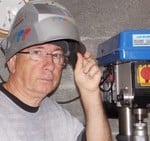 Guide written by:
Michael, Professional and passionate welder, Sheffield
71 guides
A bench, architect or magnifying lamp, destined for watchmaking or such trades where precision is key - electronics is another example - should be selected according to several characteristics including the type of lighting, color temperature and intensity. Equipped with a hinge and fixed directly to the workbench, architect and magnifying lamps are essential for many types of work.
Why do you need a bench lamp?
---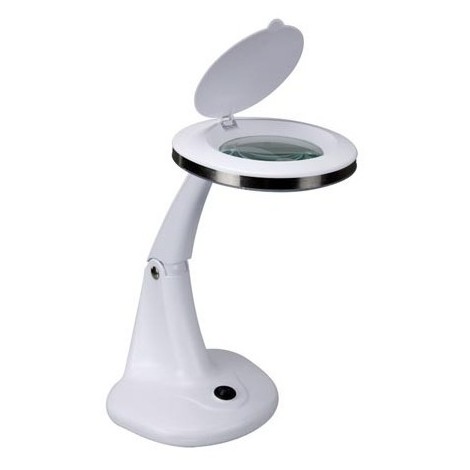 Having the right tools, a quality workbench  and ready-to-use machines at hand is the motto that is generally adapted by professionals or knowledgeable handymen who place a high importance on having a personalized workshop. Even if your workshop is not fully personalised, there are a few crucial conditions that must be met, most notably the need for regular daylight,artificial lighting or even better, a combination of thetwo. Neon lights and spotlights around the room are not always enough to sufficiently illuminate precision work that requires detail and attention. Whatever the case, it's worth your time to take a few minutes and join us in learning how to accomodate a modern and practical bench lamp to make your job a bit easier!
Like all the other people on this planet, it's proven that at a certain point, due to advancing age, our sight will slowly deteriorate, even if we don't necessarily realize it. Too prideful to admit it, some people are reluctant to accept or admit this loss of accuracy, copying many of our wives who do the same on a daily basis. There's no shame however, as it has been scientifically estimated that a 20-year-old requires twice as less light than a 45-year-old! Lighting equipment manufacturers who have realized this need and are anxious to offers increased comfort for users at work, now feature smart lamps that improve both the lighting of the workstation and the vision it procures. A magnifying lamp is the ideal solution for any precision work, from small mechanical parts to miniature models, to watchmaking and jewelry repair.
Explore the ManoMano catalog
Spotlights
How is a bench magnifying lamp set up?
---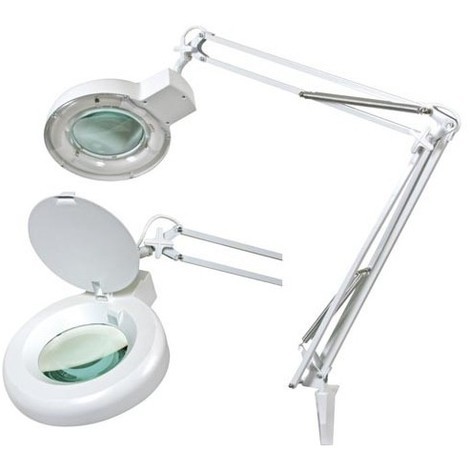 Bench magnifying lamps are very close in appearance to an upgraded desk lamp. They are generallly composed of:
A set of hingedrods of variable length with cleverly placed springs that hold the lamp in the exact position where it was last placed. Its arm is swivelable and movable thanks to 3 or 4 directional joints as well as a ball joint that allows for full movent of the lamp's head;
Dichroic lamps provide exceptional quality. Not only are they economical and environmentally friendly, the color's intensity is also variable according to the lamp's angle of orientation;
The centralmagnifying glass is obviously very important. We use it to see in even greater detail and more easily spot defects in the work. It is also protected from shocks and dust by its removable cover.
Explore the ManoMano catalog
Bulb
What are the characteristics of magnifying lamps?
---

The factors to consider are as follows:
The operating voltage of 12 V, 24 V, 220 V, using standard or rechargeable batteirs;
The light source, how many LEDs, if applicable;
The light color, either white or cold white;
The color temperature, expressed in Kelvin (K symbol). Magnifying lamps have a color temperature in the range of 6000 to 7000 K;
The power, expressed in Watts, ranging anywhere from 2 to 22 W;
The intensity in Lumens (lm) starting at 400 and going up to 1050 lm;
The magnifying glasses' diameter;
The value on the diopter scale (magnification value) or general range of magnification;
It's also important not to forget about spare parts, especially for light bulbs or lamps.
Explore the ManoMano catalog
Lamps
A bench lamp for every task
---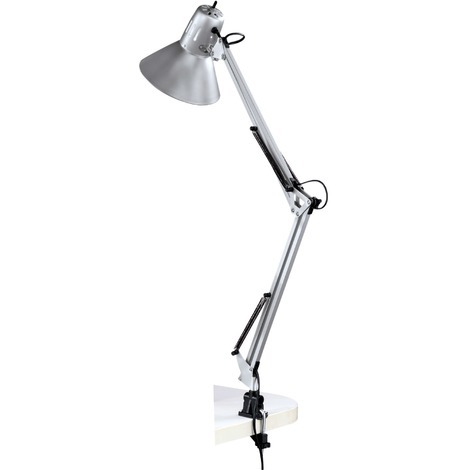 Regardless of whether is used by a laboratory or an electronics repairshop, you will eventually require a magnifying lamp for increased precision. A free-standing round magnifying lamp with 12 to 15 watts of cold fluorescent white light will result in 1.75 or 4 times the magnification.Welders will understandably be attracted to lamps that offers increased resistance from spatter and easy cleaning. Different models are available with or without a magnifying glass and generally consists of a powerful neon or LED light source that eliminates any shady areas of your workbench.
The infamous architect lamps, which depending on your requirements can be free-standing or firmly attached with a provided bracket and butterfly screw. Any avid fly fishermen will immediately fall in love with the dichroic lamp that will highlight the flies like never before.  showcases the many colors of his flies. A high-precision vise will be the last bit of required equipment.
Explore the ManoMano catalog
Vise
3 key questions to choose your bench lamp
---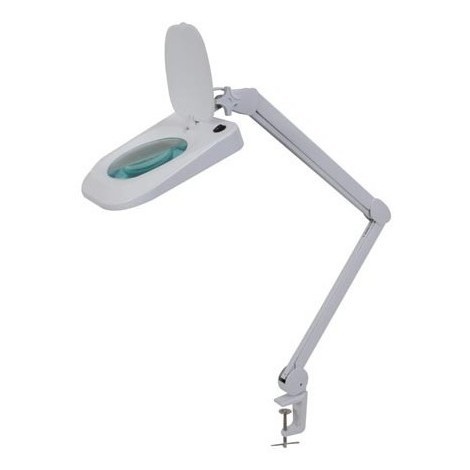 One's vision is so precious that purchasing a lamp that will directly impact it deserves some much needed attention.
1. Imagine the lamp in position on your workbench, is it suitable?
2. Is the lighting adequate?
3. Will the lamp not blind me?
The answers to these three questions is hidden in the details of the product's technical characteristics. Here's another crucial point, don't forget to consider the possibility of eventually requiring spare parts that match the chosen bench lamp model.
A closer looks at magnifying glasses!
Choosing a magnifying glass should be based on the following factors:
Its value of the diopter scale, or the magnification value expressed by the multiple of one digit (3x, 5x, 10x etc.);
Its magnification field, which increases when the object is farther away, but is more limited;
Its shape; round or rectangular;
Its mode of operation; hand-held, free-standing, head torch or jeweler (monocular);
The diameter of the lens ;
The temperature of the colors, expressed in Kelvin (k). Colder, whiter lights generally have a temperature between 6000 and 7000k.
Depending on the specific use that the magnifying glass is destined for, it might be required to consider the shape, the size and the value on the diopter scale. Manufacturers make it easy for you now-a-days, with almost every bench light coming with a magnifying glass by default, even in the most basic models.
---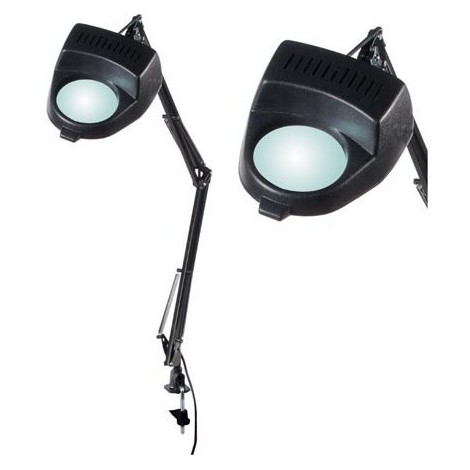 Reading magnifier
Featuring a wide field of vision and a zoom of 2 to 3x, it can be placed directly over the text that is in need of decryption.
---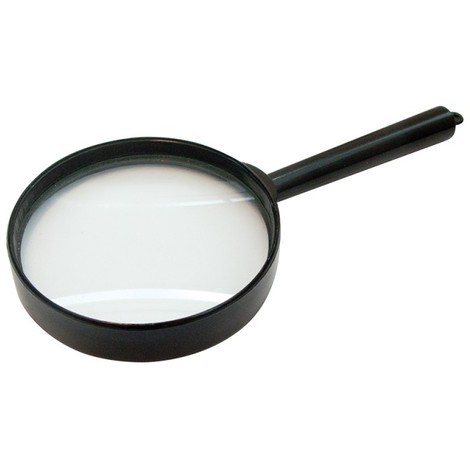 Standard magnifying glass
It is handy to have a standard magnifying glass around the house for the occasional task. It allows you to do things like threading a needle and removing a splinter accidentally implanted in one of your fingers.
High power magnifying glass 
To observe all of the details that would have unfortunately gone unnoticed because of your receding vision, it's time to upgrade to a high power magnifying glass (6x to 10x). It can used to study tiny details on a stamp or putting the final touch of paint on miniature models.
Magnifying stand
A magifying stand is ideal for people of an older age. It not only avoids all fatigue but it more importantly, it allows for the magnifying glass to be kept steady even with shaky hands.
Magnifying glass options and technical characteristics
---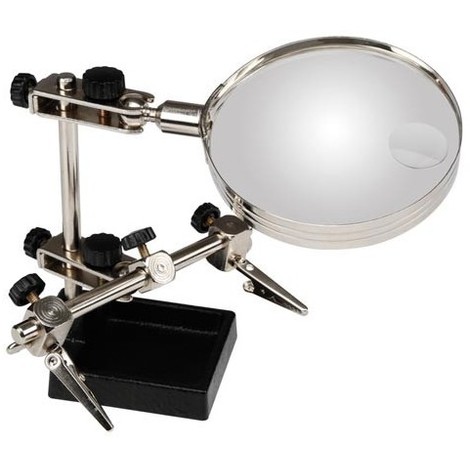 According the different set of requirements that comes with any job, there are different types of magnifying glasses that have become leaders on the market. You will have the choice between:
A round light magnifier with handle, switch, rechargeable batteries and a value of 3 to 10 on the diopter scale;
A rectangular magnifying glass with 2x to 6x magnification, ideal for studying maps or inspecting stamps;
A magnifying head torch featuring double illumination and adjustable in terms of the fiopter scale by simply alternating the glass;
An illuminated pocket magnifier offers 3x magnification in a rectangular shape and is retractable, designed to take up the least amount of space possible;
An illuminated magnifying glass with a graduated scale to better understand distances on maps and directions;
An illuminated aspheric LED magnifying glass, with it's rounded lens that are not quite a perfect circle, improves general optical performance, no matter what document you are looking for. This light has an unlimited life-span and features 10x magnification;
An illuminated magnifier with warm light (3000k) for consistently bright and glare-free illumination thanks to SMD LEDs (multi-LED), providing 5x magnification.
---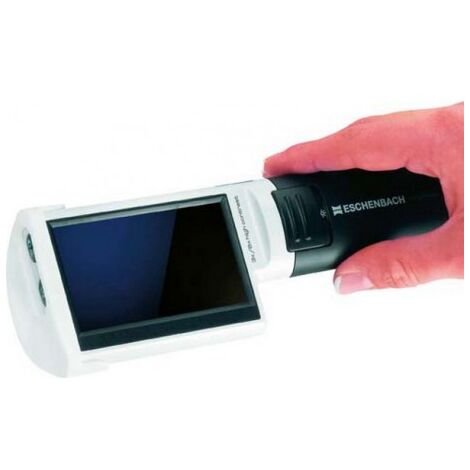 Digital hand magnifier
A digital handheld magnifier is a marvel of technology and can magnifiy an image times 3, 4.5 or 6. It allows the user to obtain:
A clear and top-of-the-line image;
A 16/9 LCD screen, a tiny TV in the palm of hand!
A viewing angle up to 170°, ideal for viewing a detail from different points of view;
The ability to work in both daylight and even direct sunlight;
True colors and adjustable contrasts;
A still image function or automatic stop;
Controllable LED lighting.
Explore the ManoMano catalog
Magnifying glass
More information
Having the right tools and equipment in your workshop is important! For some more ideas follow the links below for related accessories, advice from our editors and more helpful guides:
How to choose your handling and lifting tools?
How to choose your lifting station?
How to choose your drill?
Guide written by:
Michael, Professional and passionate welder, Sheffield, 71 guides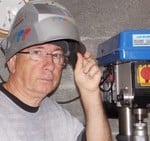 I was trained as a pipe worker and a pipe-welder and after having traveled for 35 years working around the UK, I became the head a metal shop and then a designer and in the end the head engineer. I have designed and built a workshop where I make metal sculptures: I managed to find a piece of paradise where I can to let my imagination run wild. Auctions and garage sales are no secret to me. I find unusual objects and old tools there that I collect or transform into works of art. I also like decoration, painting on canvas, and gardening. I am developing new technologies concerning tools. To share my passion and humbly advise you in your choice of materials is a real pleasure.
The products related to this guide