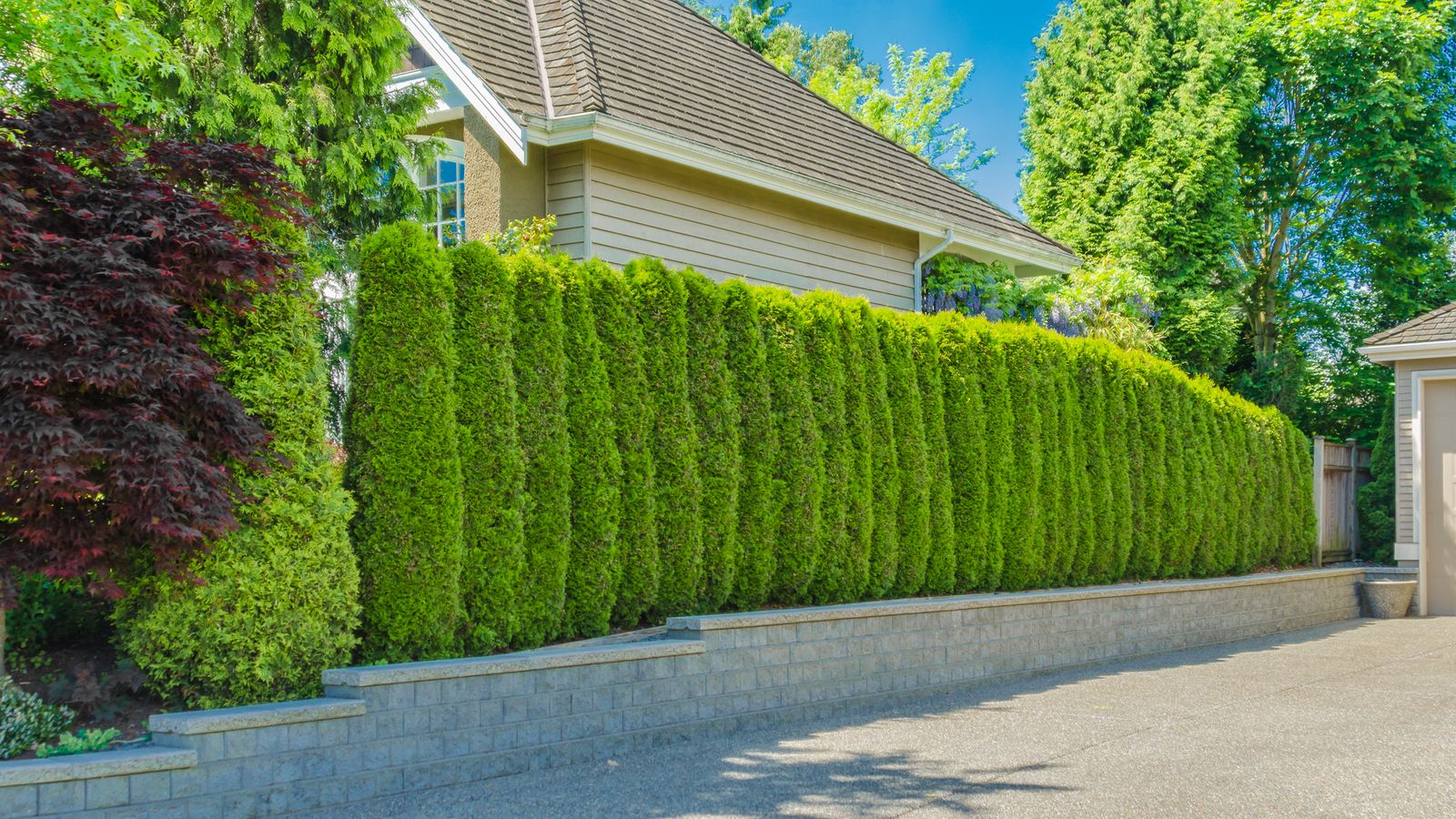 How to choose the right species of hedge plants?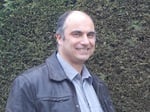 Guide written by:
Albert, Manager of a gardening service, Leicester
49 guides
Using only a single or a mix of many species, shrubs and trees are generally chosen depending on the function they are intended for, be it a landscape, windbreak or screen hedge. Different types of hedges are also used for borders and various types of ground surfaces. Growth, foliage, toughness: we discuss all three qualities and provide tips for choosing the right hedge plant for making your perfect plant wall.
The different hedge plants
Hedges can star in a variety of roles. They can serve as a screen, a windbreaker and a boundary, among others. The plants that make up the hedge must be compatible with whatever function is required, therefore possessing the necessary qualities to fulfill the specific task. For example, a screen or classical hedge has for primary function to preserve a private space by forming a literal green wall. To best achieve this result, it is highly advisable to choose plants with evergreen foliage that go up high enough to successfully fulfill its intended purpose. There are also other factors that need to be taken into consideration, such as its aesthetic appeal and toughnesss, or in other words, its level of resistance to the cold. Some hedges, especially the windbreaker variety, will also required a certain permeabilitiy to block or allow wind.
---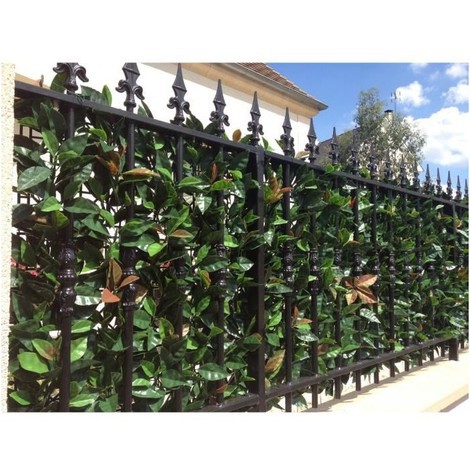 Classic hedge plants
Among the hundreds of differenty types of hedge plants, you'll be reassured to know that there are some safe bets. These tend to be  plants that can easily adapt to any type of soil, withstand the cold and most importantly have evergreen foliage - which do not lose their leaves in winter. Another important feature is the presence of dense foliage. Here are some examples:
Thuja plicata and "Atrovirens, also known as western red cedar are widely used in hedges;
Prunus laurocerasus rotundifolia, or cherry laurel, is very strong and requires almost no maintenance;
Cupressocyparis x leylandii, or Leyland cypress is a classic hedge plant;
Prunus laurocerasus caucasica, the technical name for bay laurel, a fast growing, tough plant;
Elaeagnus ebbingei, colloquially known as Ebbing's silverberry, can easily tolerate the cold, yield rapid growth, but requires more regular trimming;
Cupressocyparis x leylandii, or 'Castlewellan gold' can be very interesting for hedges due to its variegated foliage;
Taxus baccata, also known as English yew, is easily recognizable by its long stems and fine light green needles;
Cupressus arizonica, or as its name indicates, "Arizona Cypress", is highly appealing due to it's blueish tint. 
Remember that your hedges can be made up of different species of plants, provided they are all evergreen!  
---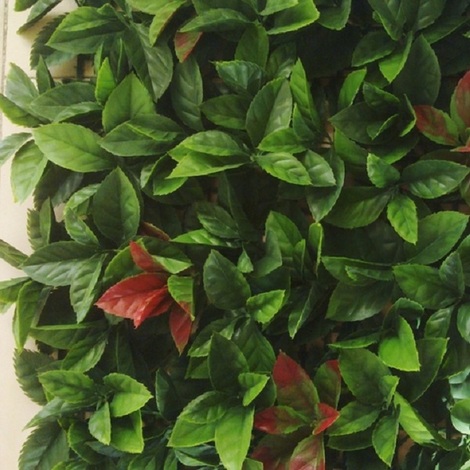 Landscape hedge plants
Landscape hedge plants have the responsibility of composing an efficient plant wall, all the while being aesthetically pleasing. They are commonly delievered in a kit, containing a mix of several species of plants, picked for their foliage and flowers. Not having to choose each individual species represents a significant time-saver! Keeping in mind that there are countless types of hedge plants, here are a few infamous species, revered for their resistance and strength:
Viburnum tinus, also known as laurel tin, is an evergreen with intriguing flowers of a dark green shade;
Photiniax, more affectionally known as red tip photinia often mistakenly overlooked, as their young red shoots and decorative leaves are a treat for the eyes;
Eleagnus ebbigei, or Ebbing's silverberry is appealing due to its quick growth and persistent foliage;
Philadelphus lewisii, a very fragrant white blossom with deciduous foliage, is also referred to as Gordon's mockorange;
Viburnum opulus, the technical name for guelder-rose has deciduous foliage and a brilliant white bloom;
Forsithya yields intense a yellow bloom in spring and features deciduous foliage;
Wegelia has rich red colors on its deciduous foliage;
Abelia x grandiflora is a semi-persistent plant with delicate flowering;
Corylus maxima purpurea, or purple-leaved hazel, sports red deciduous foliage;
Cotinus coggyria, colloquially known as a "smoke tree", these plants feature purple deciduous foliage and are auto-flowering.
---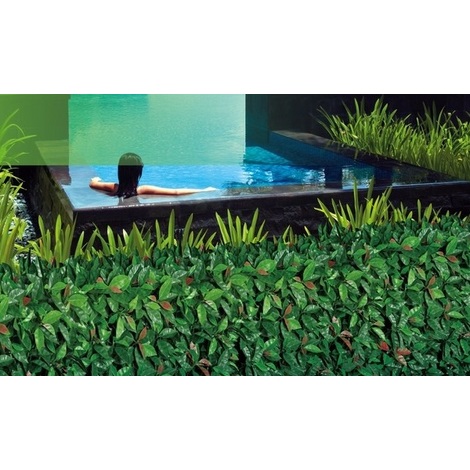 Low hedge plants
Perfect for borders or marking the edge of flower beds, low hedge plants have modest dimensions. Here are some of the most common:
Otto Luyken Prunus laurocerasus  
Remember that low hedge plants can be composed of either a single species or a mix of several. 
---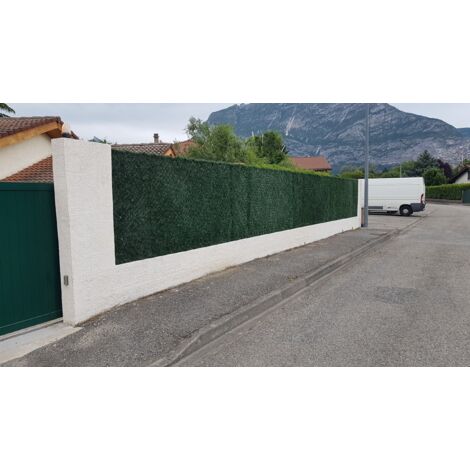 Windbreak hedge plants
Windbreak hedge plants are thick enough to withstand the wind, all the while being permeable enough to let some of it pass, creating a sort of filter to reduce its negative effects. These types of plants can include privet, birch, bamboo, hazel, lilac, prunus, spindle or dogwood. It's however important to pay close attention to the plants' proliferation.
In rural areas, large windbreaks are often formed by trees with specific trees that are slightly permeable. The trees generally have a light foliage, allowing the wind to partially pass, therefore negating any potential turbulence. Suitable trees include maple, elm, ash, black locust, willow, linden, sorb, cherry or oak.
Explore the ManoMano catalog
Hedge plants
More information
To learn more about hedges, trimming tools, and individual equipment or protection, follow the links below for lighting-related accessories, advice from our editors and more helpful guides:
Why should you trim your hedge?
How to choose your soil?
How to choose your fertiliser?
How to choose your irrigation drip?
How to choose your protective gloves?
Guide written by:
Albert, Manager of a gardening service, Leicester, 49 guides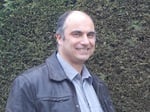 For several years I have been running a garden service with a clientele of both individuals and companies. I manage a team of gardeners and ensure the creation and maintenance of green spaces. At the same time, I bring my expertise to my clients in terms of the maintenance and improvement of their gardens. In fact, as a trainee and working in the hospitality industry at the beginning of my career, I focused on landscaping in a local community where I acquired solid technical skills through in-house training and the follow-up of major projects in a rapidly changing town. On a personal level, I am equally oriented towards the art of gardening. With my wife, I created our garden from start to finish and I maintain it carefully, the same goes for the vegetable garden. As for DIYing, it's not to be outdone. Yes, gardening is also tinkering: pergola, hut, pavement, fence, and so on...There is always something to do in a garden. After working well together, my wife and I are proud of the result and delighted to be able to take full advantage of a friendly and warm environment. So, let us give you advice and help you in your choice of tools, maintenance, or improvement of your garden, nothing could be simpler.
The products related to this guide