Hot tub buying guide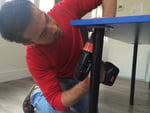 Guide written by:
Sebastian, self-taught DIY-er, Exeter
220 guides
Whether you go for an inflatable or hard shell model, nothing beats a hot tub for a spot of relaxation. From aromatherapy to colour or hydro therapy, indulge in scents, calming LED lighting, heated water and hydromassage. Prefer to stay active? Go for a swim spa! Read on to find the perfect hot tub for you.
Important features
Hard shell, inflatable or in-ground
Therapeutic or relaxation hot tubs
Ergonomics and additional options
Comfort-enhancing accessories
Water maintenance
How to choose a hot tub
---
Looking for a hot tub for therapeutic purposes? Opt for a hot tub with massage jets. These jets can be directed at specific areas of the body to relieve daily aches and pains, and even alleviate joint issues. In terms of model, your main decision here will be whether to invest in an inflatable or rigid hot tub. This all depends on your budget and the space you have available.
Just want an inexpensive hot tub for laid back summer evenings on the patio? Go for an inflatable hot tub equipped with a bubble blower for some serious downtime. Inflatable hot tubs can be pretty affordable and what's more, they can be deflated and stored out of the way when the season is over.
Would you rather create an at-home spa experience and enjoy your hot tub all year round? Choose a hard shell or in-ground hot tub equipped with bubble and water jet technology. You can then add on extras such as light or music therapy, aromatherapy and all the accessories that come with a luxury-style spa! Take the time to carefully select massage settings to suit your individual needs.
In order to choose the perfect hot tub for you, be sure to take note of the following:
Number of seats.
Available options: relaxing bubble blowers, massaging water jets, etc.
Accessories such as trays, steps, cup holders and head rests.
The addition of an insulating cover to reduce your electricity bill and cut down on maintenance.
Additional treatment options, such as aromatherapy, music and lights.
Explore the ManoMano catalog
Fixed hot tub
The benefits of a hot tub
What is a hot tub?
Hot tubs or spas are hot water pools that can be equipped with different hydromassage nozzles or bubblers. While hot tubs can be used for sports therapy, they are primarily designed for relaxation and their water massage jets offer users therapeutic care for relaxed muscles and joints. The shape of the tub can be square, round, oval or rectangular.
Hot tubs vs. whirlpool baths
---
Hot tubs differ from whirlpool baths in terms of their water capacity, number of seats, tub design and even the quality of the massage offered. Hot tubs are also much better at retaining heat and can be installed outdoors.
And in case you were wondering, hot tubs and Jacuzzis are indeed the same thing. 'Jacuzzi' is simply a manufacturer name that is now commonly used to refer to any hot tub. The brand was founded back in 1968 when one Roy Jacuzzi had the brilliant idea of incorporating pressurised water and air into bathtubs!
Hot tub benefits   
---
The hydrotherapy provided by your hot tub is especially recommended for anyone suffering from joint pain or back issues. The effect of the hydromassage nozzles benefit both body and mind with various effects. They can be:
calming and soothing;
stimulating and toning;
improving circulation;
eliminating toxins;
dilating pores and alleviating chronic pain;
relieving migraines;
relaxing muscles, and so on.
Your hot tub may offer an energising or relaxing experience depending on the settings and how you choose to use them. Best of all, the benefits of these settings can be felt from the very first use.
Three types of hot tubs
There are three main types of hot tubs, each of which with its own set of advantages. You should start by choosing the model you think will best suit your home layout and your own needs. In terms of weight, a hard shell hot tub designed to seat 5 people can easily weigh 250 kg when empty and can hold up to 1200 litres of water. On the other hand, the weight of inflatable hot tubs basically depends on how much water they hold as they are fairly lightweight when empty.
In-ground hot tubs
---
In-ground hot tubs, also known as spas, are permanent fixtures which require considerable installation work and a dedicated indoor or outdoor location. They may be installed fully or partially in the ground. It's then up to you if you want to install your hot tub within a dedicated external structure or not. In order to minimise losses and spillage, and to allow for better control, some in-ground hot tubs are equipped with an overflow system to pipe water back into the hot tub.
Above ground hot tubs
Above ground hot tubs are portable in the sense that they can be moved around when empty – even if this presents great difficulty! Often offering the same hydromassage functions as in-ground hot tubs, this type of hot tub requires a stable and flat surface whether you're installing indoors or outdoors. There are two main types of above ground hot tubs.
Hard shell hot tubs
---
Hard shell hot tubs consist of an acrylic tub with composite or wooden cladding. The design of the tub itself is of superior quality, as are the hydromassage nozzles. However, these tubs are heavy and are best kept in a dedicated location.
Inflatable hot tubs
---
Inflatable hot tubs are made of laminated PVC and offer an interesting and cheaper alternative to hard shell or in-ground hot tubs. Inflatable hot tubs are lightweight and can be emptied, meaning they can be easily moved around. These hot tubs also tend to take up less room.
Swim spas
Swim spas differ from other models in that they are designed for swimming instead of bathing and are equipped with an artificial current. Larger than those designed purely for relaxation, these hot tubs are available as partial in-ground models.
Explore the ManoMano catalog
Inflatable hot tubs
How do hot tubs work?
---
Hot tubs are hot water pools equipped with hydromassage nozzles which also work to constantly filter the water and keep it at a set temperature. The nozzles distribute pressurised water to provide a massage effect. A range of components make this possible:
an electric heater is used to heat the water and maintain it at a set temperature, ranging from 25 to 40°C. Its power rating is provided in watts (W) and varies based on the volume of water the tub is required to heat;
a filter pump draws in the water and releases it into the tub. This pump consists of a pre-filter, a pump body and a motor;
filters cartridges are integrated into the pump circuit to release the clean water. Larger models are equipped with a sand filter;
a skimmer to clear the surface of the water by collecting hair and other debris;
a massage pump, also known as a booster, to power the massage jets;
a bubble pump, also known as a blower, to produce the small air bubbles in your tub. It's a good idea to incorporate an air heating system so that the bubbles don't cool down the water;
pressurised hydromassage nozzles with a variety of jet settings for different massage types;
a programming system that allows you to select the frequency of the jets and type of therapy.
Depending on the size of your tub, or the volume of water in circulation, you may want to get a second filter pump. The number of hydromassage nozzles and blowers can vary depending on the hot tub.
Explore the ManoMano catalog
Pumps
Hot tub treatment options
---
For the most part, hot tubs offer two types of technology: massage jet technology and bubble technology.
Massage jet technology
Water jets can be directed to target a specific area (hips, shoulders, lower back, etc.). This technology is similar to that used in professional spas.
Relaxing bubble technology
Unlike water jet technology, bubble blowers cannot be targeted to specific areas. They offer more general action and put the focus on rest and relaxation.
How big should my hot tub be?
---
2-person inflatable hot tubs: perfect for single people or couples. As they don't take up a lot of space, they can be placed on a patio or a large balcony (diameter of up to 120 cm approx.).
4-person hot tubs: perfect for couples wanting enough space to relax in their hot tub, or for single-child families (sides or diameter measure approximately 140 cm).
6-person hot tubs: the perfect solution for families with children or for inviting your friends over for a relaxing evening. These hot tubs require a lot more space, whether you set them up indoors or outdoors (sides or diameter measure approximately 160 cm).
8 to 10-person hot tubs: these models are designed mainly for large families (sides or diameter measure approximately 200 cm).
Therapeutic hot tub options
 Light therapy
---
Chromotherapy is an alternative medicine technique that uses light to enhance well-being and inner peace. Coloured LEDs come in relaxing or energising tones to illuminate the water in your hot tub:
yellow is stimulating;
red is energising;
orange is revitalising;
blue and green have a soothing effect.
Aromatherapy
Aromatherapy is a form of alternative medicine which uses the diffusion of medicinal plant extracts to relax and calm you. There are different treatments which vary depending on the plants used:
peppermint improves concentration;
lavender has a soothing effect, and so on.
Music therapy
Music therapy involves listening to soothing music as part of a relaxation session. Choose your music according to your own tastes and let yourself be lulled by classical music, sounds of nature, and so on.
Hydrotherapy
Hydrotherapy refers to the massage offered by the hot tub via its hydromassage nozzles. It is important to give careful consideration to the placement of the nozzles and the general ergonomics of the tub.
Additional hot tub features
---
Your hot tub can be equipped with a range of accessories. Some are essential for enhancing comfort while others are practical and are used to make the tub more functional. Depending on the model, your hot tub may have:
an insulating cover or a protective cover (for inflatable hot tubs): these are key to keeping your electricity bill down;
cushioned head rests to ensure total relaxation and to ease neck strain;
a handrail to make it easier to get in and out of the hot tub;
steps for safer access to the tub;
trays for setting down a glass or two.
Explore the ManoMano catalog
Pool covers
Maintaining the water in your hot tub
Regular maintenance: water quality 
---
The water quality of your hot tub water should be checked and tested weekly using a pH tester. Ideally, the pH level should be between 7 and 7.4. If the level is not on target, it needs to be adjusted with either a pH increaser or reducer product. Total alkalinity (TA) and calcium hardness (CH) must also be checked. The ideal TA is 90 to 150 ppm; TH should be between 100 and 200 ppm.
To sterilise your hot tub via a shock treatment, use active oxygen or bromine. Chlorine, which loses some of its inherent properties at high temperatures, is also recommended.
Add a descaler every time you refill the hot tub, unless you live in an area with soft water.
Clean the skimmer, the filter cartridge and the tub with a sponge and a non-abrasive cleaning product.
Your hot tub should be emptied every two months.
Larger in-ground hot tubs (5 to 6 people) may require the addition of a clarifier (flocculants should not be used) and a non-foaming algaecide (non-foaming).
What should I do if the water is cloudy?
There are two basic solutions for resolving water issues in a hot tub.
If you have already been using your water for several weeks, empty your hot tub. This is the easiest and most drastic measure which eliminates the need for water treatment products. You will then have to increase your filtration cycle.
If you have just changed the water in your hot tub, disinfect it by shocking your hot tub. To do so, test the water (for pH, TA and CH and rebalance as needed), shock the hot tub using bromine or active oxygen and add a clarifier. You can also increase the length of the filtration cycle.
Ozone disinfectant
An ozonator is used to treat water naturally with ozone reducing the risk of allergic reactions caused by chemical treatments. This technology is provided with some hot tubs and works by supplying a blend of air and ozone via the air circuit system.
Explore the ManoMano catalog
Shock the hot tub
Tips for choosing the perfect hot tub
---
The type of hot tub you choose will depend on your budget and your requirements when it comes to comfort. In summary, you can choose a cheaper, inflatable hot tub or a more expensive hard shell hot tub (which will also require a more extensive installation process). The annual maintenance costs for a hot tub are generally between £200 and £250 (the cost of purchasing cleaning products, etc.).
As for quality and features, consider the quality of the tub itself, as well as its insulation features and nozzles. An insulated cover will prove essential for anyone wanting to keep their electricity costs down. Outdoor hot tubs should be covered when not in use especially if the tub is placed in the open and exposed to falling vegetation, insects, etc.
Air heating systems are paramount if you want hot bubbles! You should also consider the number of massage jets and above all the ergonomics of the tub – hot tubs are of course all about comfort!
In terms of energy consumption, remember that the more water you use and the more hydromassage nozzles you have the more energy your hot tub will consume. But then again, getting a hot tub isn't about saving money! Once you've made your choice, all that's left to do is relax!
Guide written by:
Sebastian, self-taught DIY-er, Exeter, 220 guides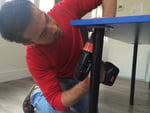 Redo a roof with wooden beams? Check.Advise Mister everybody in the DIY shop? Check.Redo the bathroom plumbing? Check.Fit together, build the walls, paint a partition, throw my hammer in a rage thinking that it will fix the problem? Check. The DIY motto ? Learning is better than delegating… well, it's also a question about your wallet! The satisfaction? The beer at the end of the job! What do the best have in common? The influence of Gyro Gearloose, Mac Gyver and Carol Smiley depending on your generation, a good dose of curiosity, a average hand-eye coordination and a taste for risks… and if it doesn't work, try again! Advise you? I'll do my best!
The products related to this guide