Hose and reel buying guide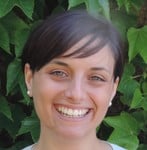 Guide written by:
Julie, Interior Designer, Manchester
22 guides
If you're hoping to do any work around the garden, you'll need a hose and reel. But from one to six-ply and drip line, automatic or reinforced models, it's easy to lose your way! Follow our guide to find the right hose type, diameter and reel for your garden.
Garden hoses: how many plies?
---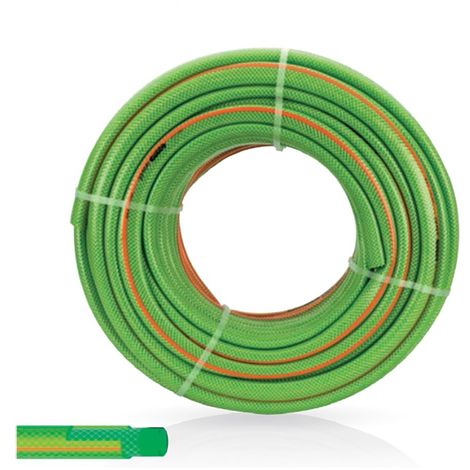 A high-quality hose is a strong hose. When comparing different garden hoses, the level of quality and strength of a model will generally depend on the number of layers or plies it has. 
Nowadays, hoses come in a range of different plies. A 3-ply hose is generally considered standard while a 4- to 6-ply hose will be more resistant to accidents, friction, folds, knots and kinks. A stronger hose will also stand up to the effects of weathering, i.e. U.V. rays and temperature variations.Reinforced hoses won't twist or bend, which is practical for storage.
The main types of garden hose
Drip line hose
---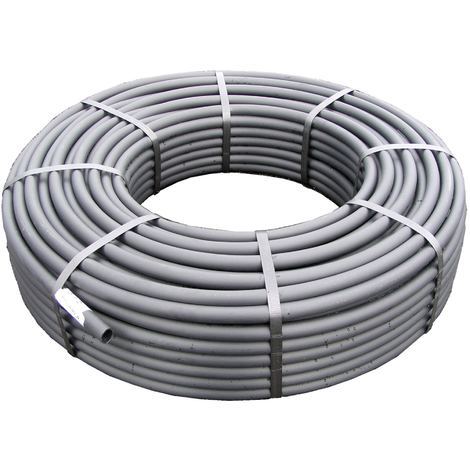 Drip line hoses allows you to water your bedding plants and shrubs at the roots via a customisable system. Often made of PVC, these hoses are cost-effective as they water your plants drip by dip.
Braided hose
---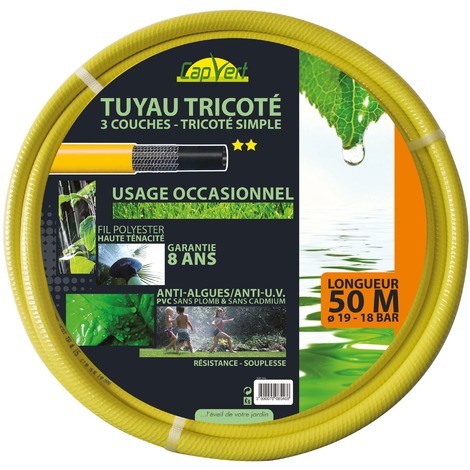 Braided hoses tend to have equipped with 4 to 6 layers (or plies). These hoses feature a mesh layer to stop them from kinking which also makes them stronger.
Wire-reinforced hose
---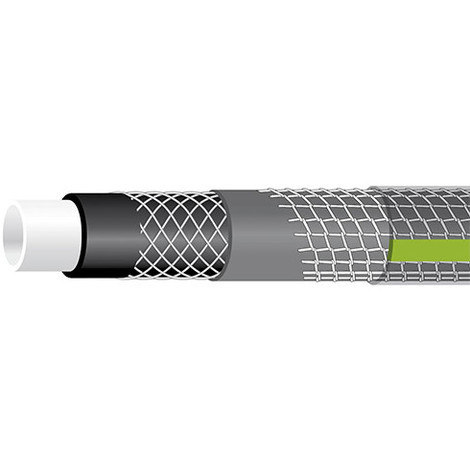 These hoses are usually made up of 3 layers. They are stronger as the core of the hose is made of wire mesh and won't twist, giving them better resistance to waterpressure.
Expandable hose
---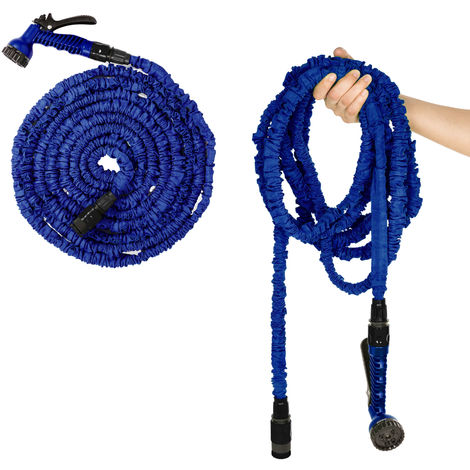 Expandable hoses expand to up to three times their original size with water pressure. They are often sold with their own fittings and spray attachment .
Anti-kink hose
---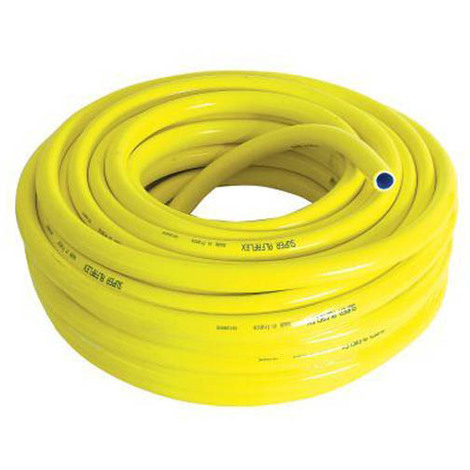 Anti-kink hoses offer pretty much the best technology hoses can offer. These models are resistant to temperature changes and UV light. They are flexible, anti-bend and very pleasant to the touch. This is the golden standard of garden hoses!
Weeper hose
---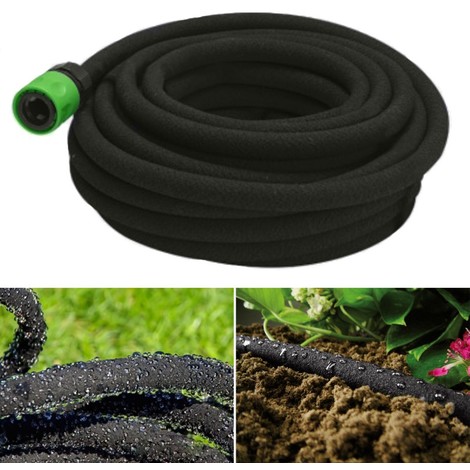 Weeper hoses are used when you're looking for a long-term watering system for crops. These hoses do not so much water as they irrigate by slowly letting out water through their porous surface.
Soaker hose
---
Soaker hoses are a bit like weeper hoses except that they are perforated. When the water is switched on, the pressure serves to diffuse the water in the form of fine rain a bit like a sprinkler.
How to choose the right hose diameter
---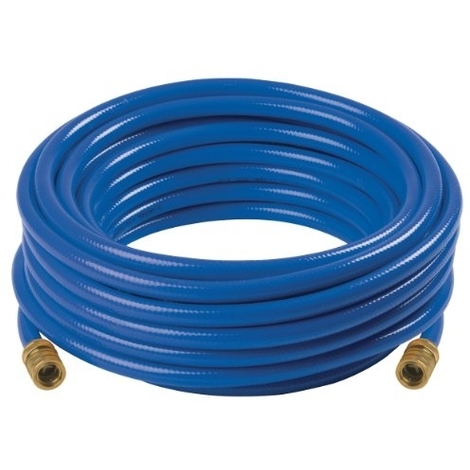 The fear of ending up with a hose that is too short means that we tend to pick longerhoses in the hope they'll be easier and less time-consuming to use.However, a 50-metre-long 19 mm hose will be very heavy and fairly tricky to handle. In fact, if you go for a hose of this size you will almost certainly need to pick a model with a reel.But what about diameter? To make it simple, a hose measuring less than 50 metres in length will have a diameter of around 15 mm.This diameter is ideal for watering small areas and cleaningtasks such as washing the car, garden furniture, patio, etc. Thanks to the laws of hydraulics, the smaller the hose diameter, the higher the pressure.Hoses with a diameter of 13 to 15mm can easily withstand pressure of up to 2 to 5 bars.For longer hoses, you will need a diameter of 19 mm – especially if using several connections. This will result in less pressure but more flow. All the same, it's important to mind your back: the greater the diameter, the heavier the hose will be, so don't forget the hose reel!For stationary watering systems, or if your hose is equipped with a a nozzle, you can opt for a lower quality hose; a 3-ply hose may be sufficient as it does not have to withstand movement on a daily basis.
Explore the ManoMano catalog
Hose reel
How to choose the right hose reel
Hose reels offer greater user comfort when watering the garden. They come in a few different kinds.
Wall-mounted reel
---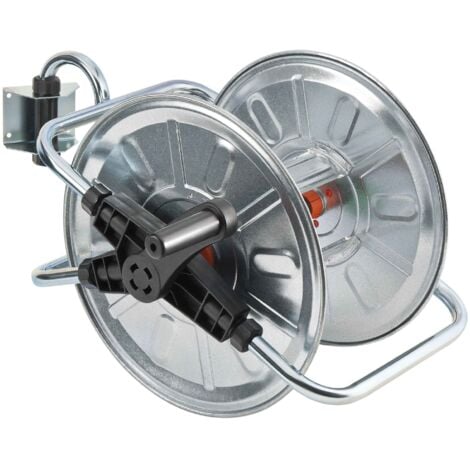 Wall-mounted reels are attached to the wall using the right type of fixing plug for your wall surface. They are installed near a water source and can be fixed, tilted or moved from left to right.
Hose trolley
---
Hose reel trolleys are portable and are equipped with an adjustable handle for people of all sizes. They can be moved from one water point to another with ease.
Automatic reel
---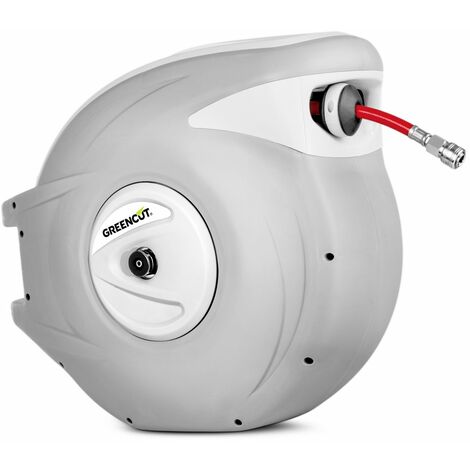 Automatic reels are perfect for anyone who doesn't like to waste time and is looking for greater user comfort. Different hose lengths are available and the quality of the hose and reel depends entirely on the model.When it comes to choosing a hose reels, pay close attention to the materials and, no matter what anyone says, a widely recognised brand will offer better quality.Generally, a basic hose and reel set will be equipped with a 15- to 20-metre hose and will come with a set of fittings.You can also find reels without the hose included. Hose reels come in a range of different materials (usually steel or plastic), and are designed to accommodate different lengths and diameters. If you're looking to store a 6-ply, 50-metre hose, it is advisable to use a sturdy and stable hose reel.
Explore the ManoMano catalog
Wall-mounted reels
Tips for maintaining your garden hose
---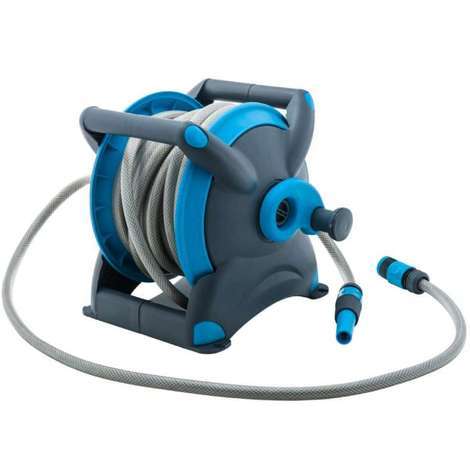 No matter which type of hose you go for, garden hoses cannot handle the sun. It's always best to avoid leaving the hose lying out, especially in the middle of summer.
Furthermore, do not forget to drain the water out of the hose after each use in order to avoid water stagnating inside.Remember to wind up your hose properly; it'll last longer if it isn't kept twisted and bent.Needless to say, your hose and connectors must be drained and stored in warm place such as the garage or garden shed over the winter.
More information
Follow the links below for more information on garden accessories:
Guide written by:
Julie, Interior Designer, Manchester, 22 guides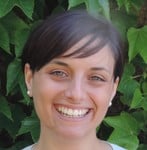 After years of DIY, renovation, designing, I decided to turn my passion into my career. Starting in 2006, in the South-West, I helped people with renovation or contruction projects. My expertise and my curiosity led me to look further into innovative ideas for myself and my clients. Indeed, to live your passion is also to transform the space you live in and the objects you use daily. My family love my creations and ideas that I bring into their lives! My favourite thing to do: use colour to brighten up interior space. But also tips to hide away clutter. Your home is just never big enough, is it? It is thus a great pleasure to share my tips with you, so that you also can take as much pleasure as I do when starting up your next project!  
The products related to this guide