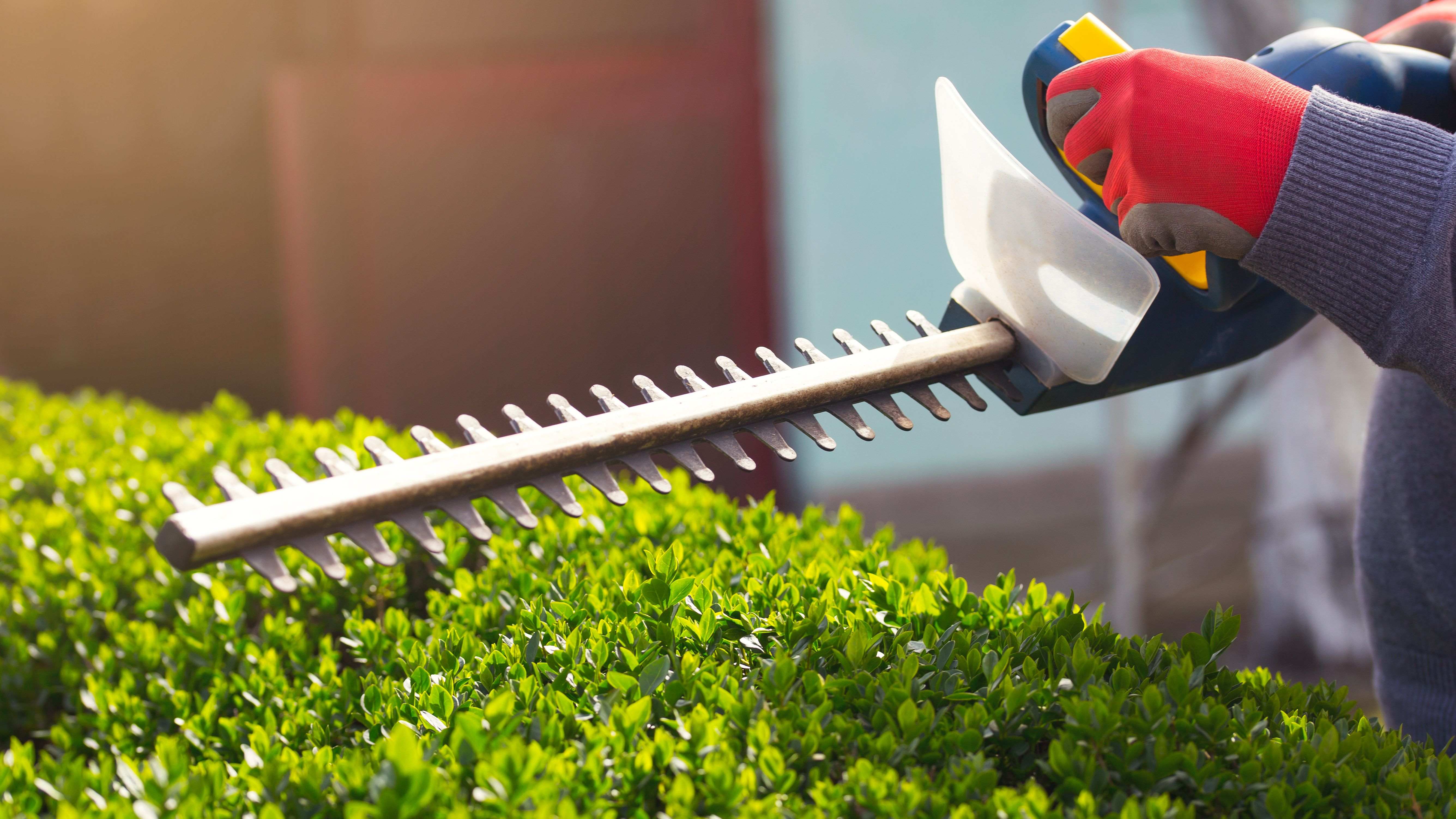 Hedge trimmer buying guide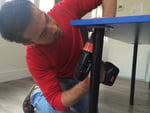 Guide written by:
Sebastian, self-taught DIY-er, Exeter
220 guides
Whether you're after a petrol or electric hedge trimmer, you'll have to weigh up a range of factors including blade length, blade type and tooth gap. From lightweight cordless models to pole hedge trimmers designed to tackle tall hedges, read on for everything you need to know to find the perfect hedge trimmer.   
Choosing the right trimmer for your hedge
Professional hedge trimmers
---
Running a gardening business and need to prune a few thuja hedges or have a lot of hedges of your own to maintain?
Go for a petrol hedge trimmer and it'll soon pay for itself! If you're worried about getting cut short, go for a pole hedge trimmer with a 30 cc engine and a 75 cm blade with a large tooth gap. Rest assured, you'll be rewarded with high performance and efficiency, and there's no need for a power outlet!
Portable hedge trimmers
---
Don't fancy maintaining a petrol engine but need to keep on top of a large bay laurel hedge? A cordless hedge trimmer will be your best bet. Go for a 36 volt (V) battery and you'll enjoy similar performance to a petrol hedge trimmer. Invest in an extra battery and you'll be king of your jungle in no time!
Corded hedge trimmers 
---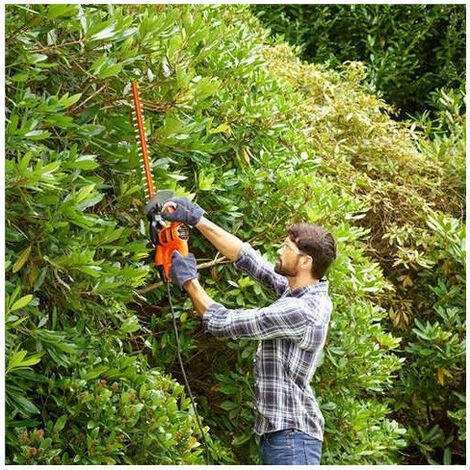 Looking for a lightweight hedge trimmer to tackle a hedge located within reach of a power outlet? Corded hedge trimmers offer an average of 600 watts (W) and will work perfectly well for hedges growing fairly close to the home. These lightweight trimmers are also perfect for anyone who doesn't want to cart around a heavy tool.
Hedge trimmer features
Hedge trimmer blades generally measure 40 to 75 cm in length. The length of the blade will dictate the weight and power of the machine, and should be chosen to match the width of your hedge.
The size of the tooth gap refers to the space between the blade teeth and determines the size of branches the tool can handle. Tooth spacings can be broadly broken down into three different categories:
---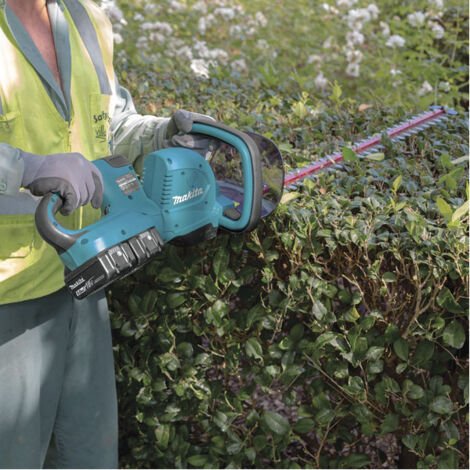 12 to 16 mm;
20 to 25 mm;
26 to 36 mm.
All hedge trimmer blades require maintenance. Petrol hedge trimmers also require engine care (though the process isn't all that complicated).
Hedge trimmer operation
Hedge trimmer components
---
How does a hedge trimmer work?
Hedge trimmers comprise either a petrol engine or electric motor which powers the back-and-forth motion of the blade assembly. The blade assembly is made up of two blades, each with a series of sharpened teeth. The blades slide against each other and cut through branches as the two sets of teeth align.
Petrol hedge trimmers can be equipped with a 2- or 4-stroke engine. The engine capacity dictates the performance of the tool and this varies from model to model. Electric hedge trimmers can come with a cable in which case their power is indicated in watts (W). Cordless models vary in terms of voltage (V), which indicates the power of the tool, and ampere hours (Ah) which determines the battery capacity (i.e. how long the battery can be used before it has to be recharged).
Petrol vs. electric hedge trimmers
The power of petrol and electric hedge trimmers is measured differently.
Corded electric hedge trimmers
---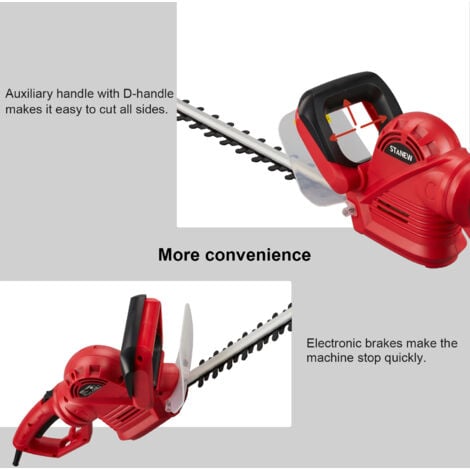 A corded electric hedge trimmer will usually offer 400 to 700 W.
The amount of power required depends on the length of the blade. Generally speaking, the power reflects the energy needs of the tool.
Battery-powered hedge trimmers 
---
Cordless hedge trimmers come with lithium-ion (Li-on) batteries rated 18 V, 36 V or even 56 V. The battery voltage indicates the amount of power the hedge trimmer can deliver. A hedge trimmer with a 36 V motor will offer good performance and will be comfortable to use for most applications.
The ampere hour (Ah) rating indicates how long the battery lasts; the higher the Ah rating, the longer the run time. Generally speaking, a tool rated 2.2 Ah will last about 30 to 50 minutes while a tool rated 3 Ah will last 45 to 90 minutes (depending on the type of hedge you're cutting).
Petrol hedge trimmers
---
Petrol hedge trimmers can offer 0.4 to 1.4 HP (or 300 to 1050 W) and 22.7 to 31 cc. However, some pole hedge trimmers can reach up to 52 cc. Two-stroke engines work by mixing fuel and oil in the same tank. While heavier than the above-mentioned options, these tools are nonetheless more powerful and do not require an electrical outlet.
Petrol hedge trimmers from professional ranges will usually be equipped with a 4-stroke engine and offer superior performance. Unlike a 2-stroke engine, oil and fuel is kept separate in a 4-stroke engines.
Advantages of a petrol hedge trimmers
Petrol hedge trimmers are powerful and robust tools. They are well-equipped to cut through large branches and offer long run times. These hedge trimmers are therefore best suited to heavy-duty garden maintenance. However, they are heavy, noisy and not very environmentally friendly. What's more, if you don't take care of the engine, start-up can be unreliable.
2-stroke vs. 4-stroke engines
---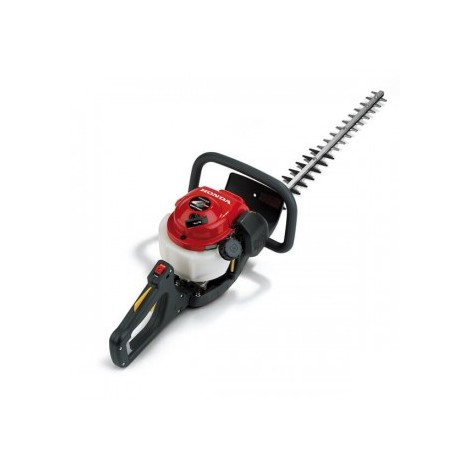 Petrol hedge trimmers may be equipped with a 2- or 4-stroke engine. As outlined above, a 2-stroke engine works by mixing oil and fuel while a 4-stroke engine has a separate tank for fuel and another one for oil.
A 2-stroke engine requires less maintenance than a 4-stroke engine but it is also less efficient. A 4-stroke engine is recommended for heavy-duty and frequent use.
Petrol hedge trimmers are best for professionals, for those with large properties to maintain or simply anyone looking to carry out lengthy tasks without being held back by a electric cable.
Advantages of corded and cordless hedge trimmers
Corded hedge trimmers
---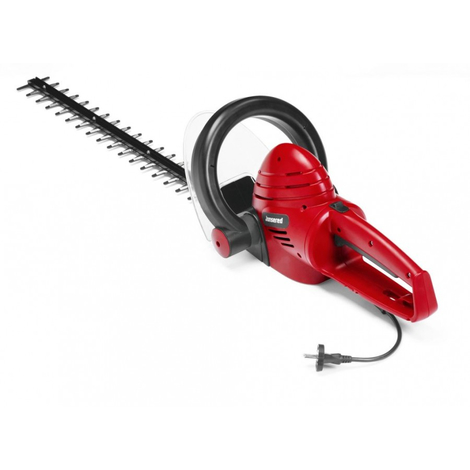 Electric corded hedge trimmers are best for smaller pruning tasks or hedge shaping within proximity to a power source. These tools are lightweight and can be inexpensive.
Cordless hedge trimmers
---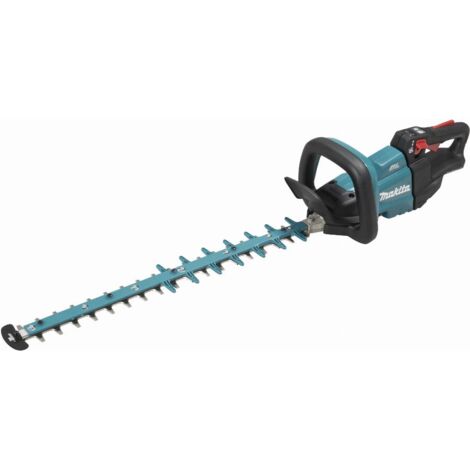 Cordless hedge trimmers work well in large gardens as they can be moved around without restrictions. Powerful and equipped with long-lasting batteries, cordless hedge trimmers can be a great alternative to corded hedge trimmers and 2-stroke petrol hedge trimmers.
Hedge trimmers for shaping
The cutting length of a hedge trimmer equates to the length of the blade. The longer the blade, the neater your hedge will be as you won't have to make as many cuts. But bear in mind that the weight of the tool is also proportional to the length of the blade (the longer the blade, the heavier the hedge trimmer). With this in mind, if you don't want to haul around a heavy hedge trimmer, go for a shorter blade. This way, you'll get a lighter tool which will be easier to handle – then you just need to put in the effort!
Blade length and cutting length
---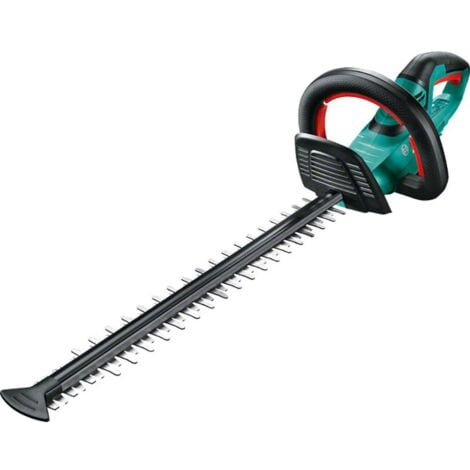 Hedge trimmer blades generally measure around 40 to 75 cm in length. Your choice will come down to three criteria:
Your ability to cut straight.
The weight you are willing to handle.
The width of your hedges.
Hedge trimmer blade types
Single or dual action blades
---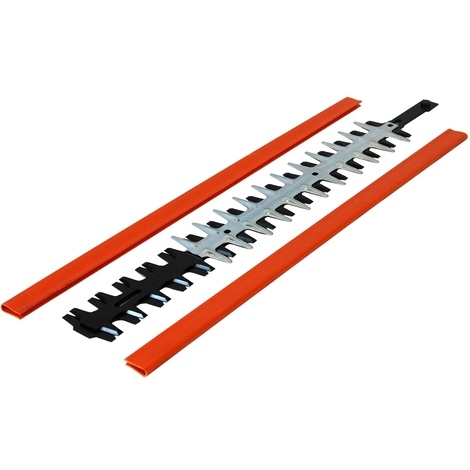 Hedge trimmers can be equipped with one of two types of blade technology:
Single action blades: one mobile blade oscillates against a stationary bar.
Dual action blades: both blades are mobile and move against each other to reduce vibrations and enhance performance.
Most hedge trimmers are only sharpened on one side however it is possible to find double-sided blades.
Telescopic vs. pole hedge trimmers
---
If you have tall hedges and you don't fancy working on a stepladder, a pole or telescopic hedge trimmer is a must.
The blade of these tools is fitted to the end of a multi-directional, height-adjustable pole which allows you to work from the ground.
In terms of length, these hedge trimmers can stretch to over 3 metres. However, pole hedge trimmers are heavy and aren't recommended for all users. They may be equipped with an anti-vibration system to keep your joints safe.
Hedge trimmer tooth gap
---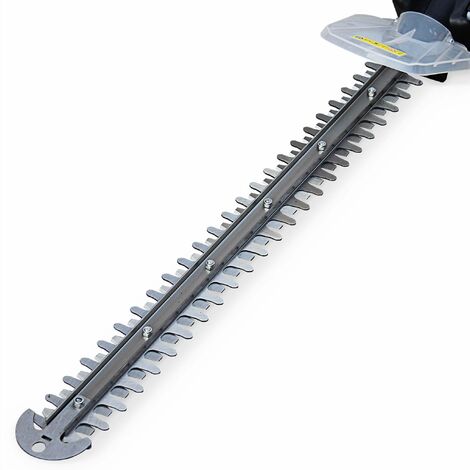 The distance between the teeth determines the size of the branches you can cut; the larger the tooth gap, the bigger the cuts you can make:
12 to 16 mm for young growth or sparse hedges;
20 to 25 mm for the average hedge;
26 to 36 mm to take on a jungle.
How to use a hedge trimmer safely
Hedge trimmers are designed to be held using both hands:
one hand goes on the switch handle; 
the other hand goes on the left hand grip located behind the blades. This component is designed to reduce the risk of injuries.
In order to work safely in all types of positions, it is essential to have adequate grip on the tool. The left hand grip may therefore be set to different positions.
Hedge trimmer weight
Petrol hedge trimmers represent the heaviest of all models weighing in at 4.3 to 7 kg. Electric hedge trimmers weigh around 2 to 6 kg while pole hedge trimmers can weigh up to 9 kg. Be sure to take note of the weight of the tool before you invest.
Safety wear for hedge trimming
---
When it comes to protective equipment, there are a few essentials to help you work safely:
Maintaining a hedge trimmer in 5 steps
Check the condition of the blade and lubricate as required.
If you have a 4-stroke engine, check the oil level regularly as if the engine is not properly lubricated, the metal parts will rub against each, ultimately damaging the engine. Two-stroke engines must be fed with the correct ratios of fuel and oil. Be sure to follow the manufacturer's instructions. The spark plug should be changed regularly on both types of engine and the electrode gap should also be checked from time to time.
Check the screws on a regular basis as vibrations can cause components to become loose.
Clean the air filter and if you have an air compressor, connect it to an air blow gun and use it to clean out all hedge trimmer components (every six hours of operation or after each use).
Hedge trimmer blades should not be cleaned with water and will be much less efficient if clogged up with leaves... Brush the blades after use and wash away any sap using rubbing alcohol.
Guide written by:
Sebastian, self-taught DIY-er, Exeter, 220 guides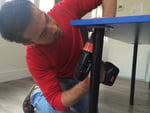 Redo a roof with wooden beams? Check.Advise Mister everybody in the DIY shop? Check.Redo the bathroom plumbing? Check.Fit together, build the walls, paint a partition, throw my hammer in a rage thinking that it will fix the problem? Check. The DIY motto ? Learning is better than delegating… well, it's also a question about your wallet! The satisfaction? The beer at the end of the job! What do the best have in common? The influence of Gyro Gearloose, Mac Gyver and Carol Smiley depending on your generation, a good dose of curiosity, a average hand-eye coordination and a taste for risks… and if it doesn't work, try again! Advise you? I'll do my best!
The products related to this guide