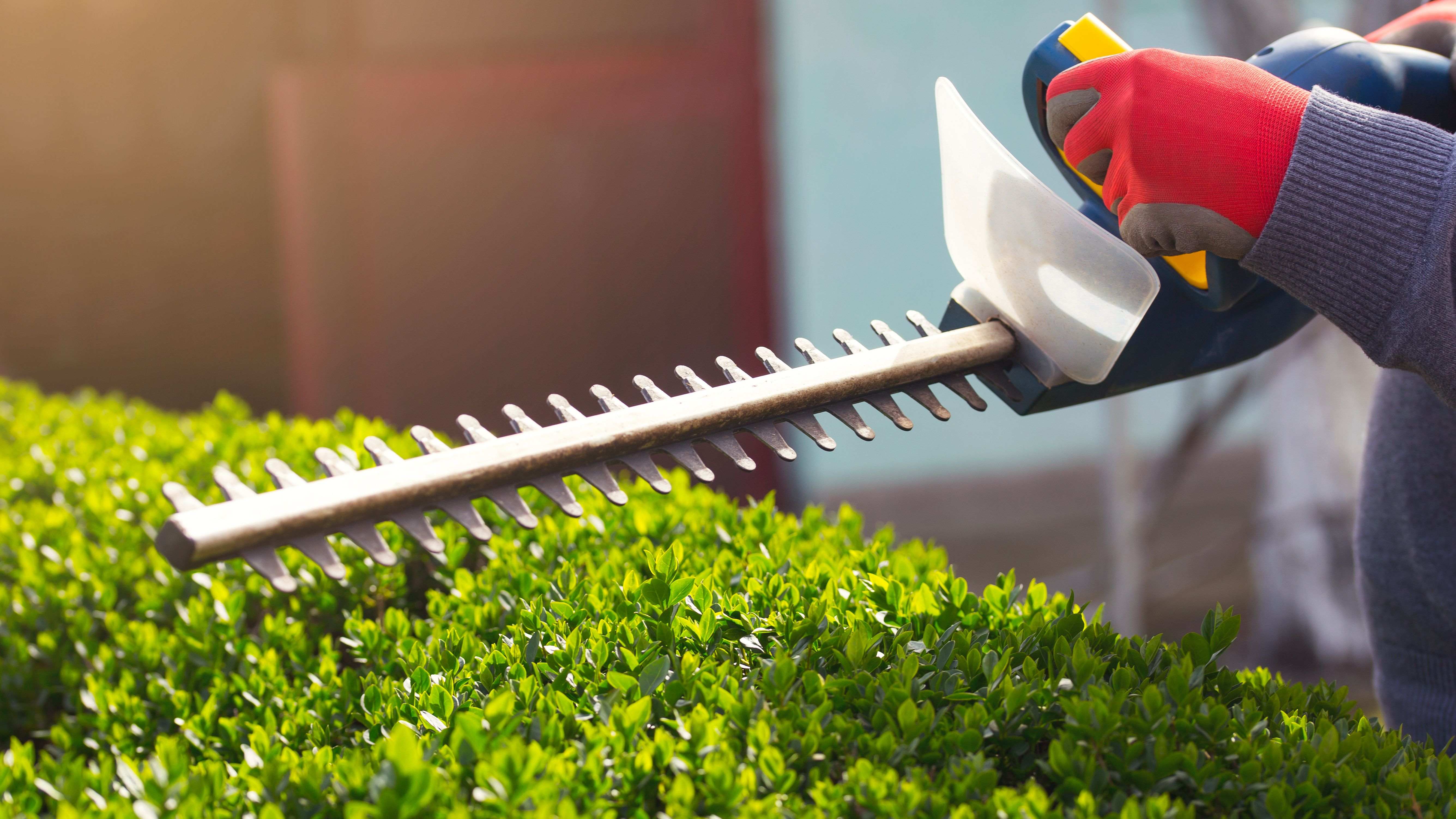 Hedge trimmer buying guide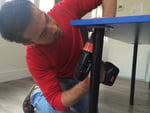 Guide written by:
Sebastian, self-taught DIY-er, Exeter
209 guides
The pole mounted hedge trimmer is essential for trimming high hedges. The length of cut and the blades and gap between the teeth are to be chosen on a thermal hedge trimmer as well as on a battery hedge trimmer. In this guide is a comparison of the best tips for choosing a hedge trimmer.
Which hedge trimmer do I need?
---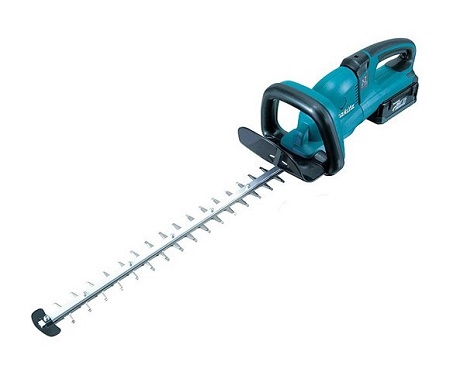 Are you an entrepreneur looking to trim and prune for a living? Go for a thermal hedge trimmer and it will all but pay for itself.
Are you worried you're too short for your trimming project? Opt for a trimmer that comes with an extension, we recommend a model with a 30 cc engine and a 75 cm blade with wide toothing to make you as mobile and efficient as possible.
Are you just looking to trim an unkempt hedgerow? Then a battery powered hedge trimmer is your ally. By choosing a 36 volt (V) battery with an extra battery, you'll be the king of the jungle and give those professionals a run for their money.
For the others, the wiredelectrichedgetrimmers offer an average power of 600 Watts (W) and are suitable for the nearbyhedges. If weight is a concern, this is the tool for you.
Explore the ManoMano catalog
Battery
How does a hedge trimmer work?
---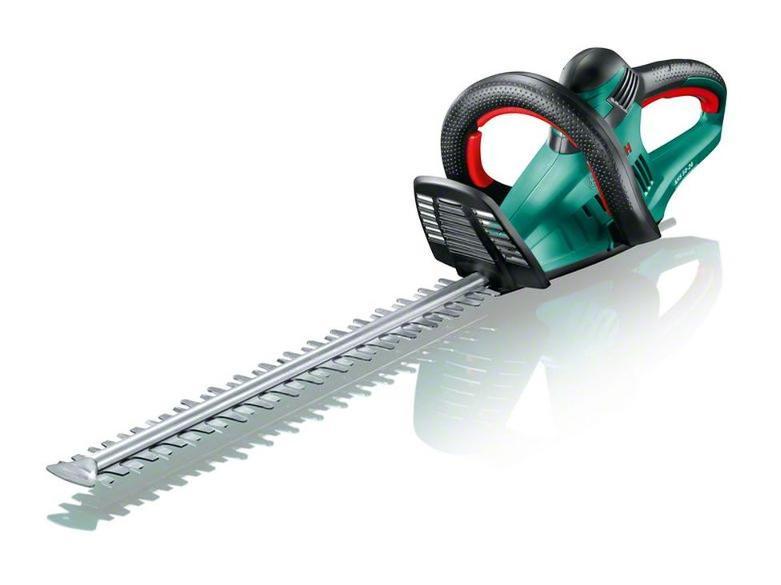 The hedge trimmer is composed of a thermal or electric motor which controls the reciprocating movement of the blades, and a bladeconsistingof two sharpened, notched, toothed blades.
The reciprocating movement of these blades cuts branches by catching them between symmetrically distributed teeth.Thermal trimmers have a 2-stroke or 4-stroke engine.  Their cylinder capacity varies from one model to the next.Electric hedge trimmers can be wired or battery operated. Power varies for wired electric hedge trimmers while intensity and amperage determine battery capacity.
How to choose the power
From one hedge trimmer to another, power is expressed differently.
---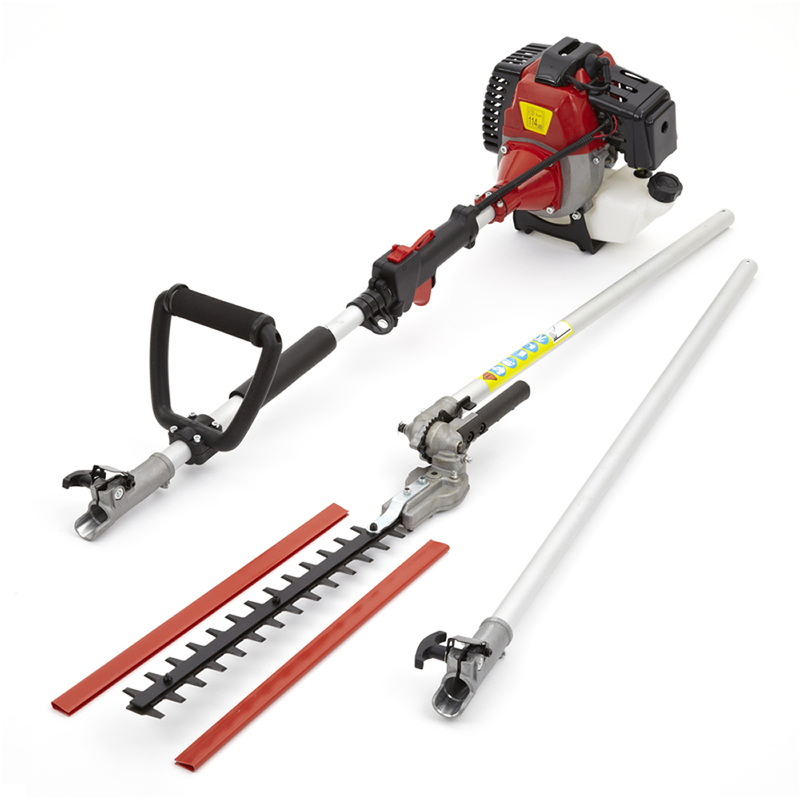 Corded Electric Hedge Trimmer
Theelectric motor produces between 400 and 700 W. The power is relative to the length of cut.
Battery Operated Hedge Trimmer
The battery-operated electric motor 18 or 36 V has a range of 30 to 50 and 45 to 90 minutes respectively. These engines are powerful and offer a certain working comfort.
Heat Trimmer
The petrol engine has 0.4 to 1.4 hp - 300 to 1050 W - and 22.7 to 31 cm3 displacement - up to 52 cm3 for the telescopic hedge trimmer. The 2-stroke thermal hedge trimmer works with a petrol/oil blend. It is the heaviest of the three but the most mobile and powerful. The 4-stroke engine equips the more powerful hedge trimmers.
Explore the ManoMano catalog
Hedge trimmer
Why choose a thermal hedge trimmer?
---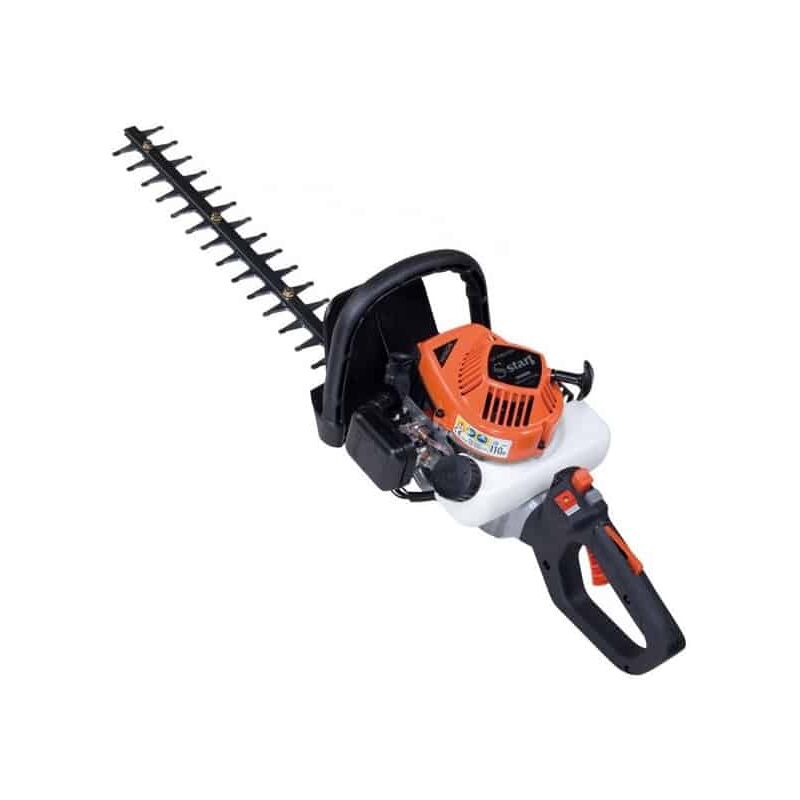 The thermal hedge trimmer is by definition powerful and robust. It attacks large branches and offers a long runtime. The thermal hedge trimmers are suitable for heavy maintenance of green spaces, however, it is heavy, noisy, not very eco-friendly, and requires regular maintenance.
2-stroke engine or 4-stroke engine
The motor of the thermal hedge trimmer can be 2- or 4-stroke. As explained above, the 2-stroke engine works with a mixture of petrol and oil while the 4-stroke engine has a fuel tank and an oil tank. As for performance and maintenance, the 2-stroke engine requires less maintenance but it is also less efficient. The 4-stroke engine is recommended for intensive and regular use. Thermal hedge trimmers are recommended for professionals and owners of large properties.
Explore the ManoMano catalog
Thermal hedge trimmer
Electric hedge trimmer or battery hedge trimmer?
---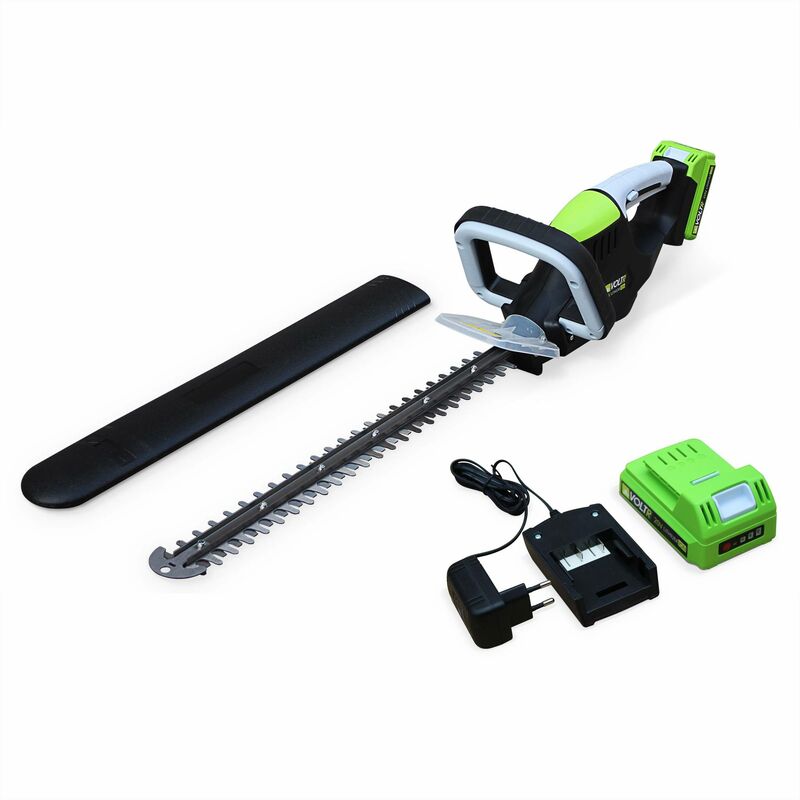 Corded Electric Hedge Trimmer
A wired electric hedge trimmer is preferable for many due to its small size and is well suited to small projects in a space close to a power source.The wired electric hedge trimmer is inexpensive and more lightweight than the other models.
Battery Powered Hedge Trimmer
Batterypoweredhedge trimmers are suitable for large gardens as they are mobile and can be used without constraint.Powerful and equipped with long battery life, battery powered hedge trimmers are a very good compromise between wired electric hedge trimmers and 2-stroke thermal hedge trimmers.
Explore the ManoMano catalog
Wired electric hedge trimmer
How to choose the length of cut?
---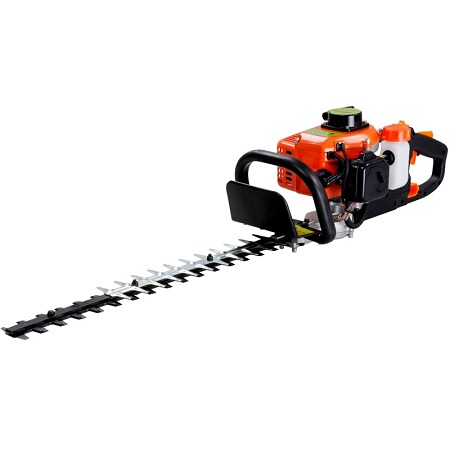 Definition
The length of cut is equal to the length of the blade and the longer it is, the easier it is to keep your cut straight because you have to make fewer passes. However, the weight is proportional to the length of the blade. The longer it is, the heavier your hedge trimmer is. For this reason, some prefer a shorter, lighter, and more manageableblade.The blades are found in lengths between 40 and 75 cm. Your choice must, therefore, take these three criteria into account:
Your ability to prune straight
The weightyou want to support
The various types of blades
---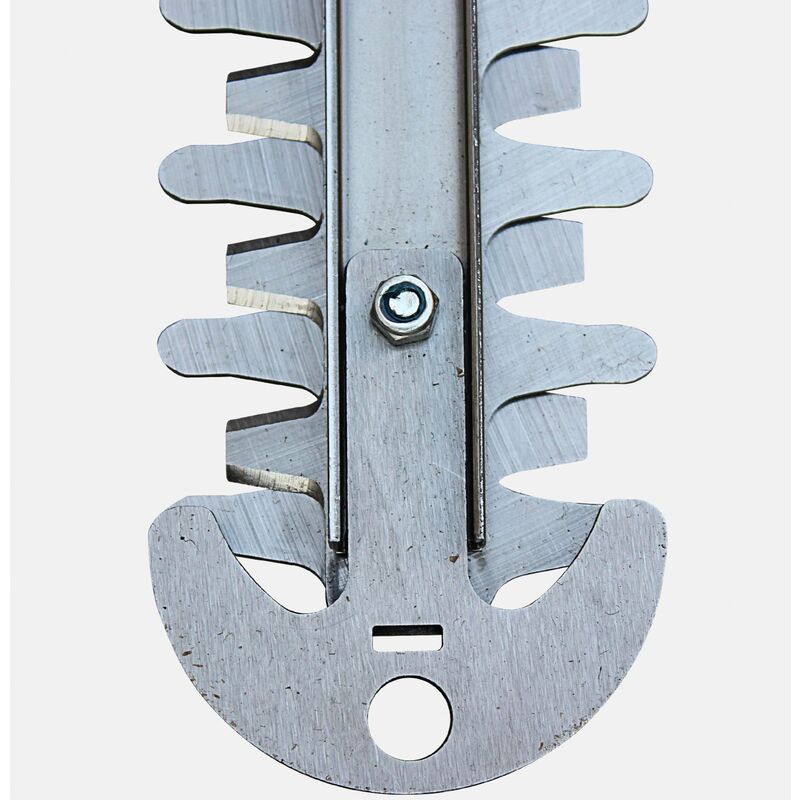 The hedge trimmer blades can operate in two different ways:
"Simple action cut" means one blade moving from front to back under a fixed blade;
"Dual action cut", both of the blades are in motion and move relative to one another - this process reduces vibrations and remains more efficient than the first.
The blades of the hedge trimmers are generally sharpened on one side only, although there are now double-edged blades.
How to choose the cutting height
---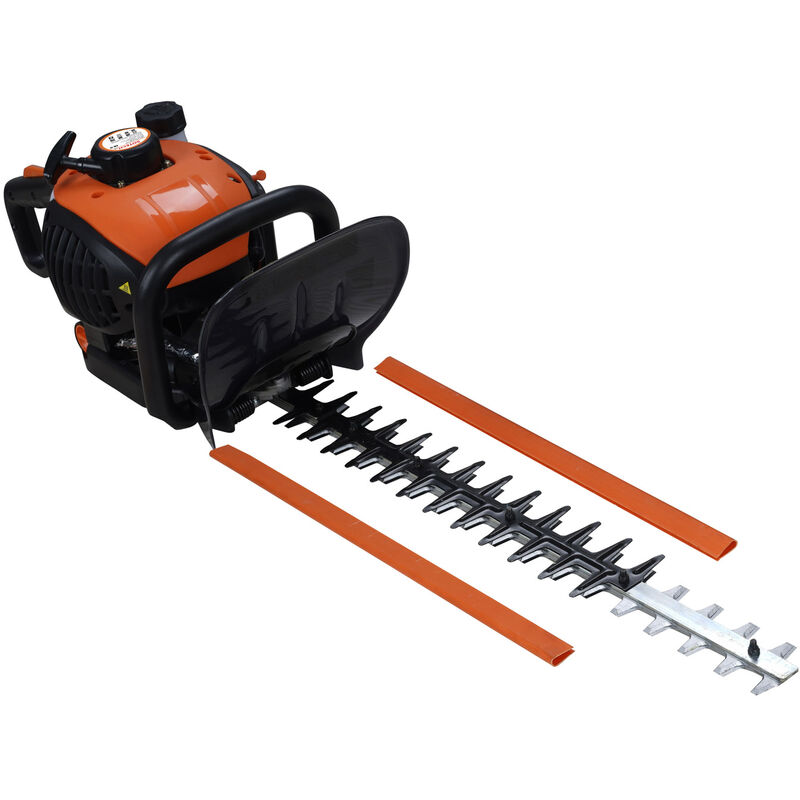 If your hedges are high and you do not want to work on a ladder, a hedge trimmeron afixed pole or telescopichedgetrimmer is essential.These hedge trimmers allow you to work on the ground because the blade is at the end of an adjustable pole that is adjustable in height.On the length, the hedge trimmer can reach more than 3 meters. Of course, it takes arms to wear it. Fortunately for our joints, an anti-vibration system exists.
How to choose the gap between the teeth
---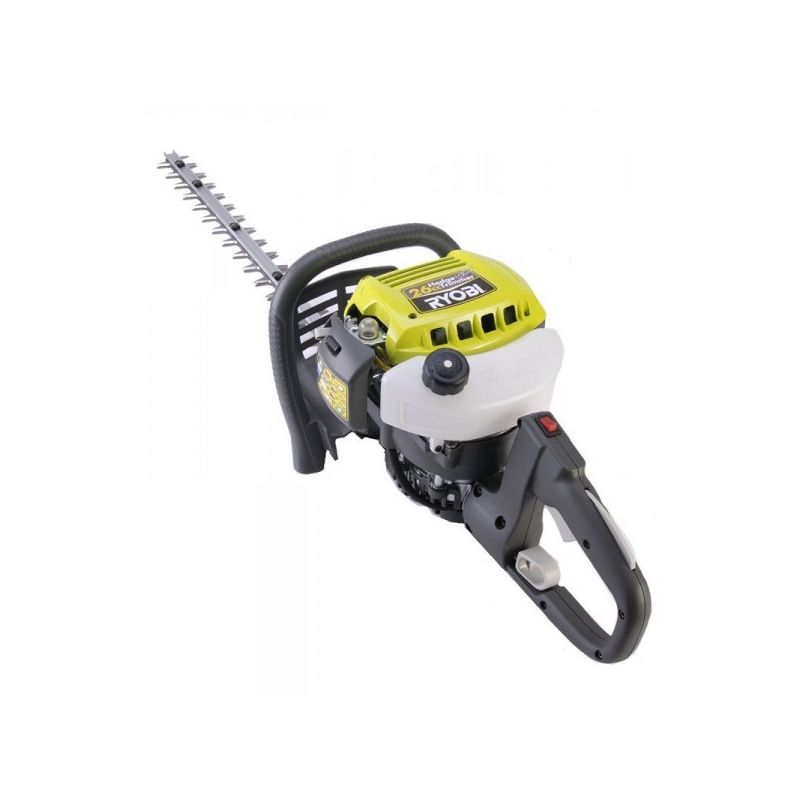 The distance between the teeth determines the diameter of the branches you can cut, the larger the diameter is, the more branches you trimmer will be able to handle:
12 to 16 mm for young shoots;
20 to 25 mm for normal hedges;
26 to 36 mm to face the jungle.
The various grips and weight
---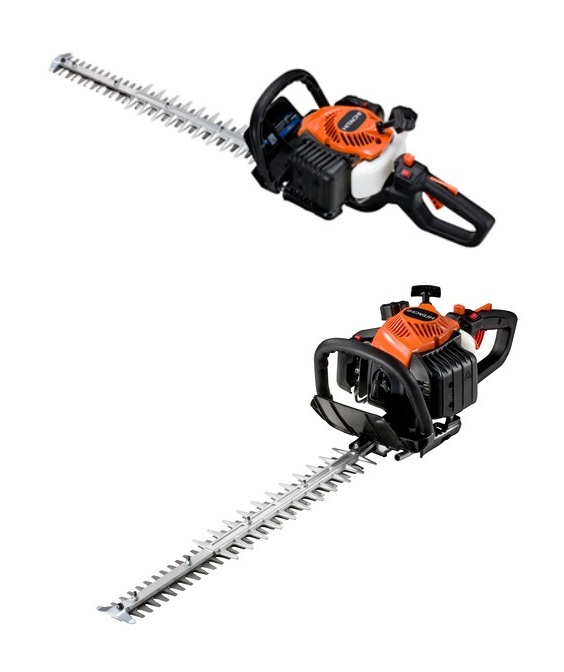 The hedge trimmer is held in two hands: one hand on the trigger handle and the other on a shield handle - to avoid injuries - which is located at the back of the blades - this handle can be swivelled.
A good grip is required to work in all positions and to work safely.
Weight of a hedge trimmer
The heavy weight category is represented by the thermal hedge trimmers with a weight ranging from 4.3 to 7 kg.
Electric hedge trimmers weigh between 2 and 6 kg and if they are on the boom, you can reach 9 kg.
Consider the weight of your hedge trimmer in your choice.
How to maintain and use your hedge trimmer
---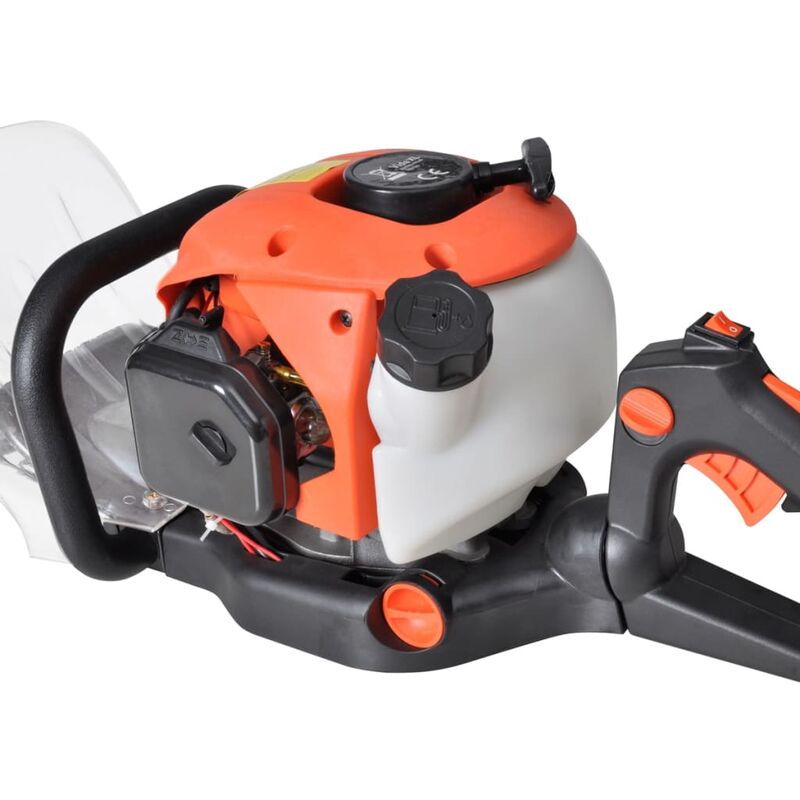 Wear protective goggles, gloves, long sleeves - some hedges itch or have thorns - and hearing protection.Also, check the quality of the blade and lubricate it. If it's a thermal hedge trimmer, take a look at the oil before you find your motor overheating. And since you're there, check that the air filter as it cleans.Hedge trimmer blades are like bike chains, they should not be washed with water and they don't work well at all if they're full of leaves and other bits.
Explore the ManoMano catalog
Hedge trimmer blades
Guide written by:
Sebastian, self-taught DIY-er, Exeter, 209 guides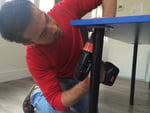 Redo a roof with wooden beams? Check.Advise Mister everybody in the DIY shop? Check.Redo the bathroom plumbing? Check.Fit together, build the walls, paint a partition, throw my hammer in a rage thinking that it will fix the problem? Check. The DIY motto ? Learning is better than delegating… well, it's also a question about your wallet! The satisfaction? The beer at the end of the job! What do the best have in common? The influence of Gyro Gearloose, Mac Gyver and Carol Smiley depending on your generation, a good dose of curiosity, a average hand-eye coordination and a taste for risks… and if it doesn't work, try again! Advise you? I'll do my best!
The products related to this guide