Hedge shears buying guide
Guide written by: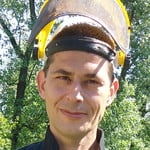 Jeremy, construction site supervisor, Cardiff
128 guides
Hedge shears are essential for trimming shrubs or tall grasses! With straight or edged blades, the shears can be equipped with telescopic handles and can even be angled! Today we'll cover hedge shears!
Important features
Handle
Straight blades
Wavy blades
What is a hedge shear?
---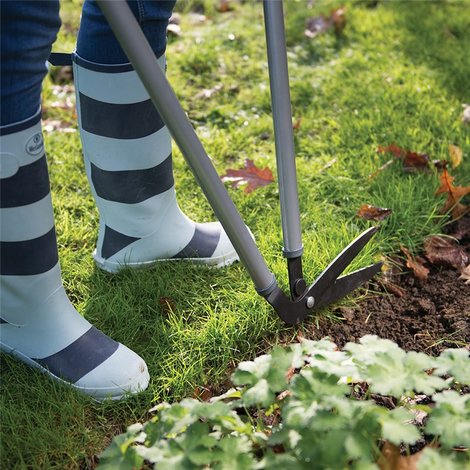 To maintain and trim your hedges, amenity trees or lawn, there is a valid alternative to using motorized tools:
the hedge shears
.
Operated with two hands and able to cut branches
under 1.5 cm in diameter
, the
hedge shears
look like a giant pair of
scissors
!
Consisting of two long blades (generally 20 to 35 cm), and long handles (fixed or telescopic), the shears are the ideal tool to shape your shrubs, prune your hedges or consistently maintain specific dimensions.
Explore the ManoMano catalogue
Scissors
What are the different types of shears?
---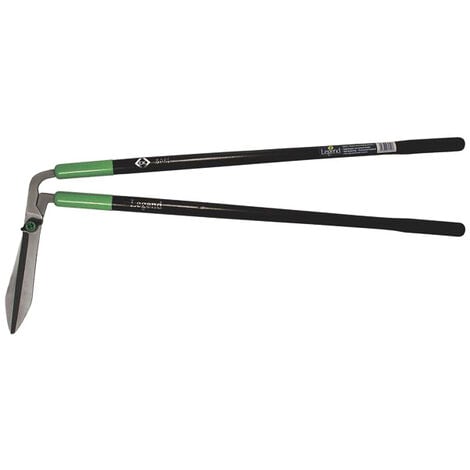 There are several types of shears. Some are
telescopic
, others
angled
, with
telescopic handles
and others still are
adjustable
! Let's focus on the two different
types of blades
, as their functional design is an important factor!
Straight blade shears
Straight blade shears
are designed more for the
cutting of grass
(at the base of trees and shrubs for example), young up-shoots and
all types of hedges or softwood shrubs
. Composed of two straight, cutting blades, this tool produces
sharp, clean cuts
. The blades's pivot can be either in the handle's axis or off-center - for cutting grass closer to the ground that is unaccessible by a
lawn mower
.
Serrated blade shears
Specially conceived to cut hard wood and irregular hedges. It has the same characteristics as the straight blade shears, only with larger blades and a cutting notch. Again, the two blades may pivot from the axis of the handles or be off-center.
Other tips on shears?
---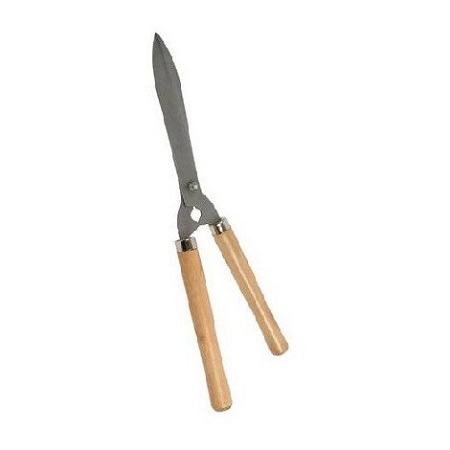 When choosing your shear, go for a model with ergonomic handles for a good grip, especially if you are planning on frequent use.
To avoid having to force when engaging in intensive trimming, select a tool with gear reduction.
Prefer a model with shock absorbing bumpers to absorb reverberations and reduce vibrations .
If needed, opt for an angled shear with its 90° blades at the end of the handle.
Finally, choose a model with
good quality blades
(carbon-steel), and if possible with a
non-stick coating
applied - especially if you have a lot of softwood to cut.
To complete your plethora of
cutting tools
, equip yourself with a
pruning pole
to reach the high branches, a
branch cutter
and a
wood chipper
to
reduce
everything you cut into woodchips.
More information
For passionate gardeners and DIY-lovers, follow the links below for gardening-related accessories, advice from our editors and more helpful guides:
Guide written by:
Jeremy, construction site supervisor, Cardiff 128 guides écrits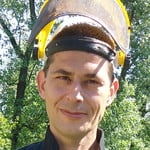 Electrician by trade, I first worked in industrial estates where I installed, wired and fixed a large number of electrical installations. After this, I managed a team of electricians for this type of work. 10 years or so ago, I turned to building and construction. From the modest family home, to gyms and theatres; I have been able to coordinate, audit and organise all sorts of construction sites.

for 4 years now, I am restaoring and bulding an extrension to a bungalow in the heart of the welsh countyside. My experience in manual work and my knowledge means I am proud to be of service. Terraces, interior design, roofing, plumbing, electricty, anything goes! We have, my wife, daughter and I, built almost everything we have from scratch! So to answer all of your questions, and to orientate and advise you on coosing your tools? Easy!
The products related to this guide