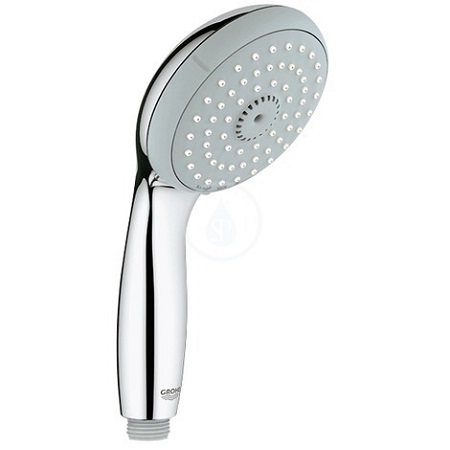 Handheld shower head buying guide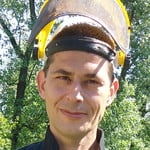 Guide written by:
Jeremy, construction site supervisor, Cardiff
128 guides
Shower heads form an essential part of any shower or bathtub. Connected to your mixer valve by a hose, shower heads offer different spray settings (massage, mist, etc.) as well as a range of design options. From water-saving models to flow regulators, follow our guide to find the right shower head for you.
Shower head essentials
---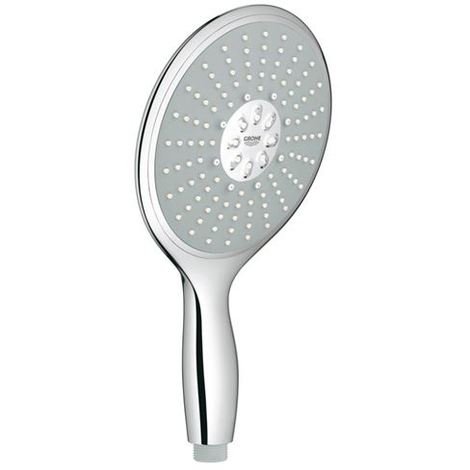 Making the most of your shower means enjoying a decent flow rate while also saving a bit of money on your water bill. Before selecting your shower head, it's important to examine the existing installation:
Check the diameter of your shower hose fittings (usually a standard diameter of 1/2");
Pay close attention to the shower head bracket. The holder can be either straight or curved;
Check that your flow rate is right for the shower head. Most shower heads will deliver between 12 and 17 litres of water per minute, which is more than enough for a comfortable shower but isn't very cost-effective. In recent years, water-saving showers heads have made their appearance on the market. These heads are a great alternative and deliver just 6 to 8 litres of water per minute, thanks to a special air system. What's more, the level of user comfort is exactly the same as with a traditional shower head.
Explore the ManoMano catalogue
Shower head bracket
Different types of handheld shower heads
Shower heads comes in all shapes and sizes and offer a range of different features right up to light-up models! Let's just say you won't run out of choice. Before selecting your product, you should consider the following characteristics:
Hose diameter
---
As mentioned, the diameter of the shower hose is generally standard (i.e. with a 1/2" thread). In the majority of cases, the shower hose has a female connector while the shower head is equipped with the corresponding male connector. They are simply screwed together and can be tightened with pliers. The hose is made water tight through the use of rubber or plastic washers on the inside of the hose. You may find that some high-end showers do feature a hose with a different fitting diameter. In these cases, the user has no choice but to purchase the matching part from the same brand, as it will be difficult to fit a standard shower head.

Material
The vast majority of shower heads are made of ABS (Acrylonitrile Butadiene Styrene) which is a very tough polymer. It can be moulded into intricate shapes, is rust-proof and very shock-resistant. Beyond these advantages, this material comes in a range of shade options including chrome-plated, coloured and transparent. The price of this material depends on the quality of the polymer. Very occasionally, you may find wooden or metal shower heads but these are becoming increasingly rare.

Flow rate
---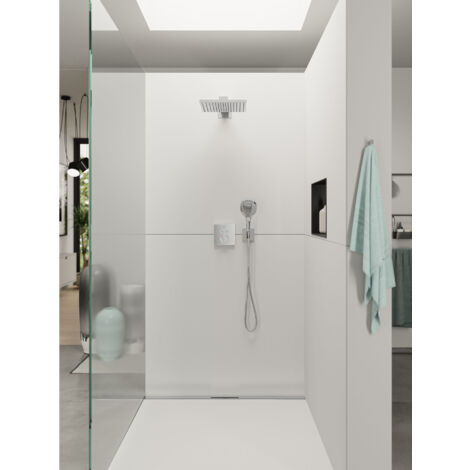 This is an essential factor that should never be overlooked! A standard shower head delivers between 12 and 17 litres of water per minute. This offers a very pleasant showering experience as the spray is powerful and wide.
However, it is also possible to find water-saving shower heads which deliver an average of 6 to 8 litres of water per minute. These shower heads use a special system that mixes the water with warm air in order to reduce water usage while offering the same level of comfort provided by a traditional spray.

Style and design
When it comes to shapes, design and colours, all tastes are covered. From round, square, or rectangular heads to even more modern designs to chrome-plating, clear or imitation wood, you are sure to find the perfect shower head for your bathroom! The most important element to look out for, however, is the type of shower bracket on the shower rail which will either be round or cone-shaped.

Spray settings

With different manufacturers battling it out to create the most creative product, a wide a variety of spray settings is now available. In addition to the standard or rainfall mode, look out for the following settings:

Aerated spray - a mix of air and water mix combine into a light and pleasant spray;
Massage spray - to tone the skin;
Pulsating spray - alternates between a massage spray and mist;
Mist spray - fine droplets are projected for a gentle, soothing sensation.
Explore the ManoMano catalogue
Rainfall
Additional shower head features
---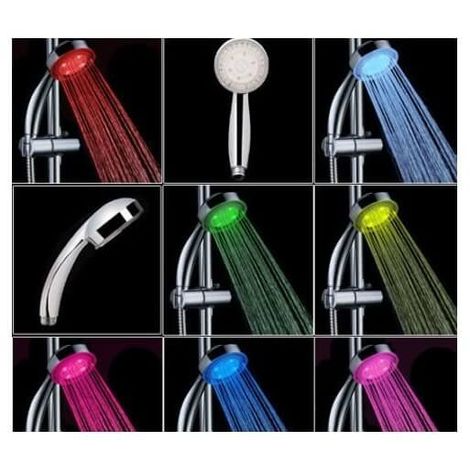 In terms of additional features, there are so many more options to choose from! Let's take a quick look at some of the shower head features available on the market today.

Flow regulator
Flow regulators limit the flow rate of your water without changing the temperature – a handy option if you already have a mixer tap in the bathtub!

Water-saving shower head
A water-saving shower head conserves water by injecting warm air into the stream and provides the same level of comfort as an ordinary shower head.

Anti-limescale shower head
These shower heads are equipped with silicone nozzles or diffusers making it impossible for limescale to set in. Highly recommended for water networks with hard water which leads to a build up of limescale.

Light up shower head
LEDs are fitted into the shower head to create your own personal light show. These lights may have a fixed colour or may alternate between multiple colours. They may also send out information; for example, the LED will turn red when the water starts to become too hot, or if your set shower time is up.

Smart shower head
Smart shower heads are becoming increasingly common. Using your smartphone, you can keep an eye on average water consumption, showering length and various other data.
More information
Follow the links below for advice on bathroom accessories and more helpful guides:
Guide written by:
Jeremy, construction site supervisor, Cardiff, 128 guides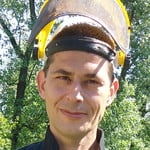 Electrician by trade, I first worked in industrial estates where I installed, wired and fixed a large number of electrical installations. After this, I managed a team of electricians for this type of work. 10 years or so ago, I turned to building and construction. From the modest family home, to gyms and theatres; I have been able to coordinate, audit and organise all sorts of construction sites. for 4 years now, I am restaoring and bulding an extrension to a bungalow in the heart of the welsh countyside. My experience in manual work and my knowledge means I am proud to be of service. Terraces, interior design, roofing, plumbing, electricty, anything goes! We have, my wife, daughter and I, built almost everything we have from scratch! So to answer all of your questions, and to orientate and advise you on coosing your tools? Easy!
The products related to this guide