Hand trimming tools buying guide
Guide written by: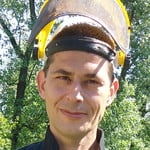 Jeremy, construction site supervisor, Cardiff
128 guides
Whether it's tree branches or hedge growth you need to trim, secateurs, branch cutters, pole pruners and shears are the tools to choose from. Ease of access will influence your choice. Depending on the type and diameter of branches, blades can be crossed or anvil-type and a ratchet mechanism will improve leverage.
Important features
Secateurs
Branch cutters
Hand-operated pole pruner
Shears
Sickle
Machete
Pruning saw
Why trim and prune plants?
---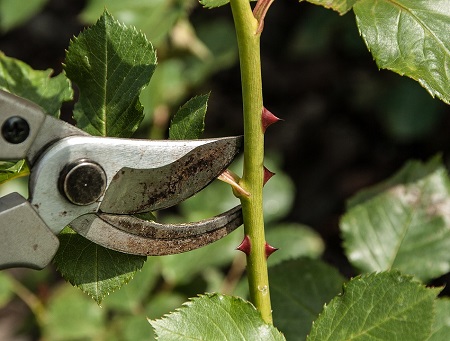 Trimming plants brings several advantages, for them as well as you. First of all, it promotes growth and flowering / fruiting. It also helps keep plants healthy by removing damaged or diseased parts. Beyond that, it lets you adapt their growth to the surrounding environment, varying forms to improve the aesthetic appearance of your garden or outside area.
Pruning is intended to relieve trees and shrubs of dead, broken or damaged branches. This also encourages regrowth, allowing trees to develop in a controlled way.
Ideally, these tasks should be carried out in the winter, when the trees and shrubs are in a vegetative state. You can also wait until early spring if conditions make winter work impossible, but it's essential you get your trimming and pruning done before the sap begins to rise, whatever the type of plant.
What are secateurs?
---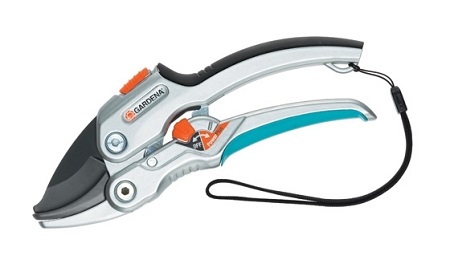 Secateurs are used to trim plants and cut branches up to 3cm in diameter. Depending on the blade type, crossed or anvil, secateurs are either intended for green and tender growth or harder dead branches.
Still keeping one hand free, ratchet
secateurs
give you increased leverage when cutting.
The most sophisticated models are battery-powered
. For frequent or intensive use, prioritize blade quality (hardened steel) and
handle comfort
.
What are branch cutters?
---
Branch cutters
will get through branches from 3–5 cm in diameter
depending on the model. Just like
secateurs
, the blades are designed to cut hard and dead wood, in which case you want "anvil" type, or
green tender growth - crossed blades
.
You can also get branch cutters with ratchet operation, their telescopic handle providing
impressive leverage
.
Explore the ManoMano catalogue
Secateurs
What's a hand-operated pole pruner?
---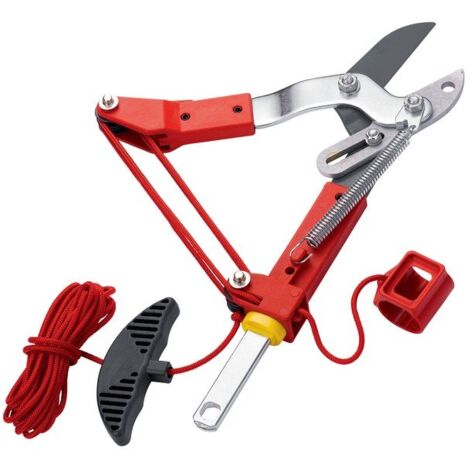 Similar to the electric version, a
hand-operated pole pruner
is essentially a branch cutter mounted on a long telescopic rod (~3m).
The blades are operated by pulling a cord
and can be crossed or anvil depending on
the type of branch
.
The
pruner
has a
saw blade
mounted on the
handle
which lets you saw through branches that are too tough to cut.
Explore the ManoMano catalogue
Pruner
What are shears?
---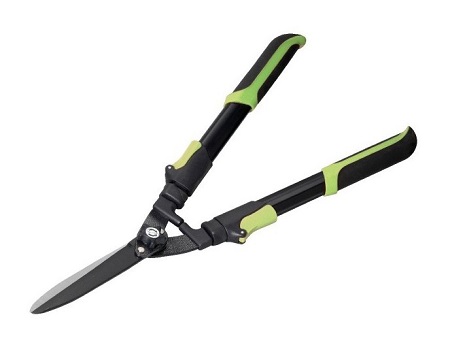 Shears
can be used to
trim unruly hedges
or even tidy up your lawn. An alternative to motorized
hedge
and
edge trimmers
, hand shears often provide
greater cutting accuracy
.
Depending on your needs, you can get
shears
with
straight or off-centre blades
(for cutting shrubs or grass) or
corrugated
blades
for more irregular hedges
.
Ergonomic handles provide better user comfort.
Explore the ManoMano catalogue
Shears
Sickles, machetes and sawing knives
Sickle
---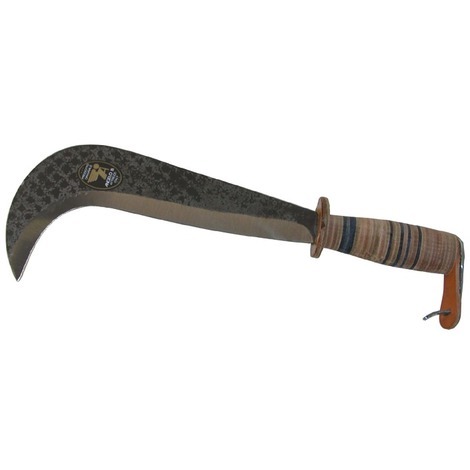 Specific to
cutting small branches
and picking flowers and fruits, the
sickle
consists of a small
curved blade
and a handle
. It comes in several sizes depending on the task. A small sickle is an essential tool for
vintners
!
Resembling a
curved knife
, a sickle is ideal for harvesting and precision cutting.
---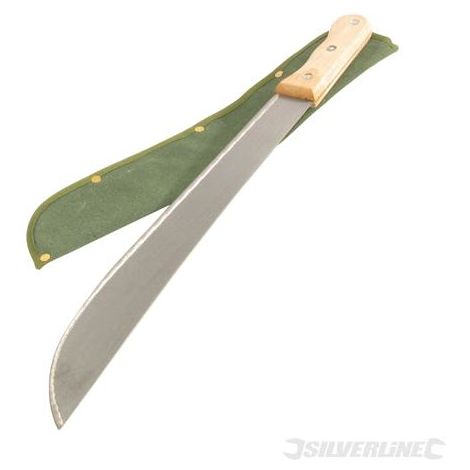 Machete
The
machete
consists of a
long, wide, flat blade
(30–60cm in length) and a handle. It's ideal for
clearing brush
and cutting plants in general. It's used in one hand and can be dangerous if handled badly.
As it's mainly intended for coarse clearing of brush, foliage and tall grass, its cutting action is quite imprecise. The machete is versatile, however, even allowing you to cut through thick branches as you would with an axe.
Pruning saw
---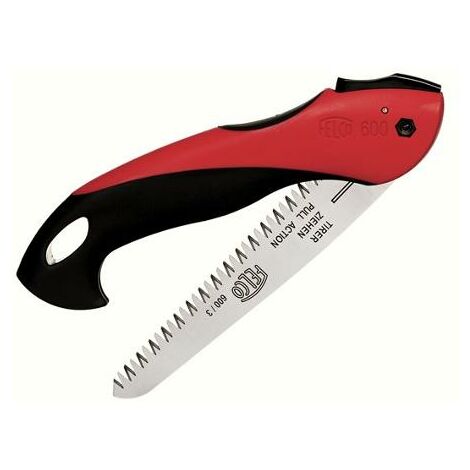 This is a saw in the general shape of a knife,
i.e. with an in-line handle
. The length of the blade varies from 15 to about 25cm. The
pruning saw
can be used with one hand to
prune small branches or dead wood
. It's best used in conjunction with other more versatile cutting tools.
Explore the ManoMano catalogue
Pruning saw
Use and maintenance instructions
---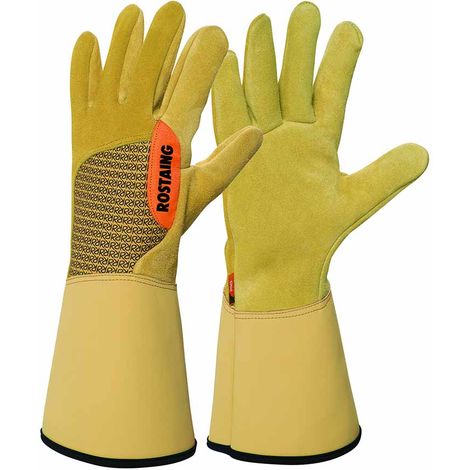 As always in the garden, especially if
using sharp tools
, safety shoes should be worn. If possible, choose ankle-high boots for extra
protection
. It's not a bad idea to keep a dedicated set of clothes for gardening.
Make sure you protect your hands with a pair of protective gloves. If you're worried about flying splinters or sawdust, get yourself a pair of goggles too.
When
cutting and pruning high branches
from ground level, a
helmet
will protect you effectively against the danger of falling branches.
After each
cutting session
, make sure you clean your tools thoroughly to avoid deterioration.
Also think about more intensive blade maintenance, especially if you cut
conifers
! And always remember to
lubricate
closing mechanisms on secateurs, shears etc - especially the more complex ratchet mechanisms.
Ideally you should
disinfect your tools
with methylated spirits after cleaning, to avoid spreading disease between plants. A
whetstone
will let you
sharpen the blades
as often as required.
Explore the ManoMano catalogue
Whetstone
Learn more about garden maintenance...
To find out more about garden maintenance, follow our editors' advice and check out their other guides:
How to choose your protective gloves?
How to choose your protective eyewear?
How to choose your gardener's clothes?
How to choose your safety shoes?
Guide written by:
Jeremy, construction site supervisor, Cardiff 128 guides écrits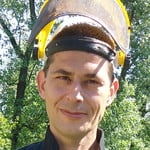 Electrician by trade, I first worked in industrial estates where I installed, wired and fixed a large number of electrical installations. After this, I managed a team of electricians for this type of work. 10 years or so ago, I turned to building and construction. From the modest family home, to gyms and theatres; I have been able to coordinate, audit and organise all sorts of construction sites.

for 4 years now, I am restaoring and bulding an extrension to a bungalow in the heart of the welsh countyside. My experience in manual work and my knowledge means I am proud to be of service. Terraces, interior design, roofing, plumbing, electricty, anything goes! We have, my wife, daughter and I, built almost everything we have from scratch! So to answer all of your questions, and to orientate and advise you on coosing your tools? Easy!
The products related to this guide