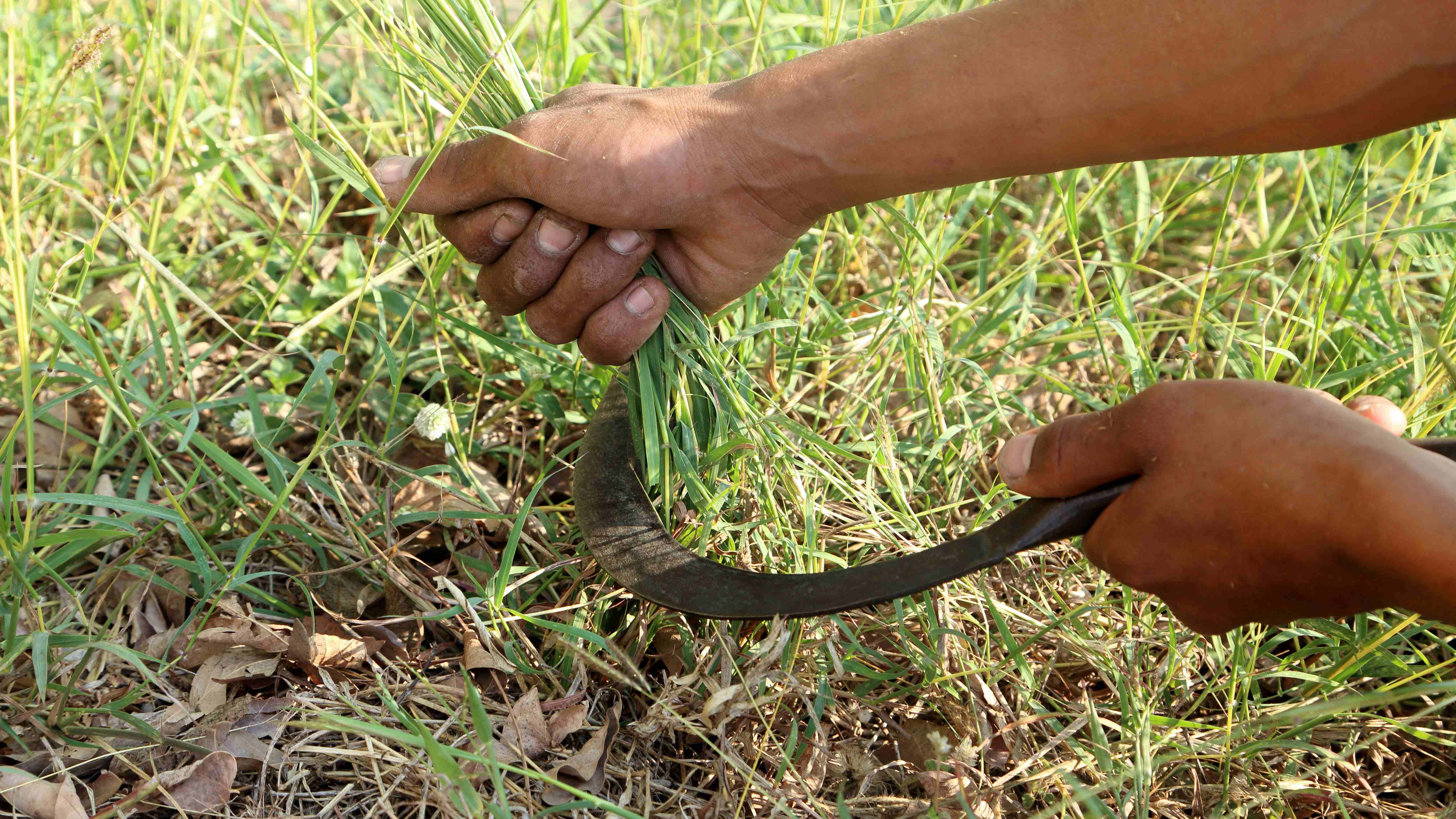 Hand tools for trimming and mowing buying guide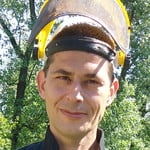 Guide written by:
Jeremy, construction site supervisor, Cardiff
134 guides
Tall grasses, brambles or brush taken over your garden? Looking for a simple and sensitive solution? Scythes, sickles and hand mowers are very effective, but it can be a thorny question which to choose! Brush up on your tool knowledge right here with our handy buying guide!
Scything: an effective solution?
---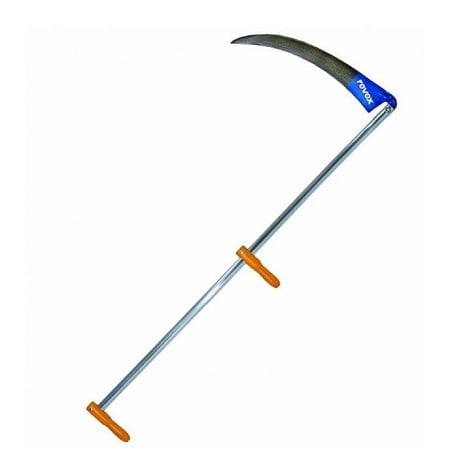 A scythe is the idealhand tool for tall grasses and small brush! It consists of a long blade, typically 60-90cm, mounted perpendicular to a handle of length 140-180cm.
Two handgrips (one midway down the main handle and the other at the far end from the blade) allow you to make the swinging movement characteristic of this tool. It does take a bit of getting used to before you master the technique to make quick and efficient scythe sweeps.
When used upright, the scythe can cover large areas of land. The only downside is that you need to regularly sharpen the blade to get the benefit of the full cutting edge (especially if used on tough vegetation such as brush).
Explore the ManoMano catalog
Scythe
And what about the sickle?
---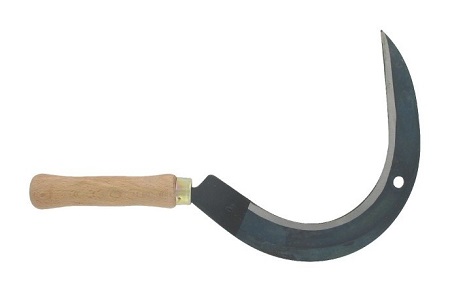 The sickle is like a little sister to the scythe. Consisting of a short handle and a small curved blade, it lets you cut vegetation even where the scythe cannot go.It's used in one hand, making it perfect for tight spaces, small areas or for clearing flowerbeds and borders.
Although less efficient in its own right, the sickle is perfect for finishing and fine-tuning after scything. Its keen blade also needs regular sharpening to maintain its effectiveness.
What's the best solution for my lawn?
---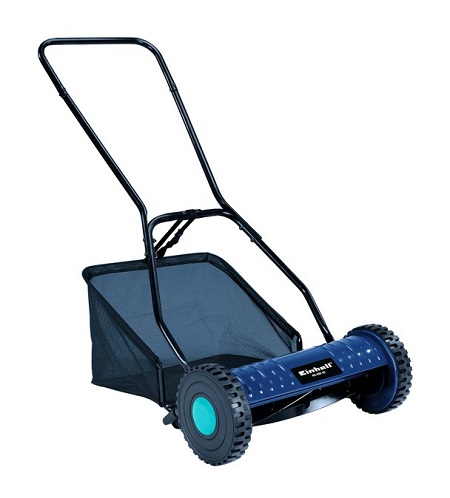 Arguably the most economical and environmentally sound way to look after your lawn is with a hand mower. No fuel to burn, no engine maintenance or extension flexes, and absolutely zero noise! Consisting of a roller carrying the mower blades (typical width 40-60cm), mounted on a chassis with a handlebar at the back, hand mowers are very simple to use: you just push.Just as on mechanical models, cutting height is adjustable (often between 2 and 10cm).Very limitedmaintenance (just rinsing blades after mowing and occasional lubrication of the mechanical transmission) makes the hand mower the ideal solution for small lawn areas (< 500m2).In general, grass cuttings are ejected towards the front; however, some recent models have a basket to collect them - perfect for filling your composter!If used regularly (once or twice a week in high season), a hand mower offers very similar performance to a mechanical mower. You do have to push it along all by yourself though!...
Explore the ManoMano catalog
Hand mower
Any final words of advice?
As always when gardening, especially if using sharp cutting tools, get yourself some safety shoes (if possible ankle-high) offering good protection for your feet!
Also think about protecting your hands with a pair of gloves. If you're worried about flying debris when using your scythe or mower, it's not a bad idea to wear a pair of safety goggles into the bargain.
Guide written by:
Jeremy, construction site supervisor, Cardiff, 134 guides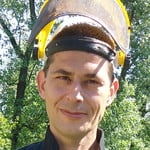 Electrician by trade, I first worked in industrial estates where I installed, wired and fixed a large number of electrical installations. After this, I managed a team of electricians for this type of work. 10 years or so ago, I turned to building and construction. From the modest family home, to gyms and theatres; I have been able to coordinate, audit and organise all sorts of construction sites. for 4 years now, I am restaoring and bulding an extrension to a bungalow in the heart of the welsh countyside. My experience in manual work and my knowledge means I am proud to be of service. Terraces, interior design, roofing, plumbing, electricty, anything goes! We have, my wife, daughter and I, built almost everything we have from scratch! So to answer all of your questions, and to orientate and advise you on coosing your tools? Easy!
The products related to this guide