Hand tools for sawing and decorating wood buying guide
Guide written by: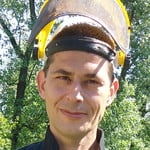 Jeremy, construction site supervisor, Cardiff
128 guides
You can't cut and shape wood with your bare hands. Axes, hatchets and cutting blocks are all very useful if you haven't got access to a log splitter! Trestles, log saws and chainsaws are also handy for cutting oak and fir logs down to size for your fireplace.
Important features
Hooks and clamps
Trestle
Axe
Hatchet
Cutting block
Log splitter
Saw
What kind of tools can you get for manipulating wood?
---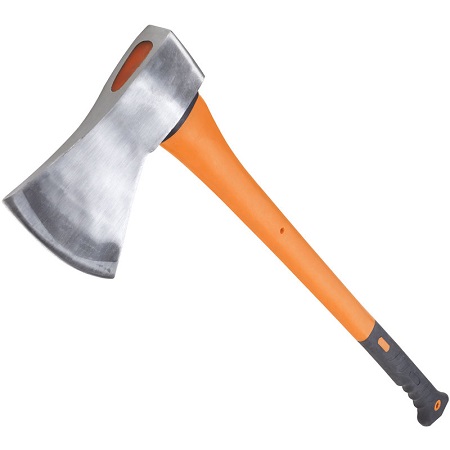 Chopping, sawing or even just handling wood can be dangerous. It's therefore very important that your workspace be tidy and free of clutter. You must also do everything you can to protect your back while working with logs. Besides the traditional gloves, goggles and safety shoes essential when working with wood, here are some useful accessories to help you:
Hooks or log clamps: great for saving time when handling wood, log hooks or clamps also protect your fingers and hands against crushing. Very simple in design, they consist of one or more claws (one on hooks, two on clamps) and a handle. They make it easy for you to move your logs between cutting or storage areas. Hooks are embedded directly in the wood. Clamps are articulated so as to grip the log, tightening under its weight when lifted. If you're considering getting some log clamps, make sure you choose a model that can open wide enough to grip the logs you're planning to work with. With either hooks or clamps, choose a model with sturdy, comfortable handle and a load capacity appropriate to your logs.
Log trestle: nothing is more dangerous than working on an unstable log or piece of wood. When sawing and chopping wood, either manually or mechanically, always secure it on a trestle. This holds it in a horizontal position, preventing it from rolling or sliding. Log trestles can be made of wood or metal. For safety, choose a trestle with gripping claws, suited to the size of logs you're used to working with.
Explore the ManoMano catalogue
Trestle
What tools are good for splitting wood?
---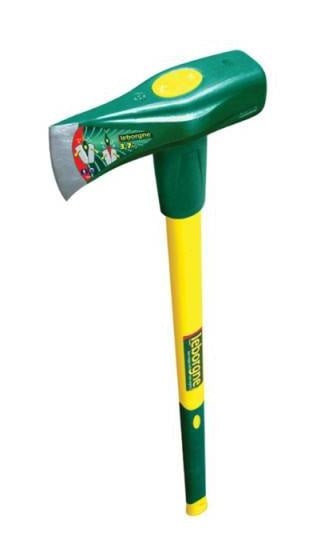 Once it's chopped into logs, you'll need to split your wood. Several options are available if you don't have a mechanical log splitter:
Axe: be the Canadian backwoodsman you've always wanted to be! Only recommended for small quantities of wood (soft and dry). Set the log up vertically on a cutting block, one good axe blow and it splits. However, you need to master the technique - which can be dangerous if you're not used to it. We're talking here about splitting axes, where the blade is both sharpened to penetrate into the wood, but also flared so as to push apart the split halves. If you want to split small-diameter logs, choose a small model known as a hatchet (length of head + handle <50cm, weight <2kg); or a full-length model for everything else (length of head + handle 70-80cm, weight >2kg). Preferably, choose an axe where the head can't be removed.
"Merlin": the classic manual log splitter! A tool designed especially to split logs, if well controlled it can be incredibly efficient. Resembling a simple axe, the merlin combines two tools in one: a mallet and an axe. The mallet side handles pieces, while the axe side splits logs. The weight depends on the section of logs you want to split, varying between about 2.5 and 4kg. The merlin is generally 90cm long, providing a powerful striking forcing when used either as a mallet or an axe. In terms of the handle, the best option is composite, combining robustness and suppleness. Wooden handles require some experience because they can crack or break if poorly handled. In any case, choose a model with an undetachable head.
Log splitting wedges: used alongside a merlin, or indeed mallet, these can be helpful for splitting stubborn logs. Choose splitting wedges, designed especially to split logs lengthways (not to be confused with felling wedges - reserved as their name suggests for felling trees). Generally made of hardened steel, you can get various different types of wedges:
Flat-toe straight wedge: the simplest type, adaptable to all types of wood and shapes of logs (weight 2.5-3kg)
Straight wedge with pointed toe: easier to position than flat-toe wedges, they also penetrate more easily into the wood (weight 1-3kg)
Helical corners: the top of the range for splitting wood! Their shape is well suited to lengthways splitting (weight 2-2.5kg)
Mallet: used to strike and drive splitting wedges. The perfect complement to an axe if you don't have a merlin. To drive your wedges in thoroughly, look for a robust mallet 90cm in length and weighing 3-4kg. The head should ideally have rounded corners (to minimize chips) and a composite handle (durable yet supple).
Manual splitter: an alternative to the merlin, axe and splitting wedges. Useful for splitting small quantities of dry wood. Manual splitters are very easy to use, requiring minimal effort (if the wood is dry) and is much less hazardous than other more traditional tools. Consisting of a handle with a wedge at the end (which digs into the log) and a sliding part fitted with a flyweight, it is a relatively simple tool. Once the wedge is planted, you just move the sliding part up and down and the weight will split the log. You work upright, without risk to your legs, feet or hands, and with a minimum of chips. However, manual splitting is only advisable on hard, dry wood of small section (maximum 30cm diameter) and limited length (maximum 50cm). For larger cross-sections or lengths of wood, you'll need to look to another solution.
Explore the ManoMano catalogue
Manual splitters
What tools can I get for sawing wood?
---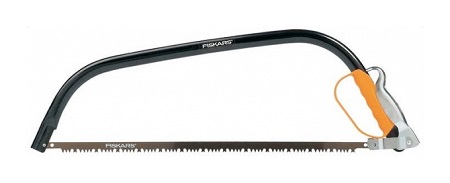 Manual, petrol or electric, you've got several different options!
Manual log saw: also referred to as a "bow saw" or "garden saw", this hand tool has a steel spine and a blade with large teeth. Available in a range of sizes (50-70cm), log saws are particularly effective at cutting wood of small diameters. Don't try taking on a 20cm behemoth, or you'll risk losing your arm!
Petrol or electric log saw: relatively simple in design, both these types of log saws work in essentially the same way. An electric or petrol-driven motor powers a circular blade of varying diameter (usually 40-70cm). Logs and sections of timber are placed on a trestle with an adjustable stop corresponding to the desired length of cut.
Petrol or electric chainsaw: whatever type of chainsaw, the operating principle is the same. A motor drives a chain equipped with teeth around a support known as the chain guide. The "all-purpose" chainsaw (guide < 45cm) is good for general uses, such as cutting wood, removing branches and cutting down small bushes. These saws are used two-handed and must be handled with caution, especially the larger models (power > 2500W).
Final advice (and the importance of protective gear)
As we've already said, it's important to work in a clean, tidy area without trip or slip hazards. If you're sawing timber, support it in a stable manner (e.g. with trestles).
Get yourself some strong shoes, if possible ankle-high, and protective gloves.
Protect your eyes from flying splinters, with a visor or a pair of safety goggles.
Also think about protecting your back, a
support belt
is a good idea when working with wood.
Explore the ManoMano catalogue
Support belt
Learn more about garden tools...
To find out more about garden tools, follow our editors' advice and check out their other guides:
Guide written by:
Jeremy, construction site supervisor, Cardiff 128 guides écrits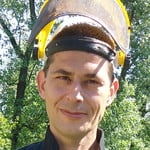 Electrician by trade, I first worked in industrial estates where I installed, wired and fixed a large number of electrical installations. After this, I managed a team of electricians for this type of work. 10 years or so ago, I turned to building and construction. From the modest family home, to gyms and theatres; I have been able to coordinate, audit and organise all sorts of construction sites.

for 4 years now, I am restaoring and bulding an extrension to a bungalow in the heart of the welsh countyside. My experience in manual work and my knowledge means I am proud to be of service. Terraces, interior design, roofing, plumbing, electricty, anything goes! We have, my wife, daughter and I, built almost everything we have from scratch! So to answer all of your questions, and to orientate and advise you on coosing your tools? Easy!
The products related to this guide