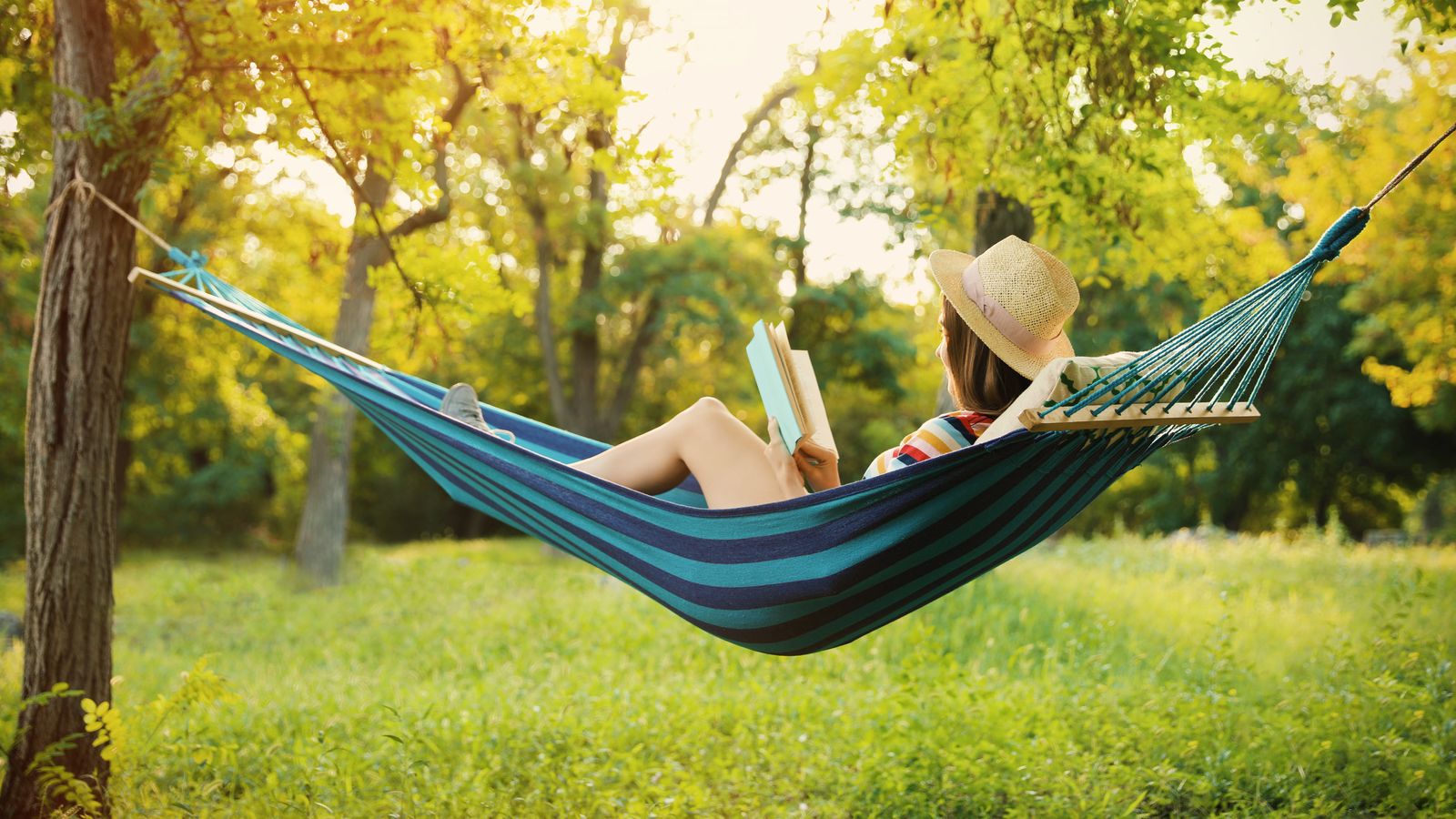 Hammock buying guide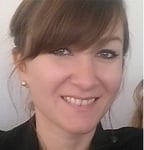 Guide written by:
Crystal, Owner of a small gardening business, Oxford
51 guides
Hammocks are ideal for kicking back and relaxing whether you're looking for a cotton freestanding hammock or a nylon travel hammock to tuck away in a pouch. From decorative models equipped with spreader bars to hanging chairs, hammocks come in all shapes and sizes. Read on to find the perfect hammock for you!
How to choose the right hammock
---
Want a hammock that is easy to use and take care of? Go for a machine-washable fabric hammock. These hammocks are great for snuggling up or even hiding away from the wind and cold! Looking for a more decorative hammock? The perfect option for you will be a hammock fitted with spreader bars to stop the fabric from bunching up. But watch out – these hammocks can be a little unstable!
Live in a warmer part of the world and want a traditional-style hammock in a breathable material? Opt for a rope hammock. While perhaps not the most attractive option, these hammocks are stretchy and much more comfortable than you might think!
Are you a bit of an adventurer? Pick a travel hammock made from parachute silk. Lightweight and easy to store away in a pouch, you'll be able to bring your hammock wherever you go!
Finally, if you prefer to sit upright, a chair hammock is the best option for you. Designed to wrap around you like a cocoon, these hammocks are perfect for reading.
Bear in mind that the taller you are, the wider your hammock must be as you may find yourself having to lie diagonally rather than lengthways. It's worth noting that this won't be possible in a hammock with spreader bars. It's also possible to find hammocks designed for two but be sure to check the maximum weight the hammock can support before use.
Hammocks can be installed in the traditional way with ropes tied around tree trunks. If you aren't lucky enough to have trees in your garden, you can choose a free-standing frame which will allow you to set up your hammock wherever you want, whether that be on the balcony or on the deck.
Picking a hammock material
Hammocks come in all sorts of different ropes and fabrics. The strength and care requirements of a hammock will depend on the material you choose.
Cotton hammocks
---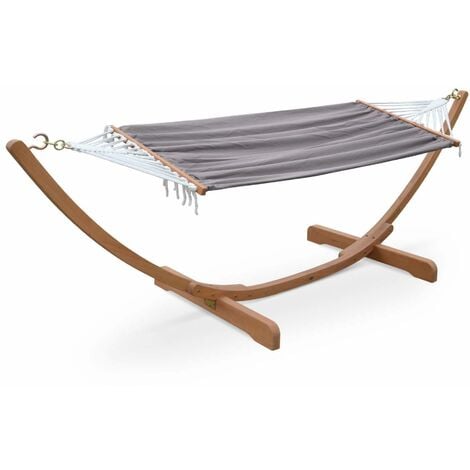 Cotton is the most commonly used material for fabric hammocks and is also used to make some rope hammocks. Look out for certified organic cotton if at all possible.
Soft to the touch, breathable and absorbent, cotton hammocks are very durable. They also come in a range of colours and are easy to clean. However, cotton does not deal well with water and takes time to dry out after the rain. It can also lose its colour over time if the material has not been UV-treated.
Nylon hammocks
---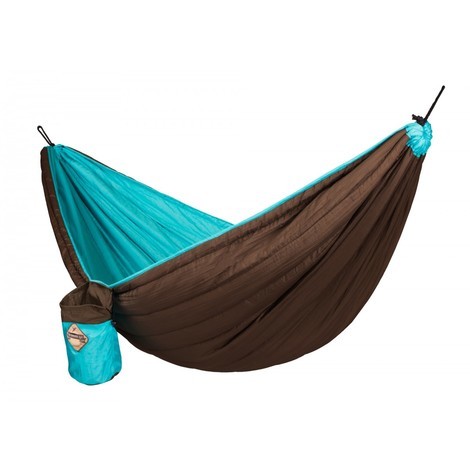 Nylon is used to make most travel hammocks and virtually all 'parachute silk' hammocks are made of this material. But nylon can also be used to make rope hammocks. This synthetic material is flexible, lightweight and very thin, meaning it takes up little room when stored away. It's also strong, soft to the touch and breathable. It isn't very absorbent meaning it dries out very quickly.
Polyester hammocks
---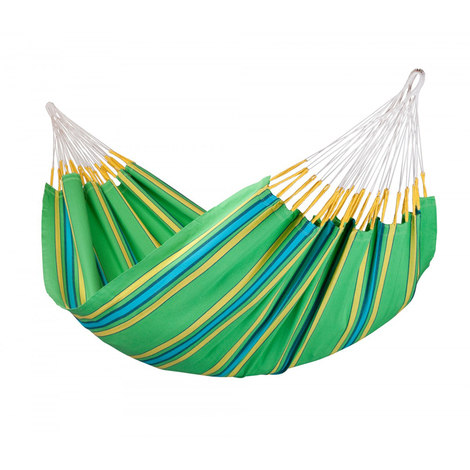 Polyester is another synthetic material but tends to be a bit stretchier than nylon. It also copes well with moisture and UV rays making it the ideal material if you want to leave you hammock outdoors all summer.
Some hammocks are made from a blend of polyester and cotton and combine the advantages of both materials.
Hammock sizes and weight limits
---
Hammock sizes
Single-person hammocks range from 100 to 140 cm in width whereas double hammocks can reach up to 190 cm in width. Ideal for two, these models are also perfect if you measure over 6 foot as they allow you to stretch out diagonally. You can also find extra-large family-sized hammocks.
Hammock chairs are generally made of fabric measuring 100 to 160 cm in length. Smaller models allow you to sit upright with your legs dangling. Larger models start at around 140 cm and offer better support for your back and head. Finally, if you go for a hammock chair stretching over 160 cm, you may even be able to curl up on it!
Weight limits
Hammocks are generally designed to withstand loads of 80 kg though this depends on their size and material. In fact, some family-sized models can cope with loads of up to 250 kg. But be careful – load limits typically refer to static weight and your hammock is likely to buckle if you throw yourself on it!
Explore the ManoMano catalog
Hammocks
Hanging vs. stand-mounted hammocks
When it comes to choosing between a hanging hammock or one on a stand, you need to think of your installation set-up.
Classic hammocks can be fitted between two trees but the ropes need to be fixed at the same height on both sides. Chair hammocks can be hung from a branch, a pergola (with the use of fixing plugs and carabiner clips) or from a beam (for indoor use).
If you do not have a suitable fixing point, you can go for a freestanding model fitted to a wooden or metal stand.
Caring for your hammock
---
Most hammocks can be machine-washed on a cold wash or at a maximum temperature of 30°C. If this isn't possible – for example, if your hammock has spreader bars – you can wash stains off by hand using a mild cleaning product. You can then hang up the hammock outdoors to dry naturally without getting creased.
It is also a good idea to store your hammock in a dry place overnight and during winter.
Hammock accessories
Mosquito nets
---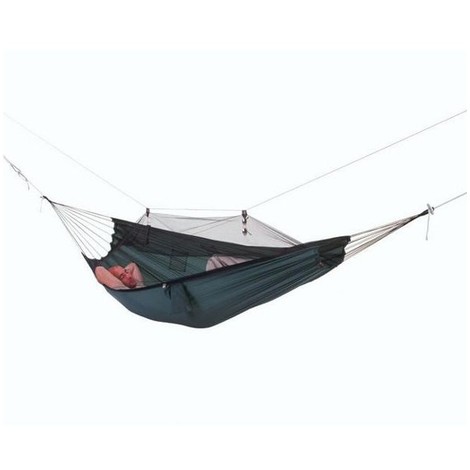 If you want your hammock to protect you from insects, you can fit it with a mosquito net. These nets may even be coated with a special repellent product for protection against mosquitos, spiders and so on.
Hammock shelters
---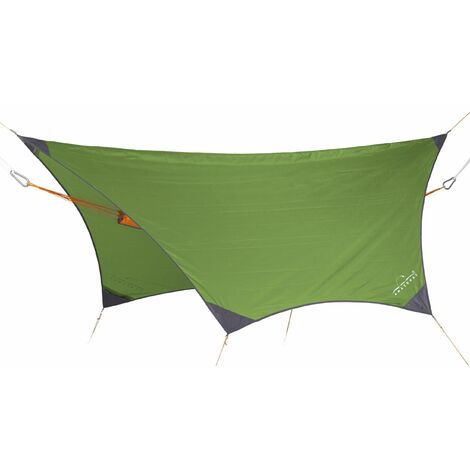 Hammock shelters are basically large pieces of fabric designed to hang over hammocks to form a roof. This is a great option for sheltering from the rain while camping.
Guide written by:
Crystal, Owner of a small gardening business, Oxford, 51 guides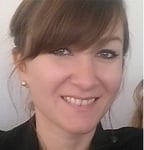 From a background in waste transportation, I became a farmer specializing in organic market gardening. A graduate of a professional baccalaureate in Agronomy and Horticultural Production, I tried for several years as a young farmer to settle in the beautiful region of Oxford.   After many disappointments, I finally started a small-business in home services, specifically in gardening, assisted by my loving, dear husband. Passionate about nature and wild edible plants, I am very attentive to ecological solutions and respectful of our environment in all aspects of my daily life.   From the vegetable garden to the flower beds, from seed to harvest, I have all kinds of advice up my sleeve. Do not hesitate to ask me your questions.
The products related to this guide