Hammock and swing buying guide
Guide written by: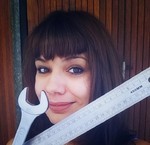 Jennifer, Self-taught DIY enthusiast, Manchester
11 guides
Ideal for relaxing in the garden or on the balcony, hammocks can be hung, mounted on a stand or may take the form of a hammock chair. Garden swings are also great for a downtime, are more comfortable and come in, wrought iron or resin.
Important features
Structure material
Fabric type
Number of seats
Hammock or swing type
Material performance and quality
Hammock vs. swing: comparing comfort
Garden swings
---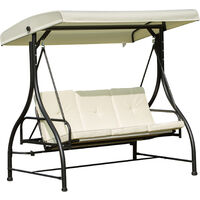 Garden swings
are
perfect for a spot of relaxation on a summer's day
. Used in an upright or reclined position, they can seat up to four people, meaning you can catch up with friends while you swing!
Equipped with cushions for comfort and boasting a
solid structure
made from
wood
,
wrought iron
,
resin
or
powder-coated steel
, garden swings may also feature an
adjustable canopy roof
to protect you from the sun. The quality and properties of individual fabric types will differ from one swing to the next, as will the comfort of the seat, backrest and cushions.
One-seater swing seats
are also available and these are known as
swing chairs
. The same guidelines will apply with regards to comfort and quality.
Hammocks
---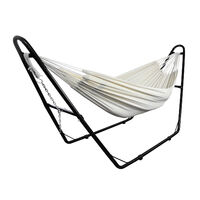 Made up of fabric or rope,
hammocks
can be
hung between two trees or suspended from a stand made of wood or metal. In the latter case, they are called free-standing hammocks
or, more commonly,
hammocks with stands
. The structure material will often be referred to in the product name (hammock with a metal stand, hammock with a wooden stand, etc.).
There are various hammock sizes available right up to
extra-large models designed for several people
to use at once. Just like swings, hammocks can also be designed for
individual use
, and these are generally called
chair hammocks
.
Hammocks are, however, typically used by one person lying down. The quality of a hammock, along with the level of comfort it offers, will be determined by the
quality of its fabric and its size
. It's worth remembering that hammocks are ultimately designed for taking naps!
Hammocks and swings should also be chosen to match the
garden furniture
you already have. An additional piece of garden apparatus,
you should make sure the style, colour and material of your hammock or swing coordinate
with items such as
garden lounge sets
,
shade sails
or
gazebos
.
Explore the ManoMano catalogue
Garden swings
Swing features
Swing structure or framework
Swing structures come in a variety of materials (metal, wood or resin) and should be selected with the rest of your garden furniture in mind. Each material has its strengths and weaknesses, particularly with regards to performance and wear over time.
Wooden swings do require some upkeep. Swings made of teak wood, for example, should be treated with oil (exotic woods tends to grey otherwise);
Most commonly made of powder-coated steel, metal swings do not require any maintenance. However, you should be careful not to scratch the surface as this can compromise the material's anti-rust protection;
Resin garden swings are lighter and more modern in style. However, this material tends to fade over time.
Number of seats and swing set-up
Garden swings have evolved in recent years from the traditional three-seater swing to a variety of options. You can now buy individual or two-seater canopy swings and even semi-reclining double or single chair swings.
Cushions
Some swings come with built-in seat cushions while others do not (giving you the option to choose your own colour). Make sure to choose waterproof cushions with detachable covers.
Canopy covers
Swing canopies also come in a variety of materials which provide different levels of protection. Resin swings usually feature resin roofs that let in some light. In contrast, textilene and polyester canopies offer good resistance to UV rays and water. The weight of these materials (measure in grams per metre square) will determine the quality of the fabric, its degree of water-tightness and its durability; the higher the gr/m², the better the quality. Opt for a water-repellent material for water to run off rather than penetrate.
Seat
Just like hammocks, swings can seat between one and four people. Some can even be converted into reclining beds – ideal for taking a post-lunch nap! The seat material may also vary and can be made up of synthetic materials like nylon, a steel framework or wooden slats.
Explore the ManoMano catalogue
Cushions
Hammock features
Types of hammock
You will also notice a range of different hammock types. Make your choice according to your preferences and where the hammock will be installed.
hammock chairs are mainly used for reading while sitting upright;
Hanging hammocks will require two trees or posts for installation;
Free-standing hammocks, or hammocks with stands, are self-supported;
A spreader bar can be used to create a tauter fabric for both hammocks and hammocks with stands.
Hammock fabric
There are three common material types:
cotton comes in all kinds of colours and patterns. It is weather-resistant and can be used to brighten up your garden;
parachute silk is very strong but tends to come in more garish colours. Nevertheless, this nylon material can be brought anywhere, making it ideal for adventurers!
woven netting is traditionally used for 'authentic' hammocks. These woven nets are usually made of cotton or a cotton-polyester blend. The size of the weave will depend of the size of the hammock.
When it comes to cleaning, your fabric can be hand-washed or put it in the washing machine. You just need to remove any metal or wooden parts and choose the right temperature and setting for the material type.
Hammock sizes
---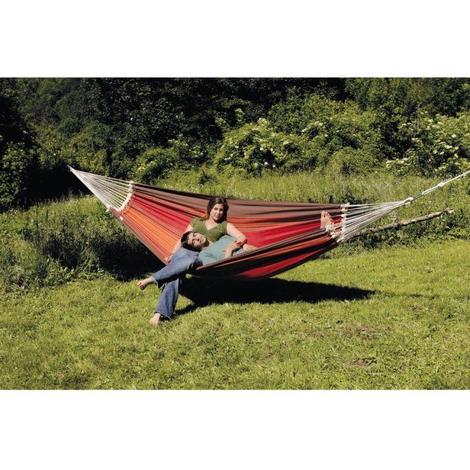 Hammocks come in a number of sizes and can be used by one or several people. There are three types of hammock:
Extra-large hammocks can withstand weights of up to 250 kg (which roughly translates to two adults and two children). The length of these hammocks will usually be around 2.5 metres, so you can really stretch out in any direction!
Two-person hammocks are ideal for snuggling up. As big as a double bed, you'll soon be coming back for more!
One-seater hammocks are traditional models that are perfect for solo nappers.
Chair hammocks are individual hammocks featuring one upright seat. These hanging models can be made from ropes or fabric.
Hammock stands are usually sold separately.
Explore the ManoMano catalogue
Hammock stands
Installing hammocks and swings
While hammocks have to be fixed to something, swing structures don't always feature set points for attachment. In fact, this tends to be quite rare – wooden swings are usually the only models to offer anchor points.
Installing a hammock
---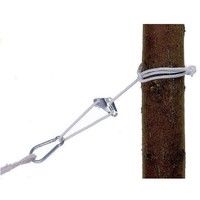 In theory, your hammock will be supplied with a
kit with everything you need to install it, such as ropes, hooks or carabiners
. You can also get detachable
hanging kits
for moving the hammock around. The
number of
end strings
a hammock features should be noted in the product specifications. These strings are made of
cotton
or
nylon
rope which hold up the length of the hammock in a
ring knot
. The more end strings there are, the sturdier the hammock will be. This does, however, vary widely from hammock to hammock. Individual parts can also be easily sourced if you do not want to buy a full kit. As such, you can
replace a frayed rope or broken carabiner
or simply change the position of your hammock (whether it be attached between trees, fixed to walls or installed on a stand).
Installing a swing
---
While fixings will usually be provided to attach the feet of stands – and swings will generally be installed into concrete – make sure you use the right
Rawl plugs
for full support. If the
swing is installed on a wooden deck
, go for stainless steel wood
screws
.
If no fasteners have been provided and you live in a particularly windy area, feel free to
attach your swing to the ground using
brackets
or any other type of fixing
.
Explore the ManoMano catalogue
brackets
Swing and hammock accessories
---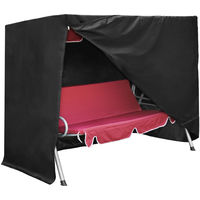 You can choose from a
number of accessories designed to enhance the comfort
of your garden swing or hammock, as well as to
protect them from the winter elements
.
extra cushions

;

a footrest for swings.
Swings and hammocks also come in versions designed for indoor use or even for babies. Your little ones will love playing on a hammock that has been specially designed for children or babies. This is an option well worth considering as your family grows! For ultimate comfort, you can have a swish or two!
Check out our other guides:
swish">

Explore the ManoMano catalogue

swish
Guide written by:
Jennifer, Self-taught DIY enthusiast, Manchester 11 guides écrits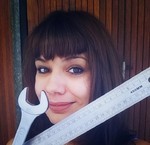 I didn't receive any special training, I learned everything on the job as it came up. And what a joy it is to be able to do little jobs around the house that we love so much.

That is, until the moment we decided to move and had to do everything; from the floor to the ceiling, from the kitchen to the bathroom...In short, you become as good as a pros. So today, my friends don't hesitate to call me when they need help. And when you dip your toe in, there's no turning back. It's a true passion that drives us to take on the challenges, to have an idea in mind and see it come alive with just a few tools. And a passion is even better when you can share it. So, whenever I can give you a little advice, it's with great pleasure that I do it.
The products related to this guide