Hammer drill accessories buying guide
Guide written by: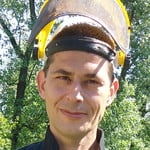 Jeremy, construction site supervisor, Cardiff
118 guides
A hammer drill complete with concrete bits, flat and pointed chisels, spikes and gouges will fulfil all your drilling and masonry work needs. An SDS chuck (SDS+ or SDS Max) lets you change your bit in one click. You can even drill wood using your hammer drill in rotation mode and the appropriate bit.
Important features
Masonry bit
Wood bit
Chisel
Drill bit tip
Hammer drills: why do they need specific attachments?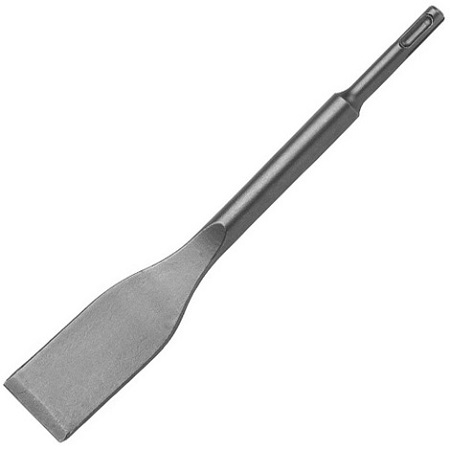 As always, to work efficiently and safely, you need to be equipped with the right tools.
The same goes for a
hammer drill
. These power tools are designed to take all kinds of
drills
, bits and
chisels
to tackle different drilling and punching tasks.
Hammer drills can pierce wood, concrete and stone as well as
drilling tiles
and breaking brick, breezeblocks etc...
With an
SDS chuck
, either
SDS+
or
SDS Max
type, the drill bits and chisels have a hollow base for more rapid attachment. So you can switch from
demolition
to
drilling
with a single click!
How to choose your drill bits?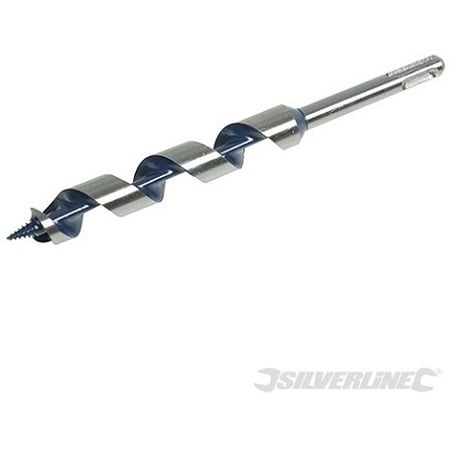 Some
hammer drills
offer several different settings, including a simple
rotation mode
. This allows you to
work without percussion
, just like a standard
drill
; very useful for
drilling wood
!
Wood bits for hammer drills
are long and large in diameter. Whereas conventional
drill bits
are limited to around 13mm in diameter and 15cm in length,
hammer drill bits
can easily reach
25mm in diameter
and
45cm in length
.
For efficient, precise drilling, choose bits with a centring point - otherwise you'll always have to pre-drill your holes.
In terms of material, go for hardened steel bits with a high carbon content, since they offer a superior product lifetime and wear less.
Whether you're using a standard
chuck
or an SDS chuck, you'll find a wide range of bits to suit your needs.
Hammer drills: how to choose your concrete bits?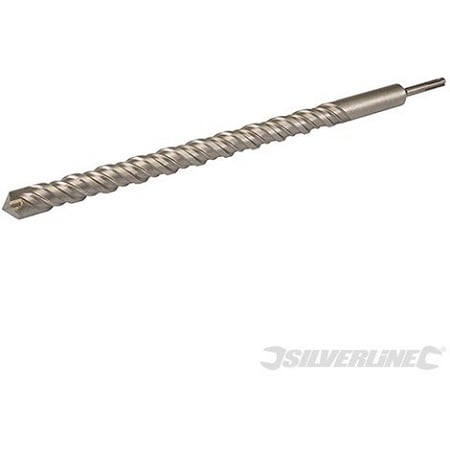 There's no tool like the hammer drill for
drilling walls
! It can penetrate hard materials from
concrete and
breezeblock
to
stone
and brick
.
A wide range of
bit diameters
are available (from 5mm to over 52mm), at varying lengths - from 10cm up to a stonking 1m!
Drill bits
vary, but are often modelled after the high-quality drill manufacturers. They can have
two to five cutting edges
- three or more are advisable for good penetration into most masonry.
If your hammer drill has an SDS+ chuck (the most common type), you'll have a more limited choice of 30mm concrete bits.
When
choosing your concrete drill bits
, make sure to include some small diameters as you'll need to drill
pilot holes
(6 to 8mm). Then choose whatever sizes are most appropriate for your work; also consider the length of bits you require. Assume that you'll need at least 25cm to drill through standard walls.
Tungsten carbide tipped bits give optimum bite in masonry for very limited wear. If you've got the choice, choose drill bits with a double thread; this makes the drilling easier by improving the extraction of waste material and hence the penetration rate of the drill bit.



Hammer drills: how to choose your demolition chisels?
First of all, your drill will need to have a designated chisel mode since this type of work requires percussion.
Flat chisels: consisting of a shank and a flat head, these are used to break through unreinforced concrete and other less robust building materials. Flat chisels are also useful for making breaches, separating stones or bricks, and cleaning up formwork. You can get chisels of varying lengths (25cm is quite versatile) and different head widths (from 20mm to over 100mm). The larger the chisel head, the softer the material it's used on. For example, a 20-25mm chisel is perfect for breaking concrete, while a 75mm model will do the trick on ceramic and tiles.
Pointed chisels: this pointed masonry attachment can tackle harder materials. Here, it's length and diameter that are decisive. It's worth investing in a range of diameters from 14 to 18mm as this will cover most small demolition work. As regards materials, tungsten carbide tips are once again a very good option for their extended lifespan and limited wear.
Pyramidal point chisels: very similar to the above, except with (guess what) pyramidal rather than conical points. The same selection advice applies to this type of chisel attachment.
Hammer drills: final advice for choosing your bits?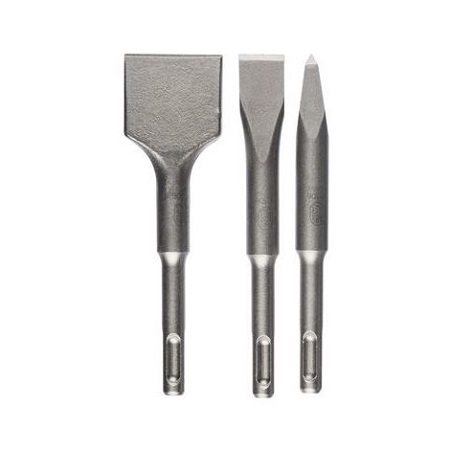 Accidents with hammer drills are common! To reduce risk, take safety precautions and always use an appropriate attachment for the task and the material you're working with.
Learn more about home renovation...
To find out more about home renovation, follow our editors' advice and check out the other guides:
Did you find this guide helpful?
Guide written by:
Jeremy, construction site supervisor, Cardiff 118 guides écrits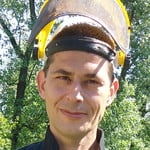 I'm a trained electrician who started off working in large-scale industrial projects. Most of my early career was spent taking on huge electrical installations. I like to think that no job is too big for me, and after all the experience I'd gained, I started managing teams of electricians.

I like to learn on the job, so around ten years ago, I moved into building and construction. As a site manager, I've overseen the building of small residences, sport facilities, and even theatres!

Working with my hands is something I love to do in my free time as well. For four years now, I've been restoring our home in the Welsh countryside. I even built a conservatory for my wife, who loves watching the sheep behind our house.

Whether it's patios, interior design, roofing, plumbing or electricity - I love giving it all a go! I've even made my family DIY converts and together we've built almost everything we have from scratch. My experience, both in the field and in my workshop, has taught me a lot and I'm happy to share what I've learned. No matter how big or small your project is, I'm here to answer your questions and help you choose the right tools and equipment.
The products related to this guide