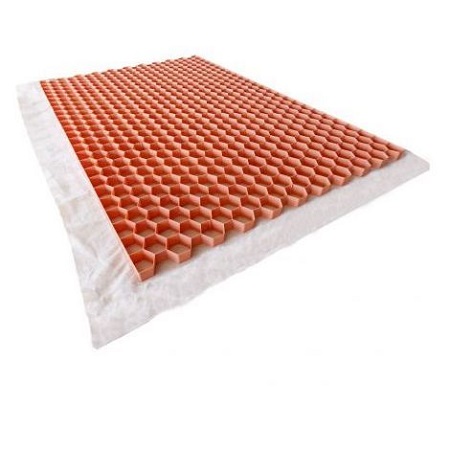 Gravel grid buying guide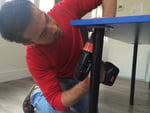 Guide written by:
Sebastian, self-taught DIY-er, Exeter
192 guides
Want to lay a gravel pathway that will provide you with a stable surface? Why not install some gravel grids? Also known as gravel stabilisers, these mats are UV-resistant, able to withstand heavy weights and can be cut to size. Here's our guide to picking the right gravel grids for your outdoor space.
What is a gravel grid?
---
Gravel grids are cellular panels that provide a permeable layer for laying gravel over garden pathways,terraces, courtyards or driveways. Designed to contain the gravel within their cells, gravel grids allow you to create a level and stable surface for bikes, prams or wheelchairs. They also offer a number of other advantages such as preventing weed growth – meaning less weeding!
Gravel grid features
Size
---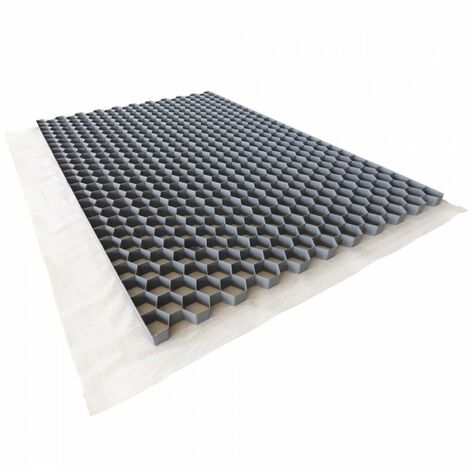 Gravel grids come in a range of sizes: 80 x 40 cm, 80 x 120 cm, 160 cm x 120 cm, and so on. The size of the cells will, in part, determine the type of the gravel the grid can hold.
Height
Gravel grids also come in various heights:
3 cm for walkways, pathways or terraces;
4 cm for driveways for cars and other heavy vehicles.
Compressive strength
Gravel grids – whether filled with gravel or not – offer different levels of compressive strength for different purposes. This is noted in t/m².
Geotextile membrane and UV-resistant coating
Gravel grids feature a consist ofhigh-strength hexagonal cells with a built-in geotextile membrane welded to the base. This layer helps with water drainage and reduces weed growth. As the membrane is attached to the grids, the gravel cannot escape beneath the panels. Geotextile membrane offers different levels of density, given in grams per square metre. The higher the g/m², the better the quality (45 to 60 g/m² is recommended).
Gravel grids feature a UV-resistant coating for increased durability.
How to install gravel grids
---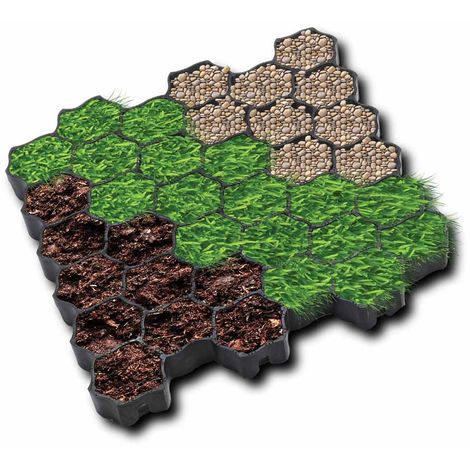 While easy to install, gravel grids should be laid following a few important steps:
measure the area you want to cover in order to determine how many grids you need;
prepare the ground by laying a sub-base and a levelling layer;
cut your gravel grids using an grinder to achieve the size you need for the area you want to cover;
lay the grids with the geotextile layer facing downwards;
lay the gravel over the grids in a 2 cm-deep layer in order to cover up the cells, before levelling the surface with a rake.
Explore the ManoMano catalogue
Geotextile
Guide written by:
Sebastian, self-taught DIY-er, Exeter, 192 guides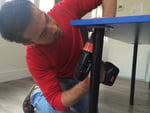 Redo a roof with wooden beams? Check.Advise Mister everybody in the DIY shop? Check.Redo the bathroom plumbing? Check.Fit together, build the walls, paint a partition, throw my hammer in a rage thinking that it will fix the problem? Check. The DIY motto ? Learning is better than delegating… well, it's also a question about your wallet! The satisfaction? The beer at the end of the job! What do the best have in common? The influence of Gyro Gearloose, Mac Gyver and Carol Smiley depending on your generation, a good dose of curiosity, a average hand-eye coordination and a taste for risks… and if it doesn't work, try again! Advise you? I'll do my best!
The products related to this guide