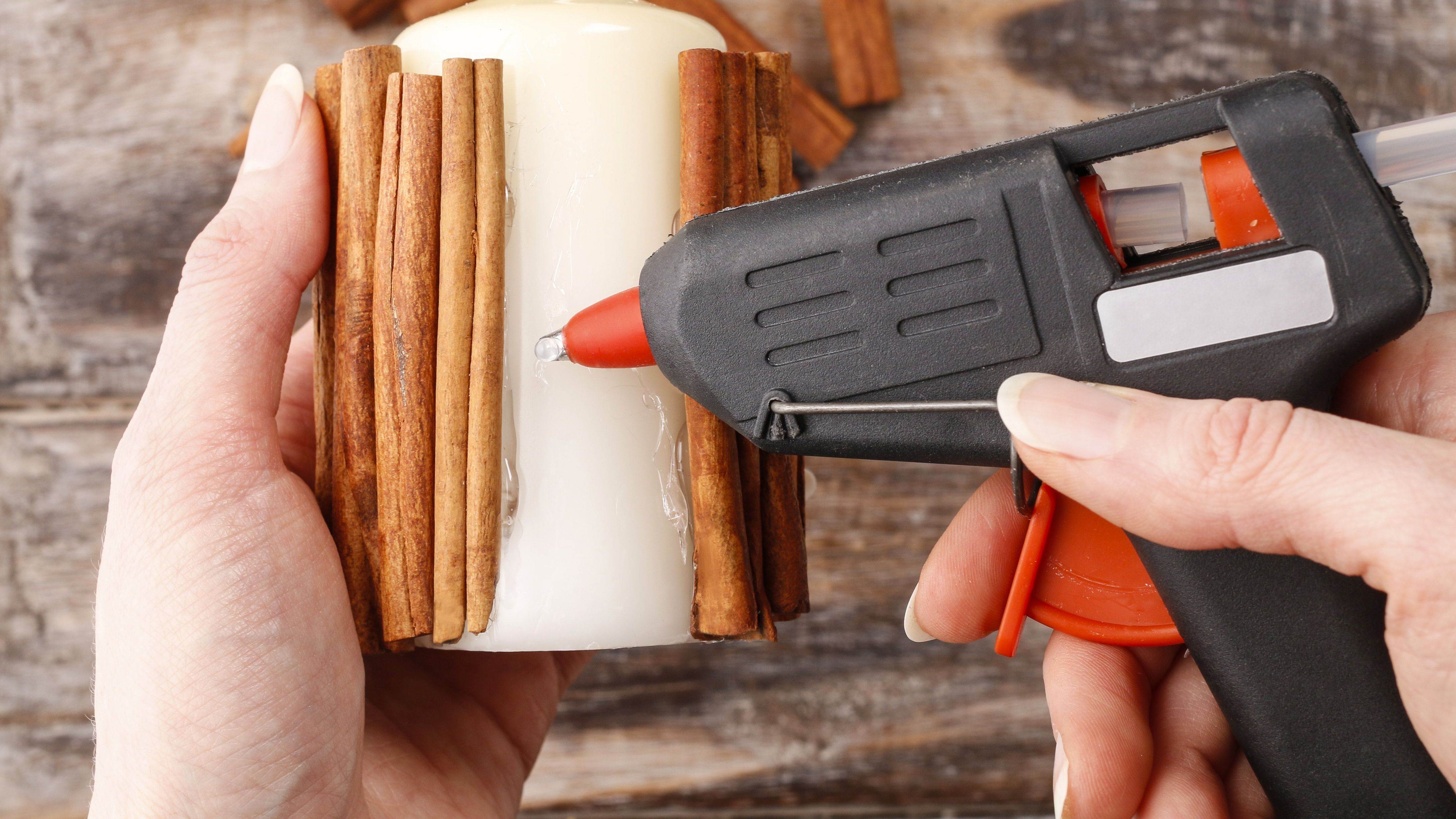 Glue gun buying guide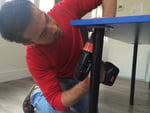 Guide written by:
Sebastian, self-taught DIY-er, Exeter
209 guides
Whether equipped with a manual or automatic feed, hot glue guns come in handy for all types of crafts projects involving paper, wood, cardboard, metal, beads, pieces of jewellery, and so on. An equally useful tool for DIY tasks, glue guns can be battery- or mains-operated. Read on to find the right glue gun for you!
How does a glue gun work?
---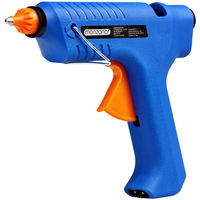 To start with, it's important to note the difference between a glue gun and a caulking gun (also known as a silicone or sealant gun). A caulking gun is used to distribute cool silicone paste from a cartridge, while a glue gun works by heating sticks of glue before releasing the glue in liquid form through a nozzle.
Glue guns are simple tools that are either mains- or battery-operated. Hot glue guns are equipped with an electric element that heats the glue sticks to a temperature of 180 to 200°C. The liquid glue is then distributed via a nozzle when pressure is applied to the trigger. The frame of the gun is made from plastic and the gun itself functions by means of one of two feed types:
Manual feed: whereby the user is required to push the glue stick to release the glue. This process is not ideal as the glue lines may be irregular due to uneven pressure on the trigger; 
Trigger feed: whereby the user simply has to hold down the trigger to release the glue. The flow of glue is regulated by pressure applied to the trigger.
Explore the ManoMano catalog
Glue gun
Which materials can be glued using a glue gun?
---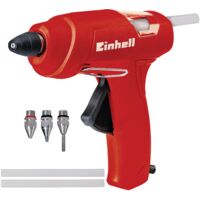 A variety of materials can be glued depending on the type of glue stick used:
Wood and wood-based materials (composites, softwood, plywood etc.);
Cardboard and paper;
Textiles, leather, nylon, etc.;
Various plastic-based materials;
Metals;
Glass, and so on.
It's important to remember that smoother surfaces like glass will have less grip than porous materials since the glue uses the textured structure for better grip. In addition to gluing, hot glue guns can also be used to create seals and can therefore be used to make surfaces or connections watertight. The heat-up time of glue guns varies from model to model, ranging from a few seconds to a few minutes.
Explore the ManoMano catalog
Glue guns
Important factors to consider when choosing a glue gun
---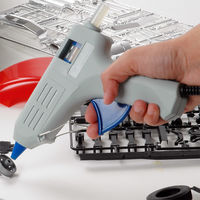 Hot glue guns vary widely in terms of price and quality. In order to make your choice, it's best to analyse your needs in terms of how often you expect to use the glue gun and the result you're after. You should also consider the following:
Mains-operatedmodels require the use of a power cord;
Battery-operated models provide more freedom to the user;
Manual feed: requires the user to push through the glue;
Trigger feed: requires the user to push the trigger;
The heat-up time: can vary from 15 seconds to 8 minutes;
The glue melting rate: up to 1,000 gr/h;
The nozzletype - round, flat, anti-drip etc. ;
The diameter of the sticks;
Weight;
Design.
Remember that it's always best to be quick when working a glue gun as the glue cools quickly! Finally, it's a good idea to place a protective sheet beneath the glue gun when it is not in use as these tools have been known to drip!
More information
Follow the links below for related accessories, advice from our editors and more helpful guides:
Guide written by:
Sebastian, self-taught DIY-er, Exeter, 209 guides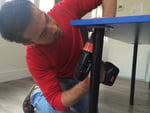 Redo a roof with wooden beams? Check.Advise Mister everybody in the DIY shop? Check.Redo the bathroom plumbing? Check.Fit together, build the walls, paint a partition, throw my hammer in a rage thinking that it will fix the problem? Check. The DIY motto ? Learning is better than delegating… well, it's also a question about your wallet! The satisfaction? The beer at the end of the job! What do the best have in common? The influence of Gyro Gearloose, Mac Gyver and Carol Smiley depending on your generation, a good dose of curiosity, a average hand-eye coordination and a taste for risks… and if it doesn't work, try again! Advise you? I'll do my best!
The products related to this guide