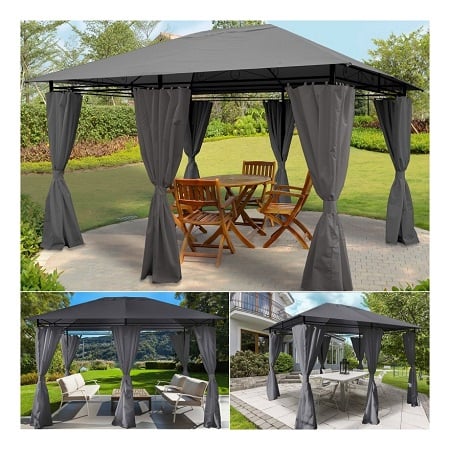 Gazebo buying guide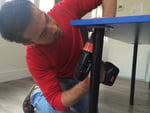 Guide written by:
Sebastian, self-taught DIY-er, Exeter
192 guides
Gazebos are perfect for creating a chill-out zone on the deck or in the garden. Whether you're sheltering from the rain or sun, gazebos provide a stylish refuge and can even be used to protect a plancha grill or provide a framework for climbing roses. Read on to find the right gazebo for your garden.
What is a gazebo?
Freestanding gazebos
---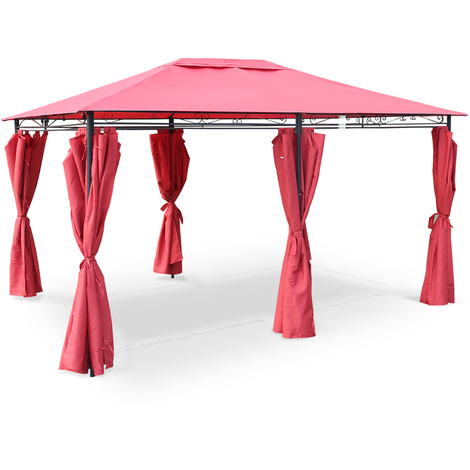 Freestanding gazebos generally feature a metal framework topped with a fabric canopy. Mainly used to form an area for relaxation in the garden, gazebos can also be used to protect you from UV rays and the rain (provided the canopy cover is waterproof). Side curtains can also be used for wind protection. Available in many different shapes, materials, sizes and colours, your gazebo should be selected to match the rest of your garden decor. If topped with a lattice structure, gazebos can provide a great framework for climbing plants. These gazebos are generally supplied as a kit for assembly and should be stored somewhere warm and dry for the winter.  
Lean-to gazebos 
---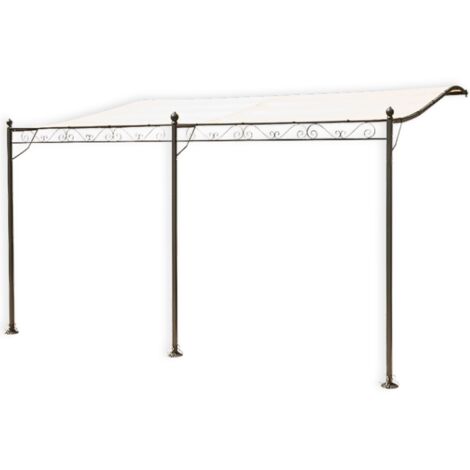 Lean-to gazebos require a wall to lean against for support. Usually installed on a deck and accessed via a sliding door, most lean-to gazebos feature a single slope roof. These gazebos can be attached to a wall or may be freestanding but fixed to a wall for extra support. 
Pop up gazebos 
---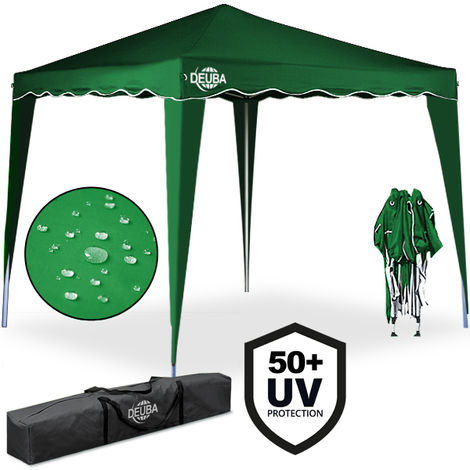 Often referred to as marquees, pop up gazebos are often used as temporary market stalls, for picnics or for use in areas with a lot of wind exposure. Pretty basic in terms of design, pop up gazebos can be folded down much like an umbrella.
Gazebo surface area
---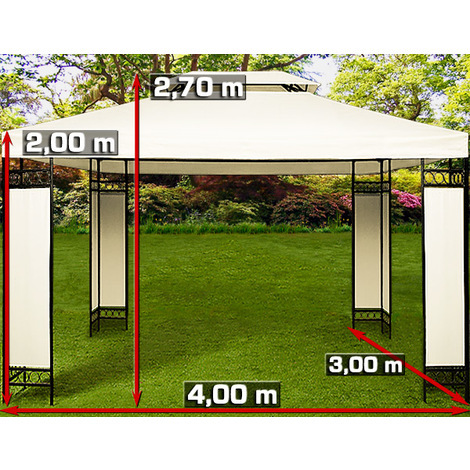 The surface area of a gazebo is determined by its length and width and should be calculated before purchase with your specific needs in mind. Add up the space required for all of the equipment you are likely to use under the gazebo (garden dining sets, hammocks, plancha grills, etc.) and measure your gazebo accordingly. It's worth noting that standard gazebos rarely measure over 2.5 metres in height.
Explore the ManoMano catalog
Freestanding gazebos
Gazebo materials: an overview
Most of the time, gazebo frames are made of various types of metal. The type of metal you choose will lend your gazebo a different set of properties.
Powder-coated steel
---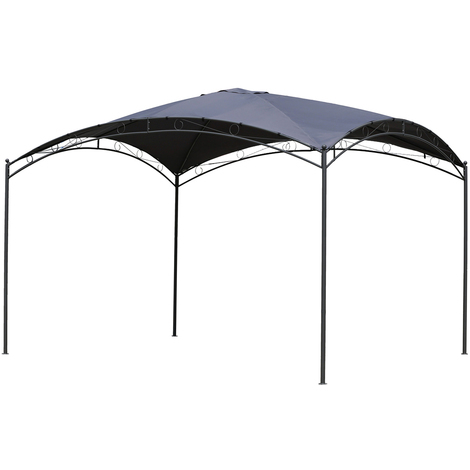 A moderately heavy and inexpensive material, powder-coated steel has been covered with a layer of epoxy resin. Available in various colours, this coating offers protection against corrosion. The only downside to this material is that if scratched, moisture may be allowed to enter which will eventually cause rust to develop.
Aluminium 
---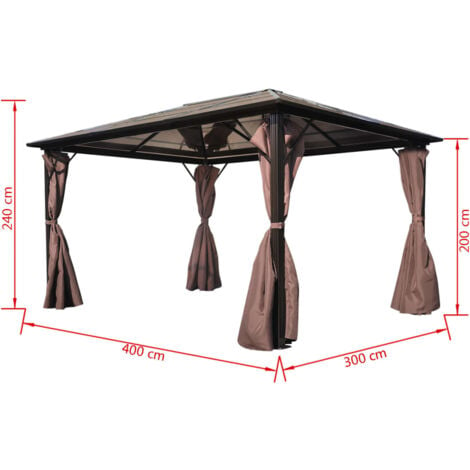 Aluminium oxidises as it corrodes making it extremely resistant to rust. Its ability to lend itself to lightweight and streamlined designs makes it a material of choice for both classic and modern gazebos. However, aluminium can start to discolour and get scuffed over the years.
Wrought iron 
---
The main advantages of wrought iron are its strength and resistance. This material must be coated with an anti-corrosion product but it can easily be repainted. Its heavy weight serves to hold it firmly in place and, while you will still have to fix down wrought iron gazebos, they do offer increased wind resistance.
Resin 
---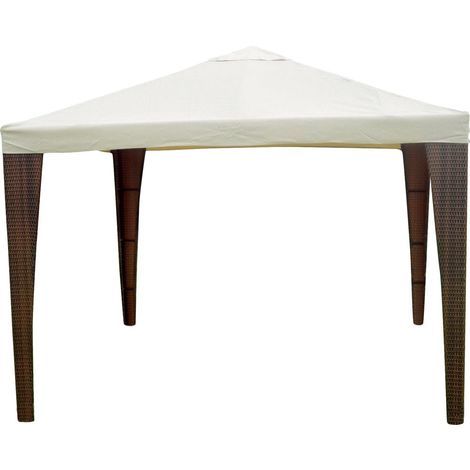 Resin is a lightweight, strong and UV-resistant material. Resin structures are usually made up of a steel framework covered with a rust resistant coating. These gazebos are modern in style and offer good value for money. Nonetheless, resin will fade over time.
Wood 
---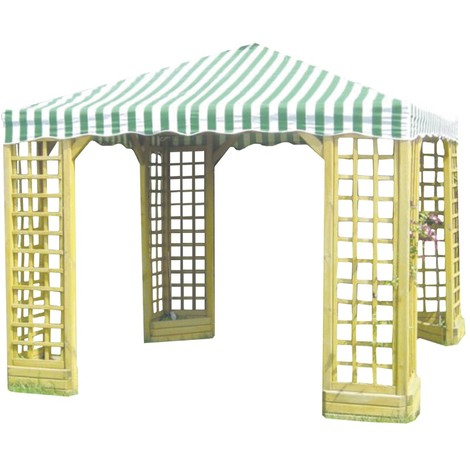 The quality of a particular wood depends on both its species and treatment type. Heat-treated wood (by autoclave or another thermal process) does not require the application of an insecticidal or fungicidal treatment. 
Exotic woods (teak, eucalyptus etc.) are rot-proof but should be oiled to help them retain their colour. They are also naturally resistant to fungi and insects. Other woods, like coniferous and hardwoods, require specific treatments such as coating with special stains, varnishes or paints.
Explore the ManoMano catalog
Varnishes
Gazebo canopy: material and weight
Gazebo canopies are available in both polyethylene and polyester. The material type and weight will determine how waterproof the canopy cover is.
Polyethylene 
---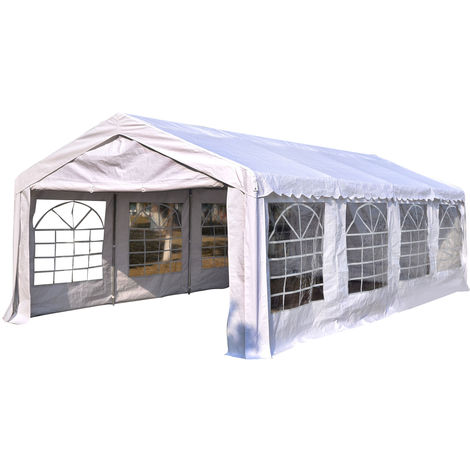 Polyethylene is the most commonly used material for low-end gazebos. Its quality is measured in grams per square metre (gr/m²) starting at around 100 gr/m². The higher the gr/m², the greater the canopy quality, strength and waterproofness.
Polyester 
---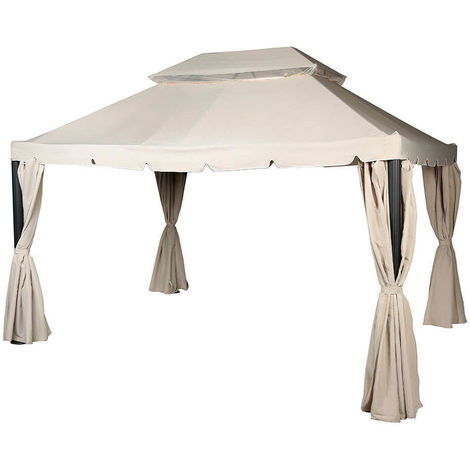 Polyester offers higher quality but it is more expensive. The quality of the material also relates to the density of the fabric, given in grams per square metre (gr/m²). Polyester is a water-repellent material that offers a high degree of impermeability. It can weigh anything from 140 gr/m² to over 200 gr/m². However, a weight of around 160/180 gr/m² will generally suffice.
Gazebo curtains 
---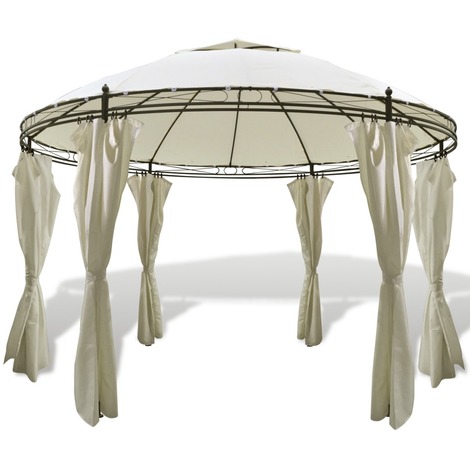 Gazebo curtains usually weigh less than the canopy cover as they are not subject to the same weather conditions. However, they are usually composed of the same material.
Explore the ManoMano catalog
Gazebo curtains
Choosing a gazebo to suit your garden
---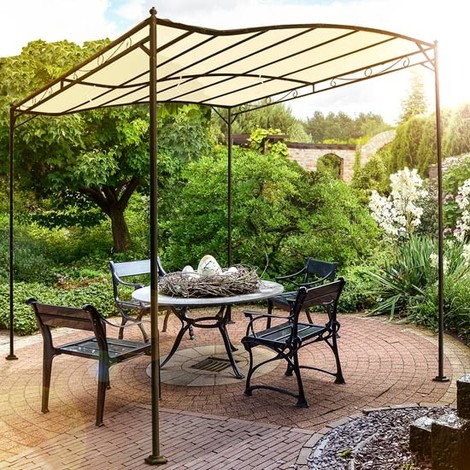 The materials you choose will, in part, determine the style of your gazebo. Wrought iron lends itself well to a romantic or family-friendly vibe while aluminium – with its sleek, glossy shapes – is perfect for a more modern feel.
Powder-coated steel gazebos are available in all styles, from the most simple designs to more complex structures. Resin gazebos are often used as part of a contemporary decor alongside a resin garden dining set with a matching colour scheme.
Gazebos can also be decorated with pendant lights, outdoor lighting and climbing plants (especially wrought iron gazebos) and should be chosen to match your garden furniture. The roof type will depend on the shape and frame of the gazebo but will usually feature four sides (for rectangular and square-shaped gazebos). Whether you want to move with the trends or go classic with your choices, it's entirely up to you!
Explore the ManoMano catalog
Climbing plants
Gazebo vs. pergola: what is the difference?
Pergolas and gazebos do serve similar functions in that they both offer shelter from the sun. Whether topped with plants, reed roofs, canopies or tiles, these structures can provide shade at any time of the day. However, there are a few important differences between the two. 
Pergola 
---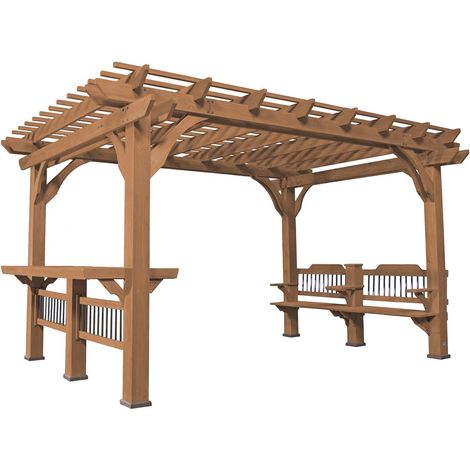 The name 'pergola' comes from the Italian 'pergula'. These solid structures come from the city of the same name and traditionally feature brick or concrete pillars. Those found in the garden are usually held up by stone or wooden pillars with a wooden or wrought iron lattice roof. The main purpose of pergolas is to provide shade. The top framework is often covered with climbing plants, a canopy cover or a reed roof.
Gazebos
---
Gazebos are lightweight structures that are usually smaller than pergolas. Most commonly made of wood, wrought iron or aluminium, they can also be used to create shade or be topped with climbing plants or canopy covers. More practical than pergolas, you can choose from a wider range of size options to find one to fit your space. These structures are easy to install and come in a range of affordable low-end models.
Maintaining your gazebo
---
Wooden gazebos must be treated regularly. Wood is a porous material that should be treated against various threats. Even if your wooden gazebo has been treated against insects during manufacturing, it will be necessary to reapply anti-UV and fungicide products on a regular basis. If the wood is badly damaged, a protective stain can be applied. It is best to opt for a microporous paint in order to let the wood breathe. Wrought iron can be routinely cared for using soap and washing up liquid that can be applied using a dish cloth. Iron is likely to corrode; you must apply an anti-rust treatment to prevent corrosion from setting in. Offering a long service life and good rust resistance, aluminium gazebos should simply be washed using soap and water. Remember never to use an abrasive sponge on aluminium as you run the risk of scratching the material.
Planning permission
---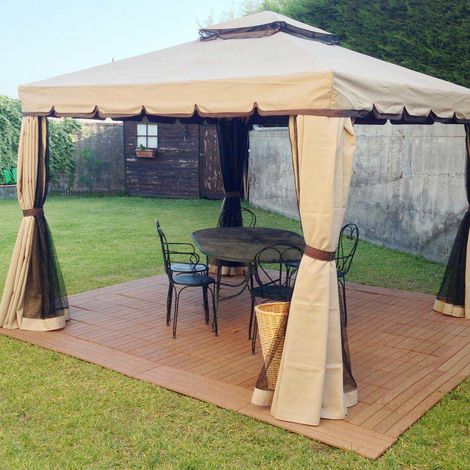 Gazebos are essentially very easy to dismantle. In fact, it is usually recommended that you disassemble and store these structures over the winter months. With this in mind, you will not usually require planning permission for a gazebo. However, for sturdier models, you may need to contact your local authority for permission. The criteria for permission will relate to how far the structure is from the boundary of your home, as well as its overall height.
More information
For more advice on finding the right equipment for your garden, follow the links below for related accessories and more helpful guides:
Guide written by:
Sebastian, self-taught DIY-er, Exeter, 192 guides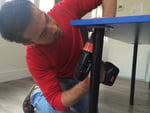 Redo a roof with wooden beams? Check.Advise Mister everybody in the DIY shop? Check.Redo the bathroom plumbing? Check.Fit together, build the walls, paint a partition, throw my hammer in a rage thinking that it will fix the problem? Check. The DIY motto ? Learning is better than delegating… well, it's also a question about your wallet! The satisfaction? The beer at the end of the job! What do the best have in common? The influence of Gyro Gearloose, Mac Gyver and Carol Smiley depending on your generation, a good dose of curiosity, a average hand-eye coordination and a taste for risks… and if it doesn't work, try again! Advise you? I'll do my best!
The products related to this guide