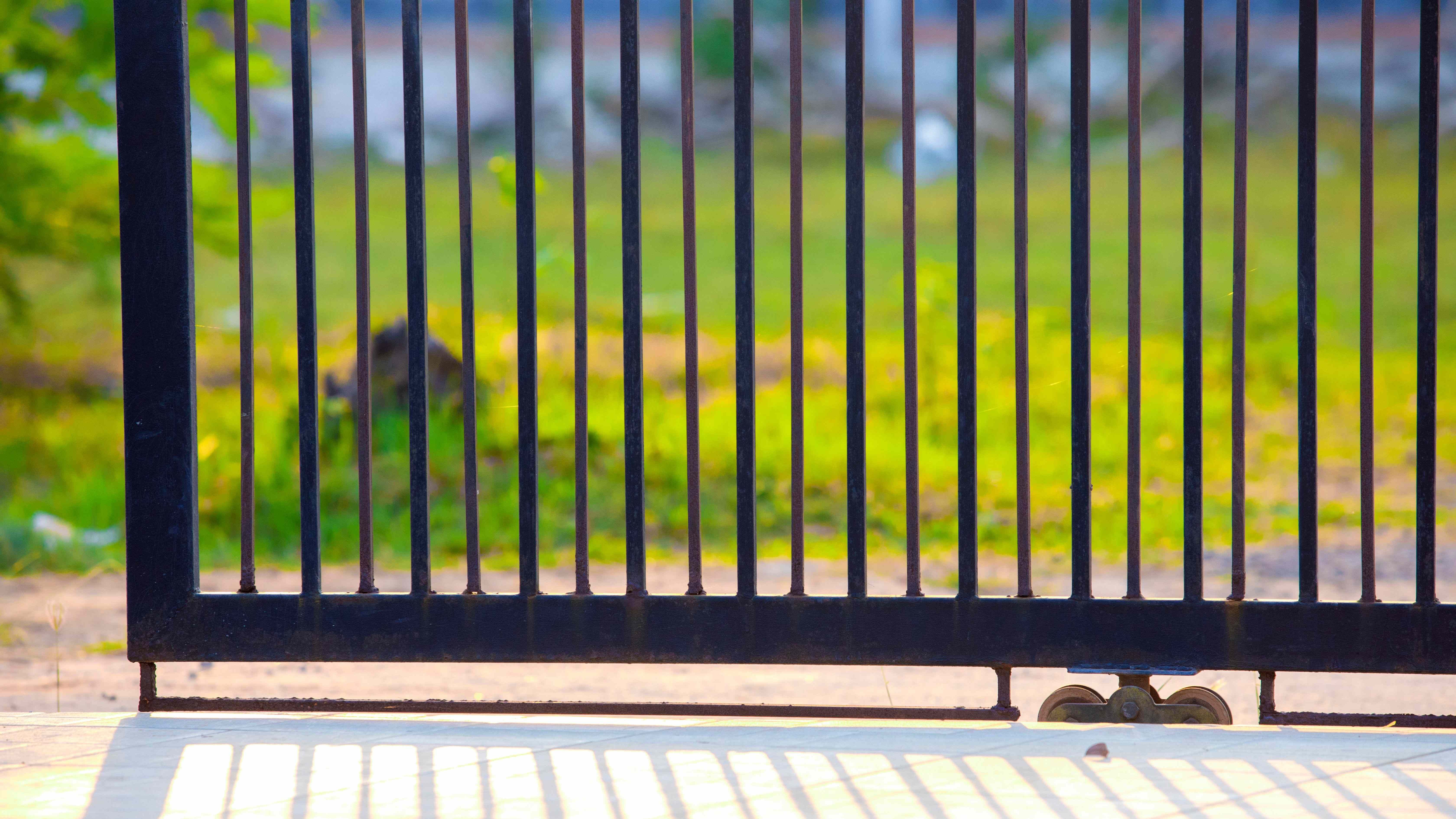 Gate buying guide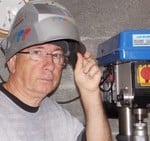 Guide written by:
Michael, Professional and passionate welder, Sheffield
73 guides
Swinging gates, sliding gates, straight, convex, or curved, whatever the shape, it's there to close over an entrance. In PVC, wrought iron, or wood, solid or openwork, an electric gate for ease of use; there are gates out there for all tastes.
A brief introduction to gates
---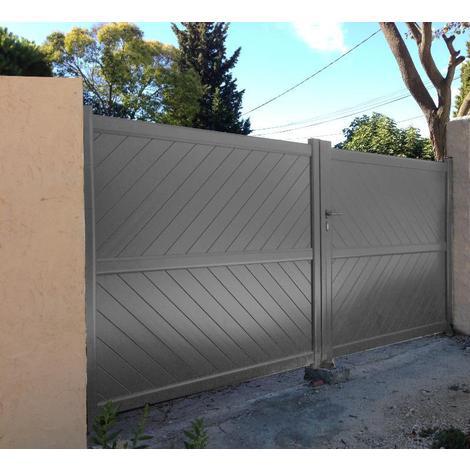 Depending on where you live, the council may restrict your choice of colour, style, and type of gate. Your first step should be to check for any regulations pertaining to gates. It would be a shame to have to undo all of your work because you didn't take this precaution.
More importantly, make sure you have room to install your gate so that it doesn't open into or block the road or other public spaces. It may also be a good idea to install a light to warn pedestrians of an exiting vehicle.
Aesthetics, practicality and safety
---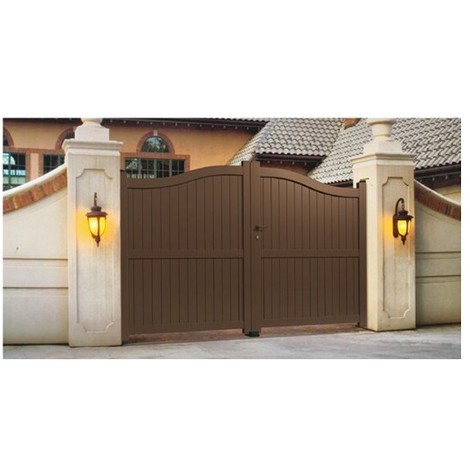 There are multiple gate models on the market and each is adapted to the configuration of your entry. A gate should meet several requirements at once. Make sure that your choice meets the following criteria:
Aesthetics: your gate should complement your entry. Whatever gate you choose, it should look good.
Practicality: operating the gate should be easy but also should not obstruct other residents, the road, or pedestrian traffic.
Safety: a gate is first and foremost a barrier. Whatever gate you choose, it should satisfy this basic criterion.
How to choose a gate
---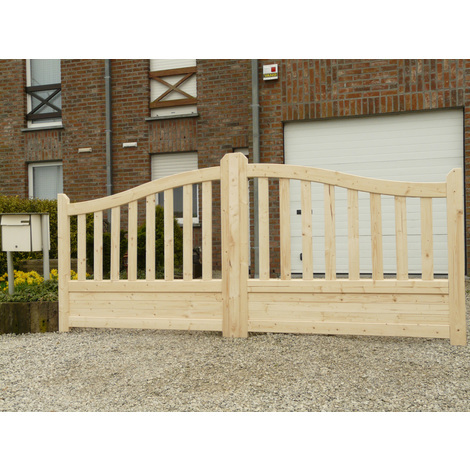 Whatever the configuration of your entry or your other requirements, you really only have the choice between two types of opening.
Sliding gate
A sliding gate is a practical option. These gates open by sliding along rollers parallel to the surrounding fence. The downside to this type of gate is if you have enough space to one side. If you are short on space, it can be difficult to make this type of gate work.
Swinging gate
A swinginggate at its most basic is just a gate that opens on some kind of hinge. Within the category of swinging gates, however, you have a few options. Swinging gates can open vertically, by swinging upward, or horizontally, by swinging toward or away from you.
Additionally, these gates may consist of one section or two sections that meet in the middle. Because of their versatility, swinging gates are a great aesthetic choice and remain the most widely used type of gate.
The characteristics of a sliding gate
---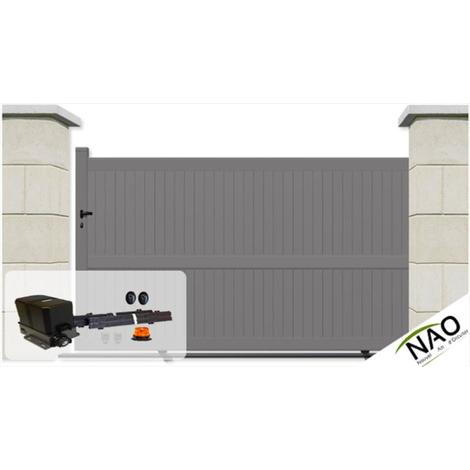 Sliding gates are connected rails at the top and bottom that smoothly move along rollers when opening and closing. If you can't accommodate this configuration, there are counterbalanced, single-rail models. However, these have to be made of more lightweight materials.
One of the main perks of this kind of gate is that it is useful for almost any size opening. Adding a motor to your gate offers a bit of luxury and ease of use.
If you have enough space along your fence to implement a sliding gate, consider adding a smaller side entrance.  This will help to optimize that extra space and would make it easier for pedestrians to enter without having to open the entire gate to do so.
Strictly speaking, a side entrance is not a necessary addition as pedestrians could partially open the gate just enough to pass but they can be a nice addition and an aesthetic choice.
This type of gate is straightforward and can be solid, partially openwork, or completely open work.
The characteristics of a swinging gate
---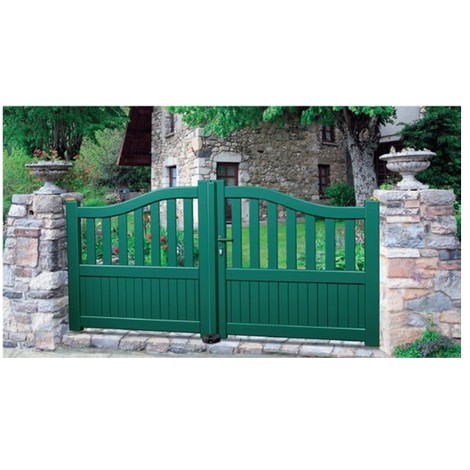 The swinging gate consists of one ortwo 'wings' that open inwards or outwards or, in some cases, vertically. The size of the opening is important. Make sure that your opening works for standard size gates. If your opening is a non-standard size you will need to order a custom gate, which can be quite expensive.
As with the sliding gates, adding a side entrance is not strictly necessary but can be an aesthetic or convenient choice. These gates can also include a motor for added convenience.
Pay attention to the direction your gate opens. If it opens inward, that poses no problem, but if your gate opens outward, make sure it will not block the road or pedestrians. It is illegal to impede free movement on public roads.
Explore the ManoMano catalog
A side entrance
The various gate materials
---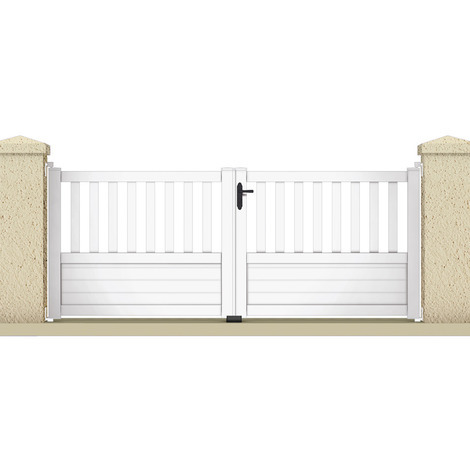 You can find a wide variety of gate materials. The choice of material is heavily influenced by cost, but you should also keep in mind whether or not you intend to motorize your gate when selecting the materials.
Aluminium 
Aluminiumgates are the more affordable option if you want a metal gate. They offer a wide variety of beautiful designs. As an added bonus, they do not rust and do not require special maintenance. Washing with lukewarm water is enough.
Steel or Iron 
Steel or iron gates are the strongest and most secure. Steel or wrought iron should be treated with a rustproof coating or the lifespan of your gate will be severely diminished.
If you had the good sense to choose a galvanized steel gate, then you have nothing to worry about. Galvanized steel does not rust which guarantees easy maintenance and peace of mind.
PVC
PVC gates are the lightest and cheapest option. While they are easy to maintain, they are also less durable and it can be difficult to make repairs.
For a more resilient model, look for a PVC gate with aluminium reinforcements. Clean with lukewarm, soapy water.
Wood 
Wood gates are a completely different creature. If not pretreated, they require regular maintenance to keep them sealed against moisture and to prevent cracking or rot.
Explore the ManoMano catalog
Gate
What are the different shapes of gates?
---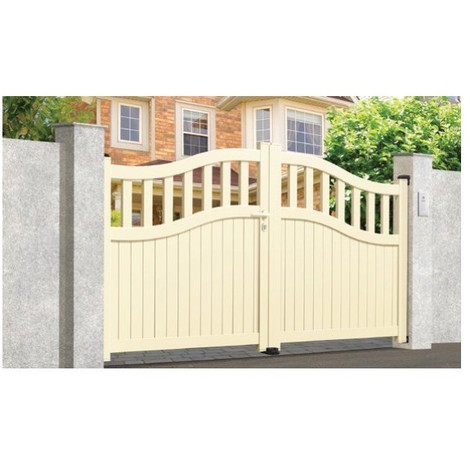 Besides type and material, you also have your choice of gate shape:
Straight: The straight shape is the best-selling model and is preferred for sliding gates. It's available in all types of materials.
Biased: The biased cut, also called a trapezoidal, or "V-shaped" gate, slopes either up or down. 
Concave or Curved: The curved or concave cut does not fit into a rectangular space but does offer an artful choice to your gate installation.
Gate Style
No matter what shape gate you end up choosing, it will likely be available in openwork, partially openwork, or solid. There is no wrong choice here. As long as you have the proper measurements the decision is just a matter of personal taste.
Installation instructions
---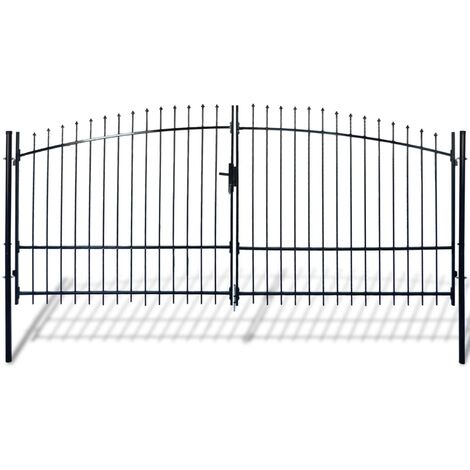 Setting up a gate is a simple process. If they are not already installed, you will need a set of fixed pillars to serve as supports for the gate.
They should have a deep foundation that is reinforced with concrete and you need to make sure that they are perfectly vertical.
The movement of the gate should be smooth. When you install your gate, make sure you give it a bit of clearance above the ground so that it doesn't drag and produce excess friction.
Pay special attention to this point. If your gate drags every time you open it, it will quickly become a major hassle.
Motorization
---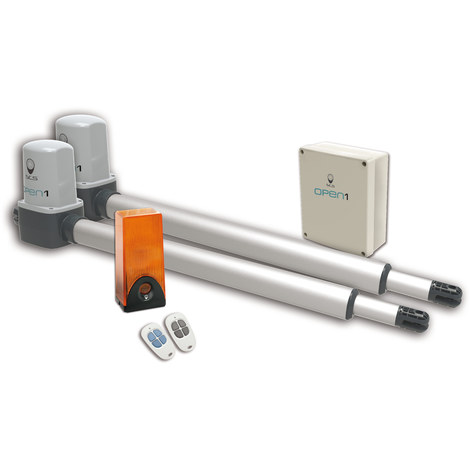 What a pleasure it is to be able to open and close the gate without leaving your car.
The gate opener is the key to a perfect installation and can even be set up to open both your garage and gate.
Good news, sliding gates and swing gates can both bemotorized. So, no matter which you choose, you can have all the same conveniences.
How to choose a side entrance
---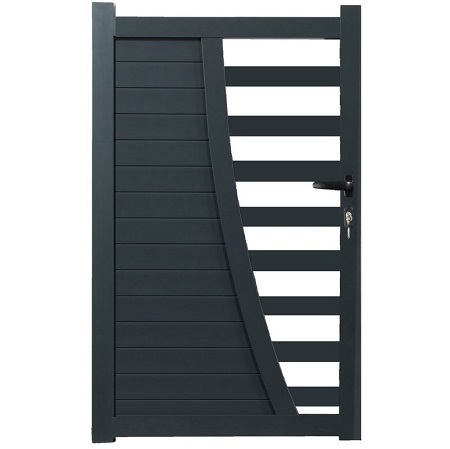 The side entrance, installed next to the gate, is an excellent alternative for those who do not want to "open up" for the entrance and exit of every pedestrian.The style is matched to the gate and the installation is quite similar. In short, it's essentially a small, single swinging gate. If you are adding a side entrance to an existing gate, you should match the style and material of the new entrance to the existing construction.
Opting for a solid PVC door next to a wrought iron gate is incoherent and not especially aesthetic.
If you are only installing a side entrance and want it to match your gate, then you are free to choose the model that suits you best. Simply remember the best choice brings a balance of aesthetics, ergonomics, and safety.
Tips for choosing your gate
---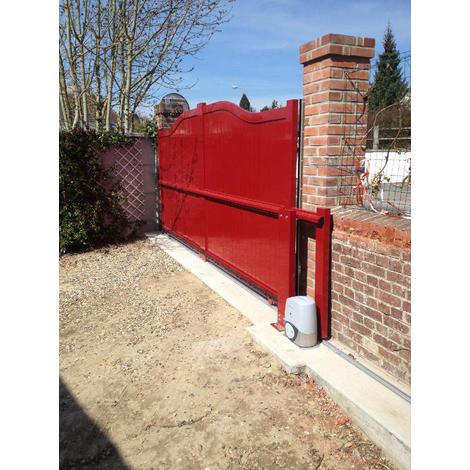 We've said it before, but it bears repeating: the choice of a gateis a matter of its type, its material, and its shape. Let your personal taste guide your choice, but also keep the requirements of your entry in mind when making these choices.
Keep the futurein mind when you choose your gate. The choices you make will affect your gates lifetime, maintenance, and use. As for motorization, that requires a solid structure that cheaper models don't always offer.For DIY enthusiasts interested in knowing how to choose the accessories related to gates, follow the advice of our editors and discover their Guides:
How to choose a gate operator
How to choose a ladder, stepladder, or scaffold
And to work safely:
How to choose protective gloves
How to choose anti-fall equipment
How to choose protective eyewear
Guide written by:
Michael, Professional and passionate welder, Sheffield, 73 guides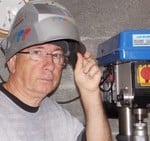 I was trained as a pipe worker and a pipe-welder and after having traveled for 35 years working around the UK, I became the head a metal shop and then a designer and in the end the head engineer. I have designed and built a workshop where I make metal sculptures: I managed to find a piece of paradise where I can to let my imagination run wild. Auctions and garage sales are no secret to me. I find unusual objects and old tools there that I collect or transform into works of art. I also like decoration, painting on canvas, and gardening. I am developing new technologies concerning tools. To share my passion and humbly advise you in your choice of materials is a real pleasure.
The products related to this guide