Garden furniture buying guide
Guide written by: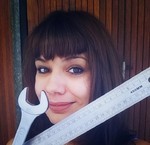 Jennifer, Self-taught DIY enthusiast, Manchester
10 guides
Garden furniture comes in a wide range of materials from elegant wrought iron tables to lightweight aluminium chairs. Whether you're looking for a smart teak-wood trolley or a stylish resin weave lounger, these items are designed for sun-soaked relaxation so be sure to choose wisely!
Important features
Material
Weight
Durability
Style
Essential factors for making the right choice
When it comes to choosing the perfect garden furniture, you should start by working out what you need and where you want to put it. Next, you just need to choose a style and match up different elements to create a set that works well as a whole.
---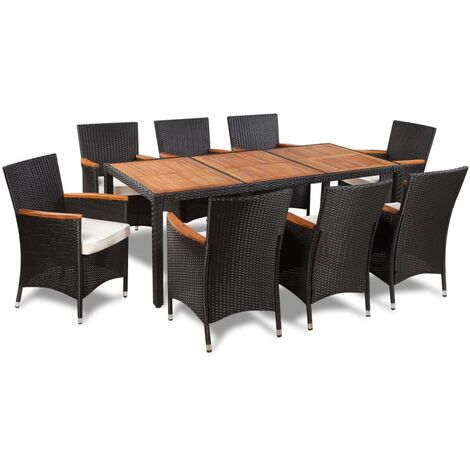 Your choice of material should be based on three key factors:
Budget: you'll notice a wide range of prices from resin furniture at the lowest end of the scale right up to itauba wood;
Care and restoration: wood and metal can be restored but resin cannot;
Durability: depends on quality of care and whether or not the material can be refinished.
Several other equally important points should also be considered:
The weight of your furniture: for wind-resistance and moving around;
Overall dimensions: for storing away in winter;
Collections: it is possible to buy several furniture items sold as part of the same collection.
Explore the ManoMano catalogue
Garden furniture
Your garden furniture options: dining tables to garden trolleys
Garden tables
---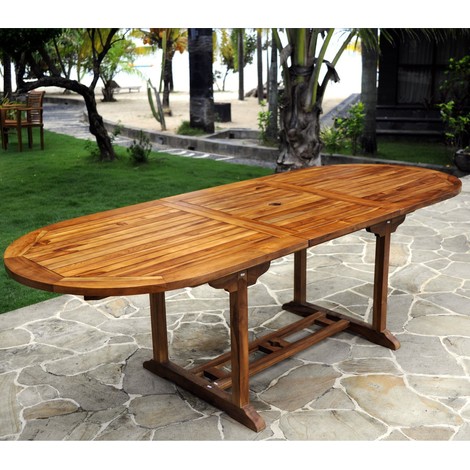 No matter how much space you have to work with, there are garden tables to suit all size requirements. From compact models to family dining sets, choose your table according to the number of guests you expect to entertain.
Garden chairs
---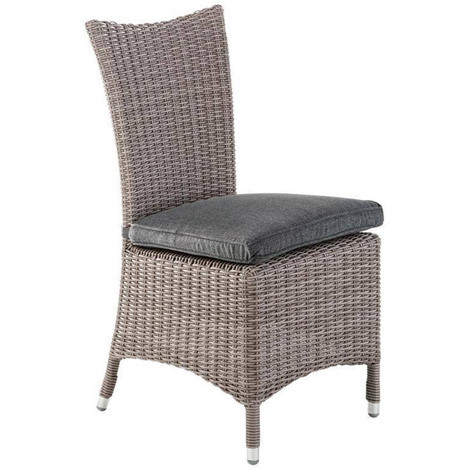 Essential for pairing with your table, garden chairs should also be selected according to the number of seats you intend to fill. Available in all sorts of styles, garden chairs can be folded or stacked away according to your needs.
Garden dining sets
---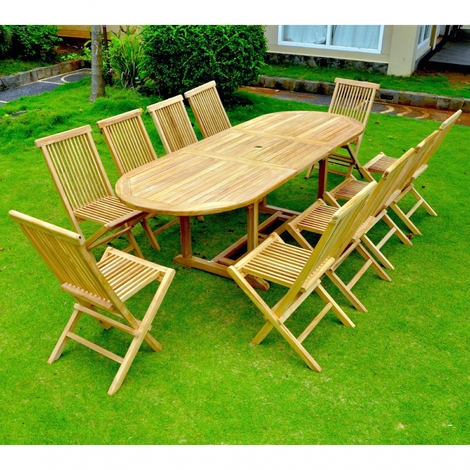 From four-seaters up to twelve-seaters, garden dining sets are great for alfresco dining or gathering friends around the poolside. While usually made up of a table and chairs, you can also buy sets combining outdoor sofas and loungers to create a chill-out area.
Sun loungers, recliners and deck chairs
---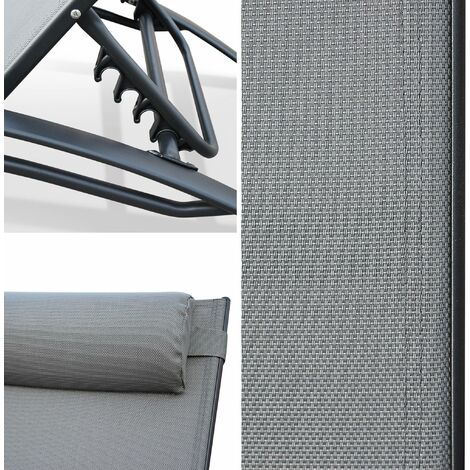 Of course, there are also garden furniture items designed for soaking up the sun. Sun loungers and chaises longues will allow you to fully recline, while deck chairs will sit you in a comfortable semi-upright position.
Parasols
---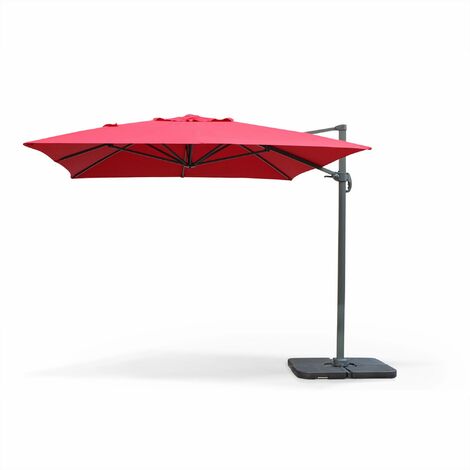 Whether scaled down or standard in size, offset or classic, parasols are important for keeping you safe in the sun while enjoying the outdoors.
Chair cushions
---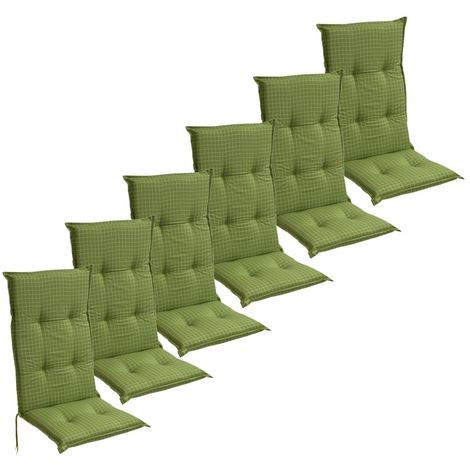 Chair cushions are perfect for added comfort and are particularly important for resin or metal garden sets. They can also be used to decorate your outdoor space.
Benches
---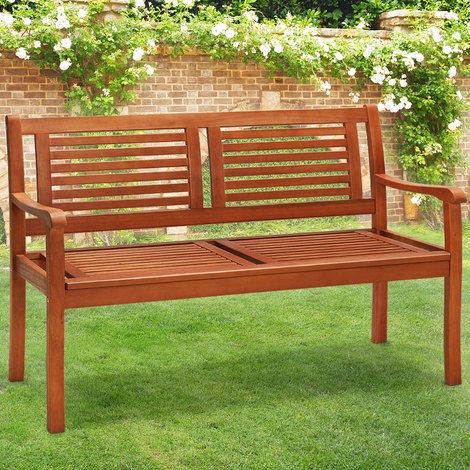 Authentic and understated, garden benches come in wood, wrought iron and steel. A must-have for English country-style gardens!
Pouffes and footrests
---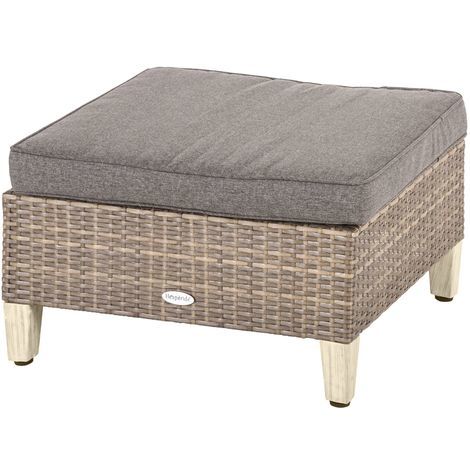 In addition to sun loungers and deckchairs, relaxation zones can also be kitted out with lounge sets complete with footrests or pouffes.
Garden lounge sets
---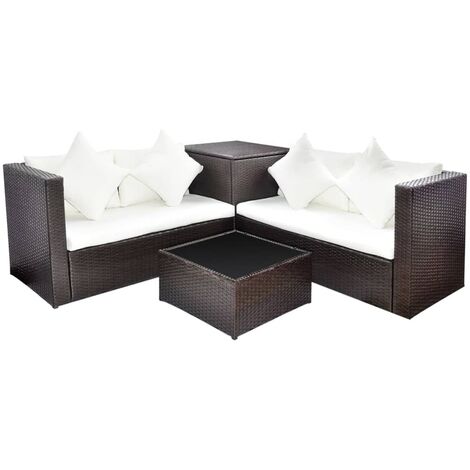 Offering the ultimate in comfort, garden lounge sets are ideal for spending long hours unwinding or lazing about in the garden.
Picnic table and folding chairs
---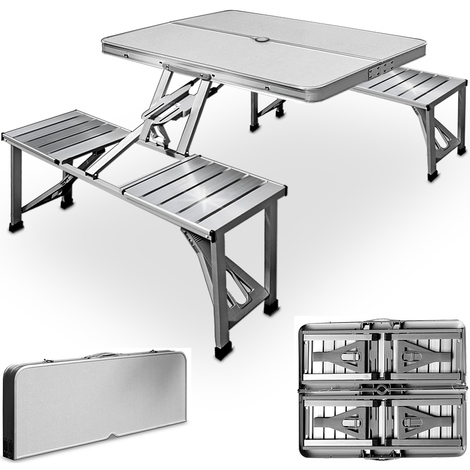 If you're looking to add more seats for guests, or just want to organise a good old-fashioned picnic, picnic tables and folding chairs are the way to go.
Garden trolleys
---
Perfect for placing beside a lounge area, garden trolleys are also useful for popping next to a plancha, barbecue or table. Practical and easy to move around, these trolleys can be equipped with two or three trays.
Explore the ManoMano catalogue
Barbecue
Garden furniture materials
There are three basic points to bear in mind when choosing a material:
Style: purely a matter of your own tastes;
Material properties: the natural strengths and performance of materials in various weather conditions;
Budget: prices can vary, but you will always be able to find a material to suit your budget.
Wooden garden furniture
The quality of a wood depends on the variety. Different species of wood will offer various properties and levels of resistance.
Teak
---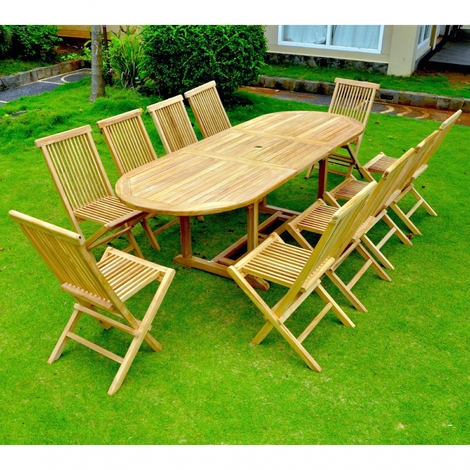 Teak is a high-quality wood. It is
rotproof
and resistant to moisture, fungi and termites. Owing to its high density, teak is heavy and should also be treated using a
special oil for exotic wood
.
Itauba wood
---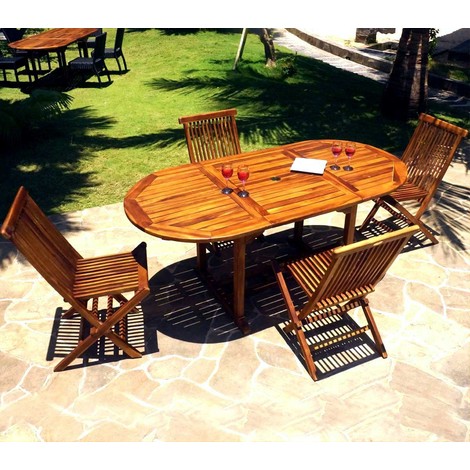 Itauba is another high-quality wood that offers a beautiful finish. Naturally
oily in appearance
, it mixes yellow, brown and dark brown tones. Originating from South America, itauba is
resistant to fungi and insects
, and is non-treated and non-floating. It is recommended for
coastal use
and should be treated with an
oil-based product.
Eucalyptus
---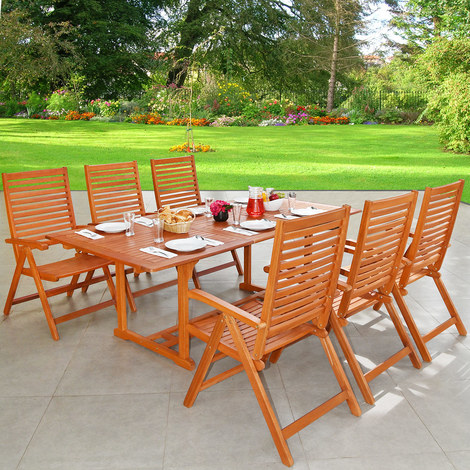 Reddish-brown in colour
, eucalyptus boasts less impressive properties. Not as durable as teak or itauba, it offers only
moderately long-lasting resistance to fungi and insects
. This wood usually also comes from South America.
Pine
---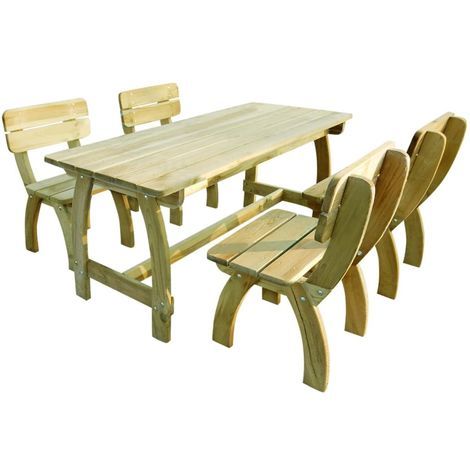 Pine is the lightest wood in terms of weight and colour. It is treated to offer
better protection against the elements and pests
and, as it comes from Europe, has a smaller carbon footprint.
Acacia
---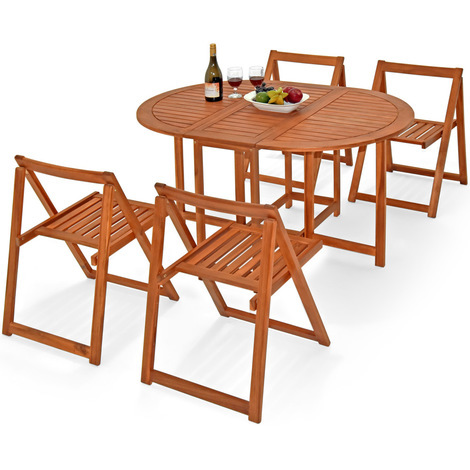 Acacia is a
durable
and rotproof material that also comes in lighter tones. It is moderately heavy and is generally
20 to 40% cheaper than exotic woods
.
Rattan
---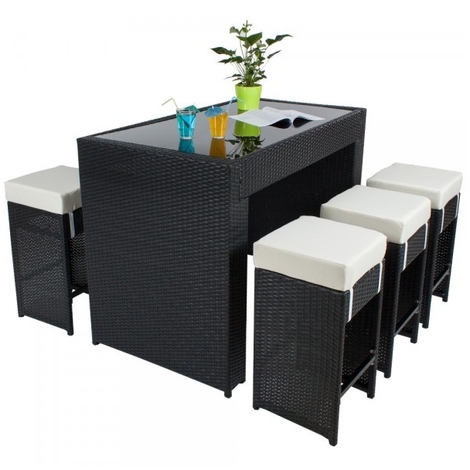 Rattan
is a vine belonging to the palm family and comes from Asia. It's very tough, flexible and rot-proof, and can also be stained.
Environmentally friendly wood
---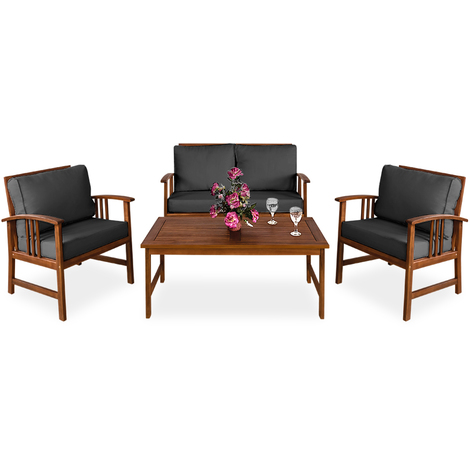 If you're going for
wood
, choosing an
FSC-
or
PEFC
-
labelled variety
will help guarantee responsible forestry management.
Metal garden furniture
Steel structures should be treated against corrosion. Additionally, you should be careful in very hot weather, as this material does tend to heat up!
Aluminium
---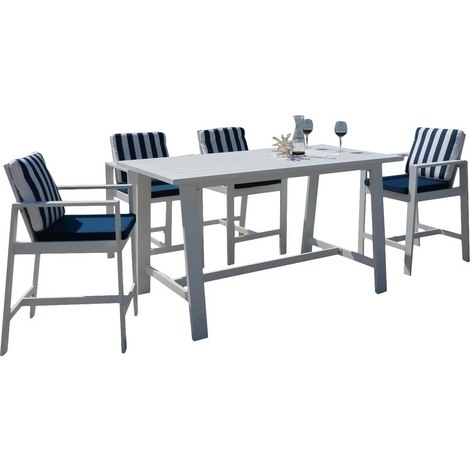 Aluminium is a
lightweight material that is not suited to particularly windy areas
. However, it holds up well against other elements as it forms a natural layer of oxide that increases its resistance to corrosion. Usually combined with textilene (a PVC-coated polyester woven polyester), aluminium offers a
clean and modern look
.
Powder-coated steel
---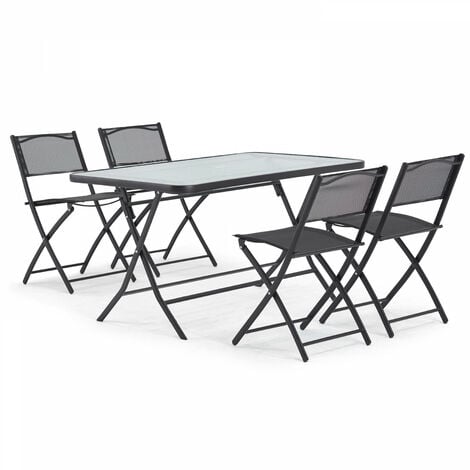 Powder-coated steel is a type of
steel coated with a layer of resin
to provide enhanced protection. A
cost-effective
option, this material is heavier than aluminium and you can choose from a wide range of shapes and colours. Its main drawback, however, is that once it has been scratched,
rust can set in and affect the integrity of its structure
.
Hot dip galvanised steel with powder coating
---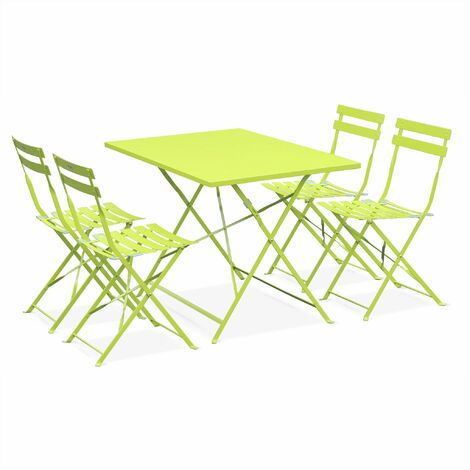 Hot dip galvanising is an
immersion process
that takes place before the application of a powder coating.
Providing a better level of protection than powder coated steel
alone, this material also offers the same wide selection of modern shape and colour options.
Wrought iron
---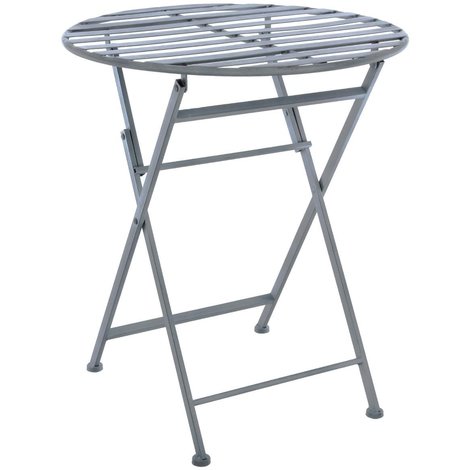 Naturally heavy, wrought iron
can be treated against rust
and is
often combined with glass to form garden tables
. A good option for windy areas, wrought iron offers a romantic and classic style.
Resin garden furniture
Resin weave (synthetic wicker)
---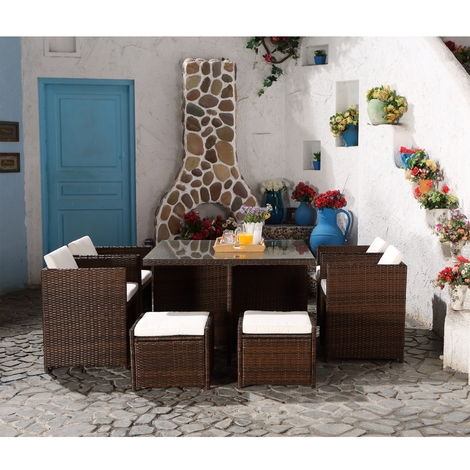 Resin weave furniture is very
resistant to the elements
, provided it is of high quality (low-end ranges tend to become slack and fade over time).
Cast resin
---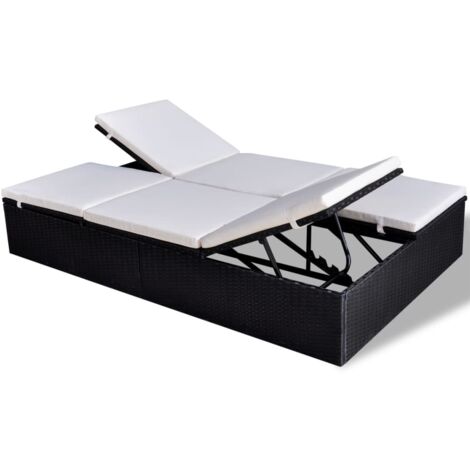 Similar in appearance to resin weave, these furniture items are cast in resin. They may have a woven look but are not actually braided.
Restoring resin
---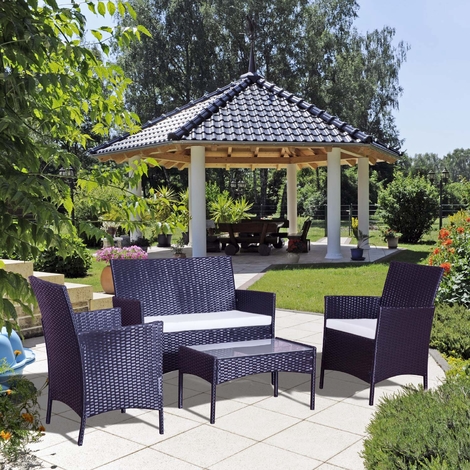 Braided resin will only hold up for five to ten years
and, once damaged, cannot be repaired. Unfortunately, restoring resin does not give great results. The best option is to take good care of your furniture and
increase its lifespan
by using
specialist products
. You should also keep these items covered when not in use.
Textilene
---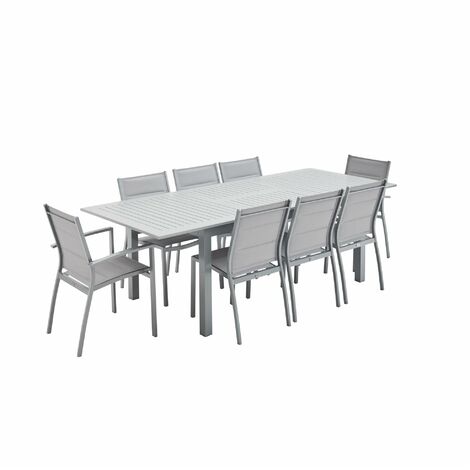 Textilene
is a
woven synthetic fabric that is used to form the vast majority of seats and backrests in lounge sets
,
recliners
, and so on. If a piece of furniture doesn't feature a fabric component, the seat and backrest will be made of the same material as the frame (wood, aluminium, resin, etc).
Explore the ManoMano catalogue
Recliners
How to clean and maintain your garden furniture
---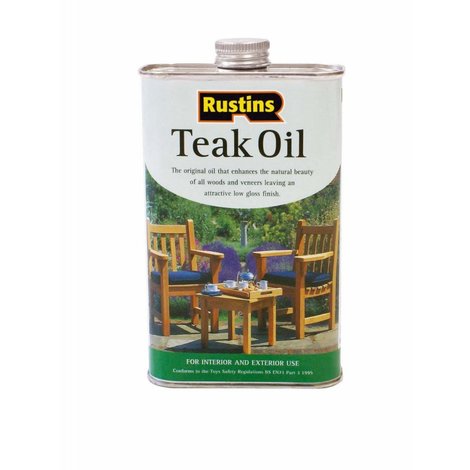 Taking good care of your garden furniture is crucial. If chosen carefully and looked after well, your garden furniture can serve you from any time between five to twenty years.
In terms of everyday cleaning, all materials can be easily washed with a little soapy water. Avoid abrasive pads or brushes to prevent damage to the material's protective coating.
Wood will require protective treatment. If your garden furniture is made of exotic wood, the application of oil once or twice a year will help preserve its colour and overall condition.
There is a wide range of useful products for garden furniture made of aluminium or steel. These will help to enhance the furniture's resistance to rust and keep it looking bright.
Resin requires vigilant care as it is not the most durable material. It must be dried quickly after cleaning and cannot handle strong products like bleach. Washing up liquid or a specially designed plastic cleaning product will help bring out its shine.
Explore the ManoMano catalogue
Garden furniture
Preparing your garden furniture for winter
---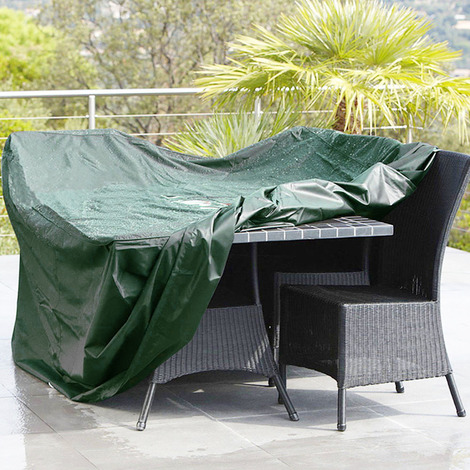 When summer fades into autumn and winter starts to loom, your garden furniture should go into storage. It's a good idea to take this into account when making your choice.
Preferably, you will have a garage or garden shed to store it in. In any case, it's better to purchase foldable or collapsible furniture to take up less room in storage.
Lighter items will also be easier to store and should be invested in if you are concerned about moving heavy furniture around. Aluminium and plastic resin are the most lightweight materials; exotic woods and wrought iron are the heaviest.
No matter which material you go for, you should:
Fit your furniture with a protective cover:
Protect your furniture against impacts and scratches when stacking;
Keep furniture items off the ground;
Clean and treat the furniture before taking it out again.
Explore the ManoMano catalogue
Protective cover
Read more about garden design and decoration
To find out more about garden design and decoration, follow our editors' advice and check out their other guides:
Guide written by:
Jennifer, Self-taught DIY enthusiast, Manchester 10 guides écrits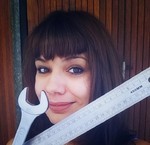 I didn't receive any special training, I learned everything on the job as it came up. And what a joy it is to be able to do little jobs around the house that we love so much.

That is, until the moment we decided to move and had to do everything; from the floor to the ceiling, from the kitchen to the bathroom...In short, you become as good as a pros. So today, my friends don't hesitate to call me when they need help. And when you dip your toe in, there's no turning back. It's a true passion that drives us to take on the challenges, to have an idea in mind and see it come alive with just a few tools. And a passion is even better when you can share it. So, whenever I can give you a little advice, it's with great pleasure that I do it.
The products related to this guide